City of Edmonton launches emergency response to deal with extreme heat
News Release from The City of Edmonton
Extreme weather response activated
The City of Edmonton has activated its extreme weather response to keep vulnerable people safe during the hot weather expected in the coming days.
The extreme weather response will include the following measures:
Peace Officers will carry water bottles for distribution to vulnerable people that they meet.
Anyone needing a break from the heat may go to an open City facility. Provincial health regulations are still in place and access cannot be guaranteed due to capacity limits, but the following spaces have planned to offer access and bottled water:
Kinsmen Sports Centre
Commonwealth Community Recreation Centre
Clareview Community Recreation Centre
Terwillegar Community Recreation Centre
The Meadows Community Recreation Centre
The Orange Hub
Mill Woods Recreation Centre
Some facilities do not have enough indoor space to accommodate people inside, but have still planned to provide bottled water. These include:
Fred Broadstock pool
Queen Elizabeth outdoor pool
Oliver outdoor pool
Bonnie Doon Leisure Centre
Muttart Conservatory
Edmonton Valley Zoo
Jasper Place Leisure Centre (starting June 26)
Work is underway to create more free water options throughout the summer for vulnerable groups. Activation of River Valley park fountains has been started. In addition, this summer the City will be launching a pilot project to adapt five fire hydrants into water stations to provide access to free potable water. Locations are still being determined and the water stations are expected to be available in late July.
What You Can Do To Help
Extreme heat can be dangerous. Everyone should drink plenty of water even before feeling thirsty, and stay in a cool place. It is important to watch for symptoms of heat illness:
dizziness/fainting
nausea/vomiting
rapid breathing and heartbeat
extreme thirst
decreased urination with unusually dark urine
lack of sweat
confusion
fainting
unconsciousness
Check on older family, friends and neighbours. Never leave people or pets inside a parked vehicle. Outdoor workers should take regularly scheduled breaks in a cool place.
If you are concerned about someone outside in the extreme heat, you can help:
Call 211 and press 3 for the 24/7 Crisis Diversion team. They can assist with individuals who may be in distress and can provide transportation to social service agencies.
Call 911 in cases of emergency
Sector Emergency Response
The City activated its extreme weather response after consultation with partners in the Sector Emergency Response, a collaboration between the City, Homeward Trust and more than 25 other agencies working together to ensure Edmonton's most vulnerable people are safe during adverse weather conditions. Environment Canada's weather forecast was also taken into consideration.
The extreme weather response may remain in effect until after Canada Day.
Edmonton City Council deactivates face coverings bylaw – Masks come off July 1!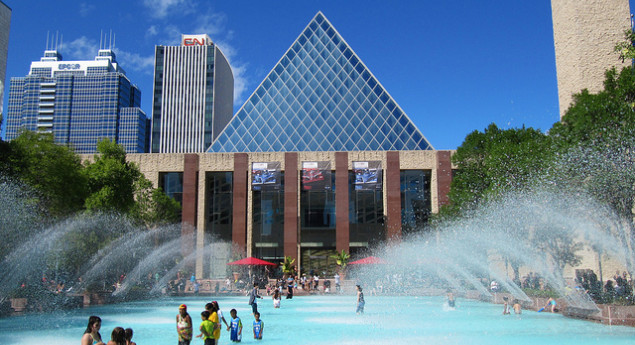 City Council deactivates Mandatory Masking Bylaw
Edmonton City Council has decided to deactivate the Temporary Mandatory Face Coverings bylaw 19408. The decision means Edmontonians will not be required to wear a face covering or mask in indoor public places as of July 1. Council's decision approved a bylaw (19783) that amends the previously adopted temporary mask bylaw (19408). The decision puts Edmonton in alignment with Stage 3 of the province's Open For Summer plan, which begins on July 1.
The temporary mandatory face covering bylaw will remain in place, but will not be effective unless public health conditions deteriorate and Alberta returns to an earlier stage of the relaunch plan, or the Chief Medical Officer of Health issues an order mandating the wearing of masks in Alberta.
The amending bylaw will come into effect at 12:01 a.m. on July 1, 2021. Until then, masks will be required in all indoor public spaces and public vehicles in the City of Edmonton.
"We know that Edmontonians have mixed feelings about the decision, with some eager for all restrictions to be lifted and others concerned that the reopening is happening too soon," said City Manager Andre Corbould. "We presented Council with several options for ending the City's mask bylaw based on best available medical advice. The safety of Edmontonians is always our primary concern and we believe that this amending bylaw provides the right flexibility for responding to changing COVID-19 conditions."
As part of the province's Stage 3 reopening plan, it will still be mandatory for masks to be worn by Albertans when in public vehicles like buses, LRT, taxis and ride shares starting on July 1. This may provide some reassurance to those who want to manage their personal risk of transmission.
We acknowledge that some Edmontonians may be concerned about their safety in the coming weeks. We want to remind everyone in the community that voluntary mask wearing is a reasonable step that we should all respect.
Trio of Passionate Edmonton Women Overflowing with Humanity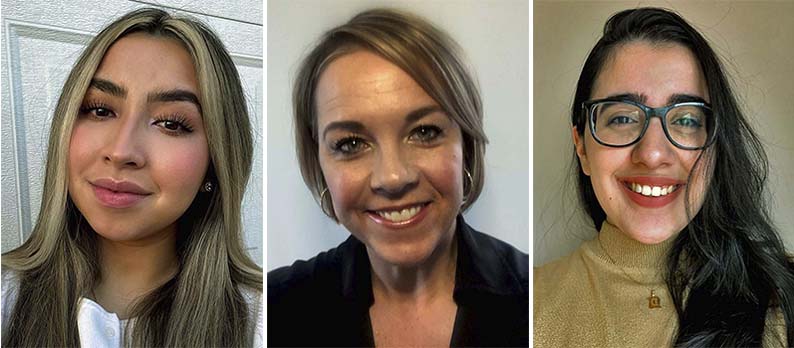 New website works to make a permanent record for seniors' stories and knowledge
Launching live at the start of April, the community response to Seniors Of Humanity (SOH), has already been, "amazing and incredible, we are so thankful", say the three co-creators.
Meera Kassam, Erin Gaudet and Diana Dagher were brought together through @YegSeniorsProject (YSP), an, inspiring, multi activity, Metro Edmonton initiative that brings community connections and joy to homebound seniors.
This new SOH initiative hopes to build on its sister project's past successes. Kassam is very adamant saying, "This project is not about us, it is about the amazing people that have passed and are still alive. We want their stories, memories and knowledge told and remembered." While the features so far have been Edmonton based, this energetic group it thinking big and can see the day where it will grow across Alberta, Canada and even the world.
Sporting more passion and energy than a super-charged Energizer Bunny, 20-year-old Edmontonian, Meera Kassam, founder of both SOH and YSP is currently one of Alberta's busiest people.
This humble go-getter is currently finishing her 3rd year of undergrad studies at the University of Alberta, in the fall she is transferring to the University of Calgary to complete her degree in the Social Work program. Also, on Kassam's busy weekly plate is, working at a retirement home, is a personal trainer, is a caregiver for her grandparents and special needs uncle, does the family shopping and their errands as well. Once all of these responsibilities are completed, she spends the rest of her energy and hours dedicated to helping the two growing community initiatives she has founded.
Asked where she gets so much passion and energy for the community? "I give my parents and family all the credit for the person I am today. "Kassam was born in Kabul, Afghanistan, before the 9/11 attacks. When she was a year-old, with the war on terror raging, she was able to immigrate to Canada. Kassam has had travel thoughts, "People dream to go back to their homeland, but for me it doesn't work like that." Continuing, "As a western woman, I would be in grave danger if I went back to my birth country, even for a visit."
This senior's memory concept is something that she wanted to do for some time, "In my second year at the University of Alberta I talked at length with my Genitourinary professor on creating a project that would preserve seniors' stories," Kassam said.
Erin Gaudet, made contact through Kassam's YSP's website. They clicked right away she explained, "I had never met Meera, during our first call, we hit it off and quickly discovered that we had the exact same idea."
In 2015, Gaudet, married mother of two very active boys, helped her father write his life's memoirs. Later he started battling health issues, "I lost my incredible father to brain cancer in 2019." Thankful for her dad's already documented and written memories, "I learned a lot about his life that I did not know. He left us all a legacy of love." Continuing, "These memories and knowledge would have gone by the waste side, forgotten over time."
Two became a third co-creator, when Diana Dagher joined the team to help with the full suite of social media channels. With some great content ready to go, things moved very quickly from January.
Kassam explains how a simple shopping trip inspired the name, "I needed a pair of jeans, fell in love with a pair made by, Citizens of Humanity. They were hundreds of dollars, had to put them back." Then the creative lightbulb went off, "I thought hey, Seniors of Humanity. Why not?" The name was born.
Seniors of Humanity wants to be as inclusive as possible. Their goal is to share the wisdom, the struggles, and the stories of seniors with the world.
Gaudet points out, "Seniors offer a large untapped resource, but their value and inputs are wildly underrepresented on social media. With this project we hope to change that." Adding, "If your parents, grandparents, great grandparents and other family members cannot write their own story, sit down with them and do it together. You never know what you might learn that you did not know before."
One of the first features posted online by Seniors of Humanity is, Monica Miles Lipscombe, mother of well-known Edmonton actor, producer and community advocate Jesse Lipscombe, founder of the #MakeitAwkward campaign. Monica is also one of seven children of a true Edmonton legend, three time Grey Cup champion with Edmonton Football Team, Canadian Football Hall of Fame member, Alberta Sports Hall of Fame member, on the Edmonton Eskimos Wall of Honour, University of Alberta grad and long-time Edmonton Catholic School teacher, Rollie Miles. Lipscombe's SOF story
Gaudet Added, "If you do not have someone to write the story, please email us the background information and we will endeavour to call them and document their story."
Stories can be submitted through the website; HERE
Quote collection for, "Words of Humanity" came be submitted; HERE
Seniors of Humanity; Email
Seniors Of Humanity Social media;
Other media coverage;
Ryan Jespersen's Real Talk feature; Link
Adrienne Pan's CBC Radio Active feature; Link
www.CovidKindness.ca highlight of @YegSeinorsProject's (YSP), Mother's Day parade giant drive-by for Edmonton seniors. LINK