City of Edmonton launches emergency response to deal with extreme heat
News Release from The City of Edmonton
Extreme weather response activated
The City of Edmonton has activated its extreme weather response to keep vulnerable people safe during the hot weather expected in the coming days.
The extreme weather response will include the following measures:
Peace Officers will carry water bottles for distribution to vulnerable people that they meet.
Anyone needing a break from the heat may go to an open City facility. Provincial health regulations are still in place and access cannot be guaranteed due to capacity limits, but the following spaces have planned to offer access and bottled water:
Kinsmen Sports Centre
Commonwealth Community Recreation Centre
Clareview Community Recreation Centre
Terwillegar Community Recreation Centre
The Meadows Community Recreation Centre
The Orange Hub
Mill Woods Recreation Centre
Some facilities do not have enough indoor space to accommodate people inside, but have still planned to provide bottled water. These include:
Fred Broadstock pool
Queen Elizabeth outdoor pool
Oliver outdoor pool
Bonnie Doon Leisure Centre
Muttart Conservatory
Edmonton Valley Zoo
Jasper Place Leisure Centre (starting June 26)
Work is underway to create more free water options throughout the summer for vulnerable groups. Activation of River Valley park fountains has been started. In addition, this summer the City will be launching a pilot project to adapt five fire hydrants into water stations to provide access to free potable water. Locations are still being determined and the water stations are expected to be available in late July.
What You Can Do To Help
Extreme heat can be dangerous. Everyone should drink plenty of water even before feeling thirsty, and stay in a cool place. It is important to watch for symptoms of heat illness:
dizziness/fainting
nausea/vomiting
rapid breathing and heartbeat
extreme thirst
decreased urination with unusually dark urine
lack of sweat
confusion
fainting
unconsciousness
Check on older family, friends and neighbours. Never leave people or pets inside a parked vehicle. Outdoor workers should take regularly scheduled breaks in a cool place.
If you are concerned about someone outside in the extreme heat, you can help:
Call 211 and press 3 for the 24/7 Crisis Diversion team. They can assist with individuals who may be in distress and can provide transportation to social service agencies.
Call 911 in cases of emergency
Sector Emergency Response
The City activated its extreme weather response after consultation with partners in the Sector Emergency Response, a collaboration between the City, Homeward Trust and more than 25 other agencies working together to ensure Edmonton's most vulnerable people are safe during adverse weather conditions. Environment Canada's weather forecast was also taken into consideration.
The extreme weather response may remain in effect until after Canada Day.
200 plus homeless people will find shelter in former Stony Plain Road hotel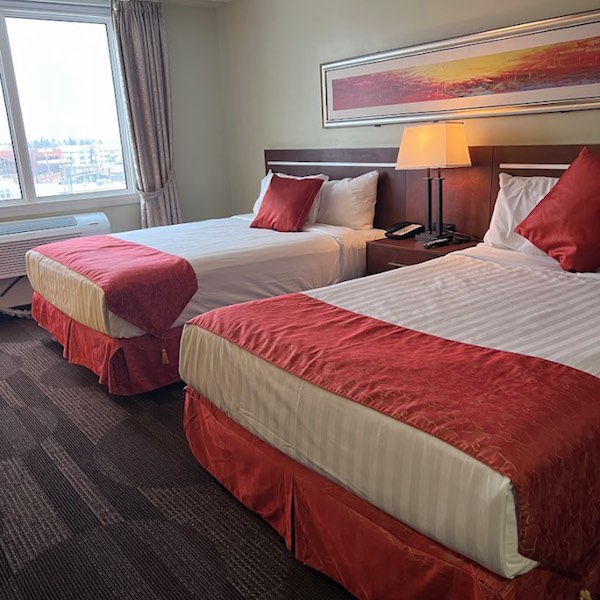 From the City of Edmonton
Temporary emergency shelter opens its doors
The new 24/7 temporary emergency shelter funded by the City of Edmonton and operated by Tallcree Tribal Government in partnership with Jasper Place Wellness Centre (JPWC) will open its doors today.
The shelter, located in a former hotel at 15540 Stony Plain Road in the city's west end, will accommodate 209 individuals experiencing homelessness when fully operational. The first of 59 private rooms will open, with a phased opening of 150 congregate living spaces throughout the remainder of January and February. Until the congregate living spaces are available, the site will be referral based only.
"Every single Edmontonian deserves access to a safe and warm space and that is exactly why this City Council prioritized funding this shelter," said Mayor Amarjeet Sohi. "We are grateful to Tallcree Tribal Government and Jasper Place Wellness Centre for working with us to provide Edmontonians with a safe place to stay during this winter as we continue to support individuals transitioning to long term solutions like permanent supportive housing."
People accessing the shelter will have a safe, warm place to sleep, receive daily meals and have access to health services, harm reduction support, case management support and be connected with a housing support worker who will help them find longer term housing.
"Jasper Place Wellness Centre is excited to collaborate with Tallcree Tribal Government and the City of Edmonton on this important project," said Taylor Soroka, JPWC's co-founder and vice president of strategy. "This space will provide unhoused Edmontonians with safety, services and a pathway to permanent housing."
"We know that many First Nation People are experiencing homelessness," said Tallcree Tribal Government Chief Rupert Meneen. "Tallcree Tribal Government is pleased to work with Jasper Place Wellness Centre and the City of Edmonton to address this urgent need, connecting First Nation people, and others in need, to culturally appropriate interventions and services in a safe environment. By doing so, we'll achieve better outcomes for all."
The City of Edmonton is providing $7.5 million from the financial stabilization reserve to fund the emergency shelter.
Homeward Trust's By Name List indicates that more than 2,750 Edmontonians are experiencing homelessness. About 1,250 of those individuals are primarily sleeping in emergency shelters or outdoors each night.
The Government of Alberta funds 622 permanent shelter spaces year round in Edmonton. For the winter months, the Government of Alberta is funding 450 additional shelter spaces for winter 2022/23 and winter 2023/24, increasing overnight shelter capacity in Edmonton to 1,072 spaces during the winter months. The additional spaces at the City-funded shelter will increase capacity to 1,281 spaces.
The City-funded shelter is expected to remain open until May 31, 2023
Edmonton's Single-Use Item Reduction Bylaw to ban plastic shopping bags, force restaurants to serve in reusable cups and accept customer cups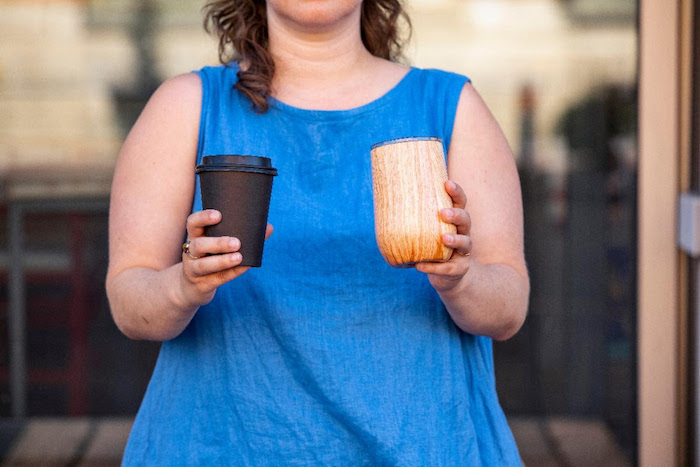 News release submitted by the City of Edmonton
City council passes bylaw to significantly reduce waste
The City of Edmonton is taking action to decrease the use of single-use items, which will help reduce the amount of waste being littered and ending up in landfills.
"This is an exciting first step towards climate resiliency. We're beginning to change our course," said Mayor Amarjeet Sohi. "We all have a part to play in preserving and protecting our environment, and participating in single-use item reduction is an easy way for all Edmontonians to commit to sustainability. I am supportive of this bylaw and know that together, we can build a greener and more climate-resilient future for all of us."
On October 4, Council approved the Single-use Item Reduction Bylaw, which will go into effect on July 1, 2023. The bylaw aims to reduce waste by targeting items that can easily be avoided or replaced with reusable options, and by making those reusable options more accessible.
Edmontonians will see the following changes:
Single-use plastic shopping bags will be banned, and businesses must charge at least 15 cents for a paper bag and at least $1 for a new reusable shopping bag.
These minimum fees will increase on July 1, 2024 to 25 cents for a paper bag and $2 for a new reusable bag.
Styrofoam (foam) plates, cups and containers will be banned.
Restaurants must serve dine-in drink orders in reusable cups, and accept reusable customer cups for dine-in and takeout orders.
Accessories (like utensils, straws, pre-packaged condiments and napkins) will only be available by request or self-serve.
Approximately 450 million single-use items are thrown in the garbage each year in Edmonton, plus more that are recycled and littered. Through these measures, the City aims to reduce the number of regulated single-use items used in Edmonton by 20 per cent by 2027.
"Our goal is to reduce single-use items overall, not just to switch from plastic items to non-plastic items," said Denis Jubinville, Branch Manager of Waste Services. "In addition to diverting more waste from landfill, this bylaw will also help residents think more broadly about waste reduction.
"Something as simple as bringing a reusable cup to a coffee shop may feel like a small step, but when a city of a million residents commits to small behaviour changes, the impact can be significant."
The City will ensure businesses are well informed and supported through awareness campaigns and various resources, including plain-language guidelines for implementing the changes and customer communication tools.
The bylaw exempts registered charitable organizations, to ensure they're able to maintain their focus on providing critical social services. Some types of businesses are also currently exempt from portions of the bylaw for safety or feasibility reasons.