Calgary Beer is Back! Calgary Craft Brewer reimagines one of Alberta's most iconic brands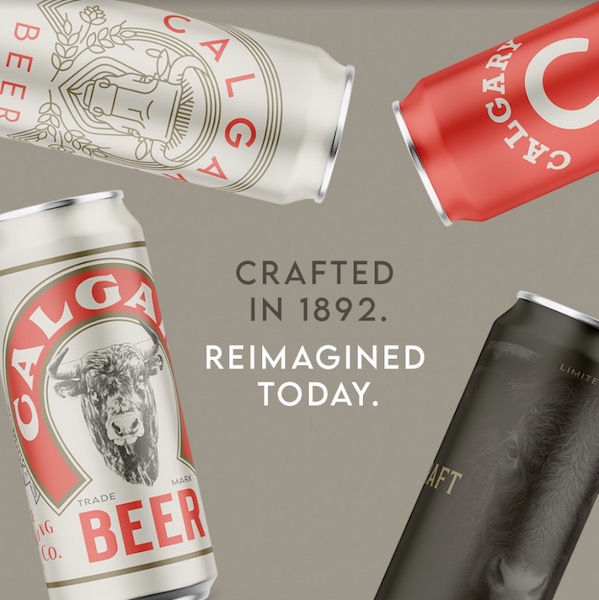 From technology, to communication, all the way to beer, our world is changing more rapidly every day.  Who could have imagined how the brewing industry would be turned upside down by craftsmen and entreupreneurs who risk it all for their passion to create a better product right in their community?
In a world that used to be very predictable, everyday another new craft beer hits the market.  It's hard to keep up, though many of us are doing our best.  Despite all the excitement around the new tastes and all the clever marketing needed to get those beers into our hands, we all know a few people who are 'holding out'.  Maybe they don't like change.  Maybe they don't know where to start.  Maybe they're perfectly fine with the same safe brew they've been tasting for their entire adult lives.  Maybe they should know one of Alberta's finest craft brewers is bringing back a familiar brand, offering a ton of comfort and enjoyment, one sip at a time.
The renowned brand "Calgary Beer" is back!  And of all the craft brewers in Southern Alberta, Village Brewery is the natural choice to have taken on this "reimagined" project.  Village Brewery was established by seven veterans of the brewing business, all with an equal passion for beer, and for their community.  It made perfect sense for this group to recognize their roots by recreating some local history in the town they love so much.  Just in case you didn't know, Village Brewery turns 10% of their profits, back to the Calgary community.
When Village Brewery Re-launched Calgary Beer they were nice enough to make their Head Brewer Jeremy McLaughlin available for a few questions.
Here's Jeremy McLaughlin.
1) Why are you bringing "Calgary" back?
The Calgary Beer brand is an important part of beer history in Calgary. It dates back to 1892 and the brand imagery is iconic and represents the origins of beer in Calgary. At Village Brewery, we have always been about supporting the community and bringing people together around beer. The idea of being able to produce something under this brand just fits so well with what we stand for at Village. It's special to us because we were given an awesome opportunity to modernize both the label and the recipe for today's craft beer fans.
2) Is this the exact same "Calgary" I drank many years ago?
Since the core ideology of this was to modernize the brand, we were not going to be using the same Export Lager style or name and decided to go with "Craft Lager". We felt this would reach the audience that Village reaches already. The main distinction, in terms of ingredients, is a significant hop character (from Ella, Sabro and Enigma), which make up the flavour profiles of a lot of craft beer.
3) Talk about the "craft" version. The can looks fantastic by the way. Curious about that and the beer itself.
The beer is really something that we as a brewery were looking to explore, a Craft Lager or dry-hopped lager is very much in the realm of beer profiles that can be interesting to new craft drinkers but something that experienced craft connoisseur would find interesting as well. A breakdown on ingredients and vital stats should get the conversation started here:
-ABV is 5.00%
-IBU: 15
-Colour: Light Gold
-Clarity: Light/Moderate Haze -Malt: Rahr 2-Row
-Yeast: Escarpment's Krispy Kveik
-Hops: Ella, Sabro and Enigma (all mainly used as a dry-hop). These are symbolic to the ideology of the project (modernization and reimagining, while paying respect). These hops are developed through breeding programs, which modernized historical varieties of hops.
The can design was by Jackson and includes 4 versions
-A vintage throw-back to the original design
-A modernized vintage design featuring design concepts that are popular in craft breweries today (line art)
-A more high design variation that is black with the bull image wrapping the can
-A minimalistic version featuring a red backdrop and a white horseshoe, focusing on clean and crisp presentation
All Alberta residents can purchase this limited edition lager by clicking this link.
Kyle Connor scores twice, Winnipeg Jets snap five-game winless skid
CALGARY — Kyle Connor scored twice including the game-winner at 15:09 of the third period on Saturday as the Jets snapped a five-game winless skid with a 4-2 comeback victory over the Calgary Flames.
Set up on a cross-ice pass from Blake Wheeler, Connor sent a one-timer into the top corner inside the near post before Jacob Markstrom could get across. Connor's 14 goals ties him for fifth in the NHL.
Paul Stastny and Andrew Copp, into an empty net, also scored for Winnipeg (10-7-4), which salvaged the final game of its three-game road trip. Wheeler had two assists. The Jets return home to host the Arizona Coyotes on Monday.
Matthew Tkachuk and Elias Lindholm scored for Calgary (12-4-5), which lost in regulation for the first time in eight games (5-1-2). The Flames wrap up a three-game homestand on Monday against the Pittsburgh Penguins.
After being pulled for surrendering four goals on 14 shots on Friday night in Minnesota, Connor Hellebuyck bounced back nicely for the Jets with a 34-save performance to improve to 7-5-4.
Markstrom had 24 stops to fall to 8-4-4.
The Jets had a great chance to take the lead when with the score tied 2-2 and under five minutes remaining in the second period. Milan Lucic was assessed a major penalty for boarding and a game misconduct for a heavy hit along the end boards that temporarily shook up Jets defenceman Dylan DeMelo.
But Calgary continually bottled up the Jets and prevented them from being able to set up. With just over a minute remaining in that power play, the Flames drew a hooking penalty on Neal Pionk, which ended the extended five-on-four during which Winnipeg generated only two shots.
Down 2-0 early, Winnipeg cut into the deficit at 16:26 of the first when the Jets turned a stretch of sustained pressure into a goal with Connor knocking in a set-up from Wheeler.
The Jets tied it 2-2 at 4:50 of the second on a goal that left Flames goaltender Markstrom visibly upset, believing there was goaltender interference. With the puck in the crease, Stastny knocked both Markstrom's pad and the puck into the net at the same time. Calgary did not challenge the call.
The Flames jumped out to an early lead with Tkachuk deflecting in Johnny Gaudreau's centering pass 26 seconds into the game. It came on the Flames' fourth shot as they immediately went on the attack from the drop of the puck.
It was the NHL-leading 17th time Calgary has scored first (12-2-3).
The Flames surged in front 2-0 at 7:42, needing just seven seconds against the NHL's 30th-ranked penalty kill to convert with Lindholm poking the puck in.
Gaudreau also assisted on that goal. His two assists in the period extended his point streak to six games (five goals, five assists).
Lindholm's goal extended his point streak to seven games (two goals, seven assists).
Notes: Calgary was a perfect 3-for-3 on the penalty kill and are now 26-for-27 over the last eight games. The Flames entered the night ranked third in the NHL on the PK… Winnipeg had been 0-3-0 on the back-end of back-to-back games… The Flames led the Western Conference standings after 20 games for the first time since 1993-94.
This report by The Canadian Press was first published Nov. 27, 2021.
The Canadian Press
Canada's Osborne-Paradis passes torch to young men's downhill team
LAKE LOUISE, Alta. — The last Canadian skier to win a World Cup race in Lake Louise, Alta., said farewell to a course Saturday that produced both triumph and heartbreak for him.
Manuel Osborne-Paradis wore rodeo chaps over his jeans for his fun "retirement run" that the world governing body of skiing grants to ski racing's stars on their home courses a few minutes before a race.
The 37-year-old from North Vancouver, B.C., retired last year, but the COVID-19 pandemic cancelled the 2020 edition of what is traditionally the season-opening World Cup men's downhill, delaying the ritual.
Osborne-Paradis, a four-time Olympian, collected 11 career World Cup medals and world championship bronze in super-G during his 16 seasons racing for Canada.
He won super-G gold in Lake Louise in 2009. Osborne-Paradis was also the last Canadian to stand on the podium in the alpine team's home race when he finished second in downhill in 2014.
His first World Cup medal was a downhill silver in Lake Louise in 2006.
Osborne-Paradis's previous experience on the track before Saturday was disastrous, however, and ultimately career-ending. 
He shattered his tibia and fibula tumbling into the safety nets halfway down the first training run of the 2018-19 season. 
Osborne-Paradis began rehabilitating with the goal of racing in a fifth Olympic Games, but the Canadian didn't race again.
The chance to ski the Louise track again in front of fans with a Canadian flag in his hands leaves a better last memory of it in his mind.
"The thing I didn't think was going to be the most important thing, but it was, was going through the finish line one more time," Osborne-Paradis said. "That was a good closing chapter."
Osborne-Paradis's retirement continues a winding down of the "Canadian Cowboys" era in which he, Erik Guay, Jan Hudec and John Kucera were constant threats for the international podium in men's speed races. 
Ben Thomsen of Invermere. B.C. is the last active skier in that group. The 34-year-old finished 54th in Saturday's race.
Montreal's Guay, a two-time world champion, wore a double denim "Canadian tuxedo" for his retirement run at Louise in 2018.
Osborne-Paradis's hellacious crash accelerated Guay's retirement. Guay had intended to ski one more season, but called it quits two days after Osborne-Paradis's wreck.
Osborne-Paradis, wife Lana and their young children Sloane and Toby live in Invermere. 
Osborne-Paradis's family watched him wind his way down the course Saturday and occasionally stop to hug coaches and volunteers.
"I think having my kids here . . . my son never got to see me race and my daughter doesn't remember," Osborne-Paradis said. 
"FIS has been so nice to be able to let me do this at this point of retirement. To say thank you to the volunteers here is special."
He's already transitioned into coaching. Osborne-Paradis worked for a year to achieve his Canadian Ski Instructor's Alliance Level 4 certification, which is the highest level of certification. 
Only seven per cent of applicants pass the final exams. Osborne, who says Dave Irwin in 1979 was the last national ski team member to achieve the certification, can teach all levels of skiing on all terrain and also train future instructors.
"It was tough," Osborne-Paradis said. "It was a year-long process to get to the exam and then it's a two-day exam. I definitely didn't go into it thinking I was going to pass. 
"I wanted to be in the ski world. How can I be a part of it? There's a massive ski community in Canada that the racing world is so disconnected from. How can I go from an alpine racer and further progress my ski career? It dawned on me that I could take this Level 4 instructing exam."
Osborne-Paradis worked with Ontario's under-16 women's team during the week before his swan song.
He passes the racing torch to a young men's downhill team that needs more seasoning to achieve the Canadian Cowboys' heights. They're coached by Kucera.
"They're a good group. They're paving their own way," Osborne-Paradis said. "They have a connection with how we did it through Johnny. They just have to build their confidence and then they can do it."
Toronto's Jack Crawford was the top Canadian in 24th on Saturday ahead of teammate Brodie Seger of Whistler, B.C., in 31st.
Seger's career on the national team overlapped with Osborne-Paradis when the former made his World Cup debut in 2017.
"Manny, I think he has a very unique take on a lot of things," Seger said. "I can for sure take things way too seriously and overanalyze. Sometimes he just has some random comment that cuts through the bull like: 'This is simple. Just be confident and just do this.'
"I feel like I've learned a lot from him in a way. Even through times where he was maybe struggling as a skier, I feel like he was doing a really good job handling himself as an athlete and being honest about how things were going.
"The way he marketed himself, he made it look super-fun and he's just a genuine guy."
This report by The Canadian Press was first published Nov. 27, 2021.
Donna Spencer, The Canadian Press