ASIRT investigating actions of police during suicide of stolen vehicle suspect
From the Alberta Serious Incident Response Team
Investigation into self-inflicted gunshot wound during contact with EPS
On Nov. 19, the Alberta Serious Incident Response Team (ASIRT) was directed to investigate the circumstances surrounding the death of a 19-year-old man that occurred that same day during contact with members of the Edmonton Police Service (EPS).
At about 1:21 a.m., an EPS officer was on foot and directing traffic in the eastbound lanes of Whitemud Drive, between the 17 Street overpass and Anthony Henday Drive. The officer was on a special duty assignment to assist with moving an oversized load on the freeway. While the officer was directing traffic, a white Hyundai failed to stop as requested and struck the officer. The Hyundai continued eastbound on Whitemud Drive. After the collision, a civilian witness operating the pilot vehicle that was accompanying the load followed the Hyundai until a marked EPS vehicle arrived and attempted to conduct a traffic stop. The Hyundai lost control on a curve on 17 Street, just north of Ellerslie Road, and came to a stop in the ditch.
The driver of the Hyundai, the 19-year-old man, exited the vehicle with a firearm. The man did not comply with commands to drop the firearm, and instead fired a single gunshot, fatally injuring himself. Additional EPS members, along with EMS, attended to the location and provided first aid to the man, before ultimately transporting him to hospital where he was pronounced dead. The man's firearm, a loaded sawed-off 9-mm carbine, was recovered from the scene. Additional ammunition was recovered from the man's vehicle. A second occupant of the vehicle, which was later determined to be stolen, was not injured during the incident. At this time there is no evidence to suggest that any police officer discharged a firearm during this incident.
EPS will maintain conduct of the investigation into the actions of the occupants of the Hyundai, while ASIRT's investigation will examine the actions of police during this incident. With ASIRT's investigation underway, no further information will be released at this time.
ASIRT's mandate is to effectively, independently and objectively investigate incidents involving Alberta's police that have resulted in serious injury or death to any person, as well as serious or sensitive allegations of police misconduct.
Two Million Dollar Drug Bust in Edmonton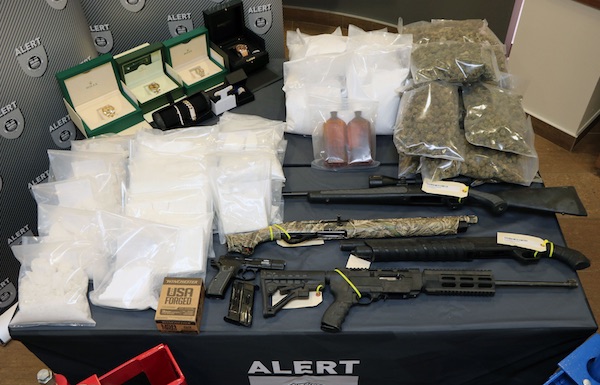 News Release from ALERT (Alberta Law Enforcement Response Team)
Project Elk concludes with eight arrests, millions in drugs and assets seized
A two-year cross-Canada drug trafficking investigation has concluded with eight Edmonton suspects facing charges. ALERT seized roughly $2 million in drugs, cash, and proceeds of crime.
Project Elk was a lengthy investigation into an Edmonton-based drug trafficking network that was involved in drug importation. Eight suspects were arrested and charged in October 2021 with offences ranging from drug and firearms related, to conspiracy to commit an indictable offence, to commission of an offence for a criminal organization.
The suspects are scheduled to make their initial court appearances on November 25, 2021.
"Project Elk will prove to be significant disruption to drug markets in Edmonton and other communities in northern Alberta. The negative impacts of drug trafficking are multi-faceted and connect back to societal harms such as gang-related violence, theft, property crimes, and healthcare implications," said Inspector Kevin Berge, ALERT Edmonton.
ALERT Edmonton's organized crime team spearheaded the investigation in November 2019, and Project Elk also involved the assistance of the Edmonton Police Service, and specialized RCMP units from Alberta, Saskatchewan, and Ontario.
In August 2020, ALERT intercepted a six-kilogram cocaine shipment that originated in Toronto. The seizure precipitated a series of search warrant executions in which six homes in the Edmonton were searched and one home in Strathcona County.
Project Elk resulted in the seizure of:
Five firearms;
10 kilograms of cocaine;
17 kilograms of a cocaine buffing agent;
4.7 kilograms of meth;
2.9 kilograms of cannabis; and
$135,000 cash.
In addition, ALERT seized roughly $200,000 in offence related property, including three vehicles, jewelry, diamond rings, and Rolex watches.
"The drug trade doesn't pay in the end. If you're not shot, you're ending up in jail, and you're only hurting the people around you. It's not the glamourous lifestyle that is fictionalized for the sake of TV and movies," said Berge.
A total of 35 criminal charges have been laid against:
Tyshawn Walters, 29-year-old man from Edmonton;
Kashane Walters, 34-year-old man from Edmonton;
Kariyawasam Kariyawasam, 39-year-old man from Edmonton;
Tyree Malcolm, 28-year-old man from Edmonton;
Levi Collinge, a 39-year-old man from Edmonton;
Boris Derpich, 43-year-old man from Edmonton;
Stacey Sharpe, 35-year-old woman from Edmonton; and
Trevor Bellows, 31-year-old man from Edmonton.
Members of the public who suspect drug or gang activity in their community can call local police, or contact Crime Stoppers at 1-800-222-TIPS (8477). Crime Stoppers is always anonymous.
ALERT was established and is funded by the Alberta Government and is a compilation of the province's most sophisticated law enforcement resources committed to tackling serious and organized crime.
Presson, Sunderland, Elizondo all out as Elks clean house after dismal CFL season
EDMONTON — The Edmonton Elks have cleaned house after a disappointing CFL season, with president and chief executive officer Chris Presson, general manager Brock Sunderland and head coach Jaime Elizondo paying the price.
The Elks announced in a release Monday that the team's board of directors has terminated the contracts of Presson, Sunderland and Elizondo effective immediately following a season that saw the Elks post a 3-11 record and go winless at Commonwealth Stadium.
Chair Ian Murray said the board decided major changes are needed at the senior leadership level to "rebuild the trust and confidence of Elks fans, season seat holders and the community."
"The past 18 months have been an exceptionally challenging time for our organization, but none more so than for its fans, season seat holders and the community," Murray said in the release. "The club will be actively engaging with fans, season seat holders and key stakeholders to learn from their experiences to help with a quick rebuild on and off the field for the 2022 season."
The Elks said a search is underway for permanent replacements of the CEO and general manager positions. Allan Watt, the team's executive director of marketing, has been named interim chief operating officer in the meantime.
"We are determined to give this community the competitive team long-time loyal fans have been accustomed to throughout this proud franchise's history," Watt said in the release. "We are equally committed to winning over new fans by supporting our community and developing a fun and engaging game experience that appeals to the broad demographic of our great city."
In addition to piling up losses, the Elks had to deal with a significant COVID-19 outbreak with 14 players testing positive. At the end of the team's 10-day isolation period, offensive lineman Jacob Ruby was cut for misrepresenting his vaccination status.
The fans weren't impressed, and let the team know. According to attendance figures published by the league, the Elks averaged 26,210 fans per game for the lowest attendance since the franchise moved into Commonwealth Stadium in 1978.
Sunderland had been GM of the Elks since 2017, while Presson had held his positions since 2019.
Elizondo had just finished his first season as head coach.
This report by The Canadian Press was first published Nov. 22, 2021.
The Canadian Press