An abundance of Christmas spirit awaits at Canadian Tire Magic of LIghts at Castrol Raceway
Castrol Raceway will once again be turning into a Winter Wonderland this Holiday Season November 20/20 through January 2/21; 5PM-10PM nightly. Edmonton's biggest and brightest holiday tradition, the Canadian Tire Magic of Lights.
The Canadian Tire Magic of Lights is 2.5 kilometers of festive and vibrant LED-lighted displays boasting over 1 MILLION Lights celebrating the joy of the holidays. An enchanted "drive-through" experience from the warmth and comfort of your own car. At every turn, and in every direction, the magical route is overflowing with spectacular light displays.
The Canadian Tire Magic of Lights provides Guests an opportunity to celebrate the holidays #togetherapart . Your Family and 'cohort' friends deserve a reward for making it through the current socio- economic challenges; take time to enjoy a safe and joyous alternative to the traditional holiday gatherings.
"In a time when so much has changed, we're humbled to continue our standing tradition. Who knew when we started this adventure back in 2017, we were preparing to offer a Holiday celebration to meet the current pandemic challenges." says Castrol Raceway Owner, Kimberly Reeves.
To meet overwhelming public demand The Magic of Lights is adapting to the unusual times with a new, socially REIMAGINED experience. Capture the Magical Memories this Holiday season with an Intimate & Interactive "Drive-Up" Family Photo Meet & Greet with Santa. This respectfully distanced experience will allow Guests of all ages to enjoy the encounter staying cozy and warm in your vehicle.
"Santa is an important holiday tradition for many families but we are looking to pivot the experience for safety. With so much uncertainty, it drove us to get creative; finding a way to bring a safe and unique opportunity to Families for the Holidays. We wanted to keep the tradition of Visits with Santa and sharing holiday wishes alive." says Reeves. Grab your Wish List & Favorite Christmas PJ's, jump in the car and get ready for the ultimate safe and joyful "Drive-In" Santa experience! . You can even bring your dog!
'Touchless' Digital images will be sent direct to your Inbox 3 days following event date. A Limited Engagement Photo Pass is an upgraded Pass +$25 in addition to the standard Car Flex Pass admission. Giving back to the Community is an important part of Canadian Tire Magic of Lights. Castrol Raceway is proud to once again donate a portion of all proceeds in support of 630 CHED Santas Anonymous and The Canadian Tire Jumpstart Program.
For the past nine years , STARS has held the "Building Magic in the Air" gala. The Edmonton gala has raised $1.3 million to help STARS be there for the next patient who needs critical care. We know this is a challenging time for many as we navigate the COVID-19 pandemic, this year we are very excited to provide a unique, family friendly, and safe version of Building Magic in the Air to help support STARS. The 2020 "Building Magic in the Air" will take place on Saturday, Nov. 28
"Today, amid a global pandemic, STARS remains mission-ready and the need to fundraise continues. The evening will see 100 % of the proceeds directed to STARS, ensuring we be there for the next patient in need. Thank you Castrol Raceway and EPCOR for your continued support!" ~ Sheyanne Levall-Crouse, STARS Community Engagement Officer.
Click here to purchase tickets.
Click here to read more on Todayville.
Today is the day! Someone supporting the Child Advocacy Centre is going to win a huge jackpot!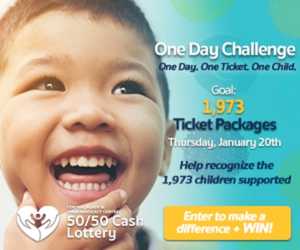 Or Call 587-272-2233
Phone lines will be open from 9:00AM – 7:30PM MTN
#CACACOneDayChallenge UPDATE
We are currently at
603
ticket packages
Goal: 1,973
We're almost half way there! Will you help us reach our goal!? Let's make a big push this afternoon to meet the challenge for these kiddos!
Thank you to those who took the Challenge and have already purchased!
Phone lines have been busy, so feel free to leave a voicemail with your details and we'll get back to you as soon as we can!
Visit our lottery website for more information, an updated list of winning numbers, and the full list of lottery rules! Or call 587-272-2233.
*Please Note: Phone lines are operated by CAC Staff. Open from 9AM – 4PM Monday – Friday. Please leave a voicemail with a detailed message & we will return your call as soon as possible.
Lottery License #578482
Central Alberta Child Advocacy Centre 50/50 Cash Lottery is Back!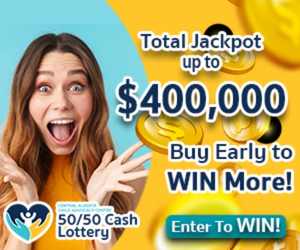 The highly anticipated Central Alberta Child Advocacy Centre 50/50 Cash Lottery is back with even more chances to win!
This year, the jackpot is set to $400,000, with the winner taking home half! Plus, the Central Alberta CAC has added an additional early bird drawing, bringing the early bird prize total to four all-cash prizes of $1,000, drawn weekly in December. All in if purchased before the first Early Bird deadline, entrants have 4 chances at $1,000 dollars, PLUS a chance at the Grand Prize Draw with a sell-out take-home winnings of $200,000!. Tickets start at just $10.
Early Bird Deadlines: December 2, 9, 16, 23.
The Central Alberta Child Advocacy Centre's 50/50 Cash Lottery raises much-needed funds to support their services and programs; supporting our community's most vulnerable. Each year, the Centre supports hundreds of children from across Central Alberta who have experienced abuse. The Central Alberta CAC provides a safe space for these children, a place with the goal for a child to only have to share their story once – eliminating the chance of revictimization and helping them through their journey of healing one step at a time.
Mark Jones, the CEO of the Central Alberta Child Advocacy Centre, is once again thanking Albertans for their generosity, and for facilitating strong partnerships over the years.
"Through the Loyalty campaign, we've been able to raise over $100,000 already! The success of last years' lottery allowed us to help more children and families from across Central Alberta. To date, we've helped nearly 1800 children, and our advocacy team has worked tirelessly to protect and support the youths that come forward. From disclosure to triage and court appearances, our advocacy team has been working around the clock. This year has been especially difficult, with October and November being some of the busiest months with the most extreme and complex cases we have yet to see. So, we hope people will consider buying a ticket to help us help these kids." – Mark Jones, CEO
Tickets are available online at www.cacac5050.ca and will be emailed to the purchaser. You can also call the Centre directly to purchase tickets at 587-272-2233. Lottery license number: 578482.
The CACAC 50/50 Cash Lottery final deadline is February 4th, 2022 at 11:00pm and the draw will take place on February 10th, 2021 at 11:00am.
Together, we can end child abuse. Purchase your ticket today to support the CACAC and the children of our community.
The Central Alberta Child Advocacy Centre is also looking for opportunities to sell their 50/50 Cash Lottery Tickets on location. If you have an event or location you would like to host the CACAC at, please contact Jodie at [email protected] or call 587-272-2233.
About CACAC: The Central Alberta Child Advocacy Centre is a not-for-profit organization rooted in the protection and recovery of today's most innocent and vulnerable – our children. The Centre is comprised of a collective that is driven by the courage to support children, youth, and their families affected by abuse, enabling them to build enduring strength and overcome adversity.
We work in a collaborative partnership with the Central Region Children's Services, Alberta Health Services, Alberta Justice, Alberta Education, the Central Alberta Sexual Assault Support Centre and the RCMP. Together we harness our collective courage to provide children with supported recovery.
For more information on CACAC, please visit: centralalbertacac.ca