Alberta's 2022 Lt. Governor Emerging Artists Named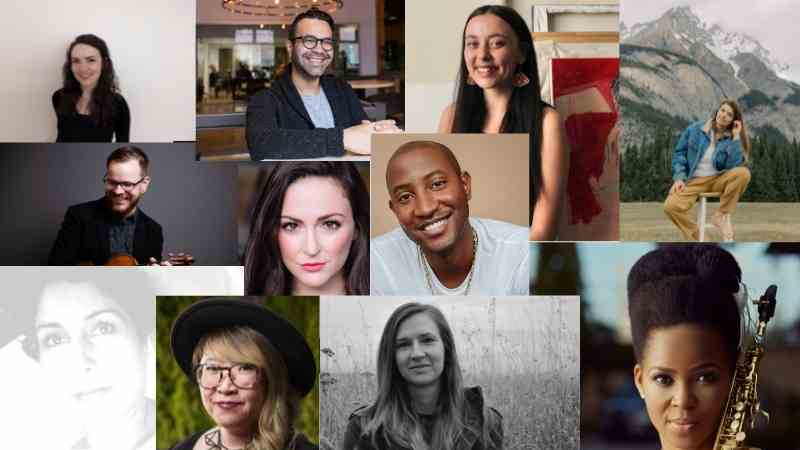 Alberta's 2022 Lt. Governor Emerging Artists Named
The Lieutenant Governor of Alberta Arts Awards Foundation announces awards totaling $110,000 to the 11 recipients of its 2022 Emerging Artist Award.
"When economic times are tough, our artists are particularly vulnerable," says Foundation Chair, Arlene Strom. "We are thrilled to invest $110,000 this year in advancing the careers of these outstanding artists at the early stages of their professional development."
2022 Emerging Artist Recipients:
Perpetual Atife Saxophone, Calgary
Vicki Chau Filmmaker, Calgary
Arlan Vriens Violin, Edmonton; Toronto
Eden Tremayne Soprano, Calgary
Omar Mouallem Writer, Edmonton
Trina Moyles Writer, Peace River
Kiona Ligtvoet Visual Arts, Edmonton
Tenaj Williams Actor, Calgary
Ally McIntyre Visual Arts, Edmonton
Moni Brar Writer/Poet, Calgary
Nahanni McKay Visual Arts, Banff
The Award's patron, Her Honour, the Honourable Salma Lakhani, Lieutenant Governor of Alberta AOE, B.Sc., LLD (hon) awarded the 2022 Emerging Artists at a celebration hosted by the County of Lac La Biche and Portage College on June 10, 2022. Each awardee receives a $10,000 cash award, a handcrafted medal and a certificate.
The 11 recipients were selected from 140 applications in an adjudication process overseen by The Banff Centre. The adjudication panel included: Darren Fung, renowned composer based out of Los Angeles, originally from Edmonton; Sean Caulfield, artist and Centennial Professor in the Department of Art & Design at the University of Alberta; Patricia Darbasie, Alberta actor, director and educator; Jenna Butler, 2014 LG Emerging Artist, award-winning author and educator; Derek Beaulieu, Jury Facilitator, Director of Literary Arts at the Banff Centre.
For more information on the awardees visit artsawards.ca
Who are the 2022 Emerging Artists?
Perpetual Atife Saxophonist, Calgary: Perpetual Atife is retelling African stories and music through her practice as a jazz saxophonist and songwriter. Her entrepreneurial spirit and energy are as impressive as her skills as a band leader and performer. The aural tapestry she creates combines her Nigerian roots and the realities she exists in today. Her debut album, a collection of her journey through instrumental music, spoken word and vocal music, is due to be released in the Fall of 2022.
Vicki Chau Filmmaker, Calgary: Vicki Chau is a filmmaker and media artist based in Calgary. Her two short films Pulled Strings and Hearth of the Lion capture a slice of her Chinese-Vietnamese heritage in a beautiful lyrical way. Her family and cultural identity have been a core inspiration in her artistic practice and help her to promote the appreciation of both Chinese and Vietnamese culture through a uniquely Canadian perspective. She was selected for the WarnerMedia Access Festivals Program at Toronto's Reelworld Film Festival in 2021.
Arlan Vriens, Violin, Edmonton/Toronto: Arlan Vriens is an Edmonton-born classical violinist noted for his ability to evoke strong, emotional performances with difficult, contemporary repertoire that pushes the boundaries of what the instrument was designed to do. Equally at home performing newly-written contemporary works or rediscovering long-lost violin techniques, Arlan is committed to nurturing and critiquing classical music as a living, evolving practice. His chamber music and solo violin projects have been supported by the Canada Council for the Arts and the arts councils of Alberta, Ontario, and Newfoundland.
Eden Tremayne Soprano, Calgary: Eden Tremayne delivers an authenticity and emotional strength that is impressive to see in an emerging opera singer. A soprano with both a strong technical facility and range, she is noted for her stirring performances. For the past three seasons, Ms. Tremayne has been a McPhee Artist with Calgary Opera. She had her Calgary Opera mainstage debut In the 2019-2020 season as Clotilde in Bellini's Norma and covered Musetta in Puccini's La bohème. Tremayne was previously featured as an Apprentice Artist with the San Diego Opera and a Yulanda M. Faris Young Artist with Vancouver Opera.
Omar Mouallem Writer, Edmonton: Omar Mouallem has established himself as a talented young journalist and filmmaker to watch. With the arrival of his important new book of non-fiction, Praying to the West: How Muslims Shaped the Americas, he's an important voice in Canadian literature with a long career ahead. A second-generation Canadian born and raised in Northern Alberta's Muslim Lebanese community, Mouallem has become known for his ability to intertwine human interest stories with world history and broad social issues. Omar co-authored the national bestseller Inside the Inferno: A Firefighter's Story of the Brotherhood that Saved Fort McMurray and co-directed Digging in the Dirt (with Dylan Rhys Howard), a raw look at the psychological toll of oil and gas labour.
Trina Moyles Writer, Peace River: Trina Moyles blends journalistic knowledge with literary expertise and a love for the land. She grew up in the northern community of Peace River, Alberta (Treaty 8), where she spent much of her childhood immersed in the boreal forest. Moyles's first book, Women Who Dig: Farming, Feminism, and the Fight to Feed the World was published in 2018 by the University of Regina Press. Her second book, a memoir and frontline reportage on the increasing prevalence of wildfire in North America, Lookout: Love, Solitude, and Searching for Wildfire in the Boreal Forest, was published in 2021 by Penguin Random House Canada. Lookout won a National Outdoors Book Award in 2021 and has recently been nominated as a finalist for the 2022 Robert Kroetsch City of Edmonton Book Prize and a finalist for the Memoir Award at the 2022 Alberta Literary Awards.
Kiona Ligtvoet Visual Arts, Edmonton: Kiona Ligtvoet looks to experiences with family and the land they live and work on to create paintings, prints and installations that function as both a personal archive, as well as non-linear storytelling. Kiona grew up west of Edmonton near the hamlet of Calahoo where she lived with her moshom and relatives on scrip land. Her family lines are Cree and Métis descending from Michel First Nation, as well as Dutch/ mixed European. Kiona works in painting, printmaking and drawing, recollecting personal stories of grief and tenderness. Most recent exhibitions have been sahkitok mistahi at Ociciwan Contemporary Art Centre (2021), and her solo show, These Are the Things at Latitude 53 (2021). She is currently writing her debut graphic novel We Were Younger Once (2022).
Tenaj Williams Actor, Calgary: Tenaj Williams has built on his community theatre experiences to create a provincial and national footprint as an actor, professionally performing on stages in Alberta and across the country. He has recently branched out into film and television landing roles on various TV series, most prominently the hit CTV comedy show, JANN. Tenaj hopes to further advance his work in the arts and be instrumental in helping to create and foster safe, and brave spaces for diverse and emerging artists. He plans to develop his skills as a director and learn more about theatre production and management.
Ally McIntyre Visual Arts, Edmonton: Ally McIntyre creates bold, powerful paintings that combine passages of abstraction with naturalistic imagery, and which contain moments of aggressive and expressive mark-making, alongside more introspective, sensitive passages of drawing. This blending of visual languages results in highly compelling imagery that fosters unexpected narratives and poetic associations for viewers. Bold and assertive, her works question the prevailing gendered association of large-scale art and expressionism. In 2015, McIntyre was awarded the HIX Award 2015 presented by Tracey Emin and the Jealous Prize 2015. Exhibits include various galleries in London, UK, The Original Print Fair at the Royal Academy, The London Art Fair, Start Art Fair and Art Toronto. She was a finalist in the RBC national painting competition (2018). Her solo exhibition 'Dog Day Circus' was featured at the Saatchi Gallery in London, UK (2022). Her work can be found in private collections in Australia, Asia, Europe, and North America.
Moni Brar Writer/Poet, Calgary: Moni Brar has published in many of the most respected journals in Canada and received a number of the top writing awards. A Punjabi Canadian writer exploring diasporan guilt and intergenerational trauma, she is poised to make major contributions to the literary arts in Canada. She has been nominated for the Pushcart Prize and multiple Best of the Net awards and was the winner of the SAAG Arts Writing Prize, runner-up in PRISM international's Grouse Grind Prize, honourable mention in Room magazine's Poetry Prize, and a finalist in the Alberta Magazine Awards and the Subnivean Awards. Her work can be found in Best Canadian Poetry 2022, the Literary Review of Canada, Passages North, Prairie Fire, Hobart, and the League of Canadian Poets' "Poem in Your Pocket" postcard series.
Nahanni McKay Visual Arts, Banff: McKay's creative practice utilizes photography, digital media, as well as performances in the landscape to explore pressing questions related to environmental change. The work often considers the ways landscape and animals have been depicted historically, particularly in the context of national parks, in order to investigate the complex interrelationship between colonial power structures, identity and ecological degradation and loss. Nahanni uses her photography to bring awareness of the need to coexist with wildlife to prevent further harm to the land we reside on. Exhibits include Personal Structures Exhibition, European Cultural Centre, Venice, Italy (2022), Loop 14, Alberta Foundation for the Arts Travelling Exhibition (2020), EXPOSURE Photography Festival Emerging Artists Showcase, Contemporary Calgary and more.
About The Awards
Founders Fil Fraser, Tommy Banks, John Poole and Jenny Belzberg established the Lieutenant Governor of Alberta Arts Awards Foundation in 2003 to celebrate and promote excellence in the arts. The endowments they established were created with philanthropic dollars and gifts from the Province of Alberta and the Government of Canada. Since its inception in 2003, the Foundation has awarded $1,430,000 to 23 Distinguished Artists and 74 Emerging Artists, all Alberta affiliated. The Foundation administers two awards programs: The Emerging Artist Awards program, established in 2008, gives up to 10 awards of $10,000 each to support and encourage promising artists early in their professional careers. Emerging Artist Awards are given out in even years. The Distinguished Artist Awards program, begun in 2005, gives up to three awards of $30,000 each in recognition of outstanding achievement in, or contribution to, the arts in Alberta. Distinguished Artist Awards are given in odd years.
McTavish puts up six points, Canada crushes Slovakia 11-1 at world juniors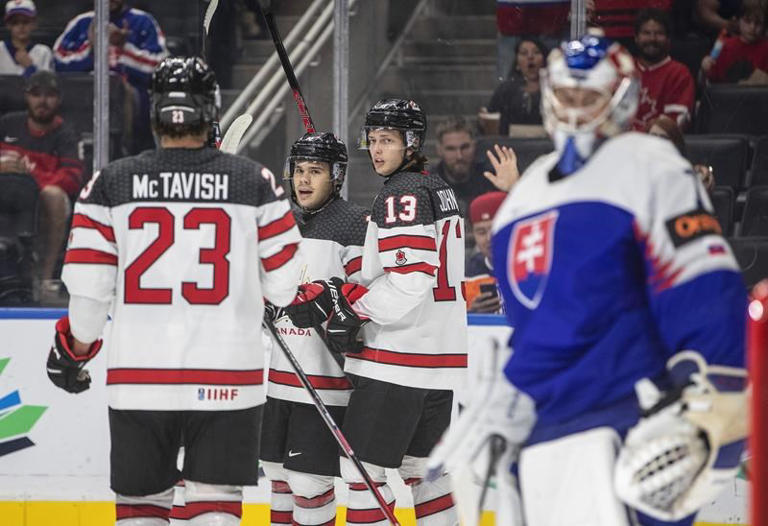 EDMONTON — Mason McTavish didn't have to pull on the Maple Leaf and play in an unusual summer world junior hockey championship.
The 19-year-old forward will head back to the Anaheim Ducks next month, the NHL team where he put up a goal and two assists in nine appearances last season. Skipping an August tournament to focus on preparing for training camp likely wouldn't raise eyebrows.
But McTavish has been clear — he loves playing hockey and he loves representing Canada
The dedication paid off Thursday as the captain put up four goals and two assists, powering his team to an 11-1 victory over Slovakia.
"I don't think anyone's surprised by his hockey and what he brings to the ice. But what really impresses me is his attitude," said Canada's head coach Dave Cameron.
"He has no ego. He probably had every reason not to come to this tournament, just because of the timing of it. And he's fully engaged in it. And his performance tonight was outstanding."
McTavish made his way into the history books Thursday, tying a Canadian record for most goals in a world juniors game.
Other players who have accomplished the feat include Mario Lemieux (1984), Brayden Schenn (2011) and Maxime Comtois (2019).
"It's pretty cool for sure. A special moment," McTavish said. "Obviously, credit to my teammates. They were looking for me all game, it felt like."
McTavish plays a special game, said teammate Brennan Othmann.
"He's fun to play with," he said. "He's an elite goal scorer, as you could see tonight. No matter what team he faces, he always finds the back of the net somehow."
Nine Canadians had multi-point performances in the win, including McTavish, Joshua Roy (one goal, three assists), Othmann (one goal, two assists), Olen Zellwegger (one goal, one assist), Connor Bedard (one goal, one assist), Logan Stankoven (one goal, one assist), Will Cuylle (one goal, one assist), Lukas Cormier (two assists) and William Dufour (two assists).
Zack Ostapchuk also scored for Canada (2-0-0), who were coming off a tournament-opening 5-2 win over Latvia on Wednesday.
"We're deep from our first line to our fourth line," Othmann said. "It doesn't matter who's in or who's out, everyone's contributing in some way."
Matej Kaslik put away the lone goal for Slovakia (0-0-2) midway through the second period.
Making his first start of the tournament, Canada's Dylan Garand registered 22 saves.
Tomas Bolo stopped 33 of 44 shots for Slovakia, who dropped a 5-4 decision to Czechia (1-0-1) on Tuesday.
There were just 21 seconds left on the game clock when Ostapchuk buried a shot. He picked up a loose puck at the side of the net and slid it around the front, in past Bolo to seal the score at 11-1.
Roy bumped Canada's lead to 10-1 at the 15:07 mark. Dufour's shot hit Bolo's pad and Roy picked up the rebound at the top of the crease, firing it in over the netminder as he fell to the ice.
McTavish barely celebrated after finding space between Bolo and the post for his fourth goal of the night 3:44 into the third.
"I'm not the biggest celebrator, unless it's a game-seven OT winner or something like that," he said. "I don't really tend to get too excited."
McTavish completed his hat trick with 35 seconds left in the middle frame.
Bedard took a hit in the neutral zone and sent a puck up the ice to give his teammates a two-man breakaway. Roy put a crisp pass on McTavish's tape and he fired a shot past Bolo to give the Canadians an 8-1 lead.
About a dozen hats floated to the ice.
It was McTavish's backhanded flick from the top of the crease 15:16 into the second that gave Canada a 7-1 cushion.
Just 36 seconds earlier, Slovakia finally beat Garand after a battle down low.
Kaslik got the puck and unleashed a shot that hit the goalie's pad and the crossbar on its way into the net.
A three-man breakaway set up McTavish's first goal of the night 6:25 into the second. Donovan Sebrango sent him a lead pass and, handling the puck, Team Canada's captain skated in, sending a rocket soaring past Bolo stick side to boost the lead to 6-0.
The second period was just over a minute old when Stankoven put away Canada's fifth goal of the night on a five-on-three.
Kent Johnson sent a shot into Bolo's pad and Stankoven, stationed at the side of the net, popped a shot in before the goalie could get back into position.
Canada was 1 for 4 on the power play and Slovakia went 0 for 3.
After a slow start in Wednesday's 5-2 win over Latvia, Canada was a force in the first period Thursday.
The host nation took a 4-0 advantage into the first intermission after Zellweger scored with 43 seconds left in the opening frame.
The defenceman got a shot off from the hash marks and the puck appeared to tick off another player in front of the net before pinging in off the post.
Slovakia challenged the play for being offside but a video review determined Zellweger's goal was good.
A scuttled Slovakian clearing attempt set up Canada's third strike of the night.
Bolo tried to send the puck out from deep in his own end but Cuylle picked it up at the blue line and sent it to Othmann in the faceoff circle The New York Rangers prospect sailed a shot in past the goalie 15:57 into the game.
Cuylle gave Canada a 2-0 lead less than three minutes earlier.
Ridly Greig stepped out of the penalty box and chipped a pass up the boards to Cuylle, who skated in alone on a breakaway and put a quick blast through Bolo's pads.
Slovakia had a breakaway of its own earlier in the first, but Garand read the play perfectly and the shot thudded off of his pads to keep Canada up 1-0.
For the second game in a row, Bedard opened the scoring for the Canadians.
The 17-year-old Regina Pats centre dished the puck to McTavish, who sliced it back across the slot. Bedard capped the give-and-go by ripping a blistering shot past Bolo from the bottom of the faceoff circle 6:16 into the first period.
The early game Thursday saw Finland (2-0-0) battle Czechia (1-0-1) to a 4-3 shootout win.
"During the game, we got better and better. And that's the most important thing," said Finland's head coach Antti Pennanen.
Czechia and Canada will both be off Friday before going head-to-head on Saturday.
The Czechs know they'll need to elevate their game for the matchup, said forward Jiri Kulich.
"We just want to keep our game," he said. "It's a big challenge, of course, and a big game. So we're just going to do our best."
In the final game of the day, the reigning champion Americans (2-0-0) took a convincing 7-1 win over Switzerland (0-2-0).
Friday will see Austria (0-1-0) face Sweden (1-0-0) and Slovakia take on Latvia (0-2-0).
NOTES: McTavish leads the tournament in scoring with eight points (four goals, four assists). … The preliminary round continues through Monday, with the quarterfinals set for Wednesday. The semifinals are scheduled for Aug. 19 and the medal games will be played on Aug. 20. … The 2022 tournament is being held in August after the original iteration was called off on Dec. 29 after just four days as rising COVID-19 cases among players and officials forced games to be forfeited.
This report by The Canadian Press was first published Aug. 11, 2022.
Gemma Karstens-Smith, The Canadian Press
Bedard shines, host Canada downs Latvia 5-2 at world junior hockey championship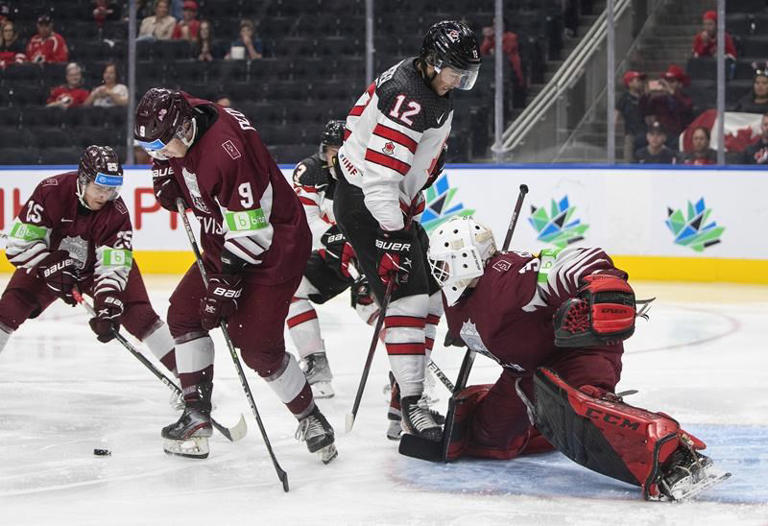 EDMONTON — Team Canada needed some time to shake off the rust as they embarked on a late-summer campaign for gold.
Coming into their first game of the world junior hockey championship in Edmonton, many on the squad hadn't laced up their skates for a competitive bout in several months.
The time away showed at moments, but Canada held on for a 5-2 victory over Latvia to open the tournament on Wednesday.
"I know a coach is never happy with the game, but considering the time of year and where we're at in this tournament, I think it was good." said head coach Dave Cameron.
The 2022 tournament is being held in August after the original iteration was called off on Dec. 29 after just four days as rising COVID-19 cases among players and officials forced games to be forfeited.
Teen phenom Connor Bedard hasn't played a "real game" in three months, and said getting back to competition felt good.
The 17-year-old was quick to show his offensive prowess, opening the scoring in the first period and adding an assist on a second-period power-play goal.
"It always feels good to score, especially that first one of the tournament," said Bedard, an early favourite to go first overall in the 2023 NHL entry draft.
"I think it's always exciting no matter who gets it. So definitely felt good. And it was cool to kind of be going to the corner and seeing some fans."
Ridly Greig and William Dufour each had a goal and a helper for Canada (1-0-0), while Lukas Cormier and Olen Zellweger also scored. Captain Mason McTavish notched two assists.
Rainers Darzins and Bogdans Hodass put away goals for the Latvians, who were coming off a 6-1 drubbing by Finland on Tuesday.
Canada's Sebastian Cossa made 22 saves and Patriks Berzins stopped 39 of 44 shots for Latvia (0-2-0).
The Canadians broke out with a three-goal performance in the second but found themselves in trouble in the final frame due to a series of undisciplined penalties.
Latvia got nine seconds of five-on-three play midway through the third when Greig was called for hooking after Kent Johnson had already been sent to the box for delay of game.
The Canadians weathered being down two men and Cossa preserved the advantage with a collection of timely stops.
Earlier in the period, Latvia cut the deficit to 4-2 on a power play after Greig was called for tripping.
Just four seconds into the man advantage, Hodas — a Medicine Hat Tigers defenceman — ripped a shot off from the top of the faceoff circle, sailing the puck over Cossa's pad.
Dufour gave the Canadians some breathing room with 5:16 to go in the third period. The New York Islanders prospect collected a slick pass from Greig and sent a quick shot in past Berzins to give his side a 5-2 lead.
Greig capped a big middle frame by collecting a pass from Dufour along the boards for an odd-man rush and streaking up the ice, using one arm to hold back Latvia's Peteris Purmalis. With his free hand, the Ottawa Senators prospect poked the puck in past Berzins at the 17:16 mark to give Canada a 4-1 lead.
"It was a pretty lucky bounce," Greig said. "And the tracker was right on me so I just tried to get it on net with one (hand)."
A power-play goal gave the Canadians a three-goal lead after Latvia captain Ralfs Bergmanis was called for slashing.
Bedard set up the play with a no-look backwards pass to Zellweger at the blue line. The defenceman wound up and fired a rocket through traffic, finding the back of the net 16:17 into the second.
Minutes earlier, Cormier scored with the man advantage after Dans Locmelis was called for roughing.
Joshua Roy calmed a bouncing puck and dished it to Cormier, who sent it sailing past Berzins from the top of the faceoff circle.
Canada's power play looked to be in trouble on its first attempt of the tournament earlier in the period.
The man advantage saw Cossa nearly send a puck into his own net while trying to clear and Johnson come within inches of scoring an own goal. The host nation turned the puck over multiple times and Latvia registered a pair of short-handed shots.
"That was just to give the fans their money's worth," Cameron said.
"That was at the time where we were in their zone for a period of time five on five and we thought that was going to carry over into the power play and we got too comfortable and we thought it was going to be easy.
"We stalled in our execution and hats off to Latvia, they didn't give up."
The Canadians went 2 for 4 on the power play Wednesday and Latvia was 1 for 5.
Canada kept Berzins busy across the first period, outshooting Latvia 18-4.
The host nation dominated play but Latvia scored the equalizer with less than two minutes to play in the opening frame. Darzins chipped a shot up and over Cossa stick side to make it 1-1.
Bedard opened the scoring 7:31 into the game, blasting a shot through a pair of Latvian defenders and over Berzins' glove from the top of the slot.
With a different roster than the December tournament and a short training camp, Canada is still trying to build chemistry as the world juniors get underway, Cossa said.
"We've been practising but nothing's really game speed," he said. "So it was nice getting into the game now and just kind of fix things coming up here, practice and get ready for the rest of the games."
Earlier Wednesday, Winnipeg Jets prospect Daniel Torgersson scored twice as Sweden (1-0-0) took a 3-2 victory over Switzerland (0-1-0) in Group B play.
In the final game of the day, Germany (1-0-1) defeated Austria (0-0-1) 4-2 for its first win of the tournament.
The Canadians will continue round-robin action Thursday when they take on Slovakia (0-0-1).
NOTES: Greig turned 20 on Monday. The world juniors are a showcase of the best under-20 players across the globe, but the International Ice Hockey Federation has allowed athletes born in 2002 who have already turned 20 to play in this summer's championship. … Cossa was playing on familiar ice, having helped the Edmonton Oil Kings to a WHL championship in June. … Canada's goal song is "Can't Stop" by the Red Hot Chili Peppers.
This report by The Canadian Press was first published Aug. 10, 2022.
Gemma Karstens-Smith, The Canadian Press