Alberta Sports Hall of Fame 2020 Induction Ceremony is Going Virtual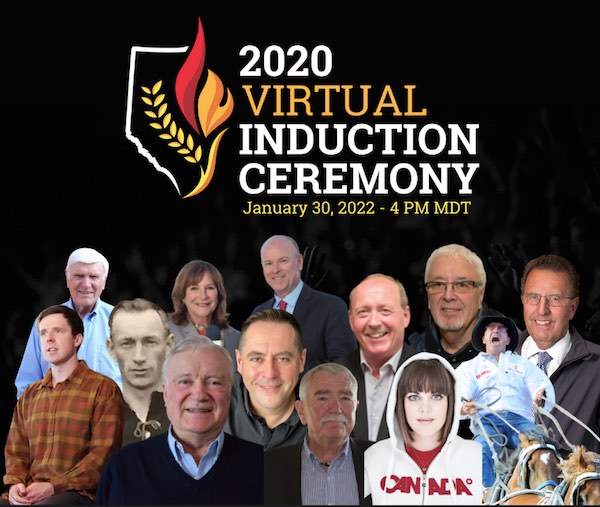 Welcome to the Official 2020 Virtual Induction Ceremony by the Alberta Sports Hall of Fame.
Live on YouTube : Alberta Sports Hall of Fame
Join the Alberta Sports Hall of Fame virtually as we celebrate Alberta's great athletes, sport builders, pioneers, and media personnel. The production will be streamed on YouTube on Sunday, January 30 at 4:00 MDT.
Get your free tickets today at albertasportshall.ca.
The newest athletes joining the Hall of Fame are:
Deidra Dionne (Athlete, Skiing); Bronze medalist in women's aerials at the 2002 Salt Lake City Winter Olympics.
Chris Phillips (Athlete, Hockey): A stay-at-home defenceman and the longest-serving player in Ottawa Senators franchise history.
Kelly Sutherland (Athlete, Chuckwagon Racing): Twelve-time Calgary Stampede Rangeland Derby Championships, and seven Calgary Stampede Aggregate titles.
Michael Robertson (Athlete, Snowboardcross): Silver medalist at the 2010 Vancouver Winter Olympics.
This year's builders include:
Jan Ullmark (Builder, Figure Skating): Jan is an elite coach whose skills have made an indelible mark on the sport of figure skating in Canada.
Terry Morris (Builder, Curling): Terry has been active in the promotion and development of the sport of curling in Alberta and across the nation for the better part of four decades.
Ken Babey (Builder, Hockey): In his nearly three decades behind the bench of the Southern Alberta Institute of Technology (SAIT) Trojans men's hockey team, Ken Babey guided the team to unparalleled success.
Derek Douglas (Builder, Soccer): The first soccer referee from Alberta to attain the position of FIFA International Referee in 1986, Derek has also been instrumental in growing the game in Sherwood Park, Edmonton and throughout the province.
This year's Alberta Sports Hall of Fame Award winners are:
Nancy Southern & Ian Allison (Bell Memorial Award): As the team who pioneered equestrian sport broadcasting in Alberta, they are the first duo to be awarded the Bell Memorial Award.
John Currie (Achievement Award): As president of the 1983 Western Canada Summer Games, John led the development and funding of the game's flagship facility – the Repsol Sport Centre.
Stan Wakelyn (Pioneer Award, Soccer): In 1922, Calgary Hillhurst FC won the Dominion of Canada Football Championship, with Stan, a centre forward, as team captain.
Dennis Kadatz (Legacy Award): At 22, Dennis guided the Edmonton Huskies Junior Football Team to three consecutive Canadian Championships in 1962, 1963 and 1964. In 1964, Dennis became head coach of the University of Calgary's fledgling football program.
For more information, please contact Tracey Kinsella, Alberta Sports Hall of Fame Executive Director, at(403) 341-8614 or via email at [email protected]
Join us virtually as we celebrate Alberta's great athletes, sport builders, pioneers, and media personnel.
The production will be streamed on YouTube on Sunday, January 30 at 4:00 MDT.
Alberta extends electricity rebate program until December at a cost of about $600M
Edmonton – The Alberta government says it will extend its electricity rebates until the end of the year as the cost of living continues to rise.
Dale Nally, who's the associate minister of natural gas and electricity, says the United Conservative government is doubling the rebate to help reduce the financial burden on Albertans.
The government says the electricity rebate program will now offer about $600 million in relief through 2022.
It says the program will provide nearly two million homes, farms and small businesses with a monthly $50 bill credit each month from July until December.
The government says it will also provide a natural gas rebate to millions of Albertans starting in October, which will continue until March 2023 if prices remain high.
Last week, Finance Minister Jason Nixon announced a $3.9-billion surplus for the 2021-22 fiscal year ending March 31.
This report by The Canadian Press was first published July 6, 2022.
Telus Corp. marks opening of Telus Sky in downtown Calgary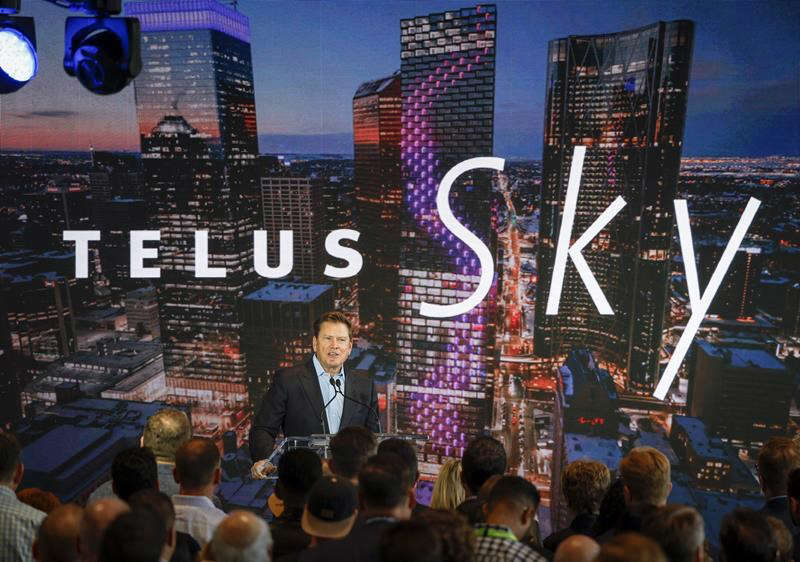 CALGARY — Telus Corp. marked the opening of its new 60-storey Calgary headquarters on Wednesday.
The new $400-million skyscraper, Telus Sky, has been in development for nine years and is now the third-tallest building in downtown Calgary. It features 750,000 square feet of office and retail space as well as 326 rental homes.
The building's eye-catching design, by architects Bjarke Ingels Group (BIG) and Dialog, along with developer partner Westbank and Allied, starts with a rectangular floorplate and then gradually twists as it rises.
Integrated into the facade of Telus Sky is Canada's largest public art display. "Northern Lights" by Canadian author and artist, Douglas Coupland, creates a light show across the building's exterior.
Telus Sky will be home to more than 1,600 Telus employees. It joins TELUS Garden in Vancouver, TELUS Harbour Toronto, TELUS House Ottawa, and Place TELUS Québec as one of the company's LEED (Leadership in Energy and Environmental Design) Platinum-certified buildings.
Among the building's environmental features is a storm water management system that recycles rainwater for use in washroom toilets, reducing the building's municipal water demand by 70 per cent.
This report by The Canadian Press was first published July 6, 2022.
Companies in this story: (TSX:T)
Amanda Stephenson, The Canadian Press