Alberta NDP Opposition says Albertans need help to pay utility bills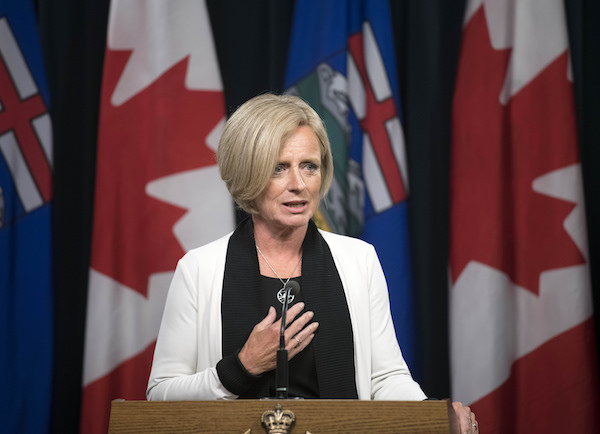 From the Alberta NDP
NDP CALLS FOR UTILITY BILL RELIEF IN RESPONSE TO SHOCKING BILLS DURING PANDEMIC, ECONOMIC DOWNTURN
Alberta's NDP is calling for major relief for consumers following a sudden surge in constituents coming forward with massive cost increases on their monthly electricity and overall utility bills.
The Office of the Utilities Consumer Advocate (UCA) cites a number of contributing factors to the upswing in prices in Alberta, including increased consumption while people are staying home to observe COVID-19 public health orders, increased use during the winter, increased costs for natural gas and electricity and increased transmission and distribution charges.
"There's a compounding effect here and it's hammering household budgets," said NDP Leader Rachel Notley. "Many Albertans have to use more natural gas and electricity if they work from home or spend more time at home to help protect their communities from the spread of COVID. Couple that with soaring prices for natural gas and electricity and you're seeing massive bills and no relief for families."
In 2016, the NDP Government capped electricity prices under the Regulated Rate Option at 6.8 cents per kilowatt hour; however, Jason Kenney and the UCP removed it in late 2019. According to the UCA, average electricity prices have exceeded that previous cap in January, February and March of this year — the highest price was reported in February by EPCOR, which charged an average of 8.95 cents per kilowatt hour.
As well, natural gas prices are at highs not seen in seven years, with prices in March exceeding four cents per gigajoule — the last time prices were this high was in June 2014. For context, rates were just 1.6 cents per gigajoule in March 2020.
In response, the NDP is calling for the following four actions to be taken by the UCP immediately:
Provide direct consumer relief to two-thirds of Albertans (those earning up to $55,000 annually as an individual or $102,500 per couple). Model the relief program after the COVID-19 Energy Assistance Program offered by the Government of Ontario, which provided customers with up to $750 in support both their electricity and natural gas bills. Consumers can apply for relief on both bills separately, providing total potential relief of $1,500.
Reinstate the Regulated Rate Option cap for electricity at 6.8 cents per kilowatt hour.
Reinstate the Utility Payment Deferral Program, which allowed consumers and businesses to defer payment of bills but which ended last June.
Ban all utility shutoffs for Alberta homes until the pandemic ends and public health orders are lifted.
Notley noted that Albertans are already struggling greatly during the pandemic and economic downturn, with tens of thousands of jobs lost in the province and currently the second-highest unemployment rate in Canada. In a recent Angus Reid poll, the percentage of Canadians reporting that they are worse off than they were a year ago is highest in Alberta.
"We need action to help Albertans in this time of great need," Notley said. "People doing the right thing and staying closer to home during this pandemic should not be penalized for doing so. We need real consumer relief from these glaring utility bills and we need it to last for the duration of the pandemic, no matter when it might end."
Thousands of Albertans have written or come forward to the NDP Caucus with complaints and concerns about their utility bills. Calgary father Hassan Ali Nakokara lost his job early in the pandemic and has been struggling to pay bills since. In February, his monthly utility bill jumped to $850 from $450 the month prior.
"It's impossible for me to pay that," Nakukara said. "I'm out of work, I'm trying to support my kids while I look for work. The last thing I can do is hand over hundreds to heat and power my home. I need help and I'm desperately hoping the government will step up to help me and so many others."
Fellow Calgarian Carolyn Nystrom said she and her husband have lived in their home since 2012 and paid between $250-300 for utilities per month. Her bill has been increasing rapidly since December – for March, the total reached $576. Nystrom said it appears the greatest increases are being seen on electricity and transmission charges.
"We are in a pandemic," Nystrom said. "People have lost their jobs. People have spent their savings. My husband and I have both been fortunate to keep our jobs through all of this. Even though we still get a paycheque, a bill doubling in three months is absolutely unaffordable … if companies like Enmax and Direct Energy can charge whatever they want per kilowatt hour or gigajoule, what can stop them? And what can we do? We live in Canada. Being able to turn lights on is not exactly an option here. We have to pay, and companies without regulations and caps know that."
Correspondence and calls regarding spiking utility bills have come in from all over the province.
Airdrie mother Lisa Gilling said her most recent electricity bill shows the price being charged per kilowatt hour jumped from 5 cents to 19 cents per kilowatt hour and her bill for electricity alone totaled over $400.
"A three hundred per cent increase for a product or service is drastic but when it is an essential service, like electricity, it can be catastrophic, especially for a single-income family," Gilling said. "Do you cut back on groceries in order to have lights and hot water?"
Mickey Moore, a senior living alone in Vermillion said his bill has risen by hundreds of dollars since the beginning of the year to more than $550 in March.
"Without some kind of control on essential service, with no real competition, how can we seniors expect to keep up on our fixed incomes?" Moore said. "Does the government plan to index seniors' incomes to the rising utility costs? When we had regulated utility oversight there was some control and fairness applied."
Regulator rules in favour of Trans Mountain route deviation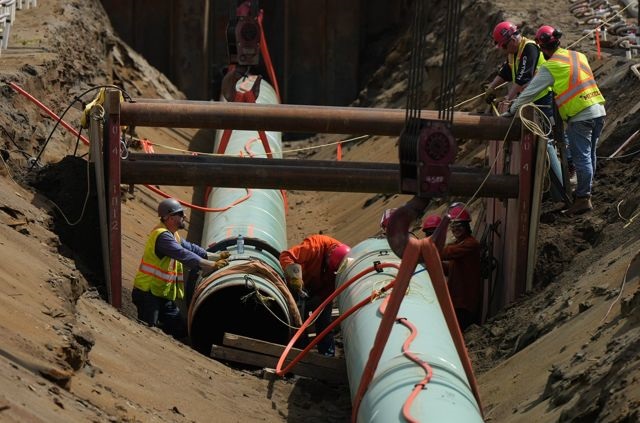 Workers place pipe during construction of the Trans Mountain pipeline expansion on farmland, in Abbotsford, B.C., on Wednesday, May 3, 2023. THE CANADIAN PRESS/Darryl Dyck
By Amanda Stephenson in Calgary
The Canada Energy Regulator has approved Trans Mountain Corp.'s application to modify the pipeline's route, a decision that could spare the government-owned pipeline project from an additional nine-month delay.
The regulator made the ruling Tuesday, just one week after hearing oral arguments from Trans Mountain and a B.C. First Nation that opposes the route change.
It didn't release the reasons for its decision Tuesday, saying those will be publicized in the coming weeks.
By siding with Trans Mountain Corp., the regulator is allowing the pipeline company to alter the route slightly for a 1.3-kilometre stretch of pipe in the Jacko Lake area near Kamloops, B.C., as well as the construction method for that section.
Trans Mountain Corp. had said it ran into engineering difficulties in the area related to the construction of a tunnel, and warned that sticking to the original route could result in up to a nine-month delay in the pipeline's completion, as well as an additional $86 million more in project costs.
Trans Mountain has been hoping to have the pipeline completed by early 2024.
But Trans Mountain's application was opposed by the Stk'emlúpsemc te Secwépemc Nation, whose traditional territory the pipeline crosses and who had only agreed to the originally proposed route.
In their regulatory filing, the First Nation stated the area has "profound spiritual and cultural significance" to their people, and that they only consented to the pipeline's construction with the understanding that Trans Mountain would minimize surface disturbances by implementing specific trenchless construction methods.
The Stk'emlúpsemc te Secwépemc argued that Trans Mountain never said its originally proposed construction method was impossible, only that it couldn't be done in time to meet a Jan. 1 in-service date for the pipeline.
The First Nation didn't respond to a request for comment by publication time.
The Trans Mountain pipeline is Canada's only pipeline system transporting oil from Alberta to the West Coast. Its expansion, which is currently underway, will boost the pipeline's capacity to 890,000 barrels per day (bpd) from 300,000 bpd currently.
The pipeline — which was bought by the federal government for $4.5 billion in 2018 after previous owner Kinder Morgan Canada Inc. threatened to scrap the pipeline's planned expansion project in the face of environmentalist opposition and regulatory hurdles — has already been plagued by construction-related challenges and delays.
Its projected price tag has since spiralled: first to $12.6 billion, then to $21.4 billion and most recently to $30.9 billion (the most recent capital cost estimate, as of March of this year).
Keith Stewart with Greenpeace Canada said it's alarming to see the regulator over-rule the wishes of Indigenous people in order to complete a pipeline on deadline.
"Every Canadian should be outraged that our public regulator is allowing a publicly owned pipeline to break a promise to Indigenous people to protect lands of spiritual and cultural significance," Stewart said.
The federal government has already approved a total of $13 billion in loan guarantees to help Trans Mountain secure the financing to cover the cost overruns.
Trans Mountain Corp. has blamed its budget problems on a variety of factors, including inflation, COVID-19, labour and supply chain challenges, flooding in B.C. and unexpected major archeological discoveries along the route.
Given the Canadian regulatory system has a reputation for being slow and cumbersome, it was surprising to see the Canada Energy Regulator rule so quickly on Trans Mountain's route deviation request, said Richard Masson, executive fellow with the University of Calgary's School of Public Policy.
"It's a challenging decision to have to make, when you've got a $30 billion pipeline that needs to be completed," Masson said.
"If there's no feasible way to do that tunnel, then I guess you have to allow for this."
Masson added that if the regulator had denied Trans Mountain's request, it would have been bad news for taxpayers as well as the federal government, which is seeking to divest the pipeline and has already entered into negotiations with several interested Indigenous-led buyers.
It also would have been bad news for Canadian oil companies, who have been eagerly anticipating the pipeline's start date to begin shipping barrels to customers.
"If this can result in the pipeline being completed by year-end and started up in the first quarter, that's good news. The world is still looking for oil, and oil prices are up at US$90 a barrel," Masson said.
This report by The Canadian Press was first published Sept. 25, 2023.
Partial settlement approved in lawsuit against Calgary Stampede over abuse of boys
Calgary
A judge has approved a partial settlement in a class-action lawsuit against the Calgary Stampede that alleged the organization allowed a performance school staffer to sexually abuse young boys.
Phillip Heerema received a 10-year prison sentence in 2018 after pleading guilty to charges including sexual assault, sexual exploitation, child pornography and luring.
Heerema admitted to using his position with the Young Canadians School of Performing Arts, which performs each year in the Calgary Stampede Grandstand Show, to lure and groom six boys into sexual relationships.
The school is operated by the Calgary Stampede Foundation.
Court of King's Bench Justice Alice Woolley approved the deal in which the Stampede has agreed to pay 100 per cent of the damages.
Hearings on the amount will take place on Dec. 14 and 15.
This report by The Canadian Press was first published Sept. 25, 2023