Alberta goes back to Step 1 Lockdown Restrictions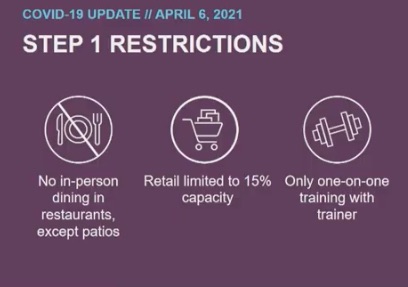 From the Province of Alberta
Alberta is returning to Step 1 of the four-step framework to protect the health system and reduce the rising spread of COVID-19 provincewide.
Effective at 11:59 p.m. on April 6, updated mandatory health measures go into effect for retail, fitness and performance activities. Effective at noon on Friday, April 9, restaurants will be restricted to providing only takeout, delivery and patio service.
Alberta will remain in Step 1 with restaurant restrictions until further notice. Health officials will continue to closely monitor the spread of COVID-19 to assess whether additional action is needed to reduce transmission.
"We are taking strong action to stop the third wave from threatening our health system and the health of thousands of Albertans. The rapid rise in cases, especially variants of concern, makes this a critical time to stop the spread. These measures will buy us some time for additional COVID-19 vaccines to arrive and take effect so we can once again start safely easing restrictions as quickly as possible."
"The rising spread of variants means that we must take stricter measures in order to protect capacity in our health system and save lives. These mandatory new health measures will only be needed for a short while as we vaccinate Albertans as quickly as possible."
"I am extremely concerned by the recent increase in COVID-19 cases in Alberta. All Albertans must take these additional measures very seriously; this virus is highly contagious. Only by working together can we protect each other, reduce the spread and protect our health system."
Step 1 restrictions
The following mandatory public health measures come into effect at 11:59 p.m. on April 6:
Retail
Retail services must reduce customer capacity to 15 per cent of fire code occupancy, with a minimum of five customers permitted.

Curbside pickup, delivery and online services are encouraged.

Shopping malls will be limited to 15 per cent of fire code occupancy.
Indoor fitness
Only one-on-one training with an individual or household is permitted for indoor fitness activities (e.g., fitness in dance studios, training figure skating on ice, one-on-one lessons).
No drop-in activities or unsupervised individual fitness.
Group fitness, high or low intensity, is not allowed.
Outdoor physical activity is allowed with up to 10 people, provided physical distancing is maintained between households.
Adult performance activities
Adult performance activities are not permitted. Performance activities include dancing, singing, acting, playing a musical instrument and any rehearsal or theatrical performances.
The following mandatory public health measures come into effect at noon on Friday, April 9:
Restaurants, pubs, bars, lounges and cafés
Indoor in-person service is no longer permitted

Takeout, curbside pickup and delivery services are permitted.
Outdoor patio dining is also allowed. Tables and dining parties must be two metres apart or separated by an impermeable barrier that will prevent droplet transmission.
Household members only, or two close contacts of someone who lives alone.
Contact information must be collected from one person of the dining party.
The following mandatory public health measures remain in effect unchanged:
Places of worship
All places of worship will continue to be limited to 15 per cent of fire code occupancy for in-person attendance.

Virtual or online services are strongly encouraged.
Drive-in services where individuals do not leave their vehicles and adhere to guidance will be permissible and are not subject to capacity restrictions.
Social gatherings
Indoor social gatherings continue to be prohibited.
Outdoor social gatherings are limited to 10 participants, provided physical distancing and other measures continue to be followed.
Personal and wellness services
Personal and wellness services can be open for appointment only. This includes hair salons, nail salons, massage, tattoos and piercing.
Health services, including physiotherapy or acupuncture, social or protective services, shelters for vulnerable persons, emergency services, child care, and not-for-profit community kitchens or charitable kitchens can remain open for in-person attendance.
Indoor and outdoor children's sport and performance
K-12 schools and post-secondary children's sport and performance activities, such as physical education classes, can now use off-site facilities to support curriculum-related educational activities.
Lessons, practices and conditioning activities, but not games, may occur for indoor team-based minor sports/activities and school athletics.

All participants must be 18 years old or younger, excluding coaches or trainers.
Maximum of 10 individuals, including all coaches, trainers and participants.
Participants must stay physically distanced from each other at all times.
Metrics based on cases and growth, including COVID-19 variants, are being monitored and will also be used to guide any decisions around the need to pause further steps or potentially increase restrictions.
Alberta's government is responding to the COVID-19 pandemic by protecting lives and livelihoods with precise measures to bend the curve, sustain small businesses and protect Alberta's health-care system.
Positive COVID-19 tests at world men's curling championship deemed "false positives"
CALGARY — The four positive COVID-19 tests that interrupted the men's world curling championship are considered "false positives" from potentially contaminated samples, according to the World Curling Federation.
The men's championship concluded late Sunday night with Sweden's Niklas Edin winning a record fifth world men's title.
No games were played Saturday because four participants, including one from a playoff team, tested positive for the virus in "exit" tests before leaving Calgary's curling bubble. 
None had symptoms of the illness.
All have tested negative in multiple re-tests since then, the WCF said Monday in a statement. All tests were conducted via PCR throat swabs.
"According to Alberta Health, PCR testing remains the gold standard for COVID-19 testing," the WCF said. "Very rarely, there are occurrences through sampling or testing processes when samples may become contaminated and a false positive may result.
"Following an investigation over the weekend, it appears that this may have occurred in this case and follow-up testing was undertaken."
All athletes and personnel considered close contacts of the four underwent testing Saturday with all results negative. 
Every playoff team member was tested before and after each game Sunday with those results also negative, the WCF said. Hotel staff were also tested Sunday and cleared.
"With the original four positive test results now deemed as false positives, the integrity of the Calgary bubble remains intact," the WCF declared.
"The change also allows international athletes who were considered close contacts, and who would have had to remain in isolation in Calgary for 14 days, will now be able to depart Calgary."
The fifth of seven events in Calgary's curling hub, the Humpty's Champions Cup, gets underway Thursday.
This report by The Canadian Press was first published April 12, 2021.
The Canadian Press
Pulling the plug: Edmonton Folk Music Festival cancelled due to COVID-19 pandemic
EDMONTON — Despite Alberta Premier Jason Kenney's hope that the COVID-19 vaccine will allow summer events like the Calgary Stampede to go ahead, the Edmonton Folk Music Festival has been cancelled
The festival says in a statement that without full vaccination, people won't be entirely safe from the spread of COVID-19. 
It says that with virus variants and an uncertain vaccine rollout, the impossibility of social distancing at the outdoor festival could lead to community spread.
Kenney has said that two-thirds of the population should have a vaccine shot by the end of June and things should begin to feel back-to-normal.
He says the Stampede, which is held in early July, along with sporting events and other festivals will be possible.
The Edmonton Folk Music Festival says it will continue to offer online content and, if small gatherings are permitted, it hopes to add some community engagement.
"With so many variables at play, the complexity of planning and delivering a festival of our size makes it impossible to move forward in our usual manner," the statement said Monday.
"As profoundly disappointing as this news is, we believe this is the only safe way forward. The safety of our patrons, volunteers, and artists was of paramount importance in coming to this conclusion."
The annual four-day festival in the city's Gallagher Park usually attracts thousands of music fans and boasts approximately 2,700 volunteers.
Alberta introduced new health rules last week, closing restaurants to in-person dining and further reducing customer capacity at retail stores in response to rising COVID-19 numbers.
This report by The Canadian Press was first published April 12, 2021.
The Canadian Press