A permanent quest to find a better sounding, better playing guitar – meet Jason McGillivray, player and luthier
At Todayville, some of us have a guitar addiction. And so, when we can profile an Alberta guitar maker, we're very happy to do so. Oh, we also like video and filmmaking, so this video by ilia Photo and Cinema of Calgary's Jason McGillivray building a beautiful McGillivray "Parlour Guitar" is an added bonus. Learn about Jason's journey from player and enthusiast to luthier.
"…Having played guitar since the early 80's, I was on a permanent quest, as most musicians are, to find a better sounding, better playing, instrument than the one I had…"
By Jason McGillivray:
I am often asked "how did you get into guitar building?" For me, the appeal lies in the way lutherie combines art and science, drawing upon and exercising the left and right sides of the brain. Satisfaction is gained as the process unfolds and I combine and work down natural materials such as spruce or rosewood. The culmination is an heirloom-quality instrument that enhances the human experience of both player and listener and, as the instrument is passed on, for future generations.
Having played guitar since the early 80's, I was on a permanent quest, as most musicians are, to find a better sounding, better playing, instrument than the one I had. Frequenting guitar shops whenever I could, I discovered factory offerings could only attain a certain level, and still maintain desired prices and production targets. I began to research guitar building, thinking in the future it would be something I'd like to pursue.
I spent ten years studying the craft, collecting tone wood, and acquiring tools, before actually building my first guitar. I learned that factory guitars and handmade guitars have fundamental differences. In the factory setting, guitar parts are mass produced in batches with speed and efficiency driving construction methods and design decisions. As the guitar moves down the line, the next piece is pulled from the bin and added to the assembly. All the components in the pile are of uniform dimensions; however wood is not a uniform material, even from the same tree. Each piece of wood needs to be evaluated and then worked to its optimum dimensions, based on its stiffness and density.
In the factory, randomly selecting components from the bin occasionally results in a combination of excellent parts, producing an exceptional guitar. This is why you can play ten factory guitars of the same model, made at the same time, and a few will excel, a few will underperform, and the rest will be average. A good hand builder, in a one-person shop, takes the mystery out of how the final product will perform. He or she has invested years collecting superb tone woods, studying the properties of wood and adhesives, and incorporating the successes, and knowledge gained from failures, of luthiers, past and present. Only the best wood is selected, and then worked to its fullest potential as it is combined with other woods, bone, and steel, to work synergistically as a unit.
While I was doing my research and collecting tone wood, I ordered an expensive, handmade guitar with an inheritance from my grandfather. This, I reasoned, would give me a benchmark to study and compare my own building progress against in the future, plus I would get that handmade tone and playability I'd been searching for. The guitar arrived six months later, and although it was nice, it just didn't have the tone that my ear was searching for. This was the nudge I needed to kick-start my building career. Perhaps it would take many tries, but redirecting my energy from searching for my perfect guitar, to creating it, sat well with me, and so it began.
I learned from a tutor who is an experienced builder, and by self-study and experimentation. While completing my BSc in Forest Science I had the opportunity to gain in-depth knowledge on the structural properties of wood, at a cellular level; this has served me well in understanding how to select and optimize tone wood. Twenty years in the sawmilling and forest products industry, as a professional forester, further tempered my understanding of wood, the growing conditions required for premium tone wood, and how to break down a tree for the highest quality yield. Attending the American School of Lutherie, in Portland Oregon, and studying the methods and approach of Charles Fox, gave me a strong foundation and I have continued to refine my sound and style.
Initially based in British Columbia, McGillivray Guitars now operates out of Calgary, Alberta, producing several commissioned instruments per year, with occasional speculative builds, the progress of which can be viewed on the website, in "On the Bench".
Commissioned instruments are fully customizable in all aspects, including model, size, shape, scale length, string spacing, neck profile, body depth, and wood selection. If desired, an individual's playing style, hand size, and physical conditions will be evaluated to select and guide the player to their optimum personalized instrument design.
Click to learn more about McGillivray Guitars including a full price list.
New Zealand arts funder rejects Shakespeare as 'imperialism'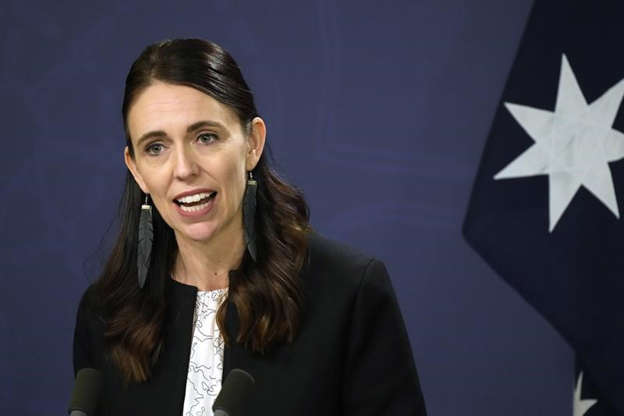 WELLINGTON, New Zealand (AP) — Is Shakespeare still relevant to today's students?
New Zealand's arts council appears to have its doubts after ending funding for a popular school Shakespeare program, arguing it relied too heavily on busy schools, failed to show relevance to "the contemporary art context" and relied on a genre "located within a canon of imperialism."
But many have taken issue with the decision by Creative New Zealand, including Jacinda Ardern, the nation's prime minister — and former student thespian.
"I was a participant in Shakespeare in Schools. I thought it was a great program," Ardern said.
She said students interested in drama and debate have limited opportunities to interact with peers from other schools.
"I was one of those kids. And so I would like to continue to see other kids have those opportunities," she said.
Ardern added that the funding decision wasn't up to her, or even to the government. Creative New Zealand is funded by taxpayers but is run independently.
The school programs, workshops and festivals have been run for about 30 years by the Shakespeare Globe Centre New Zealand. Students can act, direct make costumes or create a soundtrack. Often the plays are set in contemporary times or have different takes on the originals written by William Shakespeare more than 400 years ago.
The center has been receiving about 30,000 New Zealand dollars ($17,000) each year from the arts council, about 10% of its overall budget.
Dawn Sanders, the center's chief executive, said the initial rejection last month, which remained in place after a crisis meeting Friday, blindsided her.
"I was gobsmacked and disgusted," she said.
She said more than 120,000 students had been involved in the festivals and programs over the years, and many became professionals in theater or film.
Others, she said, had used their acting skills in their jobs, for instance lawyers who were better able to argue their cases or doctors who developed a more engaging bedside manner.
Creative New Zealand did not immediately respond to requests for comment.
In its 11-page rejection note, however, one arts council assessor said the center had "proved the ongoing value" of its regional and national Shakespeare competition model, with some 4,600 young people participating in 24 regional festivals annually.
"The application does make me reflect on the ongoing relevance of Shakespeare, and question whether a singular focus on an Elizabethan playwright is most relevant for a decolonizing Aotearoa in the 2020s and beyond," the assessor added, using the Indigenous name for New Zealand.
A panel concluded that the Shakespeare center "seems quite paternalistic" and that its funding proposal "did not demonstrate the relevance to the contemporary art context."
Sanders said she would try to find alternative funding and vowed the show would go on. Since the dispute became public, she said, people had already donated thousands of dollars through online crowdsourcing.
Former Deputy Prime Minister Winston Peters wrote on Facebook that the decision amounted to political and social engineering by "overpaid sickly liberal bureaucratic wokester morons."
Ardern, meanwhile, said it would be wrong to extrapolate a wider comment on society from a single funding decision. And she demurred on saying what Shakespeare role she had played as a student, saying such a disclosure could become a distraction.
"So I might just leave out the details for now," she said.
Nick Perry, The Associated Press
Activists in UK court after soup thrown at Van Gogh picture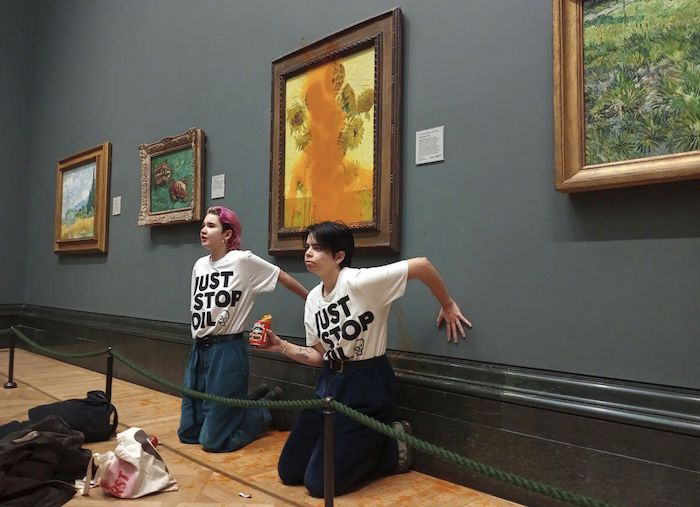 By Sylvia Hui in London
LONDON (AP) — Three climate activists appeared in a London court on Saturday on charges of criminal damage after protests including throwing soup over Vincent van Gogh's "Sunflowers" painting in the National Gallery.
Two women, age 20 and 21, were charged in relation to the soup-throwing protest on Friday, while a third was charged over paint sprayed on a rotating sign at the Metropolitan Police's headquarters in central London. The three women pleaded not guilty to criminal damage at Westminster Magistrates' Court during two brief hearings Saturday.
Demonstrators from climate change protest groups Extinction Rebellion and Just Stop Oil, which wants the U.K. government to halt new oil and gas projects, staged a series of protests in London on Friday.
Just Stop Oil said activists dumped two cans of tomato soup over the Van Gogh oil painting, one of the Dutch artist's most iconic works. The two protesters also glued themselves to the gallery wall.
Prosecutor Ola Oyedepo said the pair didn't harm the oil painting, which was covered by a glass protective case, but damage was caused to the frame.
The painting, one of several versions of "Sunflowers" that Van Gogh painted in the late 1880s, was cleaned and returned to its place in the National Gallery on Friday afternoon.
District judge Tan Irkam released the women on bail on condition that they don't have paint or adhesive substances on them in a public place.
Police said they made some 28 arrests in relation to Friday's protests, and 25 others were bailed pending further investigation. On Saturday, police arrested a further 26 people after Just Stop Oil protesters blocked a major road in east London. Some demonstrators glued themselves to the road surface.
Just Stop Oil has drawn attention, and criticism, for their disruptive tactics, including targeting artworks in museums. In July, activists glued themselves to the frame of an early copy of Leonardo da Vinci's "The Last Supper" at London's Royal Academy of Arts, and to John Constable's "The Hay Wain" in the National Gallery.
Activists have also blocked bridges and intersections across London during two weeks of protests against the U.K. government's approach to climate change.
The latest wave of demonstrations came as Prime Minister Liz Truss ' Conservative government opened a new licensing round for oil and gas operations in the North Sea and reversed a 2019 ban on fracking in England. Environmentalists say the U.K. government was undermining the fight against climate change.
___
Follow AP's climate coverage at https://apnews.com/hub/climate-and-environment