12 rifles including semi-automatic seized in Clearview Ridge

From The Alberta Law Enforcement Response Team (ALERT)
Large Cache of Guns Seized in Red Deer
On September 11, 2019, ALERT executed a search warrant at a home in the Clearview Ridge subdivision. Red Deer RCMP provided assistance with the short-term investigation that began just weeks earlier.
Once inside the home, investigators seized:
56 grams of cocaine, worth an estimated $5,600;
12 rifles, including one semi-automatic rifle;
two handguns;
a sawed-off shotgun;
a prohibited magazine; and
more than 9,000 rounds of ammunition.
A preliminary check found that four of the weapons were reported stolen after a break-and-enter in Three Hills, Alta., in August. All the firearms seized will be submitted for forensic analysis and ballistic testing to determine if they were used in any criminal activities.
ALERT alleges that the home's residents were involved in firearms and drug trafficking.
Two people were arrested when the search was carried out. Zane Middlemiss, a 26-year-old man, and Sage Sunderwald, a 21-year-old woman, have been charged with a total of 80 firearm- and drug-related offences.
Members of the public who suspect drug or gang activity in their community can call local police, or contact Crime Stoppers at 1-800-222-TIPS (8477). Crime Stoppers is always anonymous.
ALERT was established and is funded by the Alberta Government and is a compilation of the province's most sophisticated law enforcement resources committed to tackling serious and organized crime.

'Sorry': Crown calls for harsh sentence for Calgary man in multimillion-dollar fraud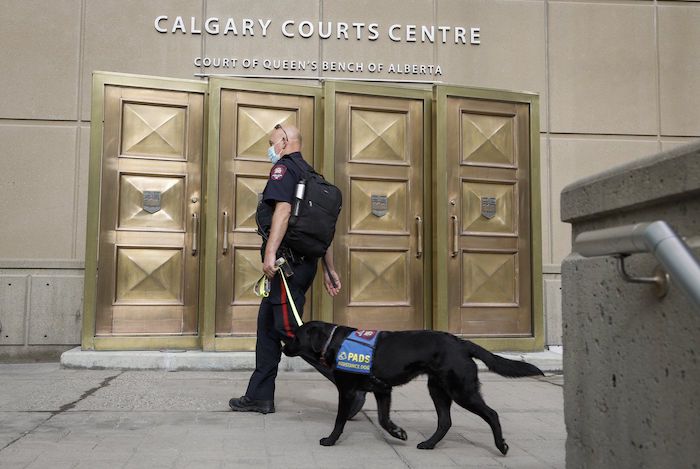 By Bill Graveland in Calgary
The Crown asked for a sentence of 10 to 12 years Wednesday for a Calgary man who bilked clients out of millions of dollars in a Ponzi scheme.
Arnold Breitkreutz, 74, was convicted on June 29 of fraud over $5,000 for what the Crown described as a multimillion-dollar scheme in which investors believed they were putting money into safe first mortgages.
Court heard the money from his company, Base Financial, was instead loaned to an energy industry promoter and used in a risky oil play in Texas that was secured against oil-and-gas leases and equipment.
"The Crown submits that this actually was a trust situation," said Crown prosecutor Shelley Smith, who told court that Breitkreutz was held in "high regard" by many clients after successfully running a mortgage-broker business for years.
Smith said during the period of the offence, between May 1, 2014, and Sept. 30, 2015, investors provided Breitkreutz with more than $21.4 million as a result of his "deceit."
"The scheme was due to collapse at some point, but the fraud persisted for a period of 17 months," she said.
"False contracts were distributed to investors, T5 (investment income tax slips) were also distributed to investors providing a gloss of legality to the scheme. With respect to the large number of victims in this case, 107 individuals were defrauded money."
Smith is also asking that Breitkreutz pay restitution of more than $3.1 million.
The court received 29 victim impact statements. Two of the victims were in court to read them.
William Janman and his wife invested nearly $3 million with Breitkreutz and trusted him so much they would invite him to barbecues and out to dinner.
"We will never in our lifetime recover from this loss. We find ourselves struggling with unmatched loss on a daily basis instead of enjoying the end of our life and retirement," he told the court.
He said he and his wife have experienced guilt, shame, self-blame and depression.
"The nightmare continues."
Another investor, whose identity is protected by a publication ban, said she feels like a fool for ignoring her initial intuition after putting her finances and company at risk.
"Who would have believed that ignoring that niggly feeling would lead to the near collapse of our business and devastating financial impacts to all of our employees," she said.
"Please remember all the victims. I ask that you sentence Arnold Breitkreutz to the fullest extent of the law so he may think of all the lives that he has damaged."
Breitkreutz's lawyer said his client should serve a sentence in the five-to-eight-year range and anything above that would be unfair considering his age.
Cale Ellis-Toddington said the operations of his client were not complex and the well-heeled investors knew what they were getting into.
"It wasn't a matter of trust. You look at the evidence of the investors and they said 'I don't really trust Arnold, but the fact of the matter is I was getting a great return on my investment and that's why I invested,'" he said.
Ellis-Toddington said his client was not motivated by greed but was trying to get his investor's money back. He said his client's level of moral blameworthiness is low.
But Queen's Bench Justice Colin Feasby questioned that argument.
"Is it not an abuse of trust to raise money on both the explicit and implicit representation that you are a mortgage broker dealing in Alberta mortgages and then to bait-and-switch and put that money into a Texas investment?" he asked.
"Another way to look at it is: He was running Ponzi schemes and kept kicking things down the road so he never had to have a day of reckoning."
Breitkreutz, who has been in custody since he was found guilty, offered a brief apology.
"I can feel your loss and for that I'm unbelievably and indescribably sorry. It was not my intention when I accepted your money," he said.
"I put your money in the same place that I put my own. Nonetheless, I feel for you deeply, as much as I can and I'm sorry."
Feasby is to deliver his sentence on Friday.
This report by The Canadian Press was first published Aug. 17, 2022.
Salman Rushdie 'on the road to recovery,' agent says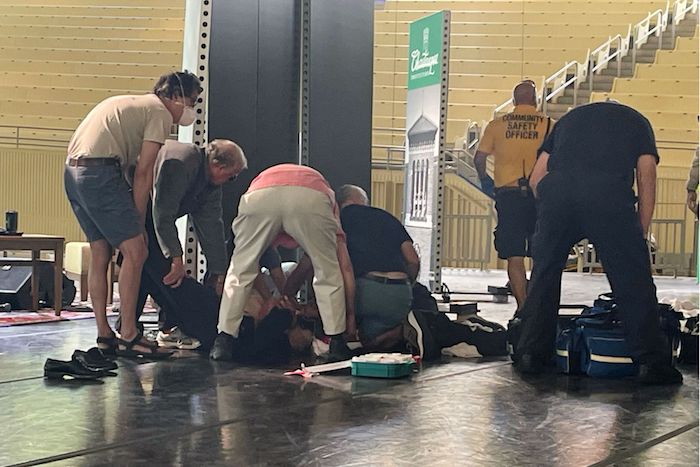 MAYVILLE, N.Y. (AP) — Salman Rushdie is "on the road to recovery," his agent confirmed Sunday, two days after the author of "The Satanic Verses" suffered serious injuries in a stabbing at a lecture in upstate New York.
The announcement followed news that the lauded writer was removed from a ventilator Saturday and able to talk and joke. Literary agent Andrew Wylie cautioned that although Rushdie's "condition is headed in the right direction," his recovery would be a long process. Rushdie, 75, suffered a damaged liver and severed nerves in an arm and an eye, Wylie had previously said, and was likely to lose the injured eye.
"Though his life changing injuries are severe, his usual feisty & defiant sense of humour remains intact," Rushdie's son Zafar Rushdie said in a Sunday statement that stressed the author remained in critical condition. The statement on behalf of the family also expressed gratitude for the "audience members who bravely leapt to his defence," as well as police, doctors and "the outpouring of love and support from around the world."
Hadi Matar, 24, of Fairview, New Jersey, pleaded not guilty Saturday to attempted murder and assault charges in what a prosecutor called "a targeted, unprovoked, preplanned attack" at the Chautauqua Institution, a nonprofit education and retreat center.
The attack was met with global shock and outrage, along with praise for the man who, for more than three decades, has weathered death threats and a $3 million bounty on his head for "The Satanic Verses." Rushdie even spent nine years in hiding under a British government protection program.
Authors, activists and government officials cited Rushdie's bravery and longtime championing of free speech in the face of such intimidation. Writer and longtime friend Ian McEwan labeled Rushdie "an inspirational defender of persecuted writers and journalists" and actor-author Kal Penn called him a role model "for an entire generation of artists, especially many of us in the South Asian diaspora."
"Salman Rushdie — with his insight into humanity, with his unmatched sense for story, with his refusal to be intimidated or silenced — stands for essential, universal ideals," U.S. President Joe Biden said in a Saturday statement. "Truth. Courage. Resilience. The ability to share ideas without fear."
Rushdie, who was born in India to a Muslim family and has lived in Britain and the U.S., is known for his surreal and satirical prose, beginning with his Booker Prize-winning 1981 novel "Midnight's Children," in which he sharply criticized India's then-prime minister, Indira Gandhi.
Infused with magical realism, 1988's "The Satanic Verses" drew ire from some Muslims who regarded elements of the novel as blasphemy.
They believed Rushdie insulted the Prophet Muhammad by naming a character Mahound, a medieval corruption of "Muhammad." The character was a prophet in a city called Jahilia, which in Arabic refers to the time before the advent of Islam on the Arabian Peninsula. Another sequence has prostitutes that share names with some of Muhammad's nine wives. The novel also implies that Muhammad, not Allah, may have been the Quran's real author.
The book had already been banned and burned in India, Pakistan and elsewhere when Iran's Grand Ayatollah Ruhollah Khomeini issued a fatwa, or edict, calling for Rushdie's death in 1989. Khomeini died that same year, but the fatwa remains in effect — though Iran, in recent years, hadn't focused on Rushdie.
Iran's state-run newspaper, Iran Daily, praised the attack as an "implementation of divine decree" Sunday. Another hardline newspaper, Kayhan, termed it "divine revenge" that would partially calm the anger of Muslims.
Investigators were trying to determine whether the suspect, born nearly a decade after the novel's publication, acted alone. A prosecutor alluded to the standing fatwa as a potential motive in arguing against bail.
"His resources don't matter to me. We understand that the agenda that was carried out yesterday is something that was adopted and it's sanctioned by larger groups and organizations well beyond the jurisdictional borders of Chautauqua County," District Attorney Jason Schmidt said.
Schmidt said Matar got an advance pass to the event where the author was speaking and arrived a day early bearing a fake ID. The judge ordered Matar held without bail.
Public defender Nathaniel Barone complained that authorities had taken too long to get Matar in front of a judge while leaving him "hooked up to a bench at the state police barracks" and stressed that Matar had the right to presumed innocence.
Barone said after the hearing that Matar has been communicating openly with him and that he would spend the coming weeks trying to learn about his client, including whether he has psychological or addiction issues.
Matar was born in the United States to parents who emigrated from Yaroun in southern Lebanon, village mayor Ali Tehfe told The Associated Press. Flags of the Iran-backed Shia militant group Hezbollah, along with portraits of Hezbollah and Iranian leaders, were visible across Yaroun before journalists visiting Saturday were asked to leave.
Hezbollah spokespeople did not respond to requests for comment.
In Tehran, some Iranians interviewed by the AP praised the attack on an author they believe tarnished the Islamic faith, while others worried it would further isolate their country.
Event moderator Henry Reese, 73, suffered a facial injury and was released from a hospital, police said. He and Rushdie had planned to discuss the United States as a refuge for artists in exile.
A state trooper and a county sheriff's deputy were assigned to Rushdie's lecture, and police said the trooper made the arrest. But afterward, some longtime visitors to the bucolic vacation colony questioned why there wasn't tighter security given the history of threats against Rushdie.
On Friday, an AP reporter witnessed the attacker stab or punch Rushdie about 10 or 15 times.
News about the stabbing has led to renewed interest in "The Satanic Verses," which topped bestseller lists after the fatwa was issued in 1989. As of Sunday morning, the novel ranked No. 11 on Amazon.com's list.
One of Rushdie's ex-wives, the author and television host Padma Lakshmi, tweeted Sunday that she was "relieved" by Rushdie's prognosis.
"Worried and wordless, can finally exhale," she wrote. "Now hoping for swift healing."
___
Italie reported from New York. Associated Press journalists Amir Vahdat in Tehran, Iran, and Kareem Chehayeb in Beirut contributed to this report.