Update – Your event has been cancelled
Update: Ilan appeared with Edmonton radio station 630 CHED's J'lyn Nye on October 5th, 2020 where they discussed the severe challenges in the live event industry. You can read Ilan's original story below.
Your Event Has Been Cancelled
By Ilan Cooley
The live event industry is in serious trouble. It was the first sector to go dark due to the pandemic, and it is expected to be the last to be allowed back to work.
The people behind the scenes of your favourite events are the mavericks and risk takers you likely don't know about. They create the events that make you smile until your face hurts, cheer until you lose your voice, and dance until you can't stand up. They make the magic that fills your social feeds, and the moments that live in your memories.
You may have gotten an email saying "your event has been cancelled" – they lost their livelihood.
"People don't understand how bullseye targeted this virus was at our industry," says Jon Beckett, owner of Production World. "It was a 100% bullseye. You couldn't hit it more dead centre. It's not like it hurt us – it took it away. People don't understand that until you talk to them about your industry."
Beckett's company used to employ 50 people. Having lost more than 200 events so far, they have laid off 35 people. Their 25,000 square foot warehouse contains almost seven million dollars worth of staging, lighting and other production equipment.
"We have to house that inventory," he says. "It is not like we can sell it."
Similarly, Fort Saskatchewan based Superior Show Service has two separate warehouses full of rental items nobody currently needs, plus tax bills and insurance due. As a 35-year-old family-run event rental company, they cater to tradeshows and large events. Some of the 35 staff they laid off in March have been hired back after accessing relief programs, but with more than 80 events already cancelled, owner Chris Sisson worries about the future.
"It feels like the carpet kicked out from under you," he says. "I've always been able to provide for a great number of families, not just my own, and today I have no idea how to provide for my own. I have been in this industry my entire life, and now I have no idea what to do. It is truly humbling and dumbfounding."
Event promoter Mike Andersson prefers not to dwell on what has been lost, instead focusing on building something consumers will want to come back to when it is over. He knows how to manage complex logistics and bring large groups of people together. Even when faced with severe restrictions for events, his company, Trixstar, was busy creating pandemic proof event manifestos, and blue-sky concepts for safe gatherings.
"When everything came crashing down we were putting up material about what events look like after this, and showing some optimism," he says. "It is important to get people together and to celebrate." He admits there are good days and bad days. "It is a rollercoaster of emotions," he says. "Obviously we feel terrible. It affects us, but it affects so many companies. From the security companies, to the ticketing companies, to the tent company, to the production company – all those people are affected."
Event photographer Dale MacMillan also worries about the people behind the scenes. He has lost more than 100 days of shooting for professional sporting events, large music events, festivals and fairs, which makes up about 60% of his income, and he knows others are in the same situation.
"There's a guy sitting out there with probably a quarter section of land and he's probably got 5500 porta potties that are out at ten to 20 events throughout the month, and he is affected tremendously," says MacMillan. "I see some of the guys that are usually in the business of trucking the machinery to set up the fairs and festivals that are delivering for Amazon now. I look at all of those people who work the booths to break plates. They are not working at all. How else is a guy who owns a plate breaking booth going to get any other business?"
Even artists like Clayton Bellamy are wondering how to pay their bills. As a successful singer/songwriter and member of Canada's top country band, The Road Hammers, he wishes the gold records on his wall represented a decent living, but admits there is no money to be made without touring. With up to 90% of his income derived from live shows, and almost no revenue from music streaming, he says he will do whatever it takes to feed his family.
"Obviously I have kids and that comes first before anything," he says. "The main thing to do is to find work." He also knows lack of touring impacts others. "Our band employs a lot of people. It is not just me on the stage – it is the tour manager, and the person in the office answering the phones at the management company, and the manager. We help employ 50 people. If you think about the industry as a whole, there are a lot of people relying on that trickle-down."
Beckett says the model for live events has changed forever.
"If we are going to collapse, then we are going to give it all we can. Right now, we are optimistic that we can somehow find ways to juggle."
Production World is streaming virtual events to online audiences, and delivering reimagined AHS compliant live events with a mobile stage, video wall, and in-car audio for things like graduations, weddings, movies, drive in music events, and even funerals. They are retrofitting churches for virtual services, and recording content to deliver music and sermons to parishioners.
Sisson suggests his industry should collaborate with government and other industry professionals to develop a plan, like doing events by the hour to control occupancy counts, disinfecting surfaces, contact tracing and testing, and utilizing existing technologies like temperature checks and facial recognition.
"I will be ashamed of our industry if we cannot have something that is approved and a way to conduct ourselves by October," he says. "At the end of the day there are a lot of livelihoods that need to get looked after."
MacMillan says the advice his parents gave him to plan for a rainy day was valid. He will get creative with other revenue sources and try to take advantage of programs and subsidies.
"If it helps you along one more month, it is one more month that you can make it until things open up again."
Bellamy tries to keep his mental health in check by maintaining a rigorous schedule of practicing, writing, and working on existing projects. He plans to finish a new record so he can hit the ground running when touring resumes.
"Right now, I have no income," he says. "I don't have a safety net. I don't have a plan B."
He says if people want to support their favourite artists they should buy music and merchandise directly, like and share posts and music on social media, and send a letter to the government to help change laws that impact fair pay for artists' streaming rights.
A return to "normal" is a long way off, and no matter when life starts to feel unrestricted again the world will be altered, and things will be different. Behind the scenes, the event industry not just trying to reinvent itself, it is fighting for survival.
"People don't think about the human side of it and all that goes into it and all the different companies that come together to produce an event," says Anderson. "Nobody in the entertainment industry is making a dollar right now. Everyone has to figure out how to survive this, and survive it together. So, my optimism is, I think a lot of companies are going to survive this because they are working together. They are going to support each other once we come out the other side."
On September 22nd Canadian event industry technicians, suppliers and venues from across the country will Light Up Live events in red to raise awareness for the live event industry – which is still dark.
This article was originally published on September 22, 2020.
Read more on Todayville.
Alberta premier defends new rules on in-person learning, no mask mandates in schools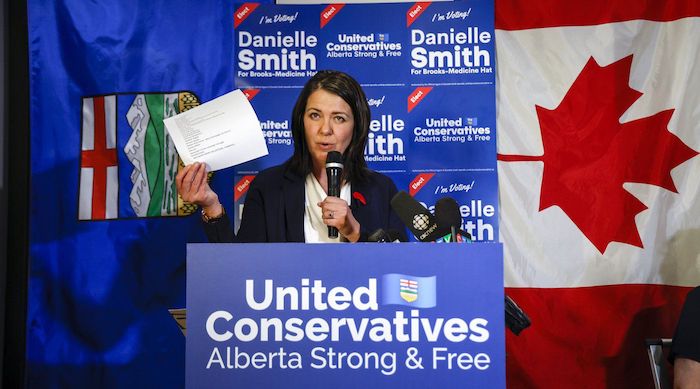 By Dean Bennett and Colette Derworiz
Alberta Premier Danielle Smith is defending new rules ordering schools to provide in-person learning during the current wave of viral illnesses, saying a clear, measured response is crucial for students and parents.
"We need a normal school environment for our children, and we need to make sure that the classrooms stay open to be able to support our parents," Smith said at a news conference in Medicine Hat on Friday.
"That's why we made the decision that we did — to give that clear direction."
Her comments came a day after she announced regulatory changes saying school boards must provide in-person learning. Schools also can't require students to wear masks in school or be forced to take classes online.
The changes take effect immediately.
"Anyone is welcome to wear a mask if they feel that that is the right choice for them, but we should not be forcing parents to mask their kids, and we shouldn't be denying education to kids who turn up without a mask," Smith said.
She has said mask rules and toggling from online to in-person learning adversely affected the mental health, development and education of students during the COVID-19 pandemic and strained parents scrambling to make child-care arrangements when schools shut down.
That's over, Smith said.
"We're just not going to normalize these kind of extreme measures every single respiratory virus season," she said.
School boards have been asking for more direction as a slew of seasonal respiratory and gastrointestinal illnesses, along with some COVID-19 cases, have led to high classroom absentee rates and have jammed children's hospitals.
In Edmonton, Trisha Estabrooks, board chair for Edmonton Public Schools, said the decision provided the clarity that the board was seeking.
"All Albertans now understand that it's not within the jurisdiction, and nor should it ever have been within the jurisdiction of individual school boards, to make decisions that belong to health officials," said Estabrooks.
She said the province has made it clear that any future public health order would supersede the new rules.
The in-person learning change applies to grades 1-12 in all school settings, including public, separate, francophone, public charter and independent schools.
The masking change applies to those same grades and schools, but also to early childhood services.
The Opposition NDP criticized the new rules, saying it's unrealistic to force schools to be all things to all students while also handling a wave of viral illnesses and not providing additional supports to do it.
Jason Schilling, head of the Alberta Teachers' Association, said the government needs to work with school boards to figure out how to make this work.
"You have schools that are struggling to staff the building, (they) can't get substitute teachers, teachers are sick, they're covering each other's classes, principals are covering the classes," Schilling said in an interview.
"And then to say if you go online, you are to still offer the same programming in person — we just don't have the people to do that."
Wing Li, communications director for public education advocacy organization, Support our Students, said it will be difficult for schools to offer hybrid learning without any additional resources.
"There are no teachers," Li said in an interview. "Pivoting online was mostly due to staffing shortages, which is worse now three years in."
Li said online learning is challenging for students but, when temporary and supported, can keep schools and communities safe from spreading illness.
"This is a quite aggressive use of the Education Act to enshrine an ideology," she said.
This report by The Canadian Press was first published Nov. 25, 2022
Don't have a cow: Senator's legen-dairy speech draws metaphor from bovine caper
OTTAWA — Haven't you herd? A dramatic tale of 20 escaped cows, nine cowboys and a drone recently unfolded in St-Sévère, Que., and it behooved a Canadian senator to milk it for all it was worth.
Prompting priceless reactions of surprise from her colleagues, Sen. Julie Miville-Dechêne recounted the story of the bovine fugitives in the Senate chamber this week — and attempted to make a moo-ving point about politics.
"Honourable senators, usually, when we do tributes here, it is to recognize the achievements of our fellow citizens," Miville-Dechêne began in French, having chosen to wear a white blouse with black spots for the occasion.
"However, today, I want to express my amused admiration for a remarkably determined herd of cows."
On a day when senators paid tribute to a late Alberta pastor, the crash of a luxury steamer off the coast of Newfoundland in 1918 and environmental negotiators at the recent climate talks in Egypt, senators seated near Miville-Dechêne seemed udderly taken aback by the lighter fare — but there are no reports that they had beef with what she was saying.
Miville-Dechêne's storytelling touched on the highlights of the cows' evasion of authorities after a summer jailbreak — from their wont to jump fences like deer to a local official's entreaty that she would not go running after cattle in a dress and high heels.
The climax of her narrative came as nine cowboys — eight on horseback, one with a drone — arrived from the western festival in nearby St-Tite, Que., north of Trois-Rivières, and nearly nabbed the vagabonds before they fled through a cornfield.
"They are still on the run, hiding in the woods by day and grazing by night," said Miville-Dechêne, with a note of pride and perhaps a hint of fromage.
She neglected to mention the reported costs of the twilight vandalism, which locals say has cost at least $20,000.
But Miville-Dechêne did save some of her praise for the humans in the story, congratulating the municipal general manager, Marie-Andrée Cadorette, for her "dogged determination," and commending the would-be wranglers for stepping up when every government department and police force in Quebec said there was nothing they could do.
"There is a political lesson in there somewhere," said the former journalist.
Miville-Dechêne ended on what could perhaps be interpreted as a butchered metaphor about non-partisanship: "Finally, I would like to confess my unbridled admiration for these cows that have found freedom and are still out there, frolicking about. While we overcomplicate things, these cows are learning to jump fences."
This report by The Canadian Press was first published Nov. 26, 2022.
Marie-Danielle Smith, The Canadian Press