Update – Your event has been cancelled
Update: Ilan appeared with Edmonton radio station 630 CHED's J'lyn Nye on October 5th, 2020 where they discussed the severe challenges in the live event industry. You can read Ilan's original story below.
Your Event Has Been Cancelled
By Ilan Cooley
The live event industry is in serious trouble. It was the first sector to go dark due to the pandemic, and it is expected to be the last to be allowed back to work.
The people behind the scenes of your favourite events are the mavericks and risk takers you likely don't know about. They create the events that make you smile until your face hurts, cheer until you lose your voice, and dance until you can't stand up. They make the magic that fills your social feeds, and the moments that live in your memories.
You may have gotten an email saying "your event has been cancelled" – they lost their livelihood.
"People don't understand how bullseye targeted this virus was at our industry," says Jon Beckett, owner of Production World. "It was a 100% bullseye. You couldn't hit it more dead centre. It's not like it hurt us – it took it away. People don't understand that until you talk to them about your industry."
Beckett's company used to employ 50 people. Having lost more than 200 events so far, they have laid off 35 people. Their 25,000 square foot warehouse contains almost seven million dollars worth of staging, lighting and other production equipment.
"We have to house that inventory," he says. "It is not like we can sell it."
Similarly, Fort Saskatchewan based Superior Show Service has two separate warehouses full of rental items nobody currently needs, plus tax bills and insurance due. As a 35-year-old family-run event rental company, they cater to tradeshows and large events. Some of the 35 staff they laid off in March have been hired back after accessing relief programs, but with more than 80 events already cancelled, owner Chris Sisson worries about the future.
"It feels like the carpet kicked out from under you," he says. "I've always been able to provide for a great number of families, not just my own, and today I have no idea how to provide for my own. I have been in this industry my entire life, and now I have no idea what to do. It is truly humbling and dumbfounding."
Event promoter Mike Andersson prefers not to dwell on what has been lost, instead focusing on building something consumers will want to come back to when it is over. He knows how to manage complex logistics and bring large groups of people together. Even when faced with severe restrictions for events, his company, Trixstar, was busy creating pandemic proof event manifestos, and blue-sky concepts for safe gatherings.
"When everything came crashing down we were putting up material about what events look like after this, and showing some optimism," he says. "It is important to get people together and to celebrate." He admits there are good days and bad days. "It is a rollercoaster of emotions," he says. "Obviously we feel terrible. It affects us, but it affects so many companies. From the security companies, to the ticketing companies, to the tent company, to the production company – all those people are affected."
Event photographer Dale MacMillan also worries about the people behind the scenes. He has lost more than 100 days of shooting for professional sporting events, large music events, festivals and fairs, which makes up about 60% of his income, and he knows others are in the same situation.
"There's a guy sitting out there with probably a quarter section of land and he's probably got 5500 porta potties that are out at ten to 20 events throughout the month, and he is affected tremendously," says MacMillan. "I see some of the guys that are usually in the business of trucking the machinery to set up the fairs and festivals that are delivering for Amazon now. I look at all of those people who work the booths to break plates. They are not working at all. How else is a guy who owns a plate breaking booth going to get any other business?"
Even artists like Clayton Bellamy are wondering how to pay their bills. As a successful singer/songwriter and member of Canada's top country band, The Road Hammers, he wishes the gold records on his wall represented a decent living, but admits there is no money to be made without touring. With up to 90% of his income derived from live shows, and almost no revenue from music streaming, he says he will do whatever it takes to feed his family.
"Obviously I have kids and that comes first before anything," he says. "The main thing to do is to find work." He also knows lack of touring impacts others. "Our band employs a lot of people. It is not just me on the stage – it is the tour manager, and the person in the office answering the phones at the management company, and the manager. We help employ 50 people. If you think about the industry as a whole, there are a lot of people relying on that trickle-down."
Beckett says the model for live events has changed forever.
"If we are going to collapse, then we are going to give it all we can. Right now, we are optimistic that we can somehow find ways to juggle."
Production World is streaming virtual events to online audiences, and delivering reimagined AHS compliant live events with a mobile stage, video wall, and in-car audio for things like graduations, weddings, movies, drive in music events, and even funerals. They are retrofitting churches for virtual services, and recording content to deliver music and sermons to parishioners.
Sisson suggests his industry should collaborate with government and other industry professionals to develop a plan, like doing events by the hour to control occupancy counts, disinfecting surfaces, contact tracing and testing, and utilizing existing technologies like temperature checks and facial recognition.
"I will be ashamed of our industry if we cannot have something that is approved and a way to conduct ourselves by October," he says. "At the end of the day there are a lot of livelihoods that need to get looked after."
MacMillan says the advice his parents gave him to plan for a rainy day was valid. He will get creative with other revenue sources and try to take advantage of programs and subsidies.
"If it helps you along one more month, it is one more month that you can make it until things open up again."
Bellamy tries to keep his mental health in check by maintaining a rigorous schedule of practicing, writing, and working on existing projects. He plans to finish a new record so he can hit the ground running when touring resumes.
"Right now, I have no income," he says. "I don't have a safety net. I don't have a plan B."
He says if people want to support their favourite artists they should buy music and merchandise directly, like and share posts and music on social media, and send a letter to the government to help change laws that impact fair pay for artists' streaming rights.
A return to "normal" is a long way off, and no matter when life starts to feel unrestricted again the world will be altered, and things will be different. Behind the scenes, the event industry not just trying to reinvent itself, it is fighting for survival.
"People don't think about the human side of it and all that goes into it and all the different companies that come together to produce an event," says Anderson. "Nobody in the entertainment industry is making a dollar right now. Everyone has to figure out how to survive this, and survive it together. So, my optimism is, I think a lot of companies are going to survive this because they are working together. They are going to support each other once we come out the other side."
On September 22nd Canadian event industry technicians, suppliers and venues from across the country will Light Up Live events in red to raise awareness for the live event industry – which is still dark.
This article was originally published on September 22, 2020.
Read more on Todayville.
Premier Smith reacts to Liberal Government's announcement on new methane reduction targets at COP 28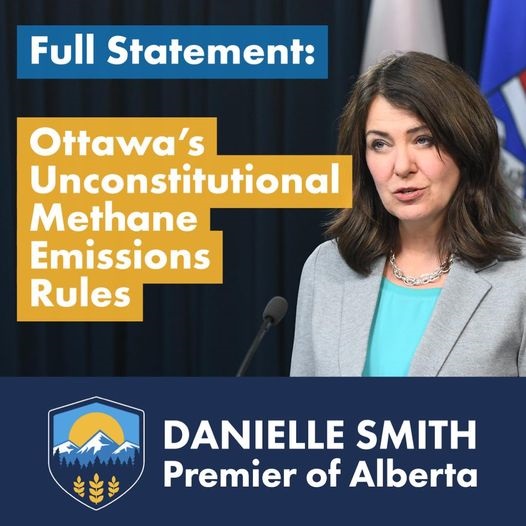 Federal methane emissions targets: Joint statement
"Once again, the federal government is setting unrealistic targets and timelines. Infrastructure can only be updated as quickly as technology allows. For example, Alberta will not accept nor impose a total ban on flaring at this time, as it is a critical health and safety practice during production. Any regulation that completely prohibits this is putting lives at risk"
Premier Danielle Smith and Minister of Environment and Protected Areas Rebecca Schulz issued the following statement on the federal government's proposed methane emissions regulations:
"The federal government has unilaterally established new methane emissions rules and targets to help win international headlines. Instead of building on Alberta's award-winning approach, Ottawa wants to replace it with costly, dangerous and unconstitutional new federal regulations that won't benefit anyone beyond Environment and Climate Change Minister Steven Guilbeault's post-office career.
"Managing emissions from Alberta's oil and gas industry is our constitutional right and responsibility, not Ottawa's, and we are getting the job done. Using a province-led approach, Alberta has already reduced methane emissions from the oil and gas sector by 45 per cent – hitting our target three years early – and we're just getting started.
"Meanwhile, not only is it illegal for Ottawa to attempt to regulate our industries in this manner, Ottawa also hasn't even hit one of its past arbitrary and unscientific emissions targets largely because it has little to no credible expertise regulating the natural resource, agricultural and other industry sectors in this space.
"Ottawa could have helped us keep reducing emissions with joint incentive programs in line with Alberta's Emissions Reduction and Energy Development Plan. It could have listened to the Supreme Court's declaration that the Impact Assessment Act was unconstitutional and abandoned this kind of arrogant and ineffective scheme. Instead, these new regulations threaten our successful province-led approach and impede good work that's already underway.
"Once again, the federal government is setting unrealistic targets and timelines. Infrastructure can only be updated as quickly as technology allows. For example, Alberta will not accept nor impose a total ban on flaring at this time, as it is a critical health and safety practice during production. Any regulation that completely prohibits this is putting lives at risk. A total ban would also be costly, resulting in shut-ins and loss of production.
"This approach will also cost tens of billions in infrastructure upgrades, yet Ottawa has provided virtually no financial support to do so. Thousands of Albertans could be put out of work in the coming years due to these costly regulations. A federal government willing to invest $37.7 billion into just three battery plants in Ontario and Quebec cannot credibly refuse to provide tax credits and financial incentives for producers in Alberta and Saskatchewan to assist with achieving a carbon-neutral economy by 2050.
"For years, Alberta, not Ottawa, has done the hard work and achieved results. We strongly support reducing methane emissions and have invested tens of millions into developing these technologies. Minister Guilbeault must work with us, and not against us, to keep cutting methane emissions and charting a course for carbon neutrality by 2050.
"Given the unconstitutional nature of this latest federal intrusion into our provincial jurisdiction, our government will use every tool at our disposal to ensure these absurd federal regulations are never implemented in our province."
Alberta's Methane Target Reached Early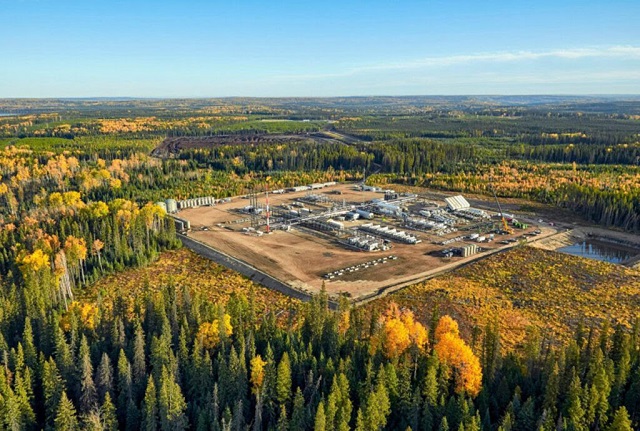 Gas processing plant in northwest Alberta, courtesy of EnergyNow
Courtesy of ENERGYminute
See more articles and infographics from ENERGYminute HERE
---
In a pat-yourself-on-the-back moment, Alberta's oil and gas industry successfully achieved a 45 percent reduction in methane emissions, surpassing the province's mandated target ahead of schedule.
Background: Alberta was the first province in Canada to commit to a 45 percent reduction in methane emissions from the oil and gas sector by 2025, based on 2014 levels. Spoiler alert: Alberta achieved its methane mission three years early.
Their targeted approach to reducing methane emissions from flaring, venting and fugitives has become an example globally, earning national and international awards for its effectiveness and cost-efficiency.
Alberta strong: The government credited the early success to close collaboration with the industry, implementing early action programs such as carbon offsets, tough regulations for all facilities, and enhanced leak detection and repair methods.
Minister of Environment Rebecca Schulz highlighted that this made-in-Alberta approach not only achieved the goal three years ahead of schedule but also resulted in roughly $600 million in savings for the industry compared to the proposed federal program.
Getting the job done: Alberta allocated $57 million from the Technology Innovation and Emissions Reduction fund for methane emissions programs, including:
$25 million in rebates to companies adopting emissions reduction equipment.
$17 million supporting alternatives to detecting and quantifying emissions.
$15 million to help small- and medium-sized operators assess methane reduction opportunities.
Overall, the initiatives eliminated 16.6 million tonnes of carbon dioxide equivalent from the atmosphere.
Looking ahead: Alberta is committed to building on this momentum and collaborating with industry experts to determine the next steps in their emissions reduction journey, aligning with the goal of carbon neutrality by 2050.