Next Steps After Losing Your Job Due to Covid-19
This post has been submitted to Todayville by Artur Meyster, Founder of Career Karma
Losing your job at any point can be a disheartening and worrisome event, let alone during a global pandemic. With that in mind, however, try to focus on the fact that there are still steps you can take to ensure that you reenter the workforce as an asset to the future of work. Technology is changing everything about how work is performed, as evidenced by the rise in remote work, and more jobs will be disrupted before the pandemic calms.
On that note, the next steps after losing your job due to Covid-19 should be preparatory steps that can help you thrive in this coming future. First and foremost, however, it is important that you remember to breathe and stay calm. The world may seem chaotic right now, but that doesn't mean your life needs to be as well.
Reevaluate Your Skills
Regardless of the reason you got fired, it is important that you completely break down and reevaluate your skillset. Unless you were in an intensive tech-based career already, it is unlikely that your skillset will be perfectly aligned with the future of work.
A study by CNBC found that some of the most prominent skills for the future of work will be based on coding or programming. Jobs won't necessarily be specifically structured for these skills, but rather careers of all types will begin requiring experience with coding as computers begin to dictate business.
To acquire this soon-to-be important skill, it may be worth looking into top-rated coding bootcamps that can give participants a beginner's knowledge of coding languages. However, this is not the only tech skill that will be needed in the future. Perform research during this time while you look for a new job, and determine what you are capable of and what interests you.
Reflect on Your Career Choice
Now that you've lost your job, it may be worth considering whether or not your career was really right for you. If you don't believe it was, take an extra minute to ensure that it was the career that bothered you and not the specific job.
Perhaps your career was the perfect choice for you and you do not regret entering the field you did. If so, you are one of a lucky few. Realizing that you were in the wrong career, however, is actually beneficial if you just lost your job. This means you are aware that you made the incorrect career choice and can rectify that decision by tackling a new field. Unfortunately, it can be difficult for many who are passed the age of a university student to change careers, but certainly not impossible.
To that end, identifying and pursuing some easier online degrees can be a perfect choice for someone who just lost their job. There are a number of career options that can provide growth in the future as technology takes control of the workforce, many of which now accept online degrees as an accredited source of education.
Consider Attending a Trade School
On the topic of online degrees, there is likely no better path after losing your job than attending a trade school. This form of education, sometimes called a vocational school, is a quick and efficient method of changing careers as they offer specialized courses that prepare students for a specific career.
The Atlantic covered a study that discusses how trade school attendance has risen to levels that rival traditional education enrollment. This option has become respected by employers around the world, and the fact that some trade schools, such as App Academy, don't charge tuition until you're hired make them attractive paths.
Technology and the pandemic are changing everything about the work world, but they are also changing education. In today's day and age, you are never too old to consider a new career path and enroll in some form of online education.
Conclusion
Losing your job does not mean that the world is crumbling down around you. Treat this event as an opportunity to revamp both your skills and your career. While it may not seem like it now, doing so can set you up for success in the future. Dealing with the loss of your job, whether it was held for a long time or just began, is a difficult task, but making the best of it and growing from this loss can help you to become an even more valuable asset to any company in the future.
Budget 2023 gives boost to dental care, green economy while searching for savings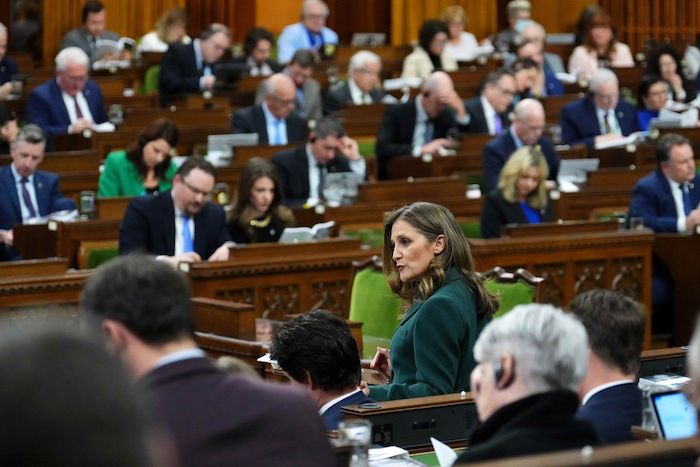 Deputy Prime Minister and Minister of Finance Chrystia Freeland delivers the federal budget in the House of Commons on Parliament Hill in Ottawa, Tuesday, March 28, 2023. THE CANADIAN PRESS/Sean Kilpatrick
By Mia Rabson in Ottawa
Finance Minister Chrystia Freeland's 2023 federal budget promises "transformative investments" in Canada's green economy as the country tries to maintain its place in the global clean tech revolution and realign its supply chains toward allies who won't use energy as a political weapon.
"Together these two great shifts represent the most significant opportunity for Canadian workers in the lifetime of anyone here today," Freeland said Tuesday in the House of Commons.
She is also using the budget to provide another top-up of the GST rebate, styled this time as a grocery rebate, to low-income Canadians who are feeling the pinch of inflation and keep making good on pledges in the confidence-and-supply agreement with the New Democrats.
There are also some measures reacting to political fires that have been burning around the Liberals in recent weeks and months, including some money to combat foreign interference, and to make airport security screening better.
In all the 2023-24 spending plan will cost $490.5 billion, including public debt charges, with $8.3 billion in new program spending. The projected deficit is $40.1 billion, which is greater than the $30.6 billion deficit for this coming fiscal year forecast in November's fiscal update.
Over the next five years the government expects to spend $59.5 billion more than before. Nearly half of that will go to increase health transfers to the provinces and territories and further expand the national dental-care program the Liberals are creating as part of their deal with the NDP.
Dental care is expected to cost more than $13 billion over the next five years, about a $7-billion increase from what the government said it would cost when it was introduced in last year's budget. It is now expected to cost $4.4 billion per year to keep it going beyond that.
Dental care was one of the NDP's top demands from the Liberals when the opposition party entered into a confidence-and-supply agreement in March 2022 to back the minority government on key confidence votes, such as budgets, through to 2025.
"I'm really proud that we were able to force this government to expand dental care," NDP Leader Jagmeet Singh said after the budget was tabled.
Singh said that while he is disappointed the budget lacks new measures to help make housing more affordable, his party will still vote for it. That will give the Liberals enough votes to pass the budget and continue governing.
The budget addresses a number of other NDP asks outlined in the deal, including anti-scab legislation and a new forum to better address the issue of missing and murdered Indigenous women and girls.
Conservative Leader Pierre Poilievre dismissed the budget as a high-spending plan that will drive up the deficit, make inflation worse, and subsidize major multinational companies. His party will not be voting for it, he said.
"Today's budget by the costly coalition of the NDP and Liberals is a full-frontal attack on the paycheques of hard working Canadians," he said.
More than one-third of new spending is wrapped up in Canada's targeted response to keep pace with the United States Inflation Reduction Act, which last year promised to direct US$370 billion at clean technology and electric vehicles over a decade.
Over the next 12 years, Canada expects to spend more than $80 billion on investment tax credits to spur development of clean electricity, hydrogen, carbon capture and storage systems, critical minerals, and the electric-vehicle supply chain.
The budget warns of the ramifications of not investing in the low-carbon economy, with significant hits to the GDP and jobs in the next 30 years, even as it acknowledges the enormous amount of money it's going to take.
"The scale of the required investment is massive," the budget said.
Almost one-third of the investment tax credits will be for clean power, including finally aiming to connect Canada from coast to coast with power lines.
Hidden somewhere in the budget figures is the money Canada has promised that helped lure major auto companies to build battery plants in Ontario, including Volkswagen and Stellantis. The details of those are expected to be made public in the next few weeks.
All of the plans are looking to develop the new industries with supply chains connected to allies like the U.S. and Europe. Freeland said in her speech that this would help to end what Ursula Von Der Leyen, president of the European Commission has called Europe's "dangerous dependencies" on authoritarian economies.
That includes Russia, which has used its oil and gas exports as a political lever in Europe, and China, which is dominating the electric vehicle and battery supply chain sectors.
Not quite one-tenth of the new spending is directed at making life a bit more affordable for some Canadians, including the second GST rebate top-to low-income Canadians up in a year, and increases to grants for post-secondary students.
While inflation is coming down, the budget predicts it will remain above the Bank of Canada's two per cent target until at least the second quarter of 2024. Food prices are a key part of what is keeping it elevated.
"We all know that our most vulnerable friends and neighbours are still feeling the bite of higher prices," Freeland said in her speech.
All the new spending, and a $17-billion increase in the cost of interest on government debt over five years, has eliminated Freeland's hope for a balanced budget on the horizon.
In November, she forecast a $4.5 billion surplus by 2027-28. Tuesday's budget says that year will now log a $14 billion deficit.
She is promising to find $15 billion in savings over five years by scaling back government travel, its use of outside consultants and asking most federal departments to cut their spending three per cent.
Freeland uses positive language to describe Canada's current economic situation, but the budget makes clear the upheaval created by the pandemic means the country is still at risk of seeing its finances take a turn for the worse by the end of this year.
Mostafa Askari, the chief economist at the Institute of Fiscal Studies and Democracy at the University of Ottawa, said his first takeaway from the budget was simple.
"There is a lot of spending," he said.
He is wary of the government being able to find $15 billion in savings, particularly given that the promises are vague, with no specific understanding of what money will not be spent.
"Every government, every budget has had some efficiency game," said Askari. "It's very unlikely they're going to get these savings."
Askari also said there are significant risks of a deeper economic downturn later this year than predicted in the budget, which could upend all of Freeland's economic assumptions, lowering government revenues and making the deficit even bigger.
This report by The Canadian Press was first published March 28, 2023.
Budget 2023: What you missed, from phone chargers and concert fees to air travel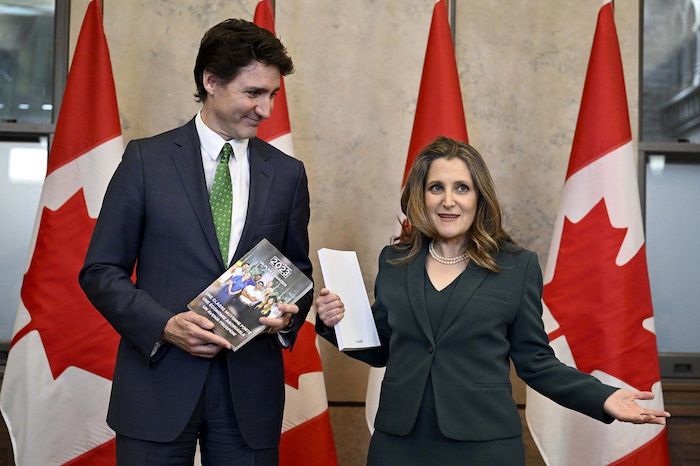 Prime Minister Justin Trudeau and Deputy Prime Minister and Minister of Finance Chrystia Freeland arrive to deliver the federal budget in the House of Commons on Parliament Hill in Ottawa, Tuesday, March 28, 2023. THE CANADIAN PRESS/Justin Tang
By Lee Berthiaume in Ottawa
For Canadians fed up with chargers that don't fit their cellphones, hidden fees, air-travel disruptions and cosmetic testing on animals, the Liberal government says help is on the way.
Those and others are among the countless measures contained in the federal budget plan unveiled by Finance Minister Chrystia Freeland.
Here are some of the less-prominent promises being made:
Common chargers: Tired of trying to find the right charger for your phone? Noting the European Union recently mandated USB-C charging ports for all small handheld devices and laptops by 2024, the government says it will work with international partners and industry to develop a common standard for Canada. It claims the move will save Canadians money and reduce electronic waste. It is also promising to introduce a "targeted framework" for home appliances and electronics in 2024 to make it easier for Canadians to get such items repaired rather than having to replace them.
Right to repair: The budget says the government will work to create a framework outlining a right to repair home appliances and electronics sometime next year.
Fees and loans: The government says it will amend the Competition Act to better protect Canadians from hidden fees such as excessive baggage charges, roaming fees and added costs when buying things like concert tickets. It also promises to reduce the amount of interest lenders are allowed to charge to crack down on predatory loans, limiting the rate to 35 per cent annually. It also says it has secured commitments from Visa and Mastercard to lower their fees for small businesses, with details to come.
Air travel: Following months of complaints and horror stories from frustrated air travellers, the government says it is taking action. The budget promises $1.8 billion over five years to improve airport operations and passenger screening, and to address a backlog of complaints to the Canadian Transportation Agency. It is also proposing to strengthen the rules around compensation for Canadians whose travel plans are disrupted, and to give the CTA more authority to resolve passenger complaints.
Montreal infrastructure: The government says it plans to spend $587 million on redeveloping the Bonaventure Expressway and maintaining infrastructure held by Jacques Cartier and Champlain Bridges Incorporated in Montreal.
Floods: Canadians are seeing more and stronger natural disasters, including devastating floods. In response, the government is setting aside $31.7 million over three years to start work on what it calls a "low-cost flood insurance program" for high-risk households without adequate insurance. It is also promising $15.3 million over three years for an online portal so Canadians can determine their flood risk, and $48.1 million over five years to identify high-risk flood areas and improve the program used by provinces and territories to recoup the cost of natural-disaster response.
Help for asylum seekers: Buried in the budget document is $999 million in spending for the coming fiscal year on temporary lodgings and health-care support for asylum claimants.
Leave for pregnancy loss: The budget says the government intends to make Canada Labour Code amendments that would create a stand-alone leave for workers in federally regulated sectors who suffer a pregnancy loss.
Farmers: The budget sets aside $34.1 million over three years to support the adoption of nitrogen management practices for Eastern Canadian farmers. The government notes that Russia's invasion of Ukraine has led to higher fertilizer prices, and that the money will help farmers optimize its use.
Space: Canada's space program is getting a boost, with $1.1 billion over 14 years for the country's participation in the International Space Station for the rest of the decade. Ottawa is also earmarking $1.2 billion over 13 years to develop and build a vehicle for astronauts to use when humanity returns to the moon with the Artemis 2 mission – a mission that will include a Canadian.
Protecting animals: They may not vote, but the federal government is nonetheless setting aside $151.9 million over three years to protect endangered whales and their habitats, and $184 million over three years for other species at risk. It is also promising to ban cosmetic testing on animals, and implement a ban on the sale of cosmetics that rely on animals to prove they are safe.
Fitness: The budgets earmarks $10 million over the next two years to fund ParticipACTION's Let's Get Moving initiative, which promotes daily exercise.
This report by The Canadian Press was first published March 28, 2023.