We are nearing one full year since the outbreak of the COVID-19 pandemic began sweeping the globe, ravaging all major industries worldwide and forcing the global economy to grind to a near halt. 2020 has been dominated by social and political upheaval as officials have struggled to find the balance between economic lockdown and protecting the public from the virus. Adding to the uncertainty, disinformation is circulating at an unfathomable rate. Heading into December, tension and mistrust appear to be at an all time high as individuals and groups have begun to rebel against lockdown orders and what many believe to be government forces overstepping their democratic boundaries.
Among the hype and hysteria, the "Great Reset" has become a popular and highly divisive topic in recent months. Aggressive disagreements have broken out among experts, political leaders and the general public, often citing controversial buzzwords like "socialism", "government control", and "elite agenda". In this setting, it has become increasingly difficult to determine what is fact and what is fiction, as fear and confusion fuel conspiracy theories and government distrust.
COVID-19: The Great Reset is a book originally published in July 2020, co-authored by Thierry Malleret, founder of the Monthly Barometer, and Klaus Schwab, founder and Executive Chairman of the World Economic Forum (WEF). This book elaborates on a recovery plan proposed by the WEF that presents the global COVID-19 pandemic as an opportunity to correct the shortcomings of the existing social, economic and political institutions around the world. According to the WEF, "The inconsistencies, inadequacies and contradictions of multiple systems – from health and financial to energy and education – are more exposed than ever amidst a global context of concern for our lives, livelihoods and the planet."

Within this setting, the WEF calls for collaboration among experts and world leaders to propose and implement a vision for the future that will "build a new social contract that honors the dignity of every human being." The values highlighted by the Great Reset propose an ideological shift away from capitalism. This includes shifting the global focus towards fairer market outcomes, the advancement of sustainability measures and the improvement of environmental, social and governance (ESG) metrics across industries.
The Great Reset global agenda calls for unprecedented cooperation among countries and industries around the world to unite under one recovery strategy aimed at repositioning the current trajectory of society as a whole. "Rather than using recovery funds to fill cracks in the old system," says Klaus Schwab, founder and executive chairman of the World Economic Forum, "we should use them to create a new one that is more resilient, equitable, and sustainable in the long run."
The World Economic Forum's Great Reset initiative has received support from several influential organizations around the world, including TIME Magazine, Apple and Microsoft. However, while it appears many have signed onto this initiative as a unique opportunity to build a prosperous future for all members of the human race, an equal number have emerged to furiously oppose it.
Opponents of the Great Reset have labeled it as a radical socialist agenda being pushed on the masses by global elites. The initiative has been extensively criticized for appearing to use the global upheaval inflicted by the pandemic to implement social and economic measures not approved by the democratic process. An article released by the Post Millennial accused the WEF of using the "blunt force trauma of the pandemic to force the world to reshape according to socialist dictates." This mentality has been echoed by a number of individuals and organizations around the world.
The National Review criticized Schwab's book, COVID-19: The Great Reset, for having "undeniably authoritarian subtext" on which no legitimate societal transition should be based.
These opposing viewpoints on the legitimacy and intentions of the Great Reset have led to extreme backlash for political leaders who appear to support the initiative in any way. On September 29, 2020, Prime Minister Justin Trudeau landed himself in hot water during his United Nations address, where he spoke of the impacts of the pandemic and the way forward for Canada. "This pandemic has provided an opportunity for a reset," he said, "This is our chance to accelerate our pre-pandemic efforts, to reimagine economic systems that actually address global challenges like extreme poverty, inequality, and climate change."
Trudeau's address was swiftly condemned by many, as certain onlookers accused the Prime Minister of supporting the global elitist plan to collapse the economy and renege on Canadian rights and freedoms.

In November 2020, in response to Trudeau's UN address, Conservative Member of Parliament Pierre Poilievre launched a petition called Stop the Great Reset. The petition calls on Canadians to "fight back against global elites preying on the fears and desperation of people to impose their power grab". The petition received more than 60,000 signatures in a matter of days.
As governments and politicians around the world struggle to respond to the ongoing conditions of the pandemic under increasingly bleak circumstances, the consumption and circulation of accurate, credible information becomes increasingly important with each passing day. As businesses in every industry continue to go under and more and more individuals lose their livelihoods, the propagation of disinformation and fear serves only to divide and isolate us further. Whether you subscribe to the theory of the Great Reset as a legitimate avenue towards the creation of a healthier post-pandemic society, or as an illegitimate attack on democratic rights and freedoms, it is paramount to seek credible information.
Should we encourage our governments and politicians to adopt a Great Reset? Is it best to reinvigorate our economies? Or do we look to a combination of these two ideologies?
For more stories, visit Todayville Calgary.
From maybe to no: Alberta cabinet ministers give range of answers on replacing Kenney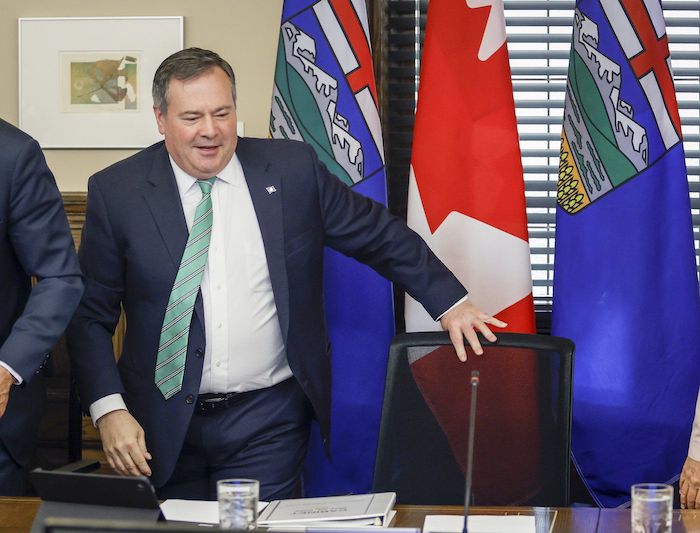 By Dean Bennett in Edmonton, Alberta, Canada
The race to replace Jason Kenney as United Conservative Party leader and Alberta premier has two entrants so far along with a number of cabinet ministers who, when asked if they plan to run, delivered answers ranging from maybe to a hard no.
Government house leader and Environment Minister Jason Nixon says he has not ruled out running for the top job but has more thinking to do and, for now, is focused on the spring sitting of the legislature.
"At the end of the day, internal politics are internal politics, but the people of Alberta expect us to come up here and get to work," Nixon told reporters on his way into the house Tuesday.
"I haven't ruled anything out (on a leadership bid)," he added. "I'll be doing what I think is best for the party under the lens of making sure that we stay united and that we defeat the NDP in a year."
Transportation Minister Rajan Sawhney said she will consult with her family, constituents and Albertans before deciding.
"I haven't made up my mind as of yet," she said.
Finance Minister Travis Toews refused multiple times to say whether he would be running or not running, or whether he's even considering it at all.
"This week we are focused on the people's business," said Toews.
Justice Minister Tyler Shandro said he will not run for the leadership but plans to run again for a seat in Calgary-Acadia in the 2023 provincial election.
"It's never crossed my mind to run for the leader of any political party," said Shandro. "I wasn't sure I wanted to be a politician or MLA in the first place."
Advanced Education Minister Demetrios Nicolaides said he won't be in the running.
"I don't have any plans for anything like that," he said, adding he does plan to run in the election.
Health Minister Jason Copping also tossed cold water on a bid.
"I'm not considering running for the leadership at this time. I'm focused on delivering health care for Albertans," he said.
Children's Services Minster Rebecca Schulz said: "It's too early to say."
Labour Minister Kaycee Madu had two words: "No comment."
On Monday, Jobs, Economy and Innovation Minister Doug Schweitzer announced he won't run for the leadership and won't run again for his seat in Calgary-Elbow.
Two candidates — Brian Jean and Danielle Smith — have said they will seek the leadership.
Jean and Schweitzer ran and lost to Kenney in the inaugural UCP leadership race in 2017. Jean has since returned to politics, winning a seat for the UCP earlier this year in a byelection on a platform to unseat Kenney as leader.
Smith is the former leader of the Wildrose Party, which merged under Jean with Kenney's Progressive Conservatives in 2017 to form the UCP.
The UCP is still working on details of the leadership race and no rules or timeline have been presented yet.
Tuesday was the first day the house sat since Kenney said last week he will quit the top job once a new leader is chosen.
He made the announcement after receiving 51 per cent support in a leadership review vote by party rank and file. He said the result reflects a deep division in the party that won't be fixed if he stays premier.
The Opposition NDP continued to hammer away at what it calls the "interim UCP" government. It said while the government focuses on its internal drama, Albertans are facing real challenges, including inflation, high gas and utility costs and long waiting lists for surgery.
"(There's) all kinds of uncertainty in Alberta politics right now, but one constant (is) this premier's self-importance," NDP finance critic Shannon Phillips told Kenney as he sat across the aisle from her, signing documents and answering questions in the house.
"Anyway," Phillips added, "enough about yesterday's man."
This report by The Canadian Press was first published May 24, 2022.
Oilers outlast Flames to grab 3-1 series lead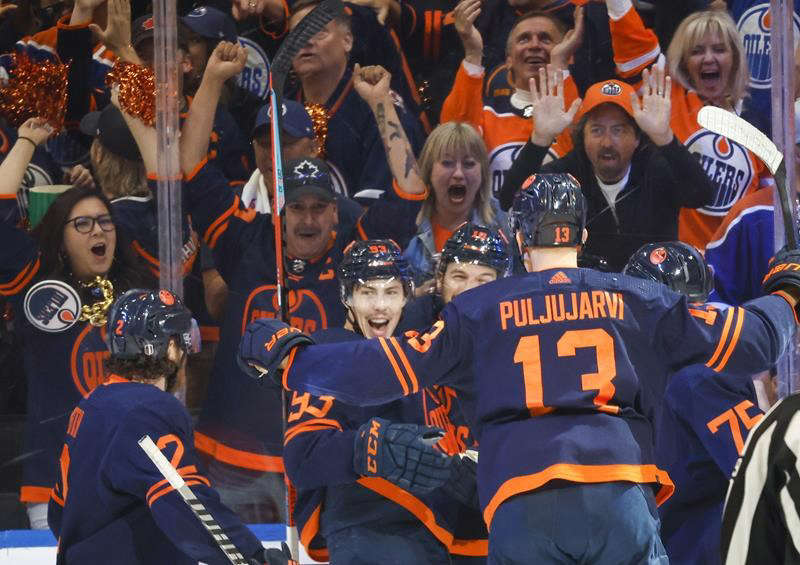 EDMONTON — Ryan Nugent-Hopkins scored his second goal of the night with 3:27 left in regulation as the Edmonton Oilers defeated the Calgary Flames 5-3 on Tuesday to take a 3-1 lead in the teams' second-round playoff series.
Evander Kane, with his NHL-best 11th and 12th of the post-season, and Zach Hyman had the other goals for Edmonton, which got 29 saves from Mike Smith. Leon Draisaitl added two assists.
Connor McDavid also had two assists to give him a league-topping 25 points in 11 playoff outings this spring for the Oilers, who kept their foot on the gas with a third straight victory over their provincial rival.
Elias Lindholm, Mikael Backlund and Rasmus Andersson, on a short-handed goal from his own end in the third period to tie proceedings 3-3, replied for Calgary, which will look to stave off elimination in the first post-season Battle of Alberta in 31 years Thursday at home in Game 5.
Jacob Markstrom stopped 21 shots.
After trailing 3-0 after the first period and 3-2 through 40 minutes, Calgary improbably knotted things in the third on an Edmonton power play when Andersson fired a 150-foot clearing attempt from his own end that somehow fooled Smith at 10:56 and stunned Rogers Place.
But with the Oilers wobbling, Nugent-Hopkins shovelled home his fourth of the playoffs from Markstrom's doorstep to send the nervous crowd into a frenzy.
Andersson then took a four-minute penalty for high-sticking with 2:40 left to effectively kill off the game before Kane iced it into an empty net.
Edmonton also held a 2-1 series lead in the first round against the Los Angeles Kings only to play what the Oilers described as their worst performance of the month in a 4-0 loss.
They won't be thrilled with this Game 4 either, but got the victory for a stranglehold on the series.
Markstrom, who had allowed 14 goals in the series before getting pulled after two periods with Calgary trailing Sunday's Game 3 by a 4-0 score line, played the puck behind his own net on the first shift, but put it right on Nugent-Hopkins' stick for him to bury his third inside a deafening arena.
The goal was the third-fastest in Oilers' playoff history, just short of McDavid (19 seconds in 2020) and Fernando Pisani (16 seconds in 2006).
One of three finalists for the Vézina Trophy as the NHL's top netminder, Markstrom recovered to deny Darnell Nurse on a chance a couple minutes later before Smith was at full stretch on a Johnny Gaudreau one-time chance.
Calgary winger Tyler Toffoli then took a tripping penalty and the Oilers made the visitors pay when Hyman outmuscled a hobbled Chris Tanev — back in the lineup for the first time since Game 6 of the opening round despite a suspected upper-body injury — in tight to bury his fifth goal of the series and seventh of the playoffs at 9:53.
The Flames, who topped the Pacific Division in the regular season, pushed back with a couple of decent shifts, but Kane, who was coming off a natural hat trick in Game 3, made it 3-0 with 66 seconds remaining in the period on a shot that nicked off blue-liner Nikita Zadorov.
Calgary finally showed some life on slick power play in the second with Kane off for slashing, and Lindholm eventually picked the top corner for his fifth at 9:04 after the Oilers twice failed to clear the defensive zone.
Backlund got the Flames within one at 3-2 just 36 seconds later when he stepped past Duncan Keith and fired his fourth past Smith.
Smith made a good stop on a Lindholm power-play chance early in the third before the home side got its second man-advantage with 11 minutes left in regulation.
Markstrom kept his team within striking distance with a terrific pad stop on Draisaitl, who was looking to become the first player in NHL history to register record three-plus points in four straight playoff games, with a terrific pad stop before Andersson's shocking equalizer from well inside his own blue line.
This report by The Canadian Press was first published May 24, 2022.
___
Follow @JClipperton_CP on Twitter.
Joshua Clipperton, The Canadian Press