Todayville Travel: Part 3 of Gerry's Yukon Road Trip
Last in a 3-part series on a Yukon road trip – Mt. Logan – Kluane National Park
by Gerry Feehan
"You're not going to believe this. Sian called again. It's just cleared up at base camp and the radar report looks good. It's a go if you're still willing."
I've been a geography nut since I was a kid. My noggin is full of useless facts. In pre-metric days I memorized details of the world's highest and lowest: Mount Everest 29,028 feet, Challenger Deep in the Mariana Trench 35,814 feet. As a proud Canadian I knew that our highest peak, Mt. Logan in Yukon's Kluane National Park, topped out at 19,850 feet above sea level. To my chagrin, North America's highest reach, 20,320-foot-high Mt McKinley, was located across the border in Alaska. As usual, America had outdone us, even at something as Canadian as rock, snow and ice.
I've always wanted to see Mt. Logan. We were nearing the end of our six-week-long Yukon road-trip. The highway would take us through Kluane National Park, so I made inquiries. A Whitehorse friend told me it was possible to organize a flight from Kluane Lake into Logan base camp. The camp is on a glacier in the heart of the St. Elias Mountains, a vast roadless, uninhabitable wilderness.
Sian Williams and her partner Lance Goodwin operate Icefield Discovery near Haines Junction, Yukon on beautiful Kluane Lake. I called early in June to book a day-trip. Sian (pronounced "Shan" – a Welsh name chosen by her bush-pilot father Andy) told me that due to spring's late arrival they'd been unable to access the camp located on Kaskawulsh Glacier beneath Mt. Logan. She added that the long-term forecast was poor. I was crest-fallen. We were booked to leave the North by ferry on June 21, the summer solstice.
We arrived in Kluane National Park with only a two-day window of opportunity. I checked in with Lance. He wasn't optimistic. Sian had flown into the camp a week earlier and been stuck there, socked in by a brutal snowstorm. Kluane's mountainous terrain means that all access is by air. And this region is too dangerous and unforgiving to rely solely on instruments so visual flight rules are always in force. No see, no fly.
We sat put, waiting for the mountain weather gods to calm. Our first night, camped on the shore of frigid Kluane Lake, we enjoyed a repast of fresh Arctic Grayling (supplied courtesy of my fly rod). Meters away a grizzly bear, terrifying claws in close-up view, combed the beach in search of its own fishy catch. The next day we spent cautiously hiking an alpine ridge, bear aware. Fortunately we shared the pristine view with only mountain sheep, moose and caribou.
As we set off she pointed to a gaping cobalt scar part way up the snowfield, "Watch out for the crevasse." We set course accordingly.
The morning arrived when we needed to make a move for the coast. The solstice was nigh. I phoned Lance and he said, "I spoke to Sian on the satellite phone. It's still a whiteout up there. Sorry." We reluctantly packed camp and were on our way south when Lance rang back, "You're not going to believe this. Sian called again. It's just cleared up at base camp and the radar report looks good. It's a go if you're still willing."
We high-tailed it for the Kluane airstrip where we met Donjek, the pilot. He was born here, named after the Donjek River that flows into Kluane (naturally his father was also a bush pilot). As we took off, the plane's shrinking shadow followed us across the emerald beauty of Kluane Lake. Soon the lake gave way to a snaking, silt-laden river. We gained elevation and the dirty toe of Kaskawulsh glacier appeared. Then all was ice; white curving fingers spilling from mountain valleys. Dark lines of ground rock defined the course of each icy highway. Then all became snow, the line between earth and sky indiscernible.
We flew over the camp. Sian waved from below, a tiny solitary figure surrounded by white glacial enormity. Mt Logan, draped in sun and cloud, stood imperiously in the background. Donjek lowered the skis of the Helio-Courier prop plane and we skidded to a smooth stop.
We climbed from the cockpit and walked through virgin snow to where Sian was standing in a deep pit, shovel in hand. It looked like she was cutting blocks for an igloo. Actually she was retrieving the prior season's camp from burial under three meters of winter snow pack. (That's how glaciers grow – year upon year of accumulated snowfall eventually compressing into ice. At Logan base camp the ice is over a kilometer thick.)
We helped Sian haul a heavy tent from its deep winter interment. She suggested we hike over the glacier to a viewpoint framing Mt. Logan. As we set off she pointed to a gaping cobalt scar part way up the snowfield, "Watch out for the crevasse." We set course accordingly.
When we returned Sian boiled water for tea and chatted about the inner workings of glaciers and their role in hydrology, geography and world climate. Icefield Discovery's headquarters, on Kluane Lake, house the Arctic Institute of North America, which conducts glacier research.
We were in the heart of the world's largest non-polar ice field. Due to its proximity to the warmer, lower Kluane valley and nearby Whitehorse, the St. Elias region is ideal for ice-core sampling and Arctic-style exploration. Canada's other, more northerly polar arctic regions are less accessible and more inhospitable.
After three sun-drenched hours on the glacier Donjek fired up the prop and we skied off into the airy abyss, down the dirty winding glacial trail and back into the summer greenery of Kluane Lake. It was late in the day when we finally climbed into our RV and started south for Haines, Alaska, three-hundred kilometers away on the coast. Along the way, colorful pink Yukon wildflowers contrasted with the snowy splendor of Kluane's mountains – as did my beet-red, fried face. I'd forgotten to apply sunscreen.
Near midnight we arrived in Haines, located in a narrow spit on a scenic Alaskan fjord. As we set up camp a wildlife ballet greeted us. Two brown bears were dancing, performing a grizzly twilight duet. Behind them across the spit, like curtains on a stage, two majestic waterfalls cascaded into the ocean.
In the morning we awoke with the solstice. Summer had arrived. Our ferry departure was nigh.
For a final boreal treat we rode our bikes through a coastal rainforest. Dwarfed by thousand-year old giants, we crested a hill in the dappled forest and came upon a large group of Japanese tourists, walking single-file. Each sported a pair of white gloves and what looked like a beekeeper's hat. As we rode by, one by one they broke into spontaneous applause – golf-clap style. On occasion life is surreal.
Gerry Feehan QC is an award-winning travel writer and photographer. He and his wife Florence live in Red Deer, AB and Kimberley, BC.
Thanks to these amazing local companies who make Todayville Travel possible.
Click below to read Part 1 in Gerry's 3-part series on the Yukon.
Click below to read Part 2 in Gerry's 3-part series on the Yukon.
Click here to visit our Travel section and see more of Gerry's stories.
A glorious afternoon among the vineyards by Gerry Feehan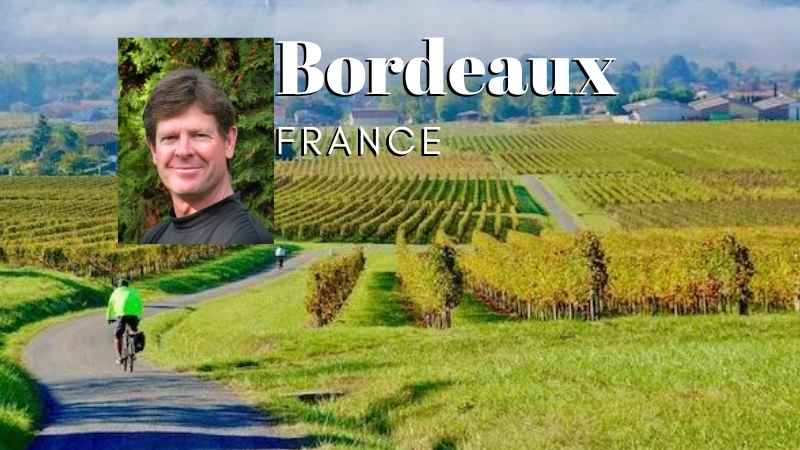 A glorious afternoon among the vineyards
One of the keys to enjoyable travel — and recovery from a seven-hour jet-lag hangover — is to give oneself time to acclimate. And what better place to do that than in the City of Lights?
On tap was a week-long bike 'n barge in southwest France. But rather than simply change planes at Charles De Gaulle airport and continue on to Bordeaux, we deplaned, shuttled into the French capital and gayly strolled the streets of Paris for a couple of days.
Fun in the streets of gay Paris
Paris, like many of the world's great cities, is a pleasure to walk. From our hotel in the Latin Quarter, it was an easy saunter along the left bank of the Seine to the Eiffel Tower. En route, we passed two of the world's great museums, the Louvre and the Musée d'Orsay. Famished after a half-hour en pied, we stopped at a quiet brasserie for escargot and steak tartare. Fun fact: raw beef is best washed down with a heaping helping of Pernod. After lunch we wandered on and were soon gazing up at the Arc de Triomphe and the crazy traffic on the Champs-Elysees. On the return traipse we followed the river's course to Notre Dame Cathedral where we climbed the narrow spiral staircase to the church's wooden bell tower for the magnifique view of Paris. We were amongst the last to do so. A couple of months later, the 800- year-old edifice was gutted by fire.
After our relaxing stay in La Cité, we boarded the train at Gare Montparnasse, well-rested and physically and mentally prepared for the formidable task ahead: seven laid-back days of pedalling through the serene back roads of southwest France, coupled with the burden of sampling fine Bordeaux wines.
The trip from Paris to Bordeaux is over 500km, but when travelling by rail at over 300km/h, the journey is over in a flash. At the station in Bordeaux we transferred for the short run into Libourne, a sleepy little village on the Dordogne River, where we boarded our vessel, the aptly named MS Bordeaux. The ship was originally commissioned in the 1920s as a Rhinetuger, hauling heavy burdens on the Rhine River. The old gal went through a number of iterations over the decades before being converted into a passenger vessel. The boat has 49 cabins, but there were only 23 guests, so we became friends with everyone on board — crew and clientele alike.
It was a cozy, intimate experience.
On the weeklong voyage, we drifted slowly down the Dordogne toward the Bay of Biscay. When we reached the wide Gironde estuary we made a u-turn and rode the incoming tide up the Garonne River to Castets-en-Dorthe where we were to disembark. It was late fall, the ship's last sailing of the season. The weather was ideal. The autumn hues of southern France were on full display.
Each morning, after a fine petit dejeuner, we stuffed our panniers with a picnic lunch of oven-fresh baguettes, pate, brie, fruit — and a world of pastries. Then we'd roll down the gangplank and hit the bucolic road. Each route was unique and scenic.
A GPS mounted to the handlebars kept us on track, ensuring we didn't turn a la gauche when we should have gone a la droit.
We pedalled past orchards of ripening grapes, waving at the friendly vendangeurs hand-picking the last sweet remains of the year's vintage. Often the route led us up what looked like a private lane, a path we'd never have taken had not the GPS assured us we were on course. We'd stop and gawk at some enormous ancient stone Château before continuing down the cobbled way.
Fall is hunting season
Despite the season, many of the Châteaux were open for tastings, invariably hosted by a friendly, effusive, fifth-generation proprietor, happy to share the family cellar with a group of foreign geeks in cycling shorts.
Bordeaux boasts some of the most stunning scenery in all of France — and some of its best vintages. That's saying a lot in a country renowned for le vin. Personally, I turn up my nose at snooty French reds like Cote du Rhone and Burgundy. They're a little too subtle for my meat-and-potatoes palette. Give me a big beefy Bordeaux any day. And that is what this appellation is all about: deep purple merlots blended with a splash of cabernet sauvignon.
Some of our fellow passengers chose e-bikes to lighten the load, but our group of eight hearty Canucks toughed out the Bordeaux hills with good old-fashioned foot-pedal power. We logged about 50km per day, a distance one could easily cover in a few hours. But, what with stopping to marvel at the glorious views, photograph the panoramic campagne, sip Sauterne and enjoy a leisurely picnic lunch, we managed to stretch every outing into an eight-hour work-day.
Beware of dogs in the fog!
One morning as we meandered down a medieval lane enjoying the 'douceur de vivre' a layer of mist descended upon us. This typical morning fog offers perfect growing conditions for Bordeaux's famous varietals. Suddenly from out of the haze a huge dog, teeth angrily bared, descended on my wife Florence. I shouted but the mongrel continued its malevolent advance, apparently unfamiliar with English profanity. Then I remembered the tip regarding unfriendly curs contained in our pre-trip information pamphlet:
"Continue cycling past the dog. If it persists, a more aggressive approach may be required, in the form of pretending to throw a stone (or in extreme cases actually throwing a stone)."
The animal's command of English may have been lacking, but it was a quick learner when it came to comprehending the meaning of rock on chien.
That evening, after another glorious dinner on the boat, we retired to the lounge for a digestif. It was the last night of the last sailing of the year and Sebastian, our maîtres d', cum waiter, cum bartender, was ready to let his hair down. He brazenly lassoed all the female passengers onto the dance floor for a Bacchanalian romp. Overhead, a faux-disco ball twirled as the ladies gyrated and the boat rocked. The men, fatigued from another trying day amongst the Bordeaux vineyards, were content to sip Pastis and chat.
An ebullient Sebastian
Another fantastique dinner
I quietly slipped into the night air and onto the upper deck. After bidding adieu to my bicyclette and its worn tires, I made my way to our berth and slipped into a dreamless sleep. I needed the rest. In the morning our last arduous adventure would begin: two lazy days of decompressing back in gay Paris.
If you go: www.aquitaine-cruises.com
'Goodbye Bordeaux'
Gerry Feehan is an award-winning travel writer and photographer. He lives in Kimberley, BC.
Thanks to Kennedy Wealth Management for sponsoring this series. Click on the ads and learn more about this long-term local business.
Passport application backlog leads to lineups, scrambles summer travel plans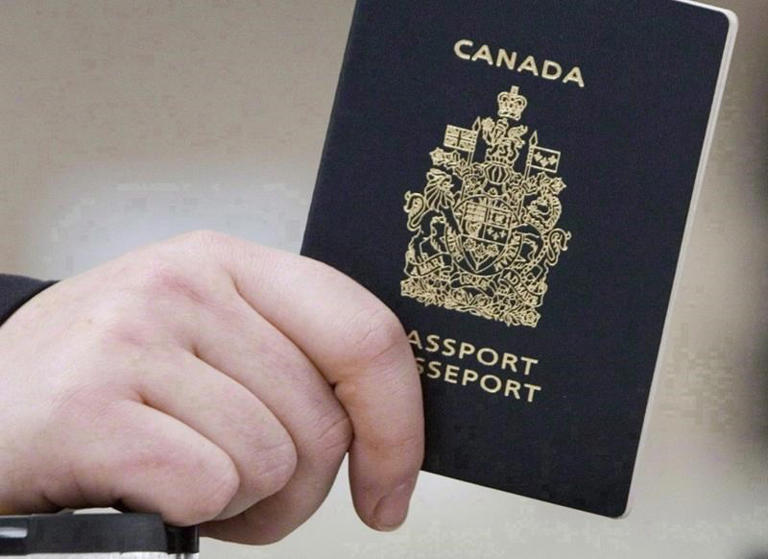 TORONTO — Kelly Potter Scott has been looking forward to taking her 10-year-old daughter across the Canadian border for the first time for a girls' getaway in Upstate New York in a couple of weeks.
But as she spent hours waiting outside a Toronto passport office, Potter Scott said she had to trust an official's assurances that her daughter will have her documents for the weekend trip with family and friends.
"If we don't get it, my daughter just won't be able to come with us, which will be unfortunate," Potter Scott said. "Fingers crossed, we get it in time."
She was among dozens of people in a line that stretched down the block Wednesday, some toting fold-up chairs as they shuffled toward the door to submit their passport applications.
Some aspiring travellers expressed concern that their summer vacation plans could be scrambled as pent-up pandemic wanderlust fuelled a backlog in passport processing times.
Officials have been bracing for a rise in passport demand with the relaxation of COVID-19 border measures, bringing on 600 new employees to help sort through the influx of paperwork. Last month, Service Canada reopened all passport service counters across the country, and additional counters have been added at more than 300 centres.
But as many Canadians look to venture abroad after more than two years of pandemic-restricted travel, some passport seekers say they've been forced to camp outside service centres or reschedule trips because of the bureaucratic bottleneck.
It seemed to catch federal officials by surprise.
"The fact of the matter is that while we were anticipating increased volume, this massive surge in demand has outpaced forecasts and outstripped capacity," Families, Children and Social Development Minister Karina Gould told a parliamentary committee on May 30.
"We know many people have been put in very difficult circumstances. And that is why I have directed officials to work as hard as possible to meet the demand."
Between April 1, 2020 and March 31, 2021, Service Canada issued 363,000 passports as services were limited to urgent travel cases.
But as the world has reopened, demand has skyrocketed. Between April 1, 2021 and March 31, 2022, nearly 1.3 million passports were issued.
Since April, more than 317,000 passports have been handed out, and the federal forecast for 2022-2023 is between 3.6 million and 4.3 million applications.
Based on projections from last week, 75 per cent of Canadians who apply for a passport receive one within 40 working days, a spokesperson for Employment and Social Development Canada said in a statement. Ninety-six per cent of those who submit an application in-person at a specialized site receive a passport within 10 working days.
Nadia Elsayed in Oakville, Ont., said she mailed her infant daughter's passport application in early April, indicating a tentative travel date of late May.
Elsayed waited for the envelope to arrive in her mailbox as that date came and went. With passport services not picking up the phone, she turned to her member of Parliament, and found out that her daughter's documents were sitting in a stack of other applications in Gatineau, Que.
She arranged to have her daughter's application sent to another office in the Toronto suburb of Mississauga. Officials told her they'd aim to have the passport ready 48 hours before her family is set to travel to the United States this month, Elsayed said, but that's cutting it too close for comfort.
"It still feels a little bit up in the air, to be honest," she said. "It just feels like we're kind of hanging on and just hoping that things turn out."
This report by The Canadian Press was first published June 9, 2022.
Adina Bresge, The Canadian Press