Flights restart at Hong Kong airport as protesters apologize
HONG KONG — Flights resumed at Hong Kong's airport Wednesday after two days of disruptions marked by outbursts of violence that highlight the hardening positions of pro-democracy protesters and the authorities in the semi-autonomous Chinese city.
About three dozen protesters remained camped in the airport's arrivals area a day after a mass demonstration and frenzied mob violence forced more than 100 flight cancellations. Additional identification checks were in place, but check-in counters were open and flights appeared to be operating normally.
Protesters spread pamphlets and posters across the floor in a section of the terminal but were not impeding travellers. Online, they also circulated letters and promotional materials apologizing to travellers and the general public for inconveniences during the past five days of airport occupations.
"It is not our intention to cause delays to your travels and we do not want to cause inconvenience to you," said an emailed statement from a group of protesters. "We ask for your understanding and forgiveness as young people in Hong Kong continue to fight for freedom and democracy."
The airport's management said it had obtained "an interim injunction to restrain persons from unlawfully and wilfully obstructing or interfering" with airport operations. It said an area of the airport had been set aside for demonstrations, but no protests would be allowed outside the designated area.
The airport had closed check-in for remaining flights late Tuesday afternoon as protesters swarmed the terminal and blocked access to immigration for departing passengers. Those cancellations were in addition to 200 flights cancelled on Monday.
Hong Kong police said they arrested five people during clashes with pro-democracy protesters at the airport Tuesday night.
Assistant Commissioner of Police Operations Mak Chin-ho said the men, aged between 17 and 28, were arrested for illegal assembly. Two were also charged with assaulting a police officer and possessing offensive weapons as riot police sought to clear the terminal.
More than 700 protesters have been arrested in total since early June, mostly men in their 20s and 30s, but also including women, teenagers and septuagenarians.
Mak gave no further details, but said additional suspects were expected to be arrested, including those who assaulted an officer after stripping him of his baton and pepper spray, prompting him to draw his gun to fend them off.
Hong Kong law permits life imprisonment for those who commit violent acts or acts that might interfere with flight safety at an airport.
More than 74 million travellers pass through Hong Kong's airport each year, making it "not an appropriate place of protest," Mak said.
"Hong Kong police have always facilitated peaceful and orderly protests over the years, but the extremely radical and violent acts have certainly crossed the line and are to be most severely condemned," he said. "The police pledge to all citizens of Hong Kong that we will take steps to bring all culprits to justice."
That was backed up by a statement on a newly launched government website set up to provide the latest information on the crisis, which said, "The police will take relentless enforcement action to bring the persons involved to justice."
Hong Kong airline Cathay Pacific said in a statement it had cancelled 272 flights over the past two days, affecting more than 55,000 passengers, while 622 departures and arrivals went ahead.
Cathay also said it has fired two pilots, in an apparent response to their involvement in activity related to pro-democracy protests.
They included one pilot who is "currently involved in legal proceedings." The airline said earlier this week one of its pilots has been charged with rioting after being arrested during a protest.
It said the second fired pilot "misused company information," but gave no further details. The Hong Kong Free Press reported that the pilot posted a photo of a cockpit screen on an online forum used by protesters.
The airport disruptions have escalated a summer of demonstrations aimed at what many Hong Kong residents see as an increasing erosion of the freedoms they were promised in 1997 when Communist Party-ruled mainland China took over what had been a British colony.
While Hong Kong's crucial travel industry suffers major losses, the city's reputation as a well-regulated centre for finance is also taking a hit. Some 21 countries and regions have issued travel safety alerts for their citizens travelling to Hong Kong, saying protests have become more violent and unpredictable.
The demonstrators are demanding Hong Kong leader Carrie Lam step down and scrap proposed legislation under which some suspects could be sent to mainland China, where critics say they could face torture and unfair or politically charged trials.
Lam has rejected calls for dialogue, saying Tuesday the protesters were threatening to push their home into an "abyss."
In a statement Wednesday, the Chinese Cabinet's liaison office in Hong Kong said the protesters had "entirely ruptured legal and moral bottom lines" and would face swift and severe repercussions under Hong Kong's legal system.
"Their behaviour shows extreme contempt for the law, seriously damages Hong Kong's international image and deeply hurts the feelings of the broad masses of their mainland compatriots," the statement said.
Most of the protesters left the airport Tuesday after officers armed with pepper spray and swinging batons tried to enter the terminal, fighting with demonstrators who barricaded entrances with luggage carts. Riot police clashed briefly with the demonstrators, leading to several injuries and prompting at least one officer to draw a handgun on his assailants.
The burst of violence included protesters beating up at least two men they suspected of being undercover Chinese agents. Airport security appeared unable to control the crowd, and paramedics later took both men away. Police have acknowledged using "decoy" officers, and some protesters over the weekend were seen being arrested by men dressed like demonstrators — in black and wearing face masks.
Hu Xijin, editor-in-chief of the Global Times, identified one of the men as a journalist at the nationalistic Chinese tabloid.
"Fu Guohao, reporter of GT website is being seized by demonstrators at HK airport," Hu wrote on his Twitter account. "I affirm this man being tied in this video is the reporter himself. He has no other task except for reporting."
Protesters on Wednesday apologized that some of them had become "easily agitated and over-reacted." On posters, the demonstrators said they have been "riddled with paranoia and rage" after discovering undercover police officers in their ranks.
Earlier this week, the central government in Beijing issued an ominous characterization of the protest movement as something approaching "terrorism" — a label it routinely applies to nonviolent protests of government policies on the environment or in minority regions such as Xinjiang and Tibet.
President Donald Trump tweeted that U.S. intelligence believes that the Chinese government is moving troops to its border with Hong Kong and that, "Everyone should be calm and safe!"
While China has yet to threaten using the army — as it did against pro-democracy protesters in Beijing in 1989 — recent police exercises across Hong Kong's border with mainland China were a sign of its ability to crush the demonstrations, even at a cost to Hong Kong's reputation as a safe haven for business and international exchange.
Images on the internet showed armoured personnel carriers belonging to the People's Armed Police driving in a convoy Monday toward the site of the exercises.
___
Associated Press video journalist Katie Tam in Hong Kong and writer Kelvin Chan in London contributed to this report.
Vincent Thian And Yanan Wang, The Associated Press
78 years on, Jewish Holocaust rescuers want their story told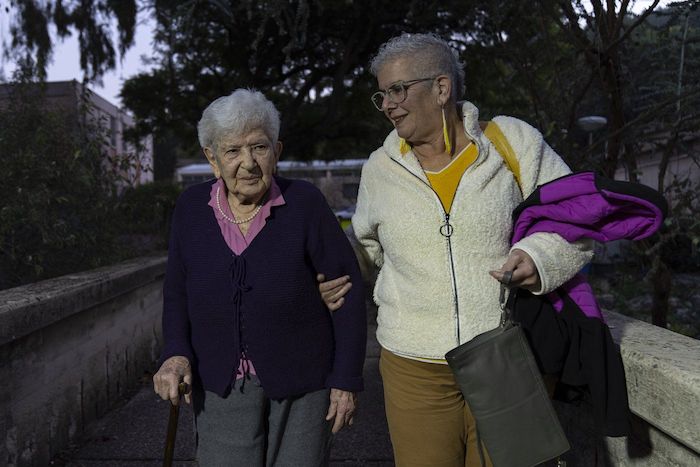 By Alon Bernstein in Kibbutz Hazorea
KIBBUTZ HAZOREA, Israel (AP) — Just before Nazi Germany invaded Hungary in March 1944, Jewish youth leaders in the eastern European country jumped into action: They formed an underground network that in the coming months would save tens of thousands of fellow Jews from the gas chambers.
This chapter of the Holocaust heroism is scarcely remembered in Israel. Nor is it part of the official curriculum in schools. But the few remaining members of Hungary's Jewish underground want their story told. Dismayed at the prospect of being forgotten, they are determined to keep memories of their mission alive.
"The story of the struggle to save tens of thousands needs to be a part of the chronicles of the people of Israel," said David Gur, 97, one of a handful of members still alive. "It is a lighthouse during the period of the Holocaust, a lesson and exemplar for the generations."
As the world marks International Holocaust Remembrance Day on Friday, historians, activists, survivors and their families are all preparing for the time when there will no longer be living witnesses to share first-person accounts of the horrors of the Nazi genocide during World War II. In the Holocaust, 6 million Jews were wiped out by the Nazis and their allies.
Israel, which was established as a refuge for Jews in the wake of the Holocaust, has gone to great lengths over the years to recognize thousands of "Righteous Among the Nations" — non-Jews who risked their lives to save Jews during the Holocaust.
Accounts of Jewish resistance to the Nazis, such as the Warsaw Ghetto uprising, are mainstays in the national narrative but rescue missions by fellow Jews — such as the Hungarian resistance — are less known.
Hungary was home to around 900,000 Jews before the Nazi invasion. Its government was allied with Nazi Germany, but as the Soviet Red Army advanced toward Hungary, the Nazis invaded in March 1944, to prevent its Axis ally from making a separate peace deal with the Allies.
Over the 10 months that followed, as many as 568,000 Jews were killed by the Nazis and their allies in Hungary, according to figures from Yad Vashem, Israel's official Holocaust memorial.
Gur said he and his colleagues knew that disaster was looming when three Jewish women arrived at Budapest's main synagogue in the fall of 1943. They had fled Nazi-occupied Poland and bore disturbing news about people being shipped off to concentration camps.
"They had fairly clear information about what was happening, and saw the many trains, and it was obvious to them what was happening," said Gur.
Gur oversaw a massive forgery operation that provided false documents for Jews and non-Jewish members of the Hungarian resistance. "I was an 18-year-old adolescent when the heavy responsibility fell upon me," he said.
There was great personal risk. In December 1944, he was arrested at the forgery workshop and brutally interrogated and imprisoned, according to his memoir, "Brothers for Resistance and Rescue." The Jewish underground broke him out of the central military prison in a rescue operation later that month.
The forged papers were used by Jewish youth movements to operate a smuggling network and run Red Cross houses that saved thousands from the Nazis and their allies.
According to Gur's book, at least 7,000 Jews were smuggled out of Hungary, through Romania to ships on the Black Sea that would bring them to British-controlled Palestine. At least 10,000 forged passes offering protection, known as Shutzpasses, were distributed to Budapest's Jews, and around 6,000 Jewish children and accompanying adults were saved in houses ostensibly under the protection of the International Red Cross.
Robert Rozett, a senior historian at Yad Vashem, said that although it was "the largest rescue operation" of European Jews during the Holocaust, this episode remains off "the main route of the narrative."
"It's very significant because these activities helped tens of thousands of Jews stay alive in Budapest," he said.
In 1984, Gur founded "The Society for Research of the History of the Zionist Youth Movements in Hungary," a group that has promoted awareness about this effort.
Last month at a kibbutz in northern Israel, Sara Epstein, 97, Dezi Heffner-Reiner, 95, and Betzalel Grosz, 98, three of the remaining survivors who helped save Jews in Nazi-occupied Hungary, received the Jewish Rescuers Citation for their role in the Holocaust. The award is given by two Jewish groups — B'nai B'rith World Center-Jerusalem and the Committee to Recognize the Heroism of Jewish Rescuers During the Holocaust.
"There aren't many of us left, but this is important," said Heffner-Reiner.
More than 200 other members of the underground were given the award posthumously. Gur received the award in 2011, the year it was created.
Yuval Alpan, a son of one of the rescuers and an activist with the society, said the citations were meant to recognize those who saved lives during the Holocaust.
"This resistance underground youth movement saved tens of thousands of Jews during 1944, and their story is not known," he said. "It's the biggest rescue operation in the Holocaust and nobody knows about it."
International Holocaust day falls on the anniversary of the Red Army's liberation of the Auschwitz death camp 78 years ago. Israel is home to some 150,600 Holocaust survivors, almost all of them over the age of 80, according to government figures. That is 15,193 less than a year ago.
The United Nations will be holding a memorial ceremony at the General Assembly on Friday, and other memorial events are scheduled around the globe.
Israel marks its own Holocaust Remembrance Day in the spring.
___
Associated Press writers Eleanor Reich and Ilan Ben Zion in Jerusalem contributed to this report.
House GOP seeks new restrictions on use of US oil stockpile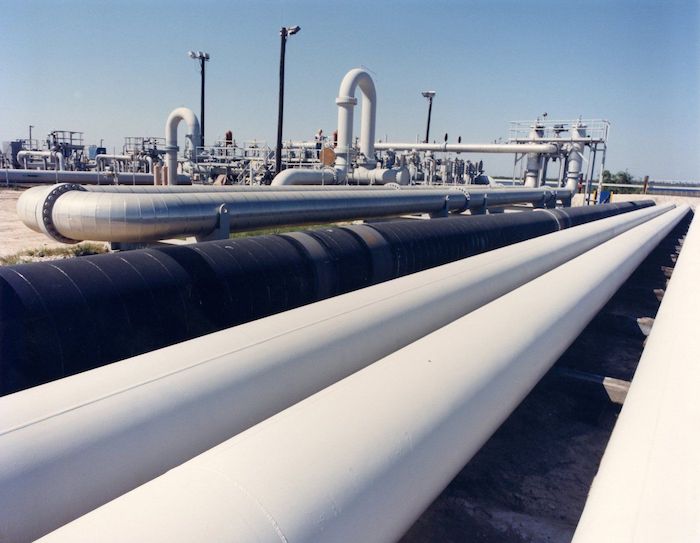 By Matthew Daly in Washington
WASHINGTON (AP) — For the second time this month, House Republicans are seeking to restrict presidential use of the nation's emergency oil stockpile — a proposal that has already drawn a White House veto threat.
A GOP bill set for a vote Friday would require the government to offset any non-emergency withdrawals from the Strategic Petroleum Reserve with new drilling on public lands and oceans. Republicans accuse President Joe Biden of abusing the reserve for political reasons to keep gas prices low, while Biden says tapping the reserve was needed last year in response to a ban on Russian oil imports following President Vladimir Putin's invasion of Ukraine.
Biden withdrew 180 million barrels from the strategic reserve over several months, bringing the stockpile to its lowest level since the 1980s. The administration said last month it will start to replenish the reserve now that oil prices have gone down.
White House press secretary Karine Jean-Pierre attacked the latest GOP proposal, which follows a bill approved two weeks ago that would prohibit the Energy Department from selling oil from the strategic reserve to companies owned or influenced by the Chinese Communist Party.
"House Republicans will vote to raise gas prices on American families … and help Putin's war aims by interfering with our ability to release oil," Jean-Pierre said, referring to the current GOP bill. "These extreme policies would subject working families to immense financial pain and balloon our deficit, all just to benefit the wealthiest taxpayers and big corporations."
Energy Secretary Jennifer Granholm, appearing with Jean-Pierre at the White House, said the bill would make it "harder to offer Americans relief in the future" from oil disruptions that could raise prices.
Republican Rep. Cathy McMorris Rodgers, who chairs the House Energy and Commerce Committee and sponsored the GOP bill, accused Granholm and the White House of multiple misleading claims, including an erroneous assertion that the bill could affect use of the reserve during a presidentially declared emergency.
"At a time when gas prices are on the rise, Secretary Granholm and the Biden administration need to be transparent with the American people about their efforts to cover up how they've abused the Strategic Petroleum Reserve as an election-year gimmick," McMorris Rodgers said.
"Republicans want durable, long-lasting relief at the pump. The best way to do this is by unleashing American energy," which her legislation helps accomplish, added McMorris Rodgers, of Washington state.
The heated rhetoric is part of a larger fight over oil drilling and climate change. Republicans say restrictions on oil leasing imposed by the Biden administration hamper U.S. energy production and harm the economy, while Democrats tout a sweeping climate law approved last year as a crucial step to wean the nation off fossil fuels such as oil, coal and natural gas. The measure authorizes billions in spending to boost renewable energy such as wind and solar power and includes incentives for Americans to buy millions of electric cars, heat pumps, solar panels and more efficient appliances.
Biden, citing the dangers of climate change, canceled the controversial Keystone XL oil pipeline in his first days in office and suspended new oil and gas leases on federal lands. The moratorium has since been lifted, under court order, but Republicans complain that lease sales for new drilling rights are still limited.
Biden campaigned on pledges to end new drilling on public lands, and climate activists have pushed him to move faster to shut down oil leasing. Fossil fuels extracted from public lands account for about 20% of energy-related U.S. greenhouse gas emissions, making them a prime target for emissions reductions intended to slow global warming.
"Whether on land or at sea, oil drilling poses an unacceptable risk for our wildlife, wild places and waterways," said Lisa Frank of Environment America, an advocacy group. "When we drill, we spill. At a time when we should be moving away from this destructive, dangerous practice — and expanding use of renewable power — this bill doubles down on the outmoded energy of the past."
Frank urged lawmakers to reject the GOP bill and instead move to permanently ban new drilling off U.S. coasts and in Alaska's Arctic National Wildlife Refuge.
Conservative and industry groups support the bill.
"We can continue making the Strategic Petroleum Reserve the nation's sole response to future disruptions, or we can also utilize more of the vast oil supplies sitting beneath the lands and offshore areas currently kept off limits by the president," the Competitive Enterprise Institute and other conservative groups said in a letter to Congress.
The Treasury Department estimates that release of oil from the emergency stockpile lowered prices at the pump by up to 40 cents per gallon. Gasoline prices averaged about $3.50 per gallon on Thursday, down from just over $5 per gallon at their peak in June, according to the AAA auto club.
Morris Rodgers accused Biden of using the reserve to "cover up his failed policies" that she said are driving up energy prices and inflation. Average gas prices are up more than 30 cents from a month ago and are higher than when Biden took office in January 2021, she and other Republicans noted.
"Millions of Americans are paying more at the pump as a result of the Biden administration's radical 'rush-to-green' agenda that has shut down American energy," McMorris Rodgers said.
Granholm, citing thousands of unused leases by oil companies, said GOP claims of obstructionism on drilling were off-base. "There's nothing standing in the way of domestic oil and gas production," she said, a claim McMorris Rodgers disputed.
"There are plenty of barriers to unleashing domestic oil and gas production, including burdensome regulations and this administration's discouragement of financial investment in domestic oil and gas industries," she said, noting that U.S. oil production is well below its 2019 peak of 13 million barrels of oil a day.