Todayville Travel goes on a Yukon road trip Part 2 – Dawson City and the Dempster Highway
2nd in a 3-part series on a Yukon road trip – Dawson City and the Dempster Highway
Upon our return from six weeks exploring Canada's north, friends enquired, "So what was your favourite place?" And each time, gazing distantly while recalling the amazing scenery, people and places we encountered, I answered: "Haven't a clue."
But Dawson City, Yukon is a good start.
I love Dawson. Unlike cruise-ship destinations on the nearby Alaska coast, Dawson is genuinely quaint. Colorful clapboard buildings line the streets, interspersed with heritage houses leaning drunkenly on a permafrost foundation.
Diamond Tooth Gertie's is Dawson's historic casino and dance hall. This landmark saloon was established over a century ago and, while Gertie herself is getting a little long in the tooth, the can-can girls are still high-kicking a vaudeville act each evening at 8:30pm, 10:30pm and midnight. Happy hour at Gertie's is from midnight to 1am. The manager at our RV park – located a short walk from Gertie's – winked when she said "the later the show the more the skin." I suggested to my wife Florence – purely for journalistic purposes – that we take in the evening's final performance.
"…Their public throes of ecstasy are disconcerting. And should a birder confirm the presence of an olive-sided flycatcher by its loud and clear "quick-three-beers" call – well, just stay out of the way..."
Our June arrival coincided with the midnight sun's long summer appearance. It may seem frivolous to remark that it doesn't get dark here in summer, but until you've actually experienced this phenomenon, it is hard to appreciate. Darkness never descends; not tonight nor the next nor the night after that. Daylight is a 24/7 thing for six weeks.
There is no respite from the light. One's natural daily rhythm quickly shuts down, confused, as if dragged through perpetual jet lag. Soon you are eating dinner at 11:45pm, hanging out on the dusky streets 'til all hours and sleeping past noon; 4am is just an overcast day, juxtaposed with the usual night sounds of street-laughter and squealing car tires. Birds sing non-stop. One night, in this altered circadian state, I found myself and my ukulele busking for cash at 3am outside the venerable Westminster Hotel with a couple of young Quebecois. And we didn't do badly – after two hours I'd donated only thirty bucks.
Summer here is difficult to digest, but a season of endless darkness would be interminable, unimaginable. Only after a full winter hunkered down in the snow and ice of Yukon can one proclaim himself a genuine "sourdough". A somewhat easier feat is attaining "sour toe" certification, awarded to all those who slurp up a $5 shot of Yukon Jack whiskey containing a pickled human toe – which your lips must touch. (I am now a proud member of the Sour Toe Club. Fortunately I was nearly as pickled as the toe when the deed was consummated.)
Although the Klondike gold rush ended more than a century ago, Dawson retains its frontier spirit. The streets are full of entrepreneurs and oddballs. Young drifters seek adventure, mingling with cagy old-timers. Secretive men and women still comb nearby creeks, moiling for gold. Astute shopkeepers mine tourist's pockets. Individuals all, Dawson folk march to the beat of no one's drum but their own.
Every person I've met who's been to Yukon (don't say the Yukon, that's a dead giveaway you are a newcomer, a Cheechako, from the "outside") returns home gushing about the Klondike story, an epic period in Canadian history. I too am now a convert.
On our last night in town, just shy of midnight, we drove to an overlook offering a panoramic view of Dawson far below. We chatted with a lovely young aboriginal woman picking wild herbs from the steep cliff-face. "I make tea with spruce tips, labrador, cranberry bush leaves… and sage," she said, reaching for a sprig over the precarious edge. "The caribou pass through here in October. They love sage. Come look."
The caribou may not suffer from vertigo but I wasn't going near that precipice. Nearby another woman watched, quietly slurping beer – the same precocious gal who had inducted me into the Sour Toe hall of fame the night before. Dawson is not a big place.
Properly schooled in the art of brewing tea from local ingredients, we departed for a late night game of golf. We arrived at the Top of the World golf course after midnight, so I thought it fitting to ask the proprietress for the twilight rate. She looked at me blankly, shielding her gaze from the sun's glare.
I decided not to quibble over the green fees, paid the full fare of $24, and off we teed into the grassy tundra. On the sixth hole sunset and sunrise collided, shared only by our twosome – and competing packs of wolves baying at the spectacle.
In the morning, seeking even more vitamin D, we headed further into the perpetual sunlight, north up the Dempster Highway toward Inuvik and the Arctic Ocean. Our tour up this narrow gravel road began with a stop at Tombstone Territorial Park where we chanced upon a weekend gathering of birders. Have you ever met a birder? At the risk of mixing metaphors I must say these odd ducks are strange cats. They make Trekkies look undedicated. Anyone who gets up early to tromp through muskeg in search of a lesser scaup or hooded merganser needs to have their head examined.
It is uncomfortable watching a birder identify the elusive Ruddy Duck. Their public throes of ecstasy are disconcerting. And should a birder confirm the presence of an olive-sided flycatcher by its loud and clear "quick-three-beers" call – well, just stay out of the way. But this obsession with things winged is surprisingly contagious. We attended an evening lecture at the Tombstone amphitheater where a bright young woman spoke on, "Why Birds Sing." It's about sex and war. Male birds make song to attract mates and to fend off territorial rivals; no need for physical confrontation. Have the birdbrains out-evolved man? Could we send our best tenors out to resolve border disputes? Think of the savings on anti-personnel weaponry.
After two days with our feathered friends we elected to fly the coop and continue our slow, muddy journey up the Dempster.
Our goal was the Arctic Circle but the owner of Eagle Plains Motel (the only accommodation and gas stop for hundreds of kilometers in either direction) told us that we should carry on a little further, over the Yukon border and into the Northwest Territories to see real tundra landscape. So we did. But the weather was miserable, the visibility poor and the shoulderless road hazardous. Our plan to bicycle across the Arctic Circle line was cancelled. Our bikes, hanging off the back of the van, looked like they'd been dipped in chocolate.
We retraced our path in search of the nearest wand wash. Back in Dawson and $23 in loonies later the RV began to reappear from its dark, molten lacquer.
There are different ways to experience our great north. You can read Pierre Berton novels which, while informative, are also useful as a sleep-aid – or you can go explore an abandoned Yukon River dredge yourself. And bring a pan – there's still plenty of gold in them thar hills.
Next time: Kluane National Park, Yukon
Gerry Feehan QC is an award-winning travel writer and photographer. He and his wife Florence live in Red Deer, AB and Kimberley, BC.
.
Click below to read Part 1 in Gerry's 3-part series on the Yukon.
Thanks to these amazing local companies who make Todayville Travel possible.
Click here to visit our Travel section and see more of Gerry's stories.
A glorious afternoon among the vineyards by Gerry Feehan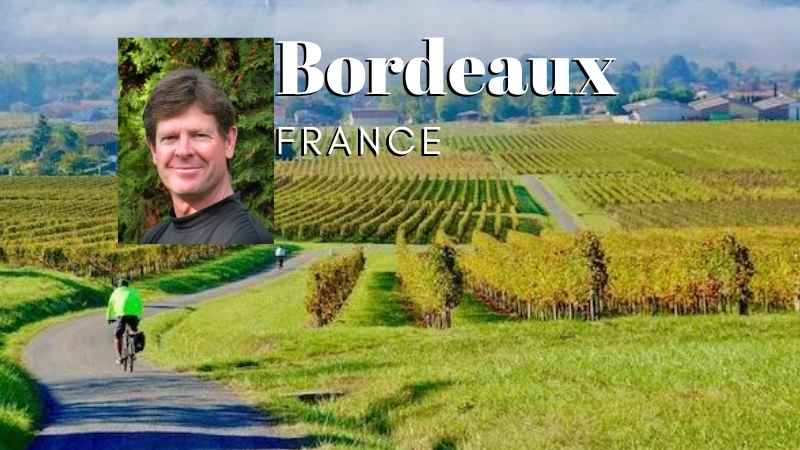 A glorious afternoon among the vineyards
One of the keys to enjoyable travel — and recovery from a seven-hour jet-lag hangover — is to give oneself time to acclimate. And what better place to do that than in the City of Lights?
On tap was a week-long bike 'n barge in southwest France. But rather than simply change planes at Charles De Gaulle airport and continue on to Bordeaux, we deplaned, shuttled into the French capital and gayly strolled the streets of Paris for a couple of days.
Fun in the streets of gay Paris
Paris, like many of the world's great cities, is a pleasure to walk. From our hotel in the Latin Quarter, it was an easy saunter along the left bank of the Seine to the Eiffel Tower. En route, we passed two of the world's great museums, the Louvre and the Musée d'Orsay. Famished after a half-hour en pied, we stopped at a quiet brasserie for escargot and steak tartare. Fun fact: raw beef is best washed down with a heaping helping of Pernod. After lunch we wandered on and were soon gazing up at the Arc de Triomphe and the crazy traffic on the Champs-Elysees. On the return traipse we followed the river's course to Notre Dame Cathedral where we climbed the narrow spiral staircase to the church's wooden bell tower for the magnifique view of Paris. We were amongst the last to do so. A couple of months later, the 800- year-old edifice was gutted by fire.
After our relaxing stay in La Cité, we boarded the train at Gare Montparnasse, well-rested and physically and mentally prepared for the formidable task ahead: seven laid-back days of pedalling through the serene back roads of southwest France, coupled with the burden of sampling fine Bordeaux wines.
The trip from Paris to Bordeaux is over 500km, but when travelling by rail at over 300km/h, the journey is over in a flash. At the station in Bordeaux we transferred for the short run into Libourne, a sleepy little village on the Dordogne River, where we boarded our vessel, the aptly named MS Bordeaux. The ship was originally commissioned in the 1920s as a Rhinetuger, hauling heavy burdens on the Rhine River. The old gal went through a number of iterations over the decades before being converted into a passenger vessel. The boat has 49 cabins, but there were only 23 guests, so we became friends with everyone on board — crew and clientele alike.
It was a cozy, intimate experience.
On the weeklong voyage, we drifted slowly down the Dordogne toward the Bay of Biscay. When we reached the wide Gironde estuary we made a u-turn and rode the incoming tide up the Garonne River to Castets-en-Dorthe where we were to disembark. It was late fall, the ship's last sailing of the season. The weather was ideal. The autumn hues of southern France were on full display.
Each morning, after a fine petit dejeuner, we stuffed our panniers with a picnic lunch of oven-fresh baguettes, pate, brie, fruit — and a world of pastries. Then we'd roll down the gangplank and hit the bucolic road. Each route was unique and scenic.
A GPS mounted to the handlebars kept us on track, ensuring we didn't turn a la gauche when we should have gone a la droit.
We pedalled past orchards of ripening grapes, waving at the friendly vendangeurs hand-picking the last sweet remains of the year's vintage. Often the route led us up what looked like a private lane, a path we'd never have taken had not the GPS assured us we were on course. We'd stop and gawk at some enormous ancient stone Château before continuing down the cobbled way.
Fall is hunting season
Despite the season, many of the Châteaux were open for tastings, invariably hosted by a friendly, effusive, fifth-generation proprietor, happy to share the family cellar with a group of foreign geeks in cycling shorts.
Bordeaux boasts some of the most stunning scenery in all of France — and some of its best vintages. That's saying a lot in a country renowned for le vin. Personally, I turn up my nose at snooty French reds like Cote du Rhone and Burgundy. They're a little too subtle for my meat-and-potatoes palette. Give me a big beefy Bordeaux any day. And that is what this appellation is all about: deep purple merlots blended with a splash of cabernet sauvignon.
Some of our fellow passengers chose e-bikes to lighten the load, but our group of eight hearty Canucks toughed out the Bordeaux hills with good old-fashioned foot-pedal power. We logged about 50km per day, a distance one could easily cover in a few hours. But, what with stopping to marvel at the glorious views, photograph the panoramic campagne, sip Sauterne and enjoy a leisurely picnic lunch, we managed to stretch every outing into an eight-hour work-day.
Beware of dogs in the fog!
One morning as we meandered down a medieval lane enjoying the 'douceur de vivre' a layer of mist descended upon us. This typical morning fog offers perfect growing conditions for Bordeaux's famous varietals. Suddenly from out of the haze a huge dog, teeth angrily bared, descended on my wife Florence. I shouted but the mongrel continued its malevolent advance, apparently unfamiliar with English profanity. Then I remembered the tip regarding unfriendly curs contained in our pre-trip information pamphlet:
"Continue cycling past the dog. If it persists, a more aggressive approach may be required, in the form of pretending to throw a stone (or in extreme cases actually throwing a stone)."
The animal's command of English may have been lacking, but it was a quick learner when it came to comprehending the meaning of rock on chien.
That evening, after another glorious dinner on the boat, we retired to the lounge for a digestif. It was the last night of the last sailing of the year and Sebastian, our maîtres d', cum waiter, cum bartender, was ready to let his hair down. He brazenly lassoed all the female passengers onto the dance floor for a Bacchanalian romp. Overhead, a faux-disco ball twirled as the ladies gyrated and the boat rocked. The men, fatigued from another trying day amongst the Bordeaux vineyards, were content to sip Pastis and chat.
An ebullient Sebastian
Another fantastique dinner
I quietly slipped into the night air and onto the upper deck. After bidding adieu to my bicyclette and its worn tires, I made my way to our berth and slipped into a dreamless sleep. I needed the rest. In the morning our last arduous adventure would begin: two lazy days of decompressing back in gay Paris.
If you go: www.aquitaine-cruises.com
'Goodbye Bordeaux'
Gerry Feehan is an award-winning travel writer and photographer. He lives in Kimberley, BC.
Thanks to Kennedy Wealth Management for sponsoring this series. Click on the ads and learn more about this long-term local business.
Passport application backlog leads to lineups, scrambles summer travel plans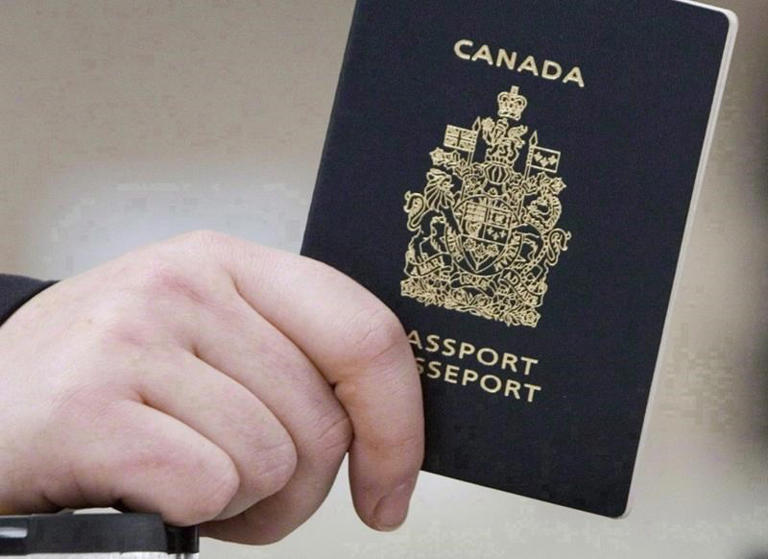 TORONTO — Kelly Potter Scott has been looking forward to taking her 10-year-old daughter across the Canadian border for the first time for a girls' getaway in Upstate New York in a couple of weeks.
But as she spent hours waiting outside a Toronto passport office, Potter Scott said she had to trust an official's assurances that her daughter will have her documents for the weekend trip with family and friends.
"If we don't get it, my daughter just won't be able to come with us, which will be unfortunate," Potter Scott said. "Fingers crossed, we get it in time."
She was among dozens of people in a line that stretched down the block Wednesday, some toting fold-up chairs as they shuffled toward the door to submit their passport applications.
Some aspiring travellers expressed concern that their summer vacation plans could be scrambled as pent-up pandemic wanderlust fuelled a backlog in passport processing times.
Officials have been bracing for a rise in passport demand with the relaxation of COVID-19 border measures, bringing on 600 new employees to help sort through the influx of paperwork. Last month, Service Canada reopened all passport service counters across the country, and additional counters have been added at more than 300 centres.
But as many Canadians look to venture abroad after more than two years of pandemic-restricted travel, some passport seekers say they've been forced to camp outside service centres or reschedule trips because of the bureaucratic bottleneck.
It seemed to catch federal officials by surprise.
"The fact of the matter is that while we were anticipating increased volume, this massive surge in demand has outpaced forecasts and outstripped capacity," Families, Children and Social Development Minister Karina Gould told a parliamentary committee on May 30.
"We know many people have been put in very difficult circumstances. And that is why I have directed officials to work as hard as possible to meet the demand."
Between April 1, 2020 and March 31, 2021, Service Canada issued 363,000 passports as services were limited to urgent travel cases.
But as the world has reopened, demand has skyrocketed. Between April 1, 2021 and March 31, 2022, nearly 1.3 million passports were issued.
Since April, more than 317,000 passports have been handed out, and the federal forecast for 2022-2023 is between 3.6 million and 4.3 million applications.
Based on projections from last week, 75 per cent of Canadians who apply for a passport receive one within 40 working days, a spokesperson for Employment and Social Development Canada said in a statement. Ninety-six per cent of those who submit an application in-person at a specialized site receive a passport within 10 working days.
Nadia Elsayed in Oakville, Ont., said she mailed her infant daughter's passport application in early April, indicating a tentative travel date of late May.
Elsayed waited for the envelope to arrive in her mailbox as that date came and went. With passport services not picking up the phone, she turned to her member of Parliament, and found out that her daughter's documents were sitting in a stack of other applications in Gatineau, Que.
She arranged to have her daughter's application sent to another office in the Toronto suburb of Mississauga. Officials told her they'd aim to have the passport ready 48 hours before her family is set to travel to the United States this month, Elsayed said, but that's cutting it too close for comfort.
"It still feels a little bit up in the air, to be honest," she said. "It just feels like we're kind of hanging on and just hoping that things turn out."
This report by The Canadian Press was first published June 9, 2022.
Adina Bresge, The Canadian Press