Todayville Travel: A 'soft egg' in the Nahanni Pt. 1
This is the first in a three-part Yukon road trip series.
In German weichei means soft egg. It defines a person's character. In Canada we call them wimps. Charly Kudlacek is from Frankfurt, Germany and, as eggs go, is hard-boiled. We met Charly and his wife Marion in a remote campground at Summit Lake on the British Columbia portion of the Alaska Highway. The place is so-named because of its location on
the highest point of this international byway.
The "Alcan" starts in Dawson Creek, BC and ends 2237 kilometers later in Delta Junction, Alaska. Remarkably the highway was built in just eight months during 1942, designed to stave off a possible World War II Japanese invasion. Although June was nigh, Summit Lake was still covered in ice. We arrived late evening and set up camp. A solitary beaver, freshly emerged from winter lodging, coolly went about its business. Canadian summers are brief. We Albertans tend to enjoy them near home, with perhaps a visit to the mountains or a couple of weeks sunning and boating on a warm lake
in the Okanagan. I'd never been north of Grande Prairie, so we decided it was time to see more of Canada in its season of warmth; the great white north converted green by boreal springtime.
My trip planning is poor: peruse a map, devise a vague strategy, perhaps talk to a couple of friends who have been to the parts unknown. I've attempted advance planning – reading about the sights, the flora, the fauna – but somehow it just doesn't sink in for me until the experience actually happens. I learn as I go, waiting to see what's around the next corner.
Charly was apologetic. "In former times I was not so slow and the distance would be much greater."
A stranger at a campground in Fort Nelson told us about a bush pilot who flew floatplane charters from Muncho Lake, B.C. to remote Virginia Falls in Nahanni National Park, in the Northwest Territories. I had no idea where Muncho Lake was. I checked the map and found it was two days up the road, directly on our path to the Yukon. I phoned and spoke to Marianne of Northern Rockies Lodge. She and her husband, Urs the bush pilot, own this beautiful spot on Muncho Lake. "Urs is in Vancouver getting the
floatplane ready for the season," said Marianne in a thick Swiss accent. "The lake still has ice and he can't land until it clears. Perhaps call again in a day or two."
That was the night we camped at Summit Lake and met Charly and Marion. I asked them if they'd like to join us on a trip to Virginia Falls – if the ice cleared and Urs could fly in. I waxed eloquently, inflating my meager knowledge of the Nahanni (which I had gleaned from a guide book fifteen minutes earlier). The floatplane seats nine and Marianne had told me Urs wouldn't fly with less than four paying customers. Germans have a propensity for austerity exceeded only by Scots, so I was not optimistic that our Alaska Highway adventure would include a spur-of-the-moment side trip to the Northwest Territories.
"We shall sleep on this," announced Charly. In the morning crispness Charly informed me in a precise clip that, "Marion and I have slept on this and agree that we shall join you if the conditions permit." We spent the next two days in the company of our newfound German friends, enjoying wonderful hiking in this remote corner of northeastern BC, enchanted by the sight of moose, grizzly bear, stone sheep, caribou, wood bison, and a countless variety of flying creatures.
Charly and Marion have made five trips to Canada. They have seen more of our home and native land than have I – an embarrassing admission. They never arrive unprepared. Their well-appointed rental camper van was fully equipped, except for an axe. Charly brought his own finely-edged Fiskar from Germany. After a particularly tiring day-hike up a melting mountain creek, Charly asked if I would like to join him for a short run down the highway. Naturally, I was stupid enough to acquiesce. 10 kilometers and an hour later I stumbled back to camp, lamely following his tireless legs.
Charly was apologetic. "In former times I was not so slow and the distance would be much greater." When I collapsed into bed that night Charly was alternating between calisthenics and wood chopping. In the morning I stumbled out into the bright sun and found him washing in the cold creek. He'd been up for hours, eaten his morning repast of eggs, meat, cheese,
tea, fruit and five pieces of bread and had completed 50 pushups and 100 sit-ups. Then he buckled down to real breakfast: a hearty bowl of Muesli.
Did I mention that Charly is older than I? He is no weichei. They say the Irish (my heritage) would rule the world were it not for Guinness. After
observing Charly for a few days I have concluded that there is somewhat more to the equation. When we arrived at Muncho the lake was still half frozen and, crucially, ice still surrounded the lodge where the plane was to land. But Marianne told us Urs was en route from Vancouver and would be arriving soon. Sure enough, as we set up camp, a canary-yellow de Havilland floatplane droned overhead.
In the morning Urs told us that the landing had been dicey. He had spent a good portion of the night breaking a slushy path to get the plane ashore. "Night" doesn't mean dark here in late May. The sun sets after 11 pm and is up again by 4 am. The interval is simply dusky. "What about tomorrow?" I asked Urs. "Can we fly to the Nahanni?" Urs is a big man, clad always in blue jeans and red suspenders. His name means "bear" in Swiss German. He looked at me, then warily at the lake. A wind had come up. We could
see a wide river of rotten ice moving northward. Open water was within 300 meters of the Lodge. "Perhaps… if the wind continues and does not reverse direction." I crossed my fingers. Our window of opportunity was closing. Charly and Marion had only one day to spare before continuing on to Whitehorse, Yukon. Our schedule was more relaxed, but without them we couldn't do the charter.
In the morning the ice had moved. It was a bluebird day. But still Urs was worried. He would decide at noon. I'm not renowned for my patience; but I am a biblical Job next to Charly who paced the morning away, unable to control the situation, awaiting word from Urs. "Impatience. This is a minus point for me," Charly admitted.
In the past I've mentioned a phenomenon known as "the Feehan thing". This entails arriving at the last possible moment, uninformed, ill-prepared, sans reservation, but expecting top-notch service. Invariably it works like a charm. At noon Urs announced the flight was a go.

He gently lifted the retrofitted 1959 de Havilland off the emerald waters of Muncho Lake and banked over the Lodge. Our hour and a half flight crossed the BC border at 60 degrees north, swiping a corner of the Yukon Territory before entering the NWT. Urs treated us to a spectacular 360-degree view of Virginia Falls before landing upstream of the cascade. He touched the plane down softly, wary of deadheads floating down the swollen Nahanni River. We were Nahanni's first visitors of the year, arriving even before Parks Canada set up camp for the season.
The Falls, a world-renowned UNESCO site, are twice the height of Niagara Falls. An icy spring pillar hung precariously down the center of the water's 102-meter descent. Downstream the torrent curved through ochre cliffs en route to its confluence with the Mackenzie River and the Arctic Ocean three thousand kilometers away. Our stay in the Nahanni was brief – after just a few hours aground we were skimming back up off the river. Urs offered us a last spectacular glance at the Falls. Then the old plane banked southward, skirting vast unexplored ridges of the Northwest Territories. In the early evening light, the northern-most tip of the Rocky Mountains appeared, signaling our return to British Columbia.
It was well past 8 pm when the de Havilland touched down perfectly on the calm waters of Muncho Lake. The sun was still high in the sky. We hopped from the plane's floats to the dock and bid goodbye to our German friends. Before heading down the road Charly offered a heart-felt hug – confirming that, inside, all good eggs are soft.
Next time: Dawson City and the Dempster Highway
Gerry Feehan QC practised law in Red Deer for 27 years before starting his second life as a freelance travel writer and photographer. He says that, while being a lawyer is more remunerative than travel writing, it isn't nearly as much fun. When not on the road, Gerry and his wife Florence live in Red Deer and Kimberley, BC. Todayville is proud to work with Gerry to re-publish some of his most compelling stories from his vast catalogue developed over more than a decade of travel.
Thanks to these great sponsors for making this series possible!
Click here for an adventure with Gerry in Texas.
A glorious afternoon among the vineyards by Gerry Feehan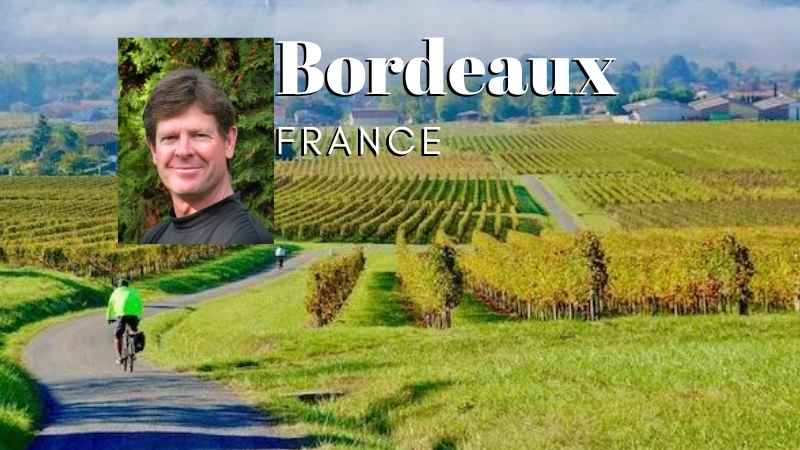 A glorious afternoon among the vineyards
One of the keys to enjoyable travel — and recovery from a seven-hour jet-lag hangover — is to give oneself time to acclimate. And what better place to do that than in the City of Lights?
On tap was a week-long bike 'n barge in southwest France. But rather than simply change planes at Charles De Gaulle airport and continue on to Bordeaux, we deplaned, shuttled into the French capital and gayly strolled the streets of Paris for a couple of days.
Fun in the streets of gay Paris
Paris, like many of the world's great cities, is a pleasure to walk. From our hotel in the Latin Quarter, it was an easy saunter along the left bank of the Seine to the Eiffel Tower. En route, we passed two of the world's great museums, the Louvre and the Musée d'Orsay. Famished after a half-hour en pied, we stopped at a quiet brasserie for escargot and steak tartare. Fun fact: raw beef is best washed down with a heaping helping of Pernod. After lunch we wandered on and were soon gazing up at the Arc de Triomphe and the crazy traffic on the Champs-Elysees. On the return traipse we followed the river's course to Notre Dame Cathedral where we climbed the narrow spiral staircase to the church's wooden bell tower for the magnifique view of Paris. We were amongst the last to do so. A couple of months later, the 800- year-old edifice was gutted by fire.
After our relaxing stay in La Cité, we boarded the train at Gare Montparnasse, well-rested and physically and mentally prepared for the formidable task ahead: seven laid-back days of pedalling through the serene back roads of southwest France, coupled with the burden of sampling fine Bordeaux wines.
The trip from Paris to Bordeaux is over 500km, but when travelling by rail at over 300km/h, the journey is over in a flash. At the station in Bordeaux we transferred for the short run into Libourne, a sleepy little village on the Dordogne River, where we boarded our vessel, the aptly named MS Bordeaux. The ship was originally commissioned in the 1920s as a Rhinetuger, hauling heavy burdens on the Rhine River. The old gal went through a number of iterations over the decades before being converted into a passenger vessel. The boat has 49 cabins, but there were only 23 guests, so we became friends with everyone on board — crew and clientele alike.
It was a cozy, intimate experience.
On the weeklong voyage, we drifted slowly down the Dordogne toward the Bay of Biscay. When we reached the wide Gironde estuary we made a u-turn and rode the incoming tide up the Garonne River to Castets-en-Dorthe where we were to disembark. It was late fall, the ship's last sailing of the season. The weather was ideal. The autumn hues of southern France were on full display.
Each morning, after a fine petit dejeuner, we stuffed our panniers with a picnic lunch of oven-fresh baguettes, pate, brie, fruit — and a world of pastries. Then we'd roll down the gangplank and hit the bucolic road. Each route was unique and scenic.
A GPS mounted to the handlebars kept us on track, ensuring we didn't turn a la gauche when we should have gone a la droit.
We pedalled past orchards of ripening grapes, waving at the friendly vendangeurs hand-picking the last sweet remains of the year's vintage. Often the route led us up what looked like a private lane, a path we'd never have taken had not the GPS assured us we were on course. We'd stop and gawk at some enormous ancient stone Château before continuing down the cobbled way.
Fall is hunting season
Despite the season, many of the Châteaux were open for tastings, invariably hosted by a friendly, effusive, fifth-generation proprietor, happy to share the family cellar with a group of foreign geeks in cycling shorts.
Bordeaux boasts some of the most stunning scenery in all of France — and some of its best vintages. That's saying a lot in a country renowned for le vin. Personally, I turn up my nose at snooty French reds like Cote du Rhone and Burgundy. They're a little too subtle for my meat-and-potatoes palette. Give me a big beefy Bordeaux any day. And that is what this appellation is all about: deep purple merlots blended with a splash of cabernet sauvignon.
Some of our fellow passengers chose e-bikes to lighten the load, but our group of eight hearty Canucks toughed out the Bordeaux hills with good old-fashioned foot-pedal power. We logged about 50km per day, a distance one could easily cover in a few hours. But, what with stopping to marvel at the glorious views, photograph the panoramic campagne, sip Sauterne and enjoy a leisurely picnic lunch, we managed to stretch every outing into an eight-hour work-day.
Beware of dogs in the fog!
One morning as we meandered down a medieval lane enjoying the 'douceur de vivre' a layer of mist descended upon us. This typical morning fog offers perfect growing conditions for Bordeaux's famous varietals. Suddenly from out of the haze a huge dog, teeth angrily bared, descended on my wife Florence. I shouted but the mongrel continued its malevolent advance, apparently unfamiliar with English profanity. Then I remembered the tip regarding unfriendly curs contained in our pre-trip information pamphlet:
"Continue cycling past the dog. If it persists, a more aggressive approach may be required, in the form of pretending to throw a stone (or in extreme cases actually throwing a stone)."
The animal's command of English may have been lacking, but it was a quick learner when it came to comprehending the meaning of rock on chien.
That evening, after another glorious dinner on the boat, we retired to the lounge for a digestif. It was the last night of the last sailing of the year and Sebastian, our maîtres d', cum waiter, cum bartender, was ready to let his hair down. He brazenly lassoed all the female passengers onto the dance floor for a Bacchanalian romp. Overhead, a faux-disco ball twirled as the ladies gyrated and the boat rocked. The men, fatigued from another trying day amongst the Bordeaux vineyards, were content to sip Pastis and chat.
An ebullient Sebastian
Another fantastique dinner
I quietly slipped into the night air and onto the upper deck. After bidding adieu to my bicyclette and its worn tires, I made my way to our berth and slipped into a dreamless sleep. I needed the rest. In the morning our last arduous adventure would begin: two lazy days of decompressing back in gay Paris.
If you go: www.aquitaine-cruises.com
'Goodbye Bordeaux'
Gerry Feehan is an award-winning travel writer and photographer. He lives in Kimberley, BC.
Thanks to Kennedy Wealth Management for sponsoring this series. Click on the ads and learn more about this long-term local business.
Passport application backlog leads to lineups, scrambles summer travel plans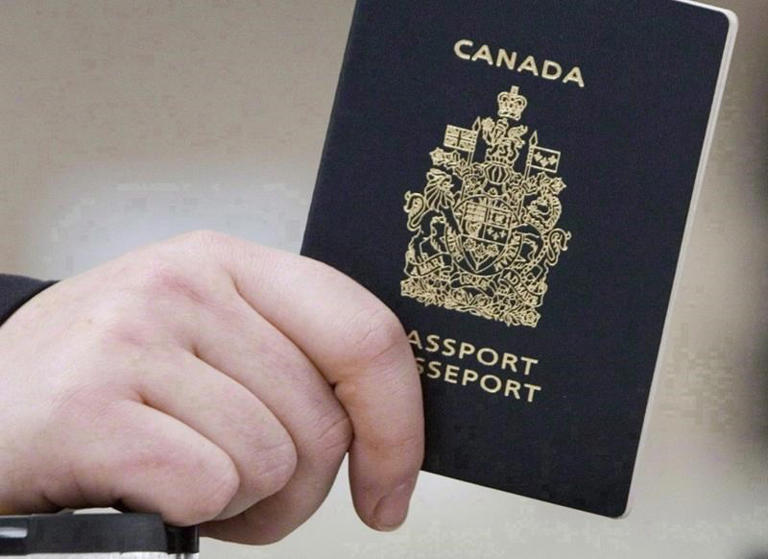 TORONTO — Kelly Potter Scott has been looking forward to taking her 10-year-old daughter across the Canadian border for the first time for a girls' getaway in Upstate New York in a couple of weeks.
But as she spent hours waiting outside a Toronto passport office, Potter Scott said she had to trust an official's assurances that her daughter will have her documents for the weekend trip with family and friends.
"If we don't get it, my daughter just won't be able to come with us, which will be unfortunate," Potter Scott said. "Fingers crossed, we get it in time."
She was among dozens of people in a line that stretched down the block Wednesday, some toting fold-up chairs as they shuffled toward the door to submit their passport applications.
Some aspiring travellers expressed concern that their summer vacation plans could be scrambled as pent-up pandemic wanderlust fuelled a backlog in passport processing times.
Officials have been bracing for a rise in passport demand with the relaxation of COVID-19 border measures, bringing on 600 new employees to help sort through the influx of paperwork. Last month, Service Canada reopened all passport service counters across the country, and additional counters have been added at more than 300 centres.
But as many Canadians look to venture abroad after more than two years of pandemic-restricted travel, some passport seekers say they've been forced to camp outside service centres or reschedule trips because of the bureaucratic bottleneck.
It seemed to catch federal officials by surprise.
"The fact of the matter is that while we were anticipating increased volume, this massive surge in demand has outpaced forecasts and outstripped capacity," Families, Children and Social Development Minister Karina Gould told a parliamentary committee on May 30.
"We know many people have been put in very difficult circumstances. And that is why I have directed officials to work as hard as possible to meet the demand."
Between April 1, 2020 and March 31, 2021, Service Canada issued 363,000 passports as services were limited to urgent travel cases.
But as the world has reopened, demand has skyrocketed. Between April 1, 2021 and March 31, 2022, nearly 1.3 million passports were issued.
Since April, more than 317,000 passports have been handed out, and the federal forecast for 2022-2023 is between 3.6 million and 4.3 million applications.
Based on projections from last week, 75 per cent of Canadians who apply for a passport receive one within 40 working days, a spokesperson for Employment and Social Development Canada said in a statement. Ninety-six per cent of those who submit an application in-person at a specialized site receive a passport within 10 working days.
Nadia Elsayed in Oakville, Ont., said she mailed her infant daughter's passport application in early April, indicating a tentative travel date of late May.
Elsayed waited for the envelope to arrive in her mailbox as that date came and went. With passport services not picking up the phone, she turned to her member of Parliament, and found out that her daughter's documents were sitting in a stack of other applications in Gatineau, Que.
She arranged to have her daughter's application sent to another office in the Toronto suburb of Mississauga. Officials told her they'd aim to have the passport ready 48 hours before her family is set to travel to the United States this month, Elsayed said, but that's cutting it too close for comfort.
"It still feels a little bit up in the air, to be honest," she said. "It just feels like we're kind of hanging on and just hoping that things turn out."
This report by The Canadian Press was first published June 9, 2022.
Adina Bresge, The Canadian Press