Todayville Travel: A 'soft egg' in the Nahanni Pt. 1
This is the first in a three-part Yukon road trip series.
In German weichei means soft egg. It defines a person's character. In Canada we call them wimps. Charly Kudlacek is from Frankfurt, Germany and, as eggs go, is hard-boiled. We met Charly and his wife Marion in a remote campground at Summit Lake on the British Columbia portion of the Alaska Highway. The place is so-named because of its location on
the highest point of this international byway.
The "Alcan" starts in Dawson Creek, BC and ends 2237 kilometers later in Delta Junction, Alaska. Remarkably the highway was built in just eight months during 1942, designed to stave off a possible World War II Japanese invasion. Although June was nigh, Summit Lake was still covered in ice. We arrived late evening and set up camp. A solitary beaver, freshly emerged from winter lodging, coolly went about its business. Canadian summers are brief. We Albertans tend to enjoy them near home, with perhaps a visit to the mountains or a couple of weeks sunning and boating on a warm lake
in the Okanagan. I'd never been north of Grande Prairie, so we decided it was time to see more of Canada in its season of warmth; the great white north converted green by boreal springtime.
My trip planning is poor: peruse a map, devise a vague strategy, perhaps talk to a couple of friends who have been to the parts unknown. I've attempted advance planning – reading about the sights, the flora, the fauna – but somehow it just doesn't sink in for me until the experience actually happens. I learn as I go, waiting to see what's around the next corner.
Charly was apologetic. "In former times I was not so slow and the distance would be much greater."
A stranger at a campground in Fort Nelson told us about a bush pilot who flew floatplane charters from Muncho Lake, B.C. to remote Virginia Falls in Nahanni National Park, in the Northwest Territories. I had no idea where Muncho Lake was. I checked the map and found it was two days up the road, directly on our path to the Yukon. I phoned and spoke to Marianne of Northern Rockies Lodge. She and her husband, Urs the bush pilot, own this beautiful spot on Muncho Lake. "Urs is in Vancouver getting the
floatplane ready for the season," said Marianne in a thick Swiss accent. "The lake still has ice and he can't land until it clears. Perhaps call again in a day or two."
That was the night we camped at Summit Lake and met Charly and Marion. I asked them if they'd like to join us on a trip to Virginia Falls – if the ice cleared and Urs could fly in. I waxed eloquently, inflating my meager knowledge of the Nahanni (which I had gleaned from a guide book fifteen minutes earlier). The floatplane seats nine and Marianne had told me Urs wouldn't fly with less than four paying customers. Germans have a propensity for austerity exceeded only by Scots, so I was not optimistic that our Alaska Highway adventure would include a spur-of-the-moment side trip to the Northwest Territories.
"We shall sleep on this," announced Charly. In the morning crispness Charly informed me in a precise clip that, "Marion and I have slept on this and agree that we shall join you if the conditions permit." We spent the next two days in the company of our newfound German friends, enjoying wonderful hiking in this remote corner of northeastern BC, enchanted by the sight of moose, grizzly bear, stone sheep, caribou, wood bison, and a countless variety of flying creatures.
Charly and Marion have made five trips to Canada. They have seen more of our home and native land than have I – an embarrassing admission. They never arrive unprepared. Their well-appointed rental camper van was fully equipped, except for an axe. Charly brought his own finely-edged Fiskar from Germany. After a particularly tiring day-hike up a melting mountain creek, Charly asked if I would like to join him for a short run down the highway. Naturally, I was stupid enough to acquiesce. 10 kilometers and an hour later I stumbled back to camp, lamely following his tireless legs.
Charly was apologetic. "In former times I was not so slow and the distance would be much greater." When I collapsed into bed that night Charly was alternating between calisthenics and wood chopping. In the morning I stumbled out into the bright sun and found him washing in the cold creek. He'd been up for hours, eaten his morning repast of eggs, meat, cheese,
tea, fruit and five pieces of bread and had completed 50 pushups and 100 sit-ups. Then he buckled down to real breakfast: a hearty bowl of Muesli.
Did I mention that Charly is older than I? He is no weichei. They say the Irish (my heritage) would rule the world were it not for Guinness. After
observing Charly for a few days I have concluded that there is somewhat more to the equation. When we arrived at Muncho the lake was still half frozen and, crucially, ice still surrounded the lodge where the plane was to land. But Marianne told us Urs was en route from Vancouver and would be arriving soon. Sure enough, as we set up camp, a canary-yellow de Havilland floatplane droned overhead.
In the morning Urs told us that the landing had been dicey. He had spent a good portion of the night breaking a slushy path to get the plane ashore. "Night" doesn't mean dark here in late May. The sun sets after 11 pm and is up again by 4 am. The interval is simply dusky. "What about tomorrow?" I asked Urs. "Can we fly to the Nahanni?" Urs is a big man, clad always in blue jeans and red suspenders. His name means "bear" in Swiss German. He looked at me, then warily at the lake. A wind had come up. We could
see a wide river of rotten ice moving northward. Open water was within 300 meters of the Lodge. "Perhaps… if the wind continues and does not reverse direction." I crossed my fingers. Our window of opportunity was closing. Charly and Marion had only one day to spare before continuing on to Whitehorse, Yukon. Our schedule was more relaxed, but without them we couldn't do the charter.
In the morning the ice had moved. It was a bluebird day. But still Urs was worried. He would decide at noon. I'm not renowned for my patience; but I am a biblical Job next to Charly who paced the morning away, unable to control the situation, awaiting word from Urs. "Impatience. This is a minus point for me," Charly admitted.
In the past I've mentioned a phenomenon known as "the Feehan thing". This entails arriving at the last possible moment, uninformed, ill-prepared, sans reservation, but expecting top-notch service. Invariably it works like a charm. At noon Urs announced the flight was a go.

He gently lifted the retrofitted 1959 de Havilland off the emerald waters of Muncho Lake and banked over the Lodge. Our hour and a half flight crossed the BC border at 60 degrees north, swiping a corner of the Yukon Territory before entering the NWT. Urs treated us to a spectacular 360-degree view of Virginia Falls before landing upstream of the cascade. He touched the plane down softly, wary of deadheads floating down the swollen Nahanni River. We were Nahanni's first visitors of the year, arriving even before Parks Canada set up camp for the season.
The Falls, a world-renowned UNESCO site, are twice the height of Niagara Falls. An icy spring pillar hung precariously down the center of the water's 102-meter descent. Downstream the torrent curved through ochre cliffs en route to its confluence with the Mackenzie River and the Arctic Ocean three thousand kilometers away. Our stay in the Nahanni was brief – after just a few hours aground we were skimming back up off the river. Urs offered us a last spectacular glance at the Falls. Then the old plane banked southward, skirting vast unexplored ridges of the Northwest Territories. In the early evening light, the northern-most tip of the Rocky Mountains appeared, signaling our return to British Columbia.
It was well past 8 pm when the de Havilland touched down perfectly on the calm waters of Muncho Lake. The sun was still high in the sky. We hopped from the plane's floats to the dock and bid goodbye to our German friends. Before heading down the road Charly offered a heart-felt hug – confirming that, inside, all good eggs are soft.
Next time: Dawson City and the Dempster Highway
Gerry Feehan QC practised law in Red Deer for 27 years before starting his second life as a freelance travel writer and photographer. He says that, while being a lawyer is more remunerative than travel writing, it isn't nearly as much fun. When not on the road, Gerry and his wife Florence live in Red Deer and Kimberley, BC. Todayville is proud to work with Gerry to re-publish some of his most compelling stories from his vast catalogue developed over more than a decade of travel.
Thanks to these great sponsors for making this series possible!
Click here for an adventure with Gerry in Texas.
Competition Bureau asked by Saskatoon chamber to investigate flights in Saskatchewan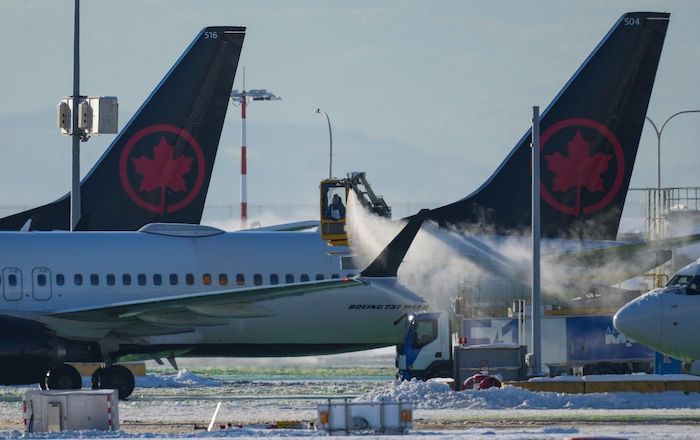 Saskatoon – The Greater Saskatoon Chamber of Commerce is asking the federal competition regulator to investigate Air Canada's decision to end its flights between Saskatoon and Calgary and between Regina and Calgary.
In a submission to the Competition Bureau, the business group says the decision by Air Canada leaves WestJet as the only airline offering direct service between Saskatchewan and Calgary.
The chamber alleges WestJet and Air Canada have engaged in anticompetitive behaviour through a strategy to reduce competition intensity on certain regional Canadian routes.
It says the routes from Saskatchewan are critical not just for travel to and from Calgary, but also for connecting flights from the key hub.
Air Canada says it rejects any allegations of anticompetitive conduct, noting that it continues to serve Saskatoon and Regina with daily flights to Vancouver and Toronto, and beginning on June 1 to Montreal.
WestJet also rejected the allegations and says it is committed to serving Saskatchewan.
The Competition Bureau confirmed that it received the chamber's complaint, but said it is required to work confidentially and was unable to say if it would be investigating.
This report by The Canadian Press was first published Jan. 18, 2023.
Companies in this story: (TSX:AC)
Airlines, airports, transport minister to testify on holiday travel mess at committee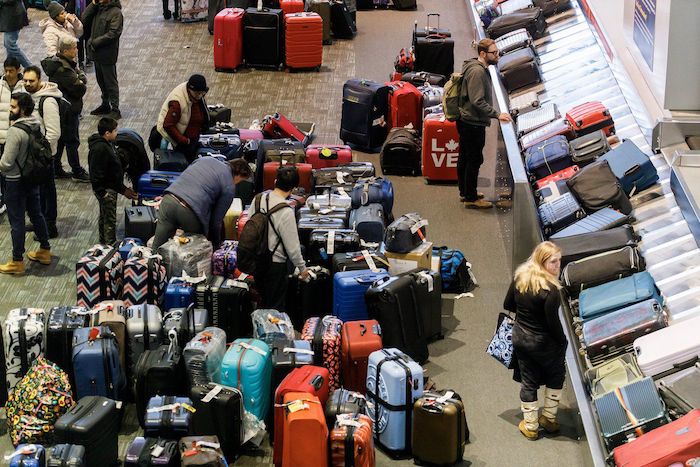 By Stephanie Taylor in Ottawa
From long hours waiting on hold to sleepless nights on airport floors and desperate scrambles to rebook flights and find missing bags, it was a holiday travel season that no one had on their wish list — but that thousands of people got.
Now, Canadians have a chance to hear top travel executives and the federal transport minister explain what went wrong, and what might be done to avoid a repeat.
Leaders from the country's major airports and airlines are among witnesses set to appear today during an emergency meeting of the House of Commons transportation committee being convened well ahead of Parliament's return later this month.
The meeting is expected to kick off with a panel of representatives from Air Canada, WestJet and Sunwing Airlines.
Sunwing, a vacation-destination airline, has apologized for leaving hundreds stranded in Mexico after cancelling its flights due to a winter storm that swept across parts of Canada in the lead-up to Christmas Day, and then axing trips out of Saskatchewan until early February due to "extenuating circumstances."
But it's not Mother Nature MPs are taking issue with. Rather, it's the communication — or lack thereof — that companies had with passengers whose plans were upended.
And while Sunwing Airlines president Len Corrado is scheduled to appear, neither Air Canada nor WestJet will be represented by a president or CEO, with the airlines instead sending vice-presidents to testify.
"Canadian travellers who were mistreated by airlines deserve an explanation. The very least that these rich CEOs can do is show up, explain what went wrong and show Canadians how they're going to do better," NDP Leader Jagmeet Singh said in a statement to The Canadian Press.
Bloc Québécois transportation critic Julie Vignola echoed that sentiment, saying in a French statement that their absences demonstrate their limited concern for passengers' rights.
A spokesperson for WestJet said its CEO was unavailable for comment, as did Air Canada, with the company saying committee members welcomed the decision to send vice-presidents with subject matter expertise instead.
The Opposition Conservatives say that while Canadians deserve answers from airlines, they believe the buck stops with Liberal Transport Minister Omar Alghabra, who is scheduled for an hour of testimony Thursday afternoon.
They point to the long lines and delays passengers experienced at airports last summer when the country witnessed a widespread return of travel for the first time since the COVID-19 pandemic began in March 2020.
"Canadians are suffering at the hands of (Prime Minister Justin) Trudeau's broken transportation system, and until the government is held to account to fix it, Canadians will continue to pay the price for their failure," Mark Strahl, a Conservative MP on the committee, said in a statement.
Alghabra has called what happened over the holidays "unacceptable" and vowed to bring in legislation to strength the country's existing Air Passenger Protection Regulations — a set of standards that allow travellers to request compensation when their flights are delayed or cancelled for reasons such as scheduling.
"Is this an opportunity for us to take a look at our rules and our system to make them stronger, to make them clearer, to make them more efficient? Absolutely," he told reporters. "But again it's not just the rules. We need airlines to make sure they make good decisions to keep passengers' rights at the centre of their operation."
Among other changes, Alghabra is eyeing amending the rules so that airlines would have to compensate passengers automatically. It's a move that passenger rights' advocates, Conservatives and the NDP support.
"When airlines' flight schedules get snarled, people miss weddings, funerals and vacations they've been saving up for. Some are left stranded," Taylor Bachrach, an NDP MP on the committee, said in a statement.
"The difficulty of a delayed or cancelled flight shouldn't be followed by the nightmare of fighting for compensation."
As for how airlines feel about the move, a WestJet vice-president said in a statement that it would be "foundationally burdensome" as it would require airlines to have "up-to-date passenger information to appropriately process these claims."
"We are disappointed that airlines continue to be singled out as the only point of ownership and accountability for travel in Canada, as this must be a shared responsibility by the entire aviation ecosystem," said Andy Gibbons, its vice-president of external affairs, who is set to testify Thursday.
A spokesperson for Air Canada added that while it won't speculate on the possible changes, "it should be noted that no passenger protection regime in the world requires carriers to compensate customers for severe weather delays."
The president and CEO of the National Airlines Council of Canada, Jeff Morrison, added that the regulations were last amended in the fall, and he believes it would be too soon to open them up again.
"We don't want to be making policy based on very individual, one-time incidents," he said.
Morrison said he believes it would be better for Ottawa to spend more on airport infrastructure to ensure travel hubs can handle storms, and introduce service standards for airports and aviation-related agencies such as the one that handles airport security.
"Many disruptions are due to factors outside the airline's control."
The presidents of the Vancouver, Montreal and Toronto airports are also scheduled to testify during the five hours of hearings on Thursday, as are officials from Transport Canada and leaders from the Canadian Transportation Agency.
One of the questions the federal regulator is likely to field is how it plans to clear a backlog of more than 33,000 passenger complaints, nearly 3,000 of which the agency said it has received since Dec. 20.
This report by The Canadian Press was first published Jan. 12, 2023.