Todayville Travel: Part 3 of Gerry's Yukon Road Trip
Last in a 3-part series on a Yukon road trip – Mt. Logan – Kluane National Park
by Gerry Feehan
"You're not going to believe this. Sian called again. It's just cleared up at base camp and the radar report looks good. It's a go if you're still willing."
I've been a geography nut since I was a kid. My noggin is full of useless facts. In pre-metric days I memorized details of the world's highest and lowest: Mount Everest 29,028 feet, Challenger Deep in the Mariana Trench 35,814 feet. As a proud Canadian I knew that our highest peak, Mt. Logan in Yukon's Kluane National Park, topped out at 19,850 feet above sea level. To my chagrin, North America's highest reach, 20,320-foot-high Mt McKinley, was located across the border in Alaska. As usual, America had outdone us, even at something as Canadian as rock, snow and ice.
I've always wanted to see Mt. Logan. We were nearing the end of our six-week-long Yukon road-trip. The highway would take us through Kluane National Park, so I made inquiries. A Whitehorse friend told me it was possible to organize a flight from Kluane Lake into Logan base camp. The camp is on a glacier in the heart of the St. Elias Mountains, a vast roadless, uninhabitable wilderness.
Sian Williams and her partner Lance Goodwin operate Icefield Discovery near Haines Junction, Yukon on beautiful Kluane Lake. I called early in June to book a day-trip. Sian (pronounced "Shan" – a Welsh name chosen by her bush-pilot father Andy) told me that due to spring's late arrival they'd been unable to access the camp located on Kaskawulsh Glacier beneath Mt. Logan. She added that the long-term forecast was poor. I was crest-fallen. We were booked to leave the North by ferry on June 21, the summer solstice.
We arrived in Kluane National Park with only a two-day window of opportunity. I checked in with Lance. He wasn't optimistic. Sian had flown into the camp a week earlier and been stuck there, socked in by a brutal snowstorm. Kluane's mountainous terrain means that all access is by air. And this region is too dangerous and unforgiving to rely solely on instruments so visual flight rules are always in force. No see, no fly.
We sat put, waiting for the mountain weather gods to calm. Our first night, camped on the shore of frigid Kluane Lake, we enjoyed a repast of fresh Arctic Grayling (supplied courtesy of my fly rod). Meters away a grizzly bear, terrifying claws in close-up view, combed the beach in search of its own fishy catch. The next day we spent cautiously hiking an alpine ridge, bear aware. Fortunately we shared the pristine view with only mountain sheep, moose and caribou.
As we set off she pointed to a gaping cobalt scar part way up the snowfield, "Watch out for the crevasse." We set course accordingly.
The morning arrived when we needed to make a move for the coast. The solstice was nigh. I phoned Lance and he said, "I spoke to Sian on the satellite phone. It's still a whiteout up there. Sorry." We reluctantly packed camp and were on our way south when Lance rang back, "You're not going to believe this. Sian called again. It's just cleared up at base camp and the radar report looks good. It's a go if you're still willing."
We high-tailed it for the Kluane airstrip where we met Donjek, the pilot. He was born here, named after the Donjek River that flows into Kluane (naturally his father was also a bush pilot). As we took off, the plane's shrinking shadow followed us across the emerald beauty of Kluane Lake. Soon the lake gave way to a snaking, silt-laden river. We gained elevation and the dirty toe of Kaskawulsh glacier appeared. Then all was ice; white curving fingers spilling from mountain valleys. Dark lines of ground rock defined the course of each icy highway. Then all became snow, the line between earth and sky indiscernible.
We flew over the camp. Sian waved from below, a tiny solitary figure surrounded by white glacial enormity. Mt Logan, draped in sun and cloud, stood imperiously in the background. Donjek lowered the skis of the Helio-Courier prop plane and we skidded to a smooth stop.
We climbed from the cockpit and walked through virgin snow to where Sian was standing in a deep pit, shovel in hand. It looked like she was cutting blocks for an igloo. Actually she was retrieving the prior season's camp from burial under three meters of winter snow pack. (That's how glaciers grow – year upon year of accumulated snowfall eventually compressing into ice. At Logan base camp the ice is over a kilometer thick.)
We helped Sian haul a heavy tent from its deep winter interment. She suggested we hike over the glacier to a viewpoint framing Mt. Logan. As we set off she pointed to a gaping cobalt scar part way up the snowfield, "Watch out for the crevasse." We set course accordingly.
When we returned Sian boiled water for tea and chatted about the inner workings of glaciers and their role in hydrology, geography and world climate. Icefield Discovery's headquarters, on Kluane Lake, house the Arctic Institute of North America, which conducts glacier research.
We were in the heart of the world's largest non-polar ice field. Due to its proximity to the warmer, lower Kluane valley and nearby Whitehorse, the St. Elias region is ideal for ice-core sampling and Arctic-style exploration. Canada's other, more northerly polar arctic regions are less accessible and more inhospitable.
After three sun-drenched hours on the glacier Donjek fired up the prop and we skied off into the airy abyss, down the dirty winding glacial trail and back into the summer greenery of Kluane Lake. It was late in the day when we finally climbed into our RV and started south for Haines, Alaska, three-hundred kilometers away on the coast. Along the way, colorful pink Yukon wildflowers contrasted with the snowy splendor of Kluane's mountains – as did my beet-red, fried face. I'd forgotten to apply sunscreen.
Near midnight we arrived in Haines, located in a narrow spit on a scenic Alaskan fjord. As we set up camp a wildlife ballet greeted us. Two brown bears were dancing, performing a grizzly twilight duet. Behind them across the spit, like curtains on a stage, two majestic waterfalls cascaded into the ocean.
In the morning we awoke with the solstice. Summer had arrived. Our ferry departure was nigh.
For a final boreal treat we rode our bikes through a coastal rainforest. Dwarfed by thousand-year old giants, we crested a hill in the dappled forest and came upon a large group of Japanese tourists, walking single-file. Each sported a pair of white gloves and what looked like a beekeeper's hat. As we rode by, one by one they broke into spontaneous applause – golf-clap style. On occasion life is surreal.
Gerry Feehan QC is an award-winning travel writer and photographer. He and his wife Florence live in Red Deer, AB and Kimberley, BC.
Thanks to these amazing local companies who make Todayville Travel possible.
Click below to read Part 1 in Gerry's 3-part series on the Yukon.
Click below to read Part 2 in Gerry's 3-part series on the Yukon.
Click here to visit our Travel section and see more of Gerry's stories.
Competition Bureau asked by Saskatoon chamber to investigate flights in Saskatchewan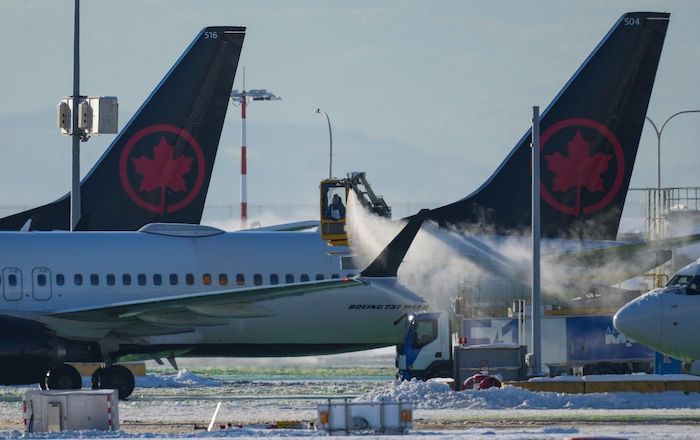 Saskatoon – The Greater Saskatoon Chamber of Commerce is asking the federal competition regulator to investigate Air Canada's decision to end its flights between Saskatoon and Calgary and between Regina and Calgary.
In a submission to the Competition Bureau, the business group says the decision by Air Canada leaves WestJet as the only airline offering direct service between Saskatchewan and Calgary.
The chamber alleges WestJet and Air Canada have engaged in anticompetitive behaviour through a strategy to reduce competition intensity on certain regional Canadian routes.
It says the routes from Saskatchewan are critical not just for travel to and from Calgary, but also for connecting flights from the key hub.
Air Canada says it rejects any allegations of anticompetitive conduct, noting that it continues to serve Saskatoon and Regina with daily flights to Vancouver and Toronto, and beginning on June 1 to Montreal.
WestJet also rejected the allegations and says it is committed to serving Saskatchewan.
The Competition Bureau confirmed that it received the chamber's complaint, but said it is required to work confidentially and was unable to say if it would be investigating.
This report by The Canadian Press was first published Jan. 18, 2023.
Companies in this story: (TSX:AC)
Airlines, airports, transport minister to testify on holiday travel mess at committee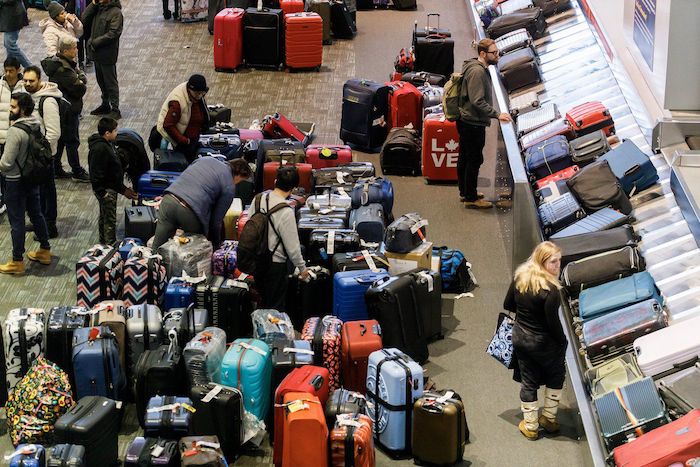 By Stephanie Taylor in Ottawa
From long hours waiting on hold to sleepless nights on airport floors and desperate scrambles to rebook flights and find missing bags, it was a holiday travel season that no one had on their wish list — but that thousands of people got.
Now, Canadians have a chance to hear top travel executives and the federal transport minister explain what went wrong, and what might be done to avoid a repeat.
Leaders from the country's major airports and airlines are among witnesses set to appear today during an emergency meeting of the House of Commons transportation committee being convened well ahead of Parliament's return later this month.
The meeting is expected to kick off with a panel of representatives from Air Canada, WestJet and Sunwing Airlines.
Sunwing, a vacation-destination airline, has apologized for leaving hundreds stranded in Mexico after cancelling its flights due to a winter storm that swept across parts of Canada in the lead-up to Christmas Day, and then axing trips out of Saskatchewan until early February due to "extenuating circumstances."
But it's not Mother Nature MPs are taking issue with. Rather, it's the communication — or lack thereof — that companies had with passengers whose plans were upended.
And while Sunwing Airlines president Len Corrado is scheduled to appear, neither Air Canada nor WestJet will be represented by a president or CEO, with the airlines instead sending vice-presidents to testify.
"Canadian travellers who were mistreated by airlines deserve an explanation. The very least that these rich CEOs can do is show up, explain what went wrong and show Canadians how they're going to do better," NDP Leader Jagmeet Singh said in a statement to The Canadian Press.
Bloc Québécois transportation critic Julie Vignola echoed that sentiment, saying in a French statement that their absences demonstrate their limited concern for passengers' rights.
A spokesperson for WestJet said its CEO was unavailable for comment, as did Air Canada, with the company saying committee members welcomed the decision to send vice-presidents with subject matter expertise instead.
The Opposition Conservatives say that while Canadians deserve answers from airlines, they believe the buck stops with Liberal Transport Minister Omar Alghabra, who is scheduled for an hour of testimony Thursday afternoon.
They point to the long lines and delays passengers experienced at airports last summer when the country witnessed a widespread return of travel for the first time since the COVID-19 pandemic began in March 2020.
"Canadians are suffering at the hands of (Prime Minister Justin) Trudeau's broken transportation system, and until the government is held to account to fix it, Canadians will continue to pay the price for their failure," Mark Strahl, a Conservative MP on the committee, said in a statement.
Alghabra has called what happened over the holidays "unacceptable" and vowed to bring in legislation to strength the country's existing Air Passenger Protection Regulations — a set of standards that allow travellers to request compensation when their flights are delayed or cancelled for reasons such as scheduling.
"Is this an opportunity for us to take a look at our rules and our system to make them stronger, to make them clearer, to make them more efficient? Absolutely," he told reporters. "But again it's not just the rules. We need airlines to make sure they make good decisions to keep passengers' rights at the centre of their operation."
Among other changes, Alghabra is eyeing amending the rules so that airlines would have to compensate passengers automatically. It's a move that passenger rights' advocates, Conservatives and the NDP support.
"When airlines' flight schedules get snarled, people miss weddings, funerals and vacations they've been saving up for. Some are left stranded," Taylor Bachrach, an NDP MP on the committee, said in a statement.
"The difficulty of a delayed or cancelled flight shouldn't be followed by the nightmare of fighting for compensation."
As for how airlines feel about the move, a WestJet vice-president said in a statement that it would be "foundationally burdensome" as it would require airlines to have "up-to-date passenger information to appropriately process these claims."
"We are disappointed that airlines continue to be singled out as the only point of ownership and accountability for travel in Canada, as this must be a shared responsibility by the entire aviation ecosystem," said Andy Gibbons, its vice-president of external affairs, who is set to testify Thursday.
A spokesperson for Air Canada added that while it won't speculate on the possible changes, "it should be noted that no passenger protection regime in the world requires carriers to compensate customers for severe weather delays."
The president and CEO of the National Airlines Council of Canada, Jeff Morrison, added that the regulations were last amended in the fall, and he believes it would be too soon to open them up again.
"We don't want to be making policy based on very individual, one-time incidents," he said.
Morrison said he believes it would be better for Ottawa to spend more on airport infrastructure to ensure travel hubs can handle storms, and introduce service standards for airports and aviation-related agencies such as the one that handles airport security.
"Many disruptions are due to factors outside the airline's control."
The presidents of the Vancouver, Montreal and Toronto airports are also scheduled to testify during the five hours of hearings on Thursday, as are officials from Transport Canada and leaders from the Canadian Transportation Agency.
One of the questions the federal regulator is likely to field is how it plans to clear a backlog of more than 33,000 passenger complaints, nearly 3,000 of which the agency said it has received since Dec. 20.
This report by The Canadian Press was first published Jan. 12, 2023.