Why we remember
To remember not only the fallen, but the sacrifices made by the living who have experienced horrors which are simply beyond the comprehension of the unindoctrinated.
To acknowledge the sacrifice made by the families of the fallen, and of all those who have served and who are still serving.
Because nobody ever truly comes home from war. Only a version of yourself returns. A haunted version, whose very soul has been irreversibly stained by the realization that Satan is in fact real, and he does indeed cajole decent people into doing awful things.
It's the understanding of how unspeakably horrible one person can be to another. War forever taints you. Witnessing a flagrant disregard for the sanctity of life is not something you can unsee. It is this stain which affects every aspect of your civilian life, often for the rest of your life.
We remember our soldiers because they bear a terrible burden, so that others will never have to carry the painful weight of freedom.
To acknowledge the privilege we enjoy, of living in a peaceful country where our children can safely walk to school without the fear of their school being bombed.
We remember, because we acknowledge that we can't ever fully appreciate the sacrifices, so we remember in lieu of understanding.
We remember, because it's the best we can do, and the least we should do to honor our soldiers, sailors, and airmen both past and present.
We remember, because they likely know the unforgettable stench of burning human flesh, and the sound of the screams of the burning.
We remember them, because they can not forget.
We remember, because the survivors often struggle from debilitating depression, relentless nightmares, and uncontrollable anger.
We remember because veterans are at a much higher risk of suicide.
We remember them, because many of them can never find peace.
We remember them, because we don't carry the burden of becoming them.
On November the 11th, we will remove our hats, stand for our two minutes of silence, and we will remember them.

Mark E. Meincke
Veteran
Host of: Operation Tango Romeo, the trauma recovery podcast
For more stories, visit Todayville Calgary.
Anholt tabbed to lead Canada's world junior squad after success with U18 team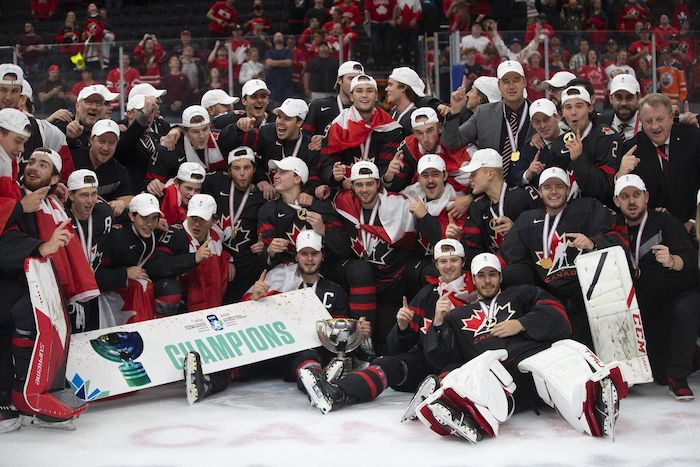 Canada celebrates the win over Finland IIHF World Junior Hockey Championship gold medal game action in Edmonton on Saturday August 20, 2022. THE CANADIAN PRESS/Jason Franson
Calgary – Peter Anholt has been tasked with helping Canada win a third straight world junior hockey championship after two successful seasons leading the country's under-18 program.
Anholt, who heads the front office of the Western Hockey League's Lethbridge Hurricanes, is one of three Canadian Hockey League general managers tabbed by Hockey Canada to oversee its men's under-17, under-18 and under-20 programs in 2023-24.
He takes over the world junior program from Ottawa 67's GM James Boyd, who helped Canada win two titles over the span of six months.
Canada beat Finland 3-2 in overtime to win the 2022 championship in Edmonton, which was held in August after being postponed from its traditional December/January slot due to the COVID-19 pandemic.
The Canadians repeated with a 3-2 overtime win over Czechia on Jan. 5 in Halifax.
The 2024 world junior championship begins Dec. 26 in Goteborg, Sweden.
Hockey Canada also announced Wednesday that Dave Brown of the Ontario Hockey League's Erie Otters will guide the men's under-17s this season, while Cam Russell of the Quebec Major Junior Hockey League's Halifax Mooseheads will take over Anholt's former position with the U18 team.
The three will work alongside Hockey Canada's hockey operations staff as part of the organization's "Program of Excellence" management group.
Duties include assisting with player and coach selection, and providing input during camps and tournaments.
Brown will lead the U17 team through the 2023 World Under-17 Hockey Challenge. Canada lost 2-1 to the United States in the final of last year's event in Langley and Delta, B.C.
Russell, meanwhile, will look to help Canada to a second consecutive Hlinka Gretzky Cup title. Canada won its 23rd gold medal at the best-on-best U18 tournament last year in Red Deer, Alta., with Anholt at the helm.
Canada did not participate in the 2021 event due to the pandemic, but won that year's U18 worlds.
"All three individuals bring a wealth of CHL experience to our program," Scott Salmond, Hockey Canada senior vice-president of hockey operations, said in a statement. "We look forward to having them work alongside our athletes and staff while leading our men's national teams next season."
This report by The Canadian Press was first published March 22, 2023.
Hearings begin before Supreme Court on federal environmental impact assessment law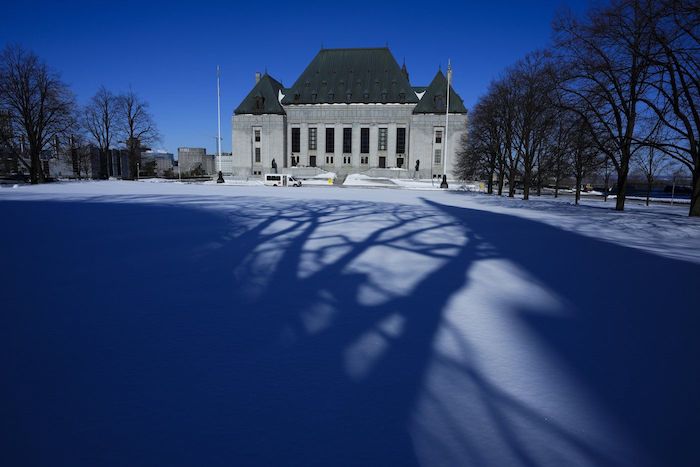 The Supreme Court of Canada is pictured in Ottawa on Friday, March 3, 2023. Arguments are underway in a long-awaited case over the federal Impact Assessment Act. THE CANADIAN PRESS/Sean Kilpatrick
Ottawa (CP) – Federal lawyers defended the government's Impact Assessment Act in the Supreme Court of Canada on Tuesday as a two-day hearing started to determine the future of how the country weighs the environmental costs of economic development.
Several of the seven-member panel of justices hearing the appeal of an Alberta decision that found the act unconstitutional quizzed Ottawa's representatives about whether the legislation is too broad.
Justice Malcolm Rowe said the act allows Ottawa to use narrow concerns over matters such as fisheries to gain control over a wide variety of unconnected issues.
"The feds get their hook in under some head of power and once the hook is in, they can use that for any purpose they want," he said.
That was one of the main concerns expressed by Alberta when it asked the province's Appeal Court for a reference on the issue.
The arguments the top court is hearing are a reference case only and its ruling will only be advisory.
Rowe said the act gives Ottawa the power to use areas of federal jurisdiction to force unconnected policies on other governments.
"Isn't the (assessment) decision really not based on the impact on federal jurisdiction, which is fish or birds or whatever, it's the broad policy of the government of Canada used in a discretionary way to say thumbs up or thumbs down on any project they want anywhere in the country?"
No, said federal lawyer Chris Rupar. He said the act forces governments to look at both positive and negative effects of a development and decide whether, on balance, it's in the public interest.
"There may be an effect which is negative, but there could also be other effects," he said. "The whole picture has to be taken into account in the public interest."
Rupar said it's not unusual for environmental assessment legislation to address a broad range of issues. Alberta's provincial version of such legislation does, he said.
Rupar said the federal law contains safeguards to ensure that it only captures development proposals that would generate "significant "impacts.
"It's not all projects or physical activities that are covered," he said. "There are thresholds."
Judicial review remains open to proponents that feel their project was wrongly reviewed, he said.
Dayna Anderson, Rupar's co-counsel, argued the legislation is needed to ensure national consistency in environmental standards.
Disallowing the bill, she said, "would create provincial enclaves and completely and totally immunize provincial resource development from federal regulation in any area, no matter the magnitude of the federal effects it would cause."
The law was defended by 11 interveners from environmental and Indigenous groups. Several pointed out there's a long string of precedents giving the federal government the right to make national environmental rules.
"Alberta and the interveners in support of its position would have this court upend decades of settled law," said Anna Johnston of the West Coast Environmental Law Association.
Others pointed out the law lives up to Canada's responsibility to Indigenous people.
"It would be both illogical and perverse if Parliament could control or limit Indigenous people — their rights and interests — but didn't have the ability to protect those rights and interests," said Mae Price, representing Alberta's Mikisew Cree First Nation.
John Gailus, representing the Lummi First Nation in British Columbia, argued the act is "empowering" for Indigenous people because it allows for the consideration of cumulative effects of development.
Joseph Castrilli of the Canadian Environmental Law Association said the law complements the federal carbon price, which the Supreme Court has already supported, as well as laws controlling toxic substances.
He argued the federal government's power to regulate trade and commerce also makes the law constitutional. Creating what he called "pollution havens" in one province can harm the others, Castrilli said.
"Intra-provincial activity capable of causing adverse interprovincial and international environmental and economic effects does affect trade and commerce because it can harm trade and commerce."
The hearing is expected to go through Wednesday, when opponents of the bill are to address the court. Eight out of 10 provinces oppose the act, as well as other groups including the Indian Resource Council and the Canadian Taxpayers Federation.
This report by The Canadian Press was first published March 21, 2023.
— By Bob Weber in Edmonton