Why The News Is Fake, And Liberals Rely On Racism
Love him or hate him, President Trump has woken the masses to the truth that the news is often inaccurate, and occasionally blatantly false.  When called out, reporters wail in their feeble response, "It was an honest mistake, and we retracted it!"  The truth is, the news media have little interest in being accurate or unbiased, instead their goal is to procure ratings for the purpose of receiving advertising revenue. Profit is their master. 
By analyzing data from Google and Youtube, we now know scientifically what we have always assumed anecdotally, "If it bleeds, it leads".  Violence and catastrophe has always been the driving factor in editorial decision making. As a result, mildly unfortunate events are made to  appear as if they are massive catastrophe's and in the absence of a convenient cataclysm, shocking events are occasionally staged.  The news is not "reporting the facts", it's info-tainment.  The news NEEDS you to be either outraged or terrified in order for you to tune in and consume the media.  If you don't consume…then they don't have a business model.  Keeping you angry and afraid is how they make money, which is why they will assassinate the character of anyone who dares to contradict their story line. They have to attack in order to survive. 
State sponsored news such as RT, or the CBC are not any better. In addition to catering to their advertisers, they also have to appease the governments who fund them.  If either Putin or Trudeau need help from their state run broadcasters, …they get it. Media CEO's know who butters their bread, and they know how to keep their high paid cushy jobs.  If you're looking to the news for the truth, you're looking in the wrong place. 
Mainstream media is dying.  The information monopoly which provides the media with breath is being choked to death by the free flow of information on the internet. No longer do people rely on being force fed their information by those with questionable motives. Instead, we all have alternative sources available in abundance. 
Podcasts, and independent news commentators have supplanted the paternalistic talking heads we are accustomed to seeing, anchoring the evening news.  VIA the internet, sagely voices from the wilderness have found their way to the mountain tops to expound their wisdom to eager ears, which has the media backed into a corner and fighting for it's life. 
And now for the rest of the headline…
Those with aligned goals tend to be friends.  If I help you, and you help me…then our symbiotic relationship is something that we will both endeavor to protect at all costs. The media and leftest politicians coexist with such a relationship. 
Leftist identity politics is a one-trick pony which relies on outrage for it's very existence.  Their brand identity is steeped in the fight against racism and inequality. Though it has a noble face, this strategy wasn't born out of altruism.  Liberal politicians recognized long ago that if they could be seen as avengers of civil rights, that they could win a lot of votes…and until recently, the strategy has worked quite well.
Racism in North America has been on a dramatic decline since the late 1980's.  Racist jokes which were once acceptable to share around the campfire, or in the locker room are now received with shock and disdain…and rightly so.  Could you imagine if the Brocket 99 Cassette tape was made today?  The backlash would be immense, the creators would be publicly flogged, and the news would be covered globally. Racist parody is no longer tolerated, and minstrel shows are extinct.  As society has progressed, leftist politicians have lost leverage.  Now that racism has been largely eradicated…what possible strategy could the leftist parties possibly use to retain their power?  Far left politicians NEED racism to be a problem so that they can be the hero's, so where there is a vacuum, they will find a way to fill it. 
Bigotry, misogyny and homophobia are all unacceptable anymore, as they should be. This however has created a big problem for politicians whose entire political platforms have been branded as being the saviors of the oppressed, so as these issues became less prevalent, climate change has helped to fill the void.  Once again, a valid issue is being used not because of a sense of environmental responsibility, but instead because there needs to be a boogeyman under the bed.  But still, the cries of racism ring out across the land at the slightest provocation.  
Of course racism is still an issue of sorts, but it's nothing like it was fifty years ago, and to pretend otherwise is a slap in the face to all those who have suffered through the horrors of it. 
Racism is an issue today, because liberal politicians and the media need it to be a problem.  Both fuel the flames of hatred and division, then blame conservatives as the propagators as is seen in example after example.  Fortunately people are waking up to the fact that most news is nothing more than lefitst propaganda.  #Blexit, and #walkaway are gaining steam, and the liberal grip on our society is starting to slip, which they find terrifying. 
To fight back, riots have been encouraged, and even indirectly funded by the Democratic party, all in an attempt to destabilize society, and claw back their power and influence.  There are no lengths they will not stoop to in order to regain control, and the media is largely in lock-step. 
Before you decide to attend a protest, or throw a brick in a riot, ask yourself who it is that you are actually fighting for.  Chances are, your fighting for the wrong people without knowing it.
Mark Meincke
403-463-4313
This article was originally published on June 26, 2020.
Buy the Home Seller's Bible by clicking HERE
Buy "Why not Me?" HERE
For more stories, visit Todayville Calgary.
'Sacred country': Singer-songwriter Corb Lund holds coal mining protest concert
LIVINGSTONE RANGE, ALBERTA — Two mountain goats stubbornly refused to get up from their resting spot Wednesday in the middle of a gravel road heading into the eastern slopes of Alberta's Rocky Mountains.
Like the two goats, many rural landowners in the region aren't budging from their opposition to the province's plan to allow open-pit coal mines.
About 30 landowners wearing cowboy hats, boots and on horseback rode onto a private property for what was billed as a "Tribute to the Mountains Concert" with musicians, including country star Corb Lund.
Lund, a sixth-generation southern Albertan, has been an outspoken opponent of the Alberta government's plan to allow open-pit coal mines in the region and the concert took on more of the feel of a rally.
"We're a couple of hours south of here in the foothills, but it's the same story … many generations on the land," he said.
"I don't speak out publicly about a lot of issues, but this is so big and so egregious that I just didn't think it could be left alone."
Lund turned and pointed to a flat mountaintop behind him.
"That ridge up there is called Cabin Ridge and that's where the coal mine's going to be if it goes through. They're going to take that top off the whole ridge and probably ruin these rivers. This whole area will be a disaster," he said.
Lund choked back tears as he recalled the emotion he feels every time he drives home after being on tour.
"Everything changes for me and it gets real magical," he said.
"This is sacred country and that's why I'm doing it … I don't like doing it, but the government and the coal companies have forced me to."
Peggy Lund, who still lives on the family ranch, shares her son's concerns about the proposed mines.
"I just think what's proposed and what's going on here is just a decimation and just a horrible thing," she said. "This will make a huge footprint, a negative footprint on the area. It comes with a lot of baggage."
Mac Blades's family has owned the property where the Wednesday event was held for 100 years. He remains hopeful that public pressure will put an end to any plan of coal mines on the eastern slopes.
Blades said it's already painful imagining how the view would change.
"I don't think I could come back and look at it. It would be devastating. I can't imagine it really. It would just destroy everything."
Coal mining in Alberta's foothills and mountains has been controversial ever since the United Conservative government revoked a policy in May 2020 that had protected the land since 1976.
Tens of thousands of hectares have been leased for exploration, drawing protests from First Nations, municipalities and many thousands of Albertans.
That outcry caused the government to restore the policy, pause new sales and suspend exploration work on the most sensitive land — although work continues elsewhere.
It also struck a panel to gather input on how Albertans feel about coal mining in the postcard-perfect landscape. It is expected to report in November.
The federal government on Wednesday announced it will step in to do an environmental review of any new coal project that could possibly release the contaminant selenium. The decision will affect any proposals that emerge from eight steelmaking coal exploration projects in the foothills.
Lund had been waiting for the announcement.
"It sounds like excellent news. It feels like the tide's turning a little bit, which is good because it's been a battle," he said.
"If it makes it harder and more stringent for the mines to get started … that's a great thing."
This report by The Canadian Press was first published June 16, 2021.
— Follow @BillGraveland on Twitter
Bill Graveland, The Canadian Press
Major drug haul; ALERT seizes $3 million in drugs and cash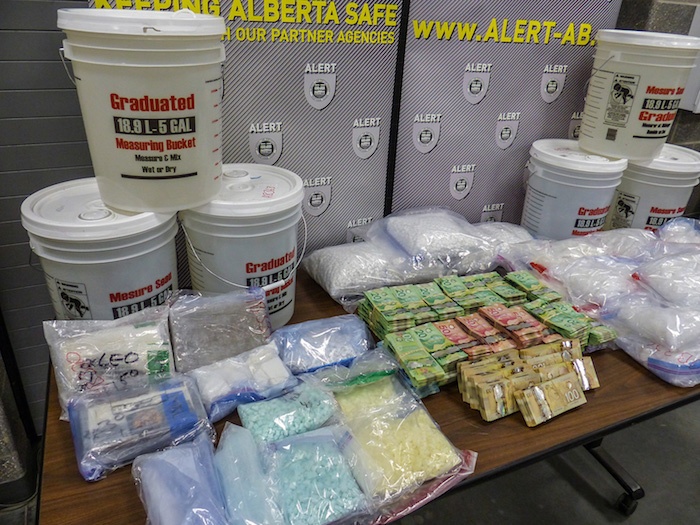 Post submitted by Alberta Law Enforcement Response Team (ALERT)
Three million dollars' worth of drugs and cash was seized from two Calgary homes, including what is believed to be the province's largest seizure of gamma-hydroxybutyrate (GHB).
On April 27, 2021 ALERT Calgary's organized crime and gang team concluded a short-term investigation with a record drug haul. ALERT seized enough methamphetamine, fentanyl, cocaine, and GHB to equal an estimated 100,000 doses.
The GHB seizure of 113.5 litres is believed to be the largest seizure of its kind in Alberta.
Meanwhile, the amount of methamphetamine and fentanyl pills seized ranks amongst ALERT Calgary's biggest busts.
"The totality of what was seized is staggering, and represents a high degree of community harm. Behind so many doses are crimes committed to feed that addiction; be it property crimes, thefts, frauds, and robberies, and all feeding into social disorder," said Supt. Dwayne Lakusta, ALERT CEO.
In total, ALERT seized roughly $3 million worth of drugs and cash:
113.5 litres of GHB;
22.3 kilograms of methamphetamine;
18,000 fentanyl pills;
1.5 kilograms of fentanyl;
4.1 kilograms of cocaine; and
$386,220 cash.
GHB is colourless and odourless, and is commonly referred to as the "date-rape drug" but is usually abused as a club drug. In July 2013 Edmonton Police Service seized 106 litres of GHB, which at the time, was believed to be Alberta's largest seizure.
ALERT's investigation is ongoing and additional charges are being contemplated. To date, 14 drug-related charges have been laid against three suspects:
Ashley Stanway, 30-year old from Calgary;
Rayann Blackmore, 22-year old from Calgary; and
Harmandeep Tiwana, 28-year old from Calgary.
ALERT began its investigation just a month prior after receiving information about suspected drug trafficking activity in the Calgary region.
Members of the public who suspect drug or gang activity in their community can call local police, or contact Crime Stoppers at 1-800-222-TIPS (8477). Crime Stoppers is always anonymous.
ALERT was established and is funded by the Alberta Government and is a compilation of the province's most sophisticated law enforcement resources committed to tackling serious and organized crime.