"The Planet is not an Ashtray" – It's Time to Stop Throwing Cigarette Butts on the Ground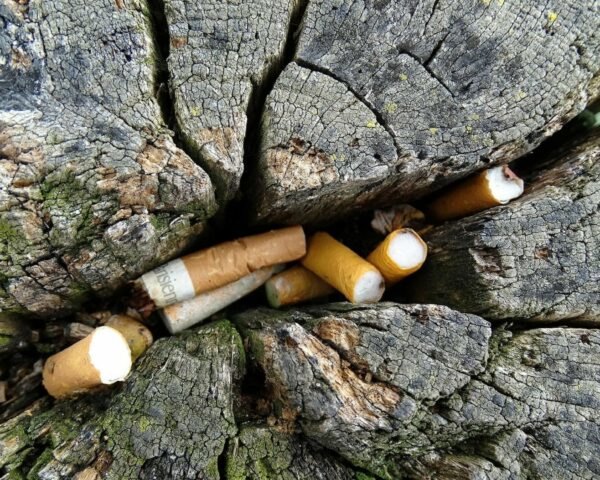 Raise your hand if you've ever witnessed someone flick their burnt out cigarette butt onto the ground while they're standing outside the pub, or walking down the sidewalk. Or, if you've ever driven over a still-lit cigarette on the road after the driver in front of you chucked it out the window of their moving car.
In a public setting, throwing a soda can or an empty coffee cup onto the ground is a hard no, often met with swift social backlash by surrounding witnesses. So why, then, is it considered socially acceptable to throw cigarette butts – literal chemical trash on fire – onto the ground?
While the act of discarding a cigarette butt onto the ground may seem insignificant in the moment, statistics show the staggering and destructive impact this decision has on the environment when made by millions of people every day.
According to a National Geographic article released in August 2019, cigarettes are the top plastic polluters around the world. Globally, approximately 6.5 trillion cigarettes are purchased each year, and of those, "an estimated two-thirds of the trillions of filters used each year are tossed into the environment."
Cigarettes are not biodegradable. The breakdown that results from weathering and time spent in the elements leads to further environmental degradation, as thousands of microscopic plastic fibers and chemicals are released. The chemicals found in cigarette ash and filters, which include arsenic, lead and benzene, among others, are poisonous to the environment and its inhabitants.
In 2019, a study led by Anglia Ruskin University (ARU) was published in the journal of Ecotoxicology and Environmental Safety highlighting how cigarette butts significantly reduce plant growth. "We believe it is the chemical composition of the filter that is causing damage to the plants," says co-author Dr. Bas Boots, "Most are made from cellulose acetate fibers, and added chemicals which make the plastic more flexible … may also be leaching out and adversely affecting the early stages of plant development."
In addition to inhibiting early plant growth, cigarette litter consistently ends up in waterways that lead to surrounding rivers, lakes, and the ocean. This contaminates the water with dangerous chemicals and plastics that poison marine life and other animals, who often mistake cigarette butts for food.
Not to mention, in regions experiencing hotter, dryer climates, cigarette butts can lead to wildfires when discarded before being properly extinguished. In June 2019, the Vancouver Island Fire Department responded to 7 fires in 7 days, all of which were caused by improperly discarded cigarette butts.
The social norm that permits cigarette butts as an acceptable form of litter is far outdated. Cigarette litter should be held to the same standard as all other forms of chemical and plastic waste that negatively impact the environment, meaning the onus is on the user to ensure proper, safe disposal.
Brain Garden is a family run business based in Vernon, British Columbia, on an international mission to eliminate cigarette litter and its detrimental environmental effects.
Founded by 'Head Gardener" Jack Elliman in 2013, Brain Garden manufactures eco-friendly, airtight Pocket Ashtrays for safe, on-the-go disposal of cigarette butts. When users drop their lit cigarettes into the Pocket Ashtray and snap it shut, the airtight seal extinguishes the butt and traps the smoke, successfully tackling two of the main reasons individuals litter in the first place – convenience and lingering smell.
The inspiration for the Pocket Ashtray originated in the transformational festival industry, where individuals are encouraged, if not required, to leave no trace. Though not as commonly as on a city sidewalk, even there, Elliman noticed, cigarette butts were ending up on the ground. It was there Elliman identified the need for a convenient, eco-conscious solution to keep cigarette butts from ending up in the environment.
From there, the environmentally friendly invention has expanded into the global market as a convenient, educational product that leads to less cigarette waste littering our towns, contaminating our waterways, harming our wildlife, and causing wildfires.
"It really comes down to education," says Elliman, inventor of the Pocket Ashtray, "people forget that cigarette waste is toxic waste, and now with COVID, it's a biohazard as well." Since the launch of Brain Garden nine years ago, hundreds of thousands of Pocket Ashtrays have been distributed to cities, fire departments, music festivals, cleanup groups and more worldwide.
The story doesn't end there, however. The Pocket Ashtray goes one step beyond simply keeping cigarette litter off the ground. Once the Pocket Ashtray becomes full, the contents can be mailed to TerraCycle using free shipping labels provided by Brain Garden, compliments of TerraCycle. From there, TerraCycle composts the remaining paper and tobacco and recycles the cellulose acetate.
"We are approaching 1000 total pounds of recycled cigarette litter with TerraCycle," says Elliman. This half-ton milestone is a result of global participation in various Brain Garden cigarette litter campaigns, including "butt barrels" and "butt buckets" which function alongside the Pocket Ashtrays.
The funds generated from the recycling process with TerraCycle are then put towards the Brain Garden Wildfire Prevention and Education Campaign. This campaign focuses on reducing wildfire risk by providing free Pocket Ashtrays to the smokers, promoting safe and responsible cigarette disposal, and educating the public about the dangers of improperly discarded cigarette butts.
It's 2021. Time to respect the environment, be a good human and use an ashtray.

For more information on the Pocket Ashtray and how to join Jack Elliman and Brain Garden on their ongoing mission to protect the environment from the largest global plastic pollutant, visit https://braingarden.ca
For more stories, visit Todayville Calgary.
Norad, Haiti, migration, critical minerals to top agenda for Trudeau and Biden
WASHINGTON — U.S. President Joe Biden is embarking on a 27-hour whirwind visit to Ottawa, where he will meet Friday with Prime Minister Justin Trudeau and speak to a joint session of Parliament — his first bilateral sojourn north as commander-in-chief.
Here are some of the issues the two leaders are likely to discuss:
Migration breakthrough: The two countries are already close to an agreement to expand the 2004 migration treaty known as the Safe Third County Agreement, which is designed to limit asylum claims in both countries but currently only applies to official entry points. As a result, critics say it encourages asylum seekers to enter Canada at unofficial border crossings, which allows them to make a claim. Sources familiar with the details say the two sides have been working on extending the agreement to cover the length of the Canada-U.S. border since the Summit of the Americas in Los Angeles last June. Such an agreement would help resolve a major political headache for Trudeau, while giving Biden the political cover he would need to devote more spending to northern border security.
Modernizing Norad: Until last month, the binational early-warning system known as the North American Aerospace Defence Command might have been best known for tracking Santa Claus on Christmas Eve. But a February flurry of unidentified flying objects drifting through North American airspace, most notably what U.S. officials insist was a Chinese surveillance balloon, exposed what Norad commander Gen. Glen VanHerck described as a "domain awareness gap": the archaic, Cold War-era system's ability to track small, high-flying, slow-moving objects. Coupled with the brazen ambitions of Russian President Vladimir Putin, the ongoing but largely opaque joint effort to upgrade Norad — rarely mentioned in past Trudeau-Biden readouts — is suddenly front and centre for both governments. Media reports suggest Canada could agree to an accelerated timeline.
Helping Haiti: The list of foreign-policy hotspots around the world that instantly bring Canada to mind is a short one, but Haiti is surely near the top. And as Haiti has descended ever deeper into lawlessness in the wake of the 2021 assassination of president Jovenel Moise, the need for military intervention has been growing — and some senior U.S. officials have expressly name-checked Canada as the perfect country to lead the effort. Trudeau's response has been diplomatic but firm: the crisis is best addressed from a distance. "Canada is elbows deep in terms of trying to help," he said last month. "But we know from difficult experience that the best thing we can do to help is enable the Haitian leadership … to be driving their pathway out of this crisis." Military experts in Canada say the Canadian Armed Forces are in no state to be able to lead any sort of intervention. U.S. officials said Wednesday they are pursuing a solution with urgency, but insist the discussions are multilateral in nature and will have to involve Haiti itself, and perhaps even the United Nations.
Mission-critical minerals: No high-level conversation between the U.S. and Canada these days would be complete without talking about critical minerals, the 21st-century rocket fuel for the electric-vehicle revolution that Trudeau calls the "building blocks for the clean economy." Canada has the minerals — cobalt, lithium, magnesium and rare earth elements, among others — and a strategy to develop them, but the industry is still in its infancy and the U.S. wants those minerals now. The issue has profound foreign-policy implications: China has long dominated the critical minerals supply chain, something the Biden administration is determined to change. "This really is one of the most transformative moments since the Industrial Revolution," said Helaina Matza, the State Department's deputy special co-ordinator for the G7's Partnership for Global Infrastructure and Investment. "We understand that we can't do it alone."
Water, water everywhere: Canada and the U.S. have been negotiating since 2018 to modernize the Columbia River Treaty, a 1961 agreement designed to protect a key cross-border watershed the size of Texas in the Pacific Northwest. Despite 15 separate rounds of talks, progress has been middling at best. Meanwhile, Canada is under U.S. pressure to allow the International Joint Commission — the investigative arm of a separate 1909 boundary waters agreement — to investigate toxic mining runoff in the B.C. Interior that Indigenous communities on both sides of the border say has been poisoning their lands and waters for years. Add to all of that the mounting pressure on Canada to supercharge efforts to extract and process critical minerals, and the plot promises to thicken.
Border blues: The flow of irregular migration isn't the only bilateral issue focused on the border. Critics on both sides say travel between the two countries hasn't been the same since the COVID-19 pandemic. The Nexus trusted-traveller program, a popular fast-tracking system in Canada, broke down last year amid a dispute over U.S. border agents working on Canadian soil; the fix is widely seen as less streamlined than the old system. Many of those same critical voices are taking issue with Canada's imposed new tax measures to discourage foreigners from owning real estate north of the border; some on Capitol Hill have been vociferous in pressing the Biden administration to demand an exemption.
A trade deal by any other name: Regardless of what the two leaders end up talking about, it will happen within the framework of the U.S.-Mexico-Canada Agreement, known in Canada as CUSMA. The USMCA era of continental trade, which began in earnest in 2020, has not been without its hiccups, including disputes over U.S. access to Canada's dairy market and the way the U.S. defines foreign automotive content. The Biden administration is also staunchly opposed to Canada's plans for a digital services tax, which it considers a violation. The agreement is due to be reviewed in 2026, and a lot could happen — especially on Capitol Hill and in the White House — between now and then. It's also worth noting that while it's not covered by the trade deal, the softwood lumber dispute remains a perennial irritant. International Trade Minister Mary Ng met earlier this month with industry leaders to discuss "unwarranted and illegal U.S. duties" on softwood lumber, vowing that a solution that protects Canadian jobs "is the only resolution that we will accept." In other words, don't hold your breath for a breakthrough on a dispute "that's been going on since Adam and Eve," said Tony Wayne, a former U.S. ambassador to Mexico and the former U.S. assistant secretary of state for economic and business affairs.
This report by The Canadian Press was first published March 23, 2023.
James McCarten, The Canadian Press
Thompson's 37-save effort leads Golden Knights to 3-2 win over Flames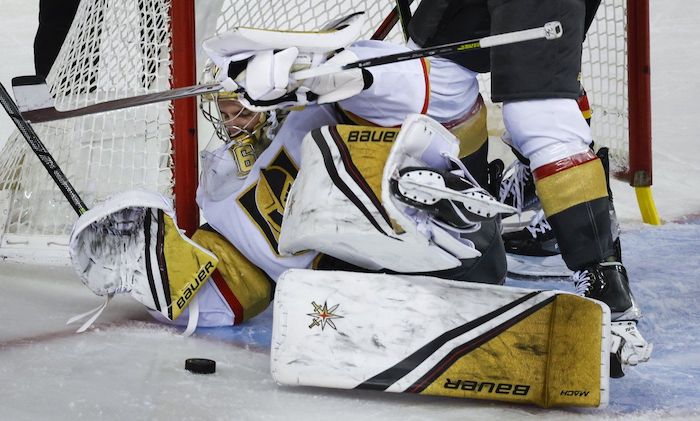 Vegas Golden Knights goalie Logan Thompson scrambles to block the net during third period NHL hockey action against the Calgary Flames in Calgary, Alta., Thursday, March 23, 2023. THE CANADIAN PRESS/Jeff McIntosh
By Darren Haynes in Calgary
Logan Thompson's triumphant return for Vegas after six weeks on the shelf was overshadowed by him exiting the game late in the third period with another injury.
Before he departed with just over six minutes to go, Thompson made 37 saves as the surging Golden Knights picked up a 3-2 win over the Calgary Flames on Thursday.
"Right now, obviously concerned about Logan," said Vegas coach Bruce Cassidy. " Obviously, Logan missing that much time, we'll have to look closely at that one."
It was unknown if the latest setback is related to the lower-body injury he suffered back on Feb. 9.
"I don't know what happened, to be honest. He just got up and left," Cassidy said. "He knows his body. I have no idea. At the end of the day, let's hope it's not related to the previous injury and it's something that will be short term."
Up 3-2 at the time, Jonathan Quick came in and turned aside all five shots he faced as Calgary poured on the pressure in search of the tying goal.
"It doesn't happen really often but when he got out there (Quick) made a couple really good saves to keep us in the game," said Vegas forward Ivan Barbashev.
The best chance to tie came off the stick of MacKenzie Weegar with a minute to go but he couldn't beat Quick from 30 feet out.
"I saw the net and I missed my shot," said the Flames defenceman. "If there was one chance I can get back all year, it would be that one."
Nicolas Roy scored in his return from an 18-game absence for Vegas (45-21-6). Jonathan Marchessault and Michael Amadio added the others.
Milan Lucic and Nazem Kadri replied for Calgary (32-26-15). Jacob Markstrom stopped 29-of-32 shots in his 11th start in the last 12 games.
In avenging their 7-2 home loss to the Flames on March 16, the Golden Knights earned their seventh win in eight games and are 16-3-2 in their last 21 contests.
Vegas opened up a four-point cushion on the Los Angeles Kings atop the Pacific Division.
Meanwhile, the Flames took a blow to their flickering playoff hopes, falling six points behind Winnipeg for the second wild-card spot in the Western Conference.
It's the Flames' 27th one-goal loss this year, which leads the NHL.
"We're in every game, and we have a chance to win every game we're playing, so it obviously makes it more frustrating that we lose and it feels like we're always losing by that one goal," said Flames defenceman Rasmus Andersson.
"I don't know how many games I've played back in my head thinking that 'Ah, I should have scored that' or 'How did we not score that' and we would have been in a different situation, but it's the reality."
Up 2-1 entering the third period, Vegas got some breathing room at 5:19 when pressure from Roy forced a defensive zone turnover from Rasmus Andersson. Roy then went to the net, received a pass from Phil Kessel and fired a shot over Markstrom.
The Flames crept back to within one at 12:33 when Kadri ended his 16-game goal drought with a power-play marker, but that's as close as they would get.
"When it's big games, we need guys to step up and be big players and we didn't have that tonight from everyone," said Lucic.
Calgary fell to 0-18-3 when trailing after two periods. The Flames are the only NHL team without a comeback victory this season.
Vegas, which entered the night having outscored teams 70-45 in the first period this year, jumped out to a 2-0 lead in the opening frame, with both goals coming less than four minutes apart.
Jack Eichel sprung Marchessault who whipped a shot past Markstrom on a 2-on-1 at 11:43.
Slipping behind the Flames defence and after being stopped on his first shot, Amadio rattled in his own rebound at 15:23.
Lucic cut the deficit in half with 58 seconds left in the frame off a slick cross-ice setup from rookie Walker Duehr.
SHOW OF SUPPORT
The Flames wore #SnowyStrong stickers on the back of their helmets in support of assistant general manager Chris Snow's ongoing battle with ALS. The stickers that feature a blue cornflower, the international symbol of hope for the fight against ALS, were created by a parent from the U9 hockey team in which Snow's daughter plays and were first worn by that team and its coaches.
STREAKS SNAPPED
Golden Knights forward Reilly Smith had his career-best point streak snapped at nine games (four goals, 11 assists). It equalled the franchise best, also held by Alex Tuch, Mark Stone and Max Pacioretty.
Four Flames also had their scoring streaks come to an end. Defenceman Noah Hanifin at six games, while Tyler Toffoli, Elias Lindholm and Blake Coleman each had their four-game streaks halted.
UP NEXT
Golden Knights: Wrap up their road trip in Edmonton on Saturday night.
Flames: Play host to San Jose in an afternoon game on Saturday.
This report by The Canadian Press was first published March 23, 2023.