"The Planet is not an Ashtray" – It's Time to Stop Throwing Cigarette Butts on the Ground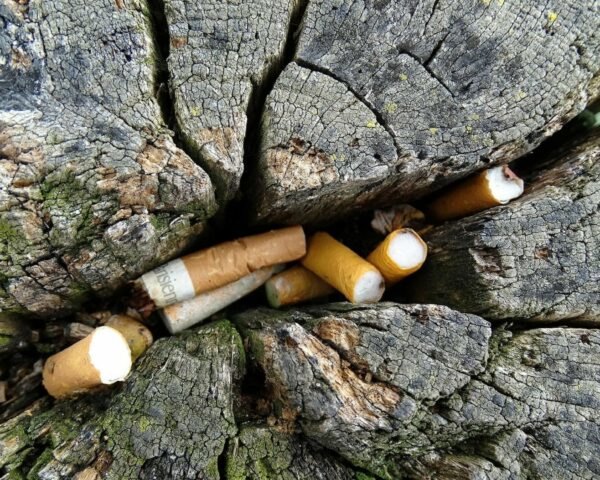 Raise your hand if you've ever witnessed someone flick their burnt out cigarette butt onto the ground while they're standing outside the pub, or walking down the sidewalk. Or, if you've ever driven over a still-lit cigarette on the road after the driver in front of you chucked it out the window of their moving car. 
In a public setting, throwing a soda can or an empty coffee cup onto the ground is a hard no, often met with swift social backlash by surrounding witnesses. So why, then, is it considered socially acceptable to throw cigarette butts – literal chemical trash on fire – onto the ground?
While the act of discarding a cigarette butt onto the ground may seem insignificant in the moment, statistics show the staggering and destructive impact this decision has on the environment when made by millions of people every day. 
According to a National Geographic article released in August 2019, cigarettes are the top plastic polluters around the world. Globally, approximately 6.5 trillion cigarettes are purchased each year, and of those, "an estimated two-thirds of the trillions of filters used each year are tossed into the environment." 
Cigarettes are not biodegradable. The breakdown that results from weathering and time spent in the elements leads to further environmental degradation, as thousands of microscopic plastic fibers and chemicals are released. The chemicals found in cigarette ash and filters, which include arsenic, lead and benzene, among others, are poisonous to the environment and its inhabitants.
In 2019, a study led by Anglia Ruskin University (ARU) was published in the journal of Ecotoxicology and Environmental Safety highlighting how cigarette butts significantly reduce plant growth. "We believe it is the chemical composition of the filter that is causing damage to the plants," says co-author Dr. Bas Boots, "Most are made from cellulose acetate fibers, and added chemicals which make the plastic more flexible … may also be leaching out and adversely affecting the early stages of plant development."  
In addition to inhibiting early plant growth, cigarette litter consistently ends up in waterways that lead to surrounding rivers, lakes, and the ocean. This contaminates the water with dangerous chemicals and plastics that poison marine life and other animals, who often mistake cigarette butts for food.
Not to mention, in regions experiencing hotter, dryer climates, cigarette butts can lead to wildfires when discarded before being properly extinguished. In June 2019, the Vancouver Island Fire Department responded to 7 fires in 7 days, all of which were caused by improperly discarded cigarette butts. 
The social norm that permits cigarette butts as an acceptable form of litter is far outdated. Cigarette litter should be held to the same standard as all other forms of chemical and plastic waste that negatively impact the environment, meaning the onus is on the user to ensure proper, safe disposal. 
Brain Garden is a family run business based in Vernon, British Columbia, on an international mission to eliminate cigarette litter and its detrimental environmental effects. 
Founded by 'Head Gardener" Jack Elliman in 2013, Brain Garden manufactures eco-friendly, airtight Pocket Ashtrays for safe, on-the-go disposal of cigarette butts. When users drop their lit cigarettes into the Pocket Ashtray and snap it shut, the airtight seal extinguishes the butt and traps the smoke, successfully tackling two of the main reasons individuals litter in the first place – convenience and lingering smell.
The inspiration for the Pocket Ashtray originated in the transformational festival industry, where individuals are encouraged, if not required, to leave no trace. Though not as commonly as on a city sidewalk, even there, Elliman noticed, cigarette butts were ending up on the ground. It was there Elliman identified the need for a convenient, eco-conscious solution to keep cigarette butts from ending up in the environment.
From there, the environmentally friendly invention has expanded into the global market as a convenient, educational product that leads to less cigarette waste littering our towns, contaminating our waterways, harming our wildlife, and causing wildfires.
"It really comes down to education," says Elliman, inventor of the Pocket Ashtray, "people forget that cigarette waste is toxic waste, and now with COVID, it's a biohazard as well." Since the launch of Brain Garden nine years ago, hundreds of thousands of Pocket Ashtrays have been distributed to cities, fire departments, music festivals, cleanup groups and more worldwide. 
The story doesn't end there, however. The Pocket Ashtray goes one step beyond simply keeping cigarette litter off the ground. Once the Pocket Ashtray becomes full, the contents can be mailed to TerraCycle using free shipping labels provided by Brain Garden, compliments of TerraCycle. From there, TerraCycle composts the remaining paper and tobacco and recycles the cellulose acetate. 
"We are approaching 1000 total pounds of recycled cigarette litter with TerraCycle," says Elliman. This half-ton milestone is a result of global participation in various Brain Garden cigarette litter campaigns, including "butt barrels" and "butt buckets" which function alongside the Pocket Ashtrays.
The funds generated from the recycling process with TerraCycle are then put towards the Brain Garden Wildfire Prevention and Education Campaign. This campaign focuses on reducing wildfire risk by providing free Pocket Ashtrays to the smokers, promoting safe and responsible cigarette disposal, and educating the public about the dangers of improperly discarded cigarette butts. 
It's 2021. Time to respect the environment, be a good human and use an ashtray.

For more information on the Pocket Ashtray and how to join Jack Elliman and Brain Garden on their ongoing mission to protect the environment from the largest global plastic pollutant, visit https://braingarden.ca
For more stories, visit Todayville Calgary.
Top-ranked Winnipeg Blue Bombers edge Edmonton Elks 37-22 for fourth straight victory
EDMONTON — DeAundre Alford and Adam Bighill recorded defensive touchdowns as the league-leading Winnipeg Blue Bombers fought their way past the Edmonton Elks 37-22 Saturday.
The Blue Bombers (6-1) have won four games in a row while the Elks (2-4) have lost two straight and fell to 0-4 at home this season.
Winnipeg got off to a blazing start by scoring on its first drive, going 80 yards in nine plays, capped off by a 12-yard touchdown pass from QB Zach Collaros to Darvin Adams.
Collaros went 19 of 24 passing for 252 yards, a TD and an interception. 
The Bombers doubled their lead on their next drive as Nic Demski ploughed his way through several defenders for a 21-yard rushing major to make it 14-0.
Edmonton got back into the game midway through the second thanks to a Christian Rector fumble recovery on the Bombers' nine-yard-line, leading to a James Wilder Jr. touchdown run.
Winnipeg kicker Ali Mourtada missed a 28-yard field goal attempt before Edmonton's Sean Whyte nailed a three-pointer from 44 yards out to make it 15-10 at the mid-mark.
The Blue Bombers had 250 yards of offence in the first half to the Elks' 125. QB Taylor Cornelius passed for 106 yards in the first half in his CFL debut as he replaced Trevor Harris, who was placed on the six-game injured list with a neck injury.
Cornelius finished the game with 19 completions on 33 pass attempts for 243 yards and three interceptions. 
Edmonton surged into the lead early in the third quarter with an unconverted 19-yard TD run by Wilder.
However the Bombers regained the lead as Alford picked off Cornelius and took it back 22 yards for the touchdown. A two-point convert made it 23-16 for Winnipeg.
Whyte responded with a 32-yard field goal before Mourtada missed his third field goal attempt of the game from 44 yards.
The Bombers defence did it again late in the third as Cornelius fumbled deep in his own end, leading to a three-yard scoop and score by Bighill.
After Whyte kicked a 19-yard field goal, Winnipeg put the game away with a one-yard TD plunge by Sean McGuire.
Both teams have a bye next week. The Elks' next game will be in Ottawa on Sept. 28, while the Bombers will be in B.C. on Oct. 1. Winnipeg and Edmonton will then play each other again in a home-and-home series.
Notes: Two highly anticipated players made their Elks debuts: offensive lineman SirVincent Rogers and linebacker Derrick Moncrief… Winnipeg was trying its third place-kicker of the season with Mourtada making his CFL debut, relegating rookie Marc Liegghio to punting duties.
This report by The Canadian Press was first published Sept. 18, 2021.
The Canadian Press
Veteran Canadian rider Mario Deslauriers wins Spruce Meadows Grand Prix
CALGARY — Canada's Mario Deslauriers and Bardolina 2 posted two clear rounds Saturday to take the Queen Elizabeth II Cup Grand Prix at Spruce Meadows.
In a jump-off with Mexico's Carlos Hank Guerreiro and Australian Katie Laurie, Deslauriers and the 12-year-old mare didn't put a rail down and topped the leaderboard with a time of 53.05 seconds.
Deslauriers said Bardolina 2 can be difficult to ride, but she was on her game Saturday in Calgary.
"Today, she jumped incredible," Deslauriers said. "She was straight like an arrow and she jumped beautiful."
Deslauriers and Bardolina 2 were Canada's lone show jumping entry in the summer's Tokyo Olympics where the duo placed 22nd.
"She was very good I think in the medal round (there)," Deslauriers said. "She had two fences down that were very cheap, but overall she jumped super well.
"Before she came here, she had to do three weeks quarantine because I was over my limit when I came back from Europe.
"Really, I jumped her one time at home, she got in the truck and came here, so I think she's matured a lot. I can count on her. I don't need to practise so much any more."
Deslauriers, 56, is from Saint-Jean, Que., but lives in New York.
The North American is the last of three September tournaments totalling $5.6 million in prize money.
Spruce Meadows resumed hosting international show jumping events after a two-year hiatus because of the COVID-19 pandemic.
This report by The Canadian Press was first published Sept. 18, 2021.
The Canadian Press