The King's University receives $20-million donation for new state-of-the-art Science Centre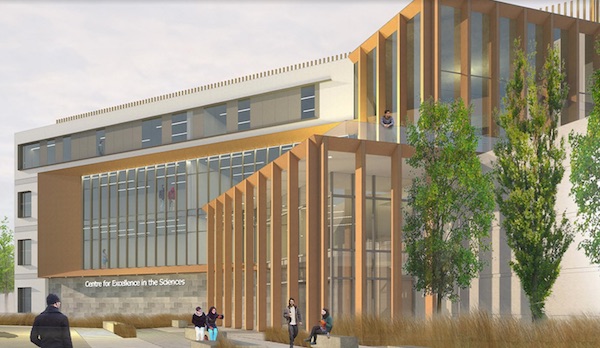 Construction of a new 40,000 square foot Centre for Excellence in the Sciences at The King's University will move forward thanks to a gift of $20-million from an anonymous donor. The landmark donation, the largest gift in King's 42-year history, allows the institution to build on its strong academic reputation in the natural, health and social sciences.
The Centre will include beautiful common spaces, purpose-built teaching facilities, leading technology and laboratories that enable the university to further place student research at the heart of its academic programming.
"I have always been proud of our legacy of research and education," King's President Dr. Melanie Humphreys says. "It's really quite impressive—especially for a university of our size. This incredible, humbling gift is going to propel these programs forward in a significant way and provide new opportunities to branch out into the health sciences."
Student-faculty research teams at The King's University are currently involved in projects such as antibiotic resistance, animal-assisted therapy in mental health, endangered trees in Canada's mountains and foothills, and diseases that devastate honeybee populations. King's Community Engaged Research program collaborates with local non-profits to help provide data-driven solutions for their organizations.
The Centre for Excellence in the Sciences will be a hub for sustainability research. With a newly granted Transitions to Sustainability Canada Research Chair, the Centre will enhance support and coordination for sustainability work happening across disciplines and at King's Centre for Visualization in Science (KCVS).
KCVS alone has partnered with more than 40 organizations worldwide, such as UNESCO, and has contributed important resources to three United Nations International Years: Chemistry (2011), Periodic Table (2019), and the upcoming International Year of Basic Sciences for Sustainable Development (2022–23). Another KCVS resource contributed to the education and outreach work of the Organization for the Prohibition of Chemical Weapons, which won the Nobel Peace Prize in 2013.
"Building a more humane, just and sustainable world is right there in our vision statement," says Dr. Peter Mahaffy, professor of chemistry and co-founder of KCVS. "These words continue to move off the page of aspirational statements to shape and ground what happens here each day."
ABOUT KING'S
The King's University has been building a more humane, just and sustainable world for more than 40 years. King's offers fully accredited programs in the humanities, sciences, business, and education, and ranks at the top of national surveys for quality of teaching, sense of belonging, and intellectual engagement. Award-winning faculty mentor students in their studies and publish leading research in their fields. As Edmonton's Christian University, King's empowers graduates to bring renewal to every walk of life.
Calgary Stampede receives $10M from federal government to aid recovery from pandemic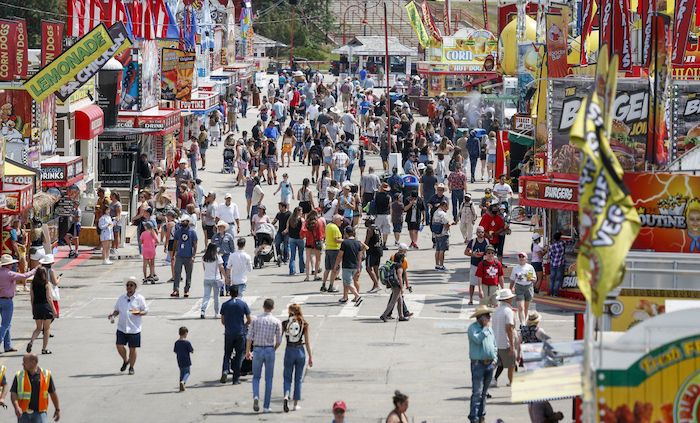 Calgary – The Calgary Stampede has received more than $10 million from the federal government to help it bounce back after last year's event was scaled down due to the COVID-19 pandemic.
A report to the city this week showed the Stampede had an operating loss of $8.3 million in 2021.
Last year's Stampede ran at half capacity because of COVID-19 public health measures and was cancelled all-together the year before.
Daniel Vandal, the federal minister for Prairies Economic Development Canada, says the money aims to support a full-scale Stampede to deliver the "authentic western experience" this year.
He says it would also help to reignite Alberta's visitor economy.
The 2022 Stampede is set to run from July 8 to 17.
"Festivals large and small were hard hit during the pandemic," Vandal said in a news release. "They are events where families and friends come together and take in the exciting atmosphere.
"The tourism industry is facing a strong comeback providing quality jobs across the country, showcasing stunning landscapes and offering exciting experiences right here in Alberta."
The federal government also provided about $1.8 million for four other tourism projects in southern Alberta: Charmed Resorts, Cochrane Tourism Association, Heritage Park and Tourism Calgary.
This report by The Canadian Press was first published June 30, 2022.
Canopy Growth to exchange C$255.4M in notes for shares and a bit of cash
SMITHS FALLS, Ont. — Canopy Growth Corp. has signed a deal to exchange C$255.4 million of its debt for shares and a little bit of cash.
Under the agreement with a limited number of noteholders, the cannabis company will acquire the 4.25 per cent unsecured convertible senior notes due in 2023 for about C$252.8 million in shares plus approximately C$3 million in cash for accrued and unpaid interest.
The price used to value the shares will be the volume-weighted average trading price on the Nasdaq Global Select Market for the 10 consecutive trading days beginning Thursday, subject to a floor price of US$2.50 and a maximum of US$3.50 per share.
Constellation Brands Inc., through its wholly-owned subsidiary Greenstar Canada Investment Limited Partnership, has agreed to swap half of the C$200 million in notes it holds under the deal.
The company, which is already Canopy's largest shareholder, will receive a minimum of 21.9 million Canopy shares based on the floor price and a maximum of 30.7 million shares.
Constellation currently holds nearly 142.3 million Canopy shares, representing a 35.3 per cent stake in the company.,
This report by The Canadian Press was first published June 30, 2022.
Companies in this story: (TSX:WEED)
The Canadian Press