'Record-Breaking" Medicine Hat bust nets over 100 grand in cash plus nearly 2 kg's of methamphetamine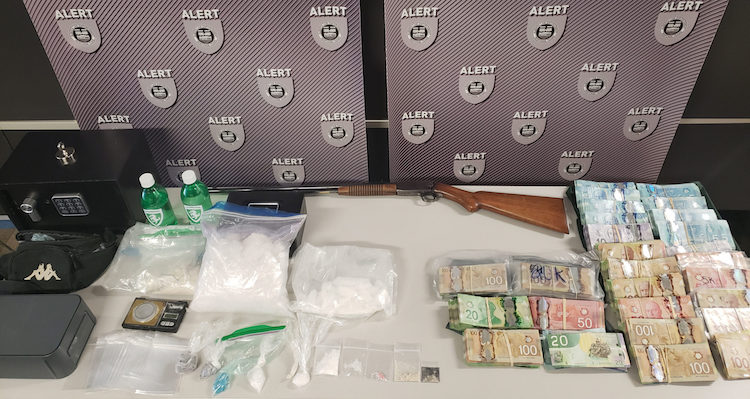 News Release from ALERT (Alberta Law Enforcement Response Team)
Meth seizure is one of Medicine Hat's largest
ALERT has seized nearly two kilograms of methamphetamine as part of a major drug seizure in Medicine Hat. The meth seizure is believed to be the city's largest.
ALERT's Medicine Hat organized crime team seized 1.9 kilograms of meth from a home the South Flats area. The record seizure was realized on November 5, 2021 after four search warrants were executed, bringing the two-month investigation to a close.
One person has been charged, while additional arrests are anticipated. Medicine Hat Police Service provided assistance on the investigation.
"Disrupting the meth trade has been a priority for ALERT over the past several years. Together, with our partners in Medicine Hat Police and RCMP, we have taken significant quantities of meth off the street and arrested more than 100 suspected dealers since 2018," said Inspector Sean Boser, ALERT Regional teams.
"The presence of methamphetamine is not only harmful to drug users, but also negatively impacts the overall health and safety of all citizens of Medicine Hat. Police agencies are committed to working together to disrupt drug trafficking networks and keep the community safe," said Inspector Brent Secondiak, MHPS.
The value of the seizure is estimated at $235,000, and included:
1,900 grams of meth;
59 grams of fentanyl;
15 grams of cocaine;
55 tabs of LSD;
2.5 grams of MDMA;
900 milliliters of GHB;
7 grams of psilocybin mushrooms; and
$100,610 cash.
A firearm was also seized and will be submitted for forensic analysis.
Robert Pegoraro, 24, was charged with possession of drugs for the purpose of trafficking, possession of proceeds of crime, and several firearms-related offences.
The 1.9 kilogram meth seizure eclipses what was thought to be Medicine Hat's previous largest seizure of 1.7 kilograms that was realized in April 2020. ALERT Medicine Hat also seized 1.13 kilograms in July 2019 and 1.02 kilograms in December 2017.
In 2021, ALERT teams from across the province combined to seize more than 57 kilograms of meth.
Members of the public who suspect drug or gang activity in their community can call local police, or contact Crime Stoppers at 1-800-222-TIPS (8477). Crime Stoppers is always anonymous.
ALERT was established and is funded by the Alberta Government and is a compilation of the province's most sophisticated law enforcement resources committed to tackling serious and organized crime.
Central Alberta city to close homeless camp as future plans unknown
WETASKIWIN, Alta. — A central Alberta city is closing a homeless encampment with help from Mounties because of safety risks it says will persist if it remains open.
Wetaskiwin voted last week to close "tent city" as most, if not all, people who were living there are now using the nearby warming shelter run by the Mustard Seed or the Samson Cree shelter.
Local fire services say they attended multiple fire-related calls to the camp since it opened in August, including one severe structure fire where "the possibility of death was very imminent," and two instances where people sustained serious burns after falling into flames.
RCMP say they attended 37 calls related to assault, robbery, weapons and arson.
At one point, up to 60 people lived rough in the camp after the city forced the closure of its only shelter, but numbers dwindled with frigid temperatures and hindered social agency supports.
Provincial funding for the temporary shelter, which is a stone's throw from the camp, is in place until March with no clear plans by the city on what happens if or when it closes.
This report by The Canadian Press was first published Jan. 28, 2022.
The Canadian Press
Second-degree murder charge laid after 'unprovoked' attack at southern Alberta prison
DRUMHELLER, Alta. — RCMP say a man at a medium-security federal prison in southern Alberta has been charged in the death of a fellow inmate.
Mounties say officers responded to a call Wednesday of a serious assault at Drumheller Institution.
They allege an assault on 34-year-old Jeffrey Ryan of Parkland County, Alta., was unprovoked.
RCMP say Ryan sustained serious injuries and later died in hospital.
Ashley Baird of Nanaimo, B.C., who is 38, has been charged with second-degree murder and is to appear in Drumheller provincial court on Feb. 11.
Police say an autopsy has been ordered by the Office of the Chief Medical Examiner and will be performed in the coming days.
This report by The Canadian Press was first published Jan. 28, 2022.
The Canadian Press