The Irish Loop – Part 4 of a travel series on Newfoundland by Gerry Feehan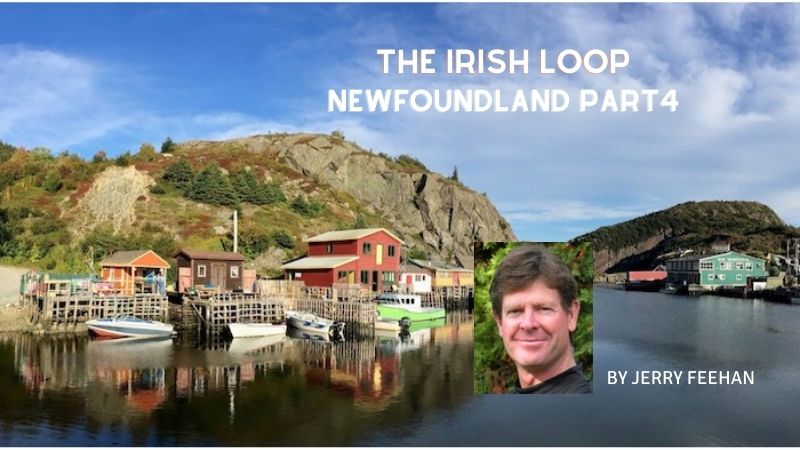 This is the last in a four part Newfoundland series.
Scroll down to find Part 1, Gros Morne, part 2 North America's Oldest European Settlement, and part 3 A World Famous Newfoundland Tradition.
When I told a Red Deer friend (born and raised in Newfoundland) that we intended to explore only the west side of the Island during our two-week visit she looked at me as if I were daft. "If you haven't walked down Water Street in St. John's, you haven't been to Newfoundland." And so we divided our 14-day fall camping trip on The Rock equally between both sides of the Island, with the last week dedicated to St. John's and the east coast.
Water Street was indeed a lot of frolic and fun. But frankly, narrow steep cobblestone roads and a motor home don't play well together. So, after a few days of fine seafood, great live music, an exploration of the fascinating Rooms Museum and a bumpy visit to Signal Hill, it was time to move on from the capital. We were bound for the Irish Loop, south of St John's, on the Avalon Peninsula. On our way out of town we stopped at Cape Spear Lighthouse, the most easterly point in Canada—and North America for that matter. The fair-haired interpreter seemed certain to have Gaelic roots (and thus knowledge of the Irish Loop) so I asked him if there were any special places we should visit. "Scottish actually," he said, stroking his sandy beard and disavowing any Irish ancestry. "The Avalon is beautiful, you can't go wrong. Just poke along."
And poke we did. After exploring scenic Petty Harbour, we poked our toes into aptly named Witless Bay, where we determined that the North Atlantic Ocean is brain-
freeze cold. We camped that night in a quiet spot overlooking Witless Bay Ecological Reserve, where in early summer tens of thousands of tourists flock to see "iceberg
alley" and the vast colony of Atlantic puffins that nest annually on Great Island.
"It's the end of the season, dearie," said the tired camp host. "The water gets shut off tomorrow." She looked out to sea and added, with quiet poetry, "the icebergs have
melted, the puffins have flown—now we've just a few stray tourists to drown." But with a wink added, "present company excluded." I took no offence—and swear it was by sheer inadvertence that I left the hot water running in the Witless bathhouse the next morning. For us it was an uncharacteristically early start. There must be
wisdom in that "early bird gets the worm" thing because by 8 a.m. we had encountered three different groups of hunters quartering moose by the roadside.
Hunting season had opened that day. Newfoundlanders take their moose quarrying very seriously. They are also very proud Canadians. Many yards sport a high-flying
maple leaf. But invariably the flag of Newfoundland also flaps nearby. And on the Irish Loop you'll also see a lot of green, white and pink, the pre-1949 Dominion of
Newfoundland Tricolour.
We hadn't planned on muzzling into other people's moose-business but, when we encountered a newly deceased bull being roped across the highway near Ferryland,
we had little choice but to stop and make inquiries. One quickly learns as a visitor to Newfoundland that there's no need to do more than simply open the conversation.
After that, listening will suffice. And so a roadside discourse began:
"This is how you paunch the carcass," the senior member of the group explained while his grandson sharpened a knife and began the on-site butchering process.
"And this here's the tenderest part," the grandfather continued, pointing loinward. I remarked on his particularly thick maritime accent. "Ha," one of his sons interjected, "Dad just returned from Ireland. They didn't even ask him where he was from, although one feller did ask if he'd spent a couple of years in America." He and
another brother were hoisting the 400 kg animal onto a makeshift wooden frame for further dissection. Dripping sweat, he continued, "Where are you two headed?"
"Toward Trepassey," I answered, "around the bottom of the loop and then back up toward the Trans Canada. We have an invite for Jiggs dinner on Sunday at a campground in Terra Nova."
"Trepassey?" remarked the patriarch, cutting a strip of hide from the recently departed moose's hindquarters. "Did you know Trepassey is in the Guinness Book of World Records as the foggiest place on earth? Last year a woman gave birth, but it was three months before they could tell if it was a boy or a girl." The younger two
generations nodded in amused agreement.
It was certainly foggy when we rolled into town. I almost drove through the restaurant doors before spotting the bright blinking light notifying us that the village's only eatery was closed. Apparently, the cook was out—hunting no doubt.
Someone had recommended that we stop for eats at the Squid Jigger back up the road in Calvert but that had been hours earlier. We had poked in there to see what was on the menu but decided it was too early in the day for a plate of salt-fish, potatoes and scrunchions.
It was well past lunchtime when we meandered into Peter's River. Cars were jammed outside the local hall. Perhaps a public pot luck dinner? No such luck. The entire community was gathered at the legion for "Chase the Ace," Newfoundland's favourite communal gambling pastime. We were getting rather peckish. With deep
regret I recalled the Squid Jigger's daily special: cod au gratin with a side of slaw and fries.
Finally, near Point La Haye we found a corner store with doors ajar. Scurrying in, we headed directly for the deli and ordered up a couple of prime 'Newfoundland
Steaks': fhresh sTle iced bologna. On the recommendation of the proprietress, we chose them 'tick' rather than 'tin'. At the checkout, the store phone rang. The owner
dashed off to answer. She came back, handed the cordless to the man behind us in line and said, "It's for you John. The missus says not to forget the toilet paper."
We parked for our picnic on a hill overlooking St. Mary's Harbour. As the fat bologna fried on the camp stove next to a couple of happy eggs, rain began and tick fog descended. It was the tastiest meal ever.
A colourful St John's streetGerry Feehan is an award-winning travel writer and photographer. He lives in Kimberley, BC.
Gerry Feehan is an award-winning travel writer and photographer. He and his wife Florence live in Kimberley, BC!
Thanks to Kennedy Wealth Management for sponsoring this series. Click on the ads and learn more about this long-term local business.
Gerry Feehan takes us to North America's Oldest European Settlement
Gerry Feehan Receives the Legendary Invitation, A World Famous Newfoundland Tradition
Big Bend Bob: Gerry Feehan takes us on a stunning tour of the Rio Grande River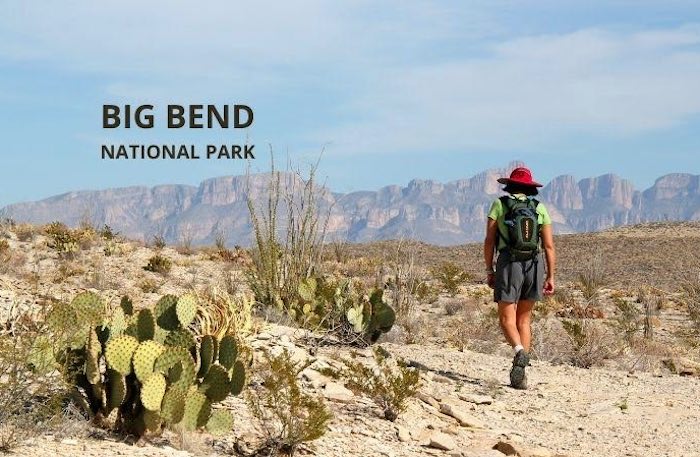 When I first spied Bob he was hunched over a computer in the dark outside a bathhouse on the Rio Grande River. We were camped in Big Bend National Park, Texas. I nodded hello as I passed. Bob looked up, grunting inaudibly. What an ornery old geezer, I thought.
Later that evening I watched as he folded up his laptop, grabbed his canes and teetered tentatively across the parking lot toward his van. I felt bad. He was entitled to his grumpiness. He could barely walk from the john to his beat-up old RV.
As I fell into slumber thoughts of Bob evaporated. We had a big day ahead: a long hike through parched desert on a rim trail overlooking the Rio Grande. Our destination was an idyllic hot spring seven kilometers upstream; a place where soothing thermal waters spill into this river famous for separating America from Mexico. After a dip and picnic lunch we'd retrace our steps through the dry wilderness. It'd be dark by the time we got back to camp.
G
We started good and early – which for me means somewhere around 10:15 a.m. I thought it wise to carve a few kilometers off the long, sunny march so my wife Florence and I rode our bicycles from the campground to the trailhead. As we pedaled, I was surprised to see Bob wandering down the road, wobbling on his two walking sticks. I waved. He didn't look up.
We secured the bikes at the trailhead, donned our packs… and promptly headed in the wrong direction. When we finally gained our bearings and started up the proper trail, there was Bob gamely climbing the first steep ascent. As we overtook him I thought it polite to slow and make a final offer of greeting; after all we were headed into the same scorched Chihuahuan desert and there wasn't another soul around.
"Are you going to the hot springs?" I asked as we passed, masking a patronizing tone; no way was this old guy tackling the hot desert terrain alone all the way to the springs.
"Yup," he said, opening up.
We marched on but when we stopped briefly to admire a viewpoint where the Rio Grande cuts a scenic narrow gorge between Texas and Mexico up walked Bob, peered over the ledge and said, "Pretty, isn't it?"
After that the conversational floodgates opened. We introduced ourselves and spent the next four hours bantering back and forth in clever repartee, philosophizing about life and just shooting the breeze.
Bob is a retired professor of law from Oregon. When his wife passed away a few years ago he bought an old RV and hit the road, solo. Bob proclaims a healthy disdain for authority and a hearty dislike for close-mindedness and fundamentalism of any stripe.
Bob didn't move very quickly over the rough landscape. Now and then we'd lose sight of him on the rocky trail but eventually he'd mosey up to where we'd stopped to admire a new vantage of the Rio Grande.
"Look, those are spiny soft-shells," he remarked at one particularly beautiful spot, pointing to a group of turtles spinning slowly in a foaming eddy far below. Above, in a scraggly tree, a vermillion flycatcher regarded us with disinterest.
"Have you two spent much time in those fancy RV resorts?" asked Bob, in a swift change of subject.
"Some," I reluctantly admitted, thinking wistfully of hot showers and free wifi. "Why do you ask?"
"I prefer the State and National Park campgrounds. Life is simpler and the company decidedly more enjoyable. In the posh private places there's always a big mouth in the hot tub. Have you ever noticed that those who talk the most have the least to say?"
For the next few kilometers I spoke only when spoken to.
My concern over Bob's solitary walk-about into the thirsty desert was ill-founded. Although advanced in years he continues to exercise a life-long passion for long distance running. He ran marathons for many moons before deciding a 42-kilometer run was too short: he moved on to extreme long-distance events.
"But those days are behind me now," he said. "Mostly I stick to short jaunts like this."
I smiled knowingly. My feet were killing me.
He continued. "I know it's not much but once a year on my birthday I still have a decent jog: my age plus the miles run add up to 100.
"How far did you go this year?" I asked, thinking he must be well into his seventies.
"It's getting shorter all the time," he laughed. "My birthday was last week. I'm down to 15 miles. A few more years and I won't even have to get out of bed."
He hopped off a small outcrop, balanced on his canes and grimaced slightly, "Damn, my knee hurts!"
Eventually we arrived at the hot springs, pulled off our shoes and soaked our toes in the same healing waters enjoyed by pioneers and cattle rustlers alike for over two hundred years. Ancient petroglyphs on the nearby cliffs evidence the appealing – and supposedly healing – powers of these waters.
(At the risk of imprisonment in or banishment from the United States) I decided to flout Homeland Security and waded across the shallow waters of the Rio Grande to set foot in old Mexico. The mud on the south side of the river felt just like American mud.
We watched as a horseman a hundred meters downstream did what caballeros have done for centuries: gracefully (but now illegally) ride his mount across the brown waters and up the steep bank into Mexico.
Our long day with Bob was sprinkled with solitude and quiet chuckles. The old adage "don't judge a book by its cover" comes to mind. So does the lesson of the tortoise and the hare. On the return trip he insisted we march on ahead. "Don't wait for me. I'll be fine."
I thought, "Bob's a big boy… were it not for our chance meeting, he'd be out here in the desert alone." Off we trundled, arriving back at our bicycles just as the sun set. Although I wasn't his keeper, I couldn't help but keep an eye on Bob's camper as the light waned. After darkness had fully descended and he hadn't returned, I hopped on my bike and rode back toward the trailhead. I found Bob wandering happily down the road – canes bumping in the darkness – still
a couple of kilometers from the campground.
"You weren't waiting on me, I hope?" he asked. "I should have been back before now but I got to talking with a couple of interesting folks back up the trail."
"No, no, I just felt like going for a spin." I felt stupid, like a worried parent waiting up for a teenager, embarrassed when the youngster inevitably arrives home safely.
We left Big Bend very early the next morning – around ten. As we pulled out of the campground Bob was outside the canteen pecking away at his keyboard, walking canes crisscrossed against his legs. I waved but he didn't look up.
Gerry Feehan is an award-winning travel writer and photographer. He lives in Kimberley, BC.
Thanks to Kennedy Wealth Management for sponsoring this series. Click on the ads and learn more about this long-term local business.
Environmental groups raise concerns about proposed Calgary-to-Banff passenger train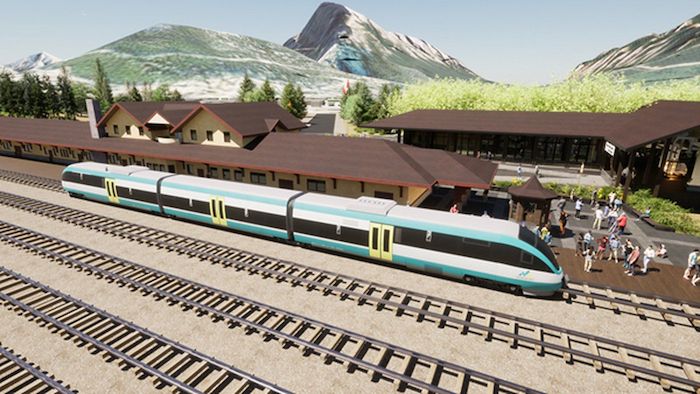 By Colette Derworiz in Calgary
Conservation advocates and experts are concerned a proposal for a Calgary-to-Banff passenger train is chugging along without addressing some key environmental issues in and around the national park.
Liricon Capital Inc., the lead private-sector proponent, is touting it as a hydrogen-powered transportation solution with lower greenhouse gas emissions than driving.
The company says it has received support from municipalities and the tourism industry, but the Alberta government has told the Globe and Mail it won't invest in the $1.5-billion train as it stands because the financial risks are too high.
Environmental organizations — including Canadian Parks and Wilderness Society, Yellowstone to Yukon and Bow Valley Naturalists — and some scientists say the proposal also has environmental risks.
"This is one of the most important conservation landscapes in North America," Tony Clevenger, a senior wildlife research scientist with the Western Transportation Institute at Montana State University, said from Banff, Alta. "It also happens to be one of the busiest in terms of transportation infrastructure.
"The thought of this new rail line, which would be really close to the existing rail line, is really troublesome — not just in the park, but outside the park on provincial lands and Stoney Nakoda (First Nations) as well."
Concerns include wildlife deaths along the rail line — particularly grizzly bears, which have been hit and killed on the existing track — and the fragmentation of wildlife habitat in Alberta's already busy Bow Valley.
Josh Welsh, Alberta program manager for Yellowstone to Yukon, said passenger rail to Banff isn't a bad idea.
"We see it as a means to potentially provide a sustainable transportation vision that could work for wildlife, people and the planet," he said.
But, he added, there's not enough information or collaboration to know whether it works for wildlife.
"The Bow Valley is already being squeezed by development."
A recent report by the Canmore, Alta.-based organization found the mountain town's footprint has grown five times in 50 years. It focused on grizzly bears because "if you take care of grizzlies, you take care of a lot of other things."
The report found bears have lost about 85 per cent of their original habitat in the Bow Valley.
"So, when you talk about another piece of linear infrastructure, which a train line is … we are talking about cutting up the habitat, disconnecting wildlife," he said.
Devon Earl, conservation specialist with Alberta Wilderness Association, said the Calgary-based organization has similar concerns.
"We don't think there has been adequate assessment of how wildlife will be impacted," she said.
She also questions whether a train would actually reduce cars on the highway, saying bus service may be more cost-effective.
Liricon has said Parks Canada needs to consider raising the entry fee to Banff National Park for private passenger vehicles and expanding bus and shuttle service between park attractions.
Parks Canada said in a statement that its first priority is to protect the ecological integrity in national parks, but it's "not currently reviewing a proposal for passenger rail in Banff National Park." Any review, it added, would look at policy and legislation, including the Impact Assessment Act and park priorities.
Jan Watrous, managing partner with Liricon, said a study shows the train could carry about 11 million passengers annually and reduce highway traffic.
"The fact that the passenger train will be a zero-emission hydrogen train and significantly reduce vehicle traffic … means human and wildlife mortality on the highways will be dramatically reduced," she said. "The specifics of the hydrogen solution and wildlife mitigations will be determined through consultation."
The company has said it's considering using technology such as lighting or sound to warn animals about approaching trains and reduce wildlife deaths on the tracks.
Colleen Cassady St. Clair, a biologist with the University of Alberta, said she spoke to Liricon about that idea, which came out of some research she led.
Although early tests show it can be effective for some wildlife, she said "there's a lot of untested terrain in a warning-based system."
St. Clair said there could also be challenges with wildlife crossing structures that go over or under the tracks.
Clevenger, who specializes in wildlife crossings, said he's heard the company was looking at underpasses to align with those under the Trans-Canada Highway in Banff National Park.
"That's very simplistic and completely unfeasible," he said. "You can't put in an underpass on the new rail line without putting an underpass on the (Canadian Pacific Railway) main line. You'd have to do both."
Clevenger said the measure would reduce already-compromised wildlife habitat.
A passenger train, he added, could end up increasing overall traffic to the national park.
"It's a landscape that is just overflowing with people," he said. "I don't think they can manage it."
This report by The Canadian Press was first published Aug. 15, 2022