The Irish Loop – Part 4 of a travel series on Newfoundland by Gerry Feehan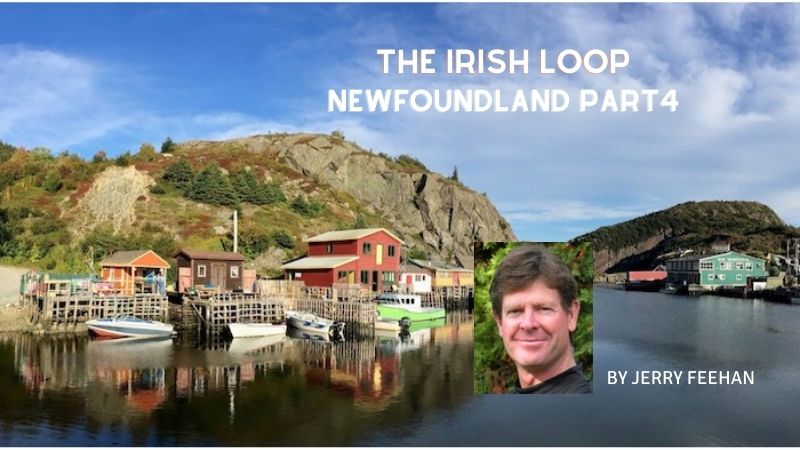 This is the last in a four part Newfoundland series.
Scroll down to find Part 1, Gros Morne, part 2 North America's Oldest European Settlement, and part 3 A World Famous Newfoundland Tradition.
When I told a Red Deer friend (born and raised in Newfoundland) that we intended to explore only the west side of the Island during our two-week visit she looked at me as if I were daft. "If you haven't walked down Water Street in St. John's, you haven't been to Newfoundland." And so we divided our 14-day fall camping trip on The Rock equally between both sides of the Island, with the last week dedicated to St. John's and the east coast.
Water Street was indeed a lot of frolic and fun. But frankly, narrow steep cobblestone roads and a motor home don't play well together. So, after a few days of fine seafood, great live music, an exploration of the fascinating Rooms Museum and a bumpy visit to Signal Hill, it was time to move on from the capital. We were bound for the Irish Loop, south of St John's, on the Avalon Peninsula. On our way out of town we stopped at Cape Spear Lighthouse, the most easterly point in Canada—and North America for that matter. The fair-haired interpreter seemed certain to have Gaelic roots (and thus knowledge of the Irish Loop) so I asked him if there were any special places we should visit. "Scottish actually," he said, stroking his sandy beard and disavowing any Irish ancestry. "The Avalon is beautiful, you can't go wrong. Just poke along."
And poke we did. After exploring scenic Petty Harbour, we poked our toes into aptly named Witless Bay, where we determined that the North Atlantic Ocean is brain-
freeze cold. We camped that night in a quiet spot overlooking Witless Bay Ecological Reserve, where in early summer tens of thousands of tourists flock to see "iceberg
alley" and the vast colony of Atlantic puffins that nest annually on Great Island.
"It's the end of the season, dearie," said the tired camp host. "The water gets shut off tomorrow." She looked out to sea and added, with quiet poetry, "the icebergs have
melted, the puffins have flown—now we've just a few stray tourists to drown." But with a wink added, "present company excluded." I took no offence—and swear it was by sheer inadvertence that I left the hot water running in the Witless bathhouse the next morning. For us it was an uncharacteristically early start. There must be
wisdom in that "early bird gets the worm" thing because by 8 a.m. we had encountered three different groups of hunters quartering moose by the roadside.
Hunting season had opened that day. Newfoundlanders take their moose quarrying very seriously. They are also very proud Canadians. Many yards sport a high-flying
maple leaf. But invariably the flag of Newfoundland also flaps nearby. And on the Irish Loop you'll also see a lot of green, white and pink, the pre-1949 Dominion of
Newfoundland Tricolour.
We hadn't planned on muzzling into other people's moose-business but, when we encountered a newly deceased bull being roped across the highway near Ferryland,
we had little choice but to stop and make inquiries. One quickly learns as a visitor to Newfoundland that there's no need to do more than simply open the conversation.
After that, listening will suffice. And so a roadside discourse began:
"This is how you paunch the carcass," the senior member of the group explained while his grandson sharpened a knife and began the on-site butchering process.
"And this here's the tenderest part," the grandfather continued, pointing loinward. I remarked on his particularly thick maritime accent. "Ha," one of his sons interjected, "Dad just returned from Ireland. They didn't even ask him where he was from, although one feller did ask if he'd spent a couple of years in America." He and
another brother were hoisting the 400 kg animal onto a makeshift wooden frame for further dissection. Dripping sweat, he continued, "Where are you two headed?"
"Toward Trepassey," I answered, "around the bottom of the loop and then back up toward the Trans Canada. We have an invite for Jiggs dinner on Sunday at a campground in Terra Nova."
"Trepassey?" remarked the patriarch, cutting a strip of hide from the recently departed moose's hindquarters. "Did you know Trepassey is in the Guinness Book of World Records as the foggiest place on earth? Last year a woman gave birth, but it was three months before they could tell if it was a boy or a girl." The younger two
generations nodded in amused agreement.
It was certainly foggy when we rolled into town. I almost drove through the restaurant doors before spotting the bright blinking light notifying us that the village's only eatery was closed. Apparently, the cook was out—hunting no doubt.
Someone had recommended that we stop for eats at the Squid Jigger back up the road in Calvert but that had been hours earlier. We had poked in there to see what was on the menu but decided it was too early in the day for a plate of salt-fish, potatoes and scrunchions.
It was well past lunchtime when we meandered into Peter's River. Cars were jammed outside the local hall. Perhaps a public pot luck dinner? No such luck. The entire community was gathered at the legion for "Chase the Ace," Newfoundland's favourite communal gambling pastime. We were getting rather peckish. With deep
regret I recalled the Squid Jigger's daily special: cod au gratin with a side of slaw and fries.
Finally, near Point La Haye we found a corner store with doors ajar. Scurrying in, we headed directly for the deli and ordered up a couple of prime 'Newfoundland
Steaks': fhresh sTle iced bologna. On the recommendation of the proprietress, we chose them 'tick' rather than 'tin'. At the checkout, the store phone rang. The owner
dashed off to answer. She came back, handed the cordless to the man behind us in line and said, "It's for you John. The missus says not to forget the toilet paper."
We parked for our picnic on a hill overlooking St. Mary's Harbour. As the fat bologna fried on the camp stove next to a couple of happy eggs, rain began and tick fog descended. It was the tastiest meal ever.
A colourful St John's streetGerry Feehan is an award-winning travel writer and photographer. He lives in Kimberley, BC.
Gerry Feehan is an award-winning travel writer and photographer. He and his wife Florence live in Kimberley, BC!
Thanks to Kennedy Wealth Management for sponsoring this series. Click on the ads and learn more about this long-term local business.
Gerry Feehan takes us to North America's Oldest European Settlement
Gerry Feehan Receives the Legendary Invitation, A World Famous Newfoundland Tradition
Notre Dame's fire-ravaged roof rebuilt using medieval techniques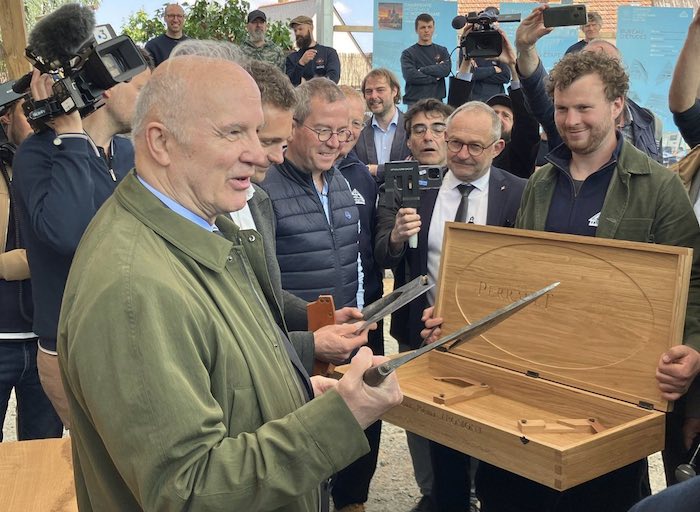 SAINT-LAURENT-DE-LA-PLAINE, France (AP) — If time travel was possible, medieval carpenters would surely be amazed to see how woodworking techniques they pioneered in building Notre Dame Cathedral more than 800 years ago are being used again today to rebuild the world-famous monument's fire-ravaged roof.
Certainly the reverse is true for the modern-day carpenters using medieval-era skills. Working with hand axes to fashion hundreds of tons of oak beams for the framework of Notre Dame's new roof has, for them, been like rewinding time. It's given them a new appreciation of their predecessors' handiwork that pushed the architectural envelope back in the 13th century.
"It's a little mind-bending sometimes," says Peter Henrikson, one of the carpenters. He says there are times when he's whacking mallet on chisel that he finds himself thinking about medieval counterparts who were cutting "basically the same joint 900 years ago."
"It's fascinating," he says. "We probably are in some ways thinking the same things."
The use of hand tools to rebuild the roof that flames turned into ashes in 2019 is a deliberate, considered choice, especially since power tools would undoubtedly have done the work more quickly. The aim is to pay tribute to the astounding craftsmanship of the cathedral's original builders and to ensure that the centuries-old art of hand-fashioning wood lives on.
"We want to restore this cathedral as it was built in the Middle Ages," says Jean-Louis Georgelin, the retired French army general who is overseeing the reconstruction.
"It is a way to be faithful to the (handiwork) of all the people who built all the extraordinary monuments in France."
Facing a tight deadline to reopen the cathedral by December 2024, carpenters and architects are also using computer design and other modern technologies to speed the reconstruction. Computers were used in the drawing of detailed plans for carpenters, to help ensure that their hand-chiseled beams fit together perfectly.
"Traditional carpenters had a lot of that in their head," Henrikson notes. It's "pretty amazing to think about how they did this with what they had, the tools and technology that they had at the time."
The 61-year-old American is from Grand Marais, Minnesota. The bulk of the other artisans working on the timber frame are French.
The roof reconstruction hit an important milestone in May, when large parts of the new timber frame were assembled and erected at a workshop in the Loire Valley, in western France.
The dry run assured architects that the frame is fit for purpose. The next time it is put together will be atop the cathedral. Unlike in medieval times, it will be trucked into Paris and lifted by mechanical crane into position. Some 1,200 trees have been felled for the work.
"The objective we had was to restore to its original condition the wooden frame structure that disappeared during the fire of April 15, 2019," says architect Remi Fromont, who did detailed drawings of the original frame in 2012.
The rebuilt frame "is the same wooden frame structure of the 13th century," he says. "We have exactly the same material: oak. We have the same tools, with the same axes that were used, exactly the same tools. We have the same know-how. And soon, it will return to its same place."
"It is," he adds, "a real resurrection."
___
John Leicester contributed to this report from Paris.
'All about the campfire': Campers adjust their plans with fire bans in place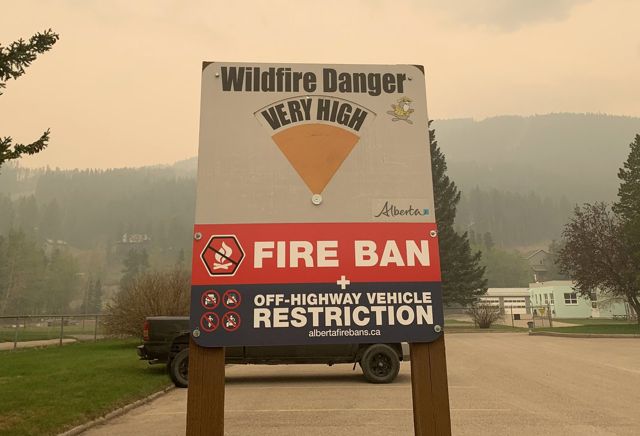 Blairmore area wildfire warning signage is shown in this handout image provided by the Government of Alberta Fire Service. As fire bans continue in many provinces, businesses selling camping gear and firewood are seeing a shift in demand. THE CANADIAN PRESS/HO-Government of Alberta Fire Service
By Ritika Dubey in Edmonton
Jade Najam was getting excited about camping during the May long weekend, sitting around the campfire late into the night with his family and sipping hot chocolate.
"Camping is all about the campfire. Just surfing the fire and sitting around the fire," said Najam. "Sitting around the campfire is the most important part of our evening."
But Alberta's fire ban, which was put in place in early May, still hadn't been lifted. Najam called off the plans to go camping in the wilderness, deciding it was better to stay home instead.
Fire bans began rolling in after hot, dry weather took over much of Canada early in the season — starting in Alberta, Saskatchewan and British Columbia, now expanding to the Maritimes. While Saskatchewan and Alberta have lifted the bans in some regions, people in the Prairies have been monitoring the wildfire season closely.
Companies that supply camping enthusiasts have been seeing trends change.
Najam, who is the managing director of Smart Firewood Products, based in Leduc, Alta., says demand usually picks up around mid-April and continues until mid-October.
"This May, I'm not even at five per cent of what I did last year in sales," he said.
Najam said his company provides "truckloads" of firewood to national parks in Alberta every year, while serving locals with retail firewood in his yard.
"My semi-truck full of firewood didn't even get out of the yard," he said of the current season.
One outdoor outfitter, meanwhile, is seeing a jump in sales for propane gas outdoor firepits.
"People have to look at things a bit differently when planning their camping trip due to fire bans," said Mike Eerkes, general manager at a Mountain Equipment Company store in Edmonton.
He said campers are opting for alternatives that don't get the classic smoky-wood campfire but still provide a warm glow.
For propane fires, Eerkes said, "All you need is a propane firepit, a propane tank and some gas in it."
The biggest advantage to propane fire is that "you can have it," he said. "They're fully compliant with the fire bans."
However, he acknowledges that propane fires are not fuel efficient, based on his experience. He suggested buying larger, refillable propane tanks for cost-effectiveness.
Overall, Eerkes said he hasn't seen a remarkable shift in the sales of camping gear overall.
"It's certain the fires are going to have some effect … but I'm not convinced we're seeing a massive downturn in people going camping this year."
A private campground about 100 kilometres southwest of Halifax has been getting cancellations since the fire ban and camping bans in wooded areas of Nova Scotia earlier this week.
"When fire bans are in place, it's the private campground's choice to follow the fire ban to not," said Minseo Kim, manager of the Little Lake Family Campground in Lunenburg, N.S. "But for this fire ban, private campgrounds have to listen as well.
"This has never happened before. We never faced this issue."
Kim said the cancellations will not have a huge effect in the coming weeks, partly because the peak season begins in July and the campground also has an open space outside of the wooded area.
He is hoping the fire ban lifts soon for overnight campers.
Nova Scotia imposed the fire ban on Monday, with Prince Edward Island following Tuesday.
Chris Nuttall-Smith, the author of the newly released book "Cook It Wild," said campers don't really need campfires to enjoy the outdoors or prepare meals.
A longtime backpacker and camper, Nuttall-Smith said fire bans are not a "huge limitation" for cooking outdoors with alternatives like backpack stoves available.
Nuttall-Smith, in his book, shares 75 recipes to cook in the wild, with up to 65 of them possible without a campfire, he said.
"Some of the best trips that I've ever taken are in places where you're never allowed to have a campfire," he said. "I don't think a lot of people miss it."
He recommends campers making due without fire this season bring pre-prepared food and enjoy the outdoors.
"You can find so much beauty out in the wild at dusk, after dark, like looking at the fireflies, looking at the stars. There is so much to do."
This report by The Canadian Press was first published June 2, 2023.
—-