Swirltex – Alberta Tech Company Develops New Wastewater Solution, Partnership with EIA
When we look at the ecosystem of cleantech, the challenges of traditional energy processes allow for intuitive and creative people to develop solutions. Not only benefiting financially in regards to mitigating waste disposal but also to offer more efficient ways to process or repurpose waste, thus decreasing the impact on our environment. The question is, who are the hard-working individuals taking on these challenges?
Swirltex is a Calgary based tech company that has developed a new form of filtration for wastewater. Founded by president and founder of Swirltex, Peter Christou, continue to advance their technology for a wide array of applications. Speaking with their CEO, Melanie McClare, their mission is to turn wastewater into a resource and treating it at industrial lagoons. Tied with a passion for reversing the detriment of pollution, their technology offers major benefits to local and indigenous communities across the country.
Buoyancy Based Membrane Filtration – "The Swirltex Difference"
Swirltex has developed a unique membrane filtration system to extract contaminants and solids that are suspended in water. If we consider how wastewater is processed at the industrial level, with their technology implemented, the 'dirty' stream of water is pumped through the system at much lower energy requirements than a traditional membrane system. The liquid is then injected with microbubbles in a rotational manner to create a vortex. The purpose is to create a flotation effect for the contaminants so that they bind to the microbubbles, such that their buoyancy is manipulated increasing their ability to float and separate from the liquid.
A permeable wall has the ability to allow liquids to pass through it while containing solid particles within the membrane. The flow pattern used in the Swirltex system forces the water to the outer surface of the membrane where it can be effectively passed through the permeable walls. The solid particles and contaminants are bound by the microbubbles to form a froth that channels to the center of the membrane to reduce any interaction with the permeable wall. High-quality clean water is produced with less pumping power to achieve the same production. Truly unique, this system achieves a far more efficient way to treat wastewater while reducing energy usage.
"Traditional membranes have not been able to perform well in some more difficult wastewater chemistries. So what Swirltex has done is created a way to be able to handle those more difficult wastewater streams, and help produce a very high-quality ultra-filtered water, so that companies have the option to reuse that water rather than disposing of it." – Melanie McClare, CEO
The Importance of Data Monitoring
Identified with the introduction of IoT and AI, the ability to perform faster, more efficient data monitoring has the potential for major benefits to systems like Swirltex and industries such as energy production and agriculture. Consider that IoT and AI monitoring in real-time could mitigate the occurrence of leaks within membranes, quality inefficiencies, seasonal variants, loss of heat or overheating of valuable material.
Another pressing issue is monitoring the quality of our drinking water. As technology continues to advance, IoT and AI could play a key role in establishing new standards of quality and safety for generations. As mentioned in an article published by Water Intelligence, "Using AI to Diagnose Water Consumption Patterns", maintenance teams could also benefit in mitigating the time spent inspecting miles of pipe or manually checking multiple metres. Speaking with Melanie, she offers her thoughts on how moving towards real-time data monitoring could play a major role in the future of water treatment.
"The drivers behind artificial intelligence adoption and water quality are not only societal but there's also an industrial component around saving money. So for example, if a customer can rectify an issue in real-time rather than having to do a downstream treatment to get the water to specification, that will save them money. The drivers are not only economic, but also the increasing societal pressures for people to understand what is in their drinking water, rivers and streams that their kids are swimming in…"
Swirltex has recently entered into a partnership with Edmonton International Airport(EIA). The goal of this collaboration is to treat the stormwater and deicing fluid run-off during the winter months. Their technology is on-site with a new portable treatment system for lagoons. Incredible opportunity for Swirltex to showcase their technology and effectiveness all while benefiting the surrounding communities. Melanie offers her thoughts on this recent partnership.
"Edmonton International Airport is a very progressive and innovative organization and is very environmentally focused. This partnership is to help them understand what is happening in their storm water system, how it relates to the de-icing fluids that they use during the winter, and the overall effects on the environment to get them to a certain specification for safer rivers and streams."
"This collaboration can reduce the need for future stormwater treatment facilities at EIA and develop a local technology that could serve the needs of airports around the world." – Steve Maybee, EIA VP of Operations and Infrastructure
If you would like to learn more about Swirltex and their buoyancy based membrane filtration technology, visit their website here or via their social media below.
For more stories, visit Todayville Calgary
Anholt tabbed to lead Canada's world junior squad after success with U18 team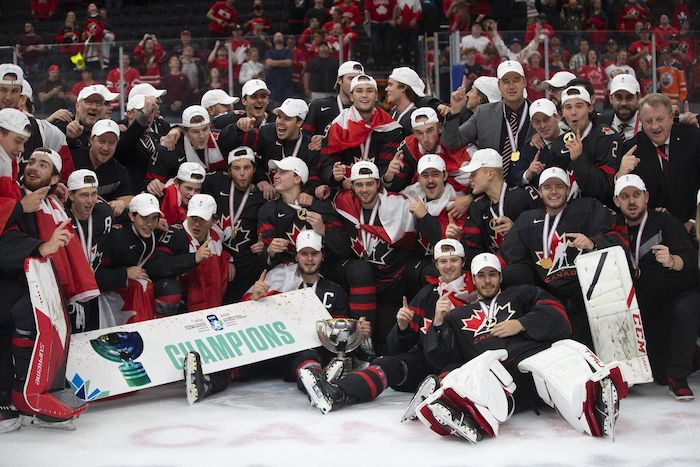 Canada celebrates the win over Finland IIHF World Junior Hockey Championship gold medal game action in Edmonton on Saturday August 20, 2022. THE CANADIAN PRESS/Jason Franson
Calgary – Peter Anholt has been tasked with helping Canada win a third straight world junior hockey championship after two successful seasons leading the country's under-18 program.
Anholt, who heads the front office of the Western Hockey League's Lethbridge Hurricanes, is one of three Canadian Hockey League general managers tabbed by Hockey Canada to oversee its men's under-17, under-18 and under-20 programs in 2023-24.
He takes over the world junior program from Ottawa 67's GM James Boyd, who helped Canada win two titles over the span of six months.
Canada beat Finland 3-2 in overtime to win the 2022 championship in Edmonton, which was held in August after being postponed from its traditional December/January slot due to the COVID-19 pandemic.
The Canadians repeated with a 3-2 overtime win over Czechia on Jan. 5 in Halifax.
The 2024 world junior championship begins Dec. 26 in Goteborg, Sweden.
Hockey Canada also announced Wednesday that Dave Brown of the Ontario Hockey League's Erie Otters will guide the men's under-17s this season, while Cam Russell of the Quebec Major Junior Hockey League's Halifax Mooseheads will take over Anholt's former position with the U18 team.
The three will work alongside Hockey Canada's hockey operations staff as part of the organization's "Program of Excellence" management group.
Duties include assisting with player and coach selection, and providing input during camps and tournaments.
Brown will lead the U17 team through the 2023 World Under-17 Hockey Challenge. Canada lost 2-1 to the United States in the final of last year's event in Langley and Delta, B.C.
Russell, meanwhile, will look to help Canada to a second consecutive Hlinka Gretzky Cup title. Canada won its 23rd gold medal at the best-on-best U18 tournament last year in Red Deer, Alta., with Anholt at the helm.
Canada did not participate in the 2021 event due to the pandemic, but won that year's U18 worlds.
"All three individuals bring a wealth of CHL experience to our program," Scott Salmond, Hockey Canada senior vice-president of hockey operations, said in a statement. "We look forward to having them work alongside our athletes and staff while leading our men's national teams next season."
This report by The Canadian Press was first published March 22, 2023.
Hearings begin before Supreme Court on federal environmental impact assessment law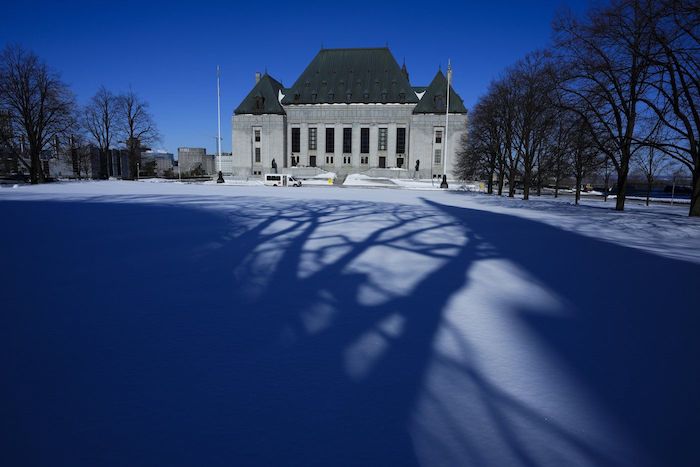 The Supreme Court of Canada is pictured in Ottawa on Friday, March 3, 2023. Arguments are underway in a long-awaited case over the federal Impact Assessment Act. THE CANADIAN PRESS/Sean Kilpatrick
Ottawa (CP) – Federal lawyers defended the government's Impact Assessment Act in the Supreme Court of Canada on Tuesday as a two-day hearing started to determine the future of how the country weighs the environmental costs of economic development.
Several of the seven-member panel of justices hearing the appeal of an Alberta decision that found the act unconstitutional quizzed Ottawa's representatives about whether the legislation is too broad.
Justice Malcolm Rowe said the act allows Ottawa to use narrow concerns over matters such as fisheries to gain control over a wide variety of unconnected issues.
"The feds get their hook in under some head of power and once the hook is in, they can use that for any purpose they want," he said.
That was one of the main concerns expressed by Alberta when it asked the province's Appeal Court for a reference on the issue.
The arguments the top court is hearing are a reference case only and its ruling will only be advisory.
Rowe said the act gives Ottawa the power to use areas of federal jurisdiction to force unconnected policies on other governments.
"Isn't the (assessment) decision really not based on the impact on federal jurisdiction, which is fish or birds or whatever, it's the broad policy of the government of Canada used in a discretionary way to say thumbs up or thumbs down on any project they want anywhere in the country?"
No, said federal lawyer Chris Rupar. He said the act forces governments to look at both positive and negative effects of a development and decide whether, on balance, it's in the public interest.
"There may be an effect which is negative, but there could also be other effects," he said. "The whole picture has to be taken into account in the public interest."
Rupar said it's not unusual for environmental assessment legislation to address a broad range of issues. Alberta's provincial version of such legislation does, he said.
Rupar said the federal law contains safeguards to ensure that it only captures development proposals that would generate "significant "impacts.
"It's not all projects or physical activities that are covered," he said. "There are thresholds."
Judicial review remains open to proponents that feel their project was wrongly reviewed, he said.
Dayna Anderson, Rupar's co-counsel, argued the legislation is needed to ensure national consistency in environmental standards.
Disallowing the bill, she said, "would create provincial enclaves and completely and totally immunize provincial resource development from federal regulation in any area, no matter the magnitude of the federal effects it would cause."
The law was defended by 11 interveners from environmental and Indigenous groups. Several pointed out there's a long string of precedents giving the federal government the right to make national environmental rules.
"Alberta and the interveners in support of its position would have this court upend decades of settled law," said Anna Johnston of the West Coast Environmental Law Association.
Others pointed out the law lives up to Canada's responsibility to Indigenous people.
"It would be both illogical and perverse if Parliament could control or limit Indigenous people — their rights and interests — but didn't have the ability to protect those rights and interests," said Mae Price, representing Alberta's Mikisew Cree First Nation.
John Gailus, representing the Lummi First Nation in British Columbia, argued the act is "empowering" for Indigenous people because it allows for the consideration of cumulative effects of development.
Joseph Castrilli of the Canadian Environmental Law Association said the law complements the federal carbon price, which the Supreme Court has already supported, as well as laws controlling toxic substances.
He argued the federal government's power to regulate trade and commerce also makes the law constitutional. Creating what he called "pollution havens" in one province can harm the others, Castrilli said.
"Intra-provincial activity capable of causing adverse interprovincial and international environmental and economic effects does affect trade and commerce because it can harm trade and commerce."
The hearing is expected to go through Wednesday, when opponents of the bill are to address the court. Eight out of 10 provinces oppose the act, as well as other groups including the Indian Resource Council and the Canadian Taxpayers Federation.
This report by The Canadian Press was first published March 21, 2023.
— By Bob Weber in Edmonton