School of Creative Arts has some great things in store for June
Here's a look at some of the upcoming June Events at RDC's School of Creative Arts
Red Deer College invites central Albertans to join us as the School of Creative Arts brings creativity to life throughout an exciting season of diverse performances, concerts, screenings and exhibitions. RDC's talented students, instructors, staff and special guests will present the following events in June:
Film Works
June 1 & 2 | Welikoklad Event Centre | 7:00 p.m. | Admission by donation at the door | Not rated – Violence and Language Warning
Join us as we celebrate the best films of the year by our recent graduating RDC student actors, directors, cinematographers and filmmakers.
Movies Worth Watching Series
Top Gun (1986)
June 14 & 15 | Welikoklad Event Centre Cinema | 7:00 p.m. | $5 | PG, Coarse Language | 110 min
Movies Worth Watching brings a variety of classic films that are best viewed on the BIG screen. Join us to see the best that Hollywood has to offer. Every screening is preceded by a Motion Picture Arts (MPA) student film that we know you will love.
For complete details on RDC's 2017-18 School of Creative Arts season, please visit: School of Creative Arts Showtime.
About RDC: For 54 years, RDC has been proudly serving our learners and our communities. RDC offers more than 100 different programs (including full degrees, certificates, diplomas and skilled trades programs) to 7,500 full- and part-time credit students and more than 36,000 youth and adult learners in the School of Continuing Education each year. Named by Alberta Venture magazine as one of Alberta's most innovative organizations for the Centre for Innovation in Manufacturing, RDC is a key location for applied and industry-led research. Our main campus is strategically situated on 290 acres of Alberta's natural landscape along Queen Elizabeth II Highway. We have also expanded our learning and performing arts space into the heart of downtown Red Deer through our Welikoklad Event Centre and the Donald School of Business.
The King's University receives $20-million donation for new state-of-the-art Science Centre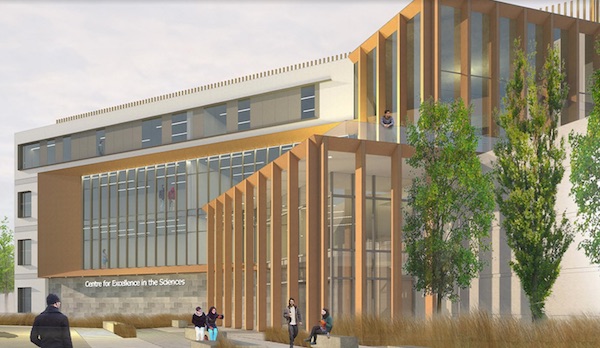 Construction of a new 40,000 square foot Centre for Excellence in the Sciences at The King's University will move forward thanks to a gift of $20-million from an anonymous donor. The landmark donation, the largest gift in King's 42-year history, allows the institution to build on its strong academic reputation in the natural, health and social sciences.
The Centre will include beautiful common spaces, purpose-built teaching facilities, leading technology and laboratories that enable the university to further place student research at the heart of its academic programming.
"I have always been proud of our legacy of research and education," King's President Dr. Melanie Humphreys says. "It's really quite impressive—especially for a university of our size. This incredible, humbling gift is going to propel these programs forward in a significant way and provide new opportunities to branch out into the health sciences."
Student-faculty research teams at The King's University are currently involved in projects such as antibiotic resistance, animal-assisted therapy in mental health, endangered trees in Canada's mountains and foothills, and diseases that devastate honeybee populations. King's Community Engaged Research program collaborates with local non-profits to help provide data-driven solutions for their organizations.
The Centre for Excellence in the Sciences will be a hub for sustainability research. With a newly granted Transitions to Sustainability Canada Research Chair, the Centre will enhance support and coordination for sustainability work happening across disciplines and at King's Centre for Visualization in Science (KCVS).
KCVS alone has partnered with more than 40 organizations worldwide, such as UNESCO, and has contributed important resources to three United Nations International Years: Chemistry (2011), Periodic Table (2019), and the upcoming International Year of Basic Sciences for Sustainable Development (2022–23). Another KCVS resource contributed to the education and outreach work of the Organization for the Prohibition of Chemical Weapons, which won the Nobel Peace Prize in 2013.
"Building a more humane, just and sustainable world is right there in our vision statement," says Dr. Peter Mahaffy, professor of chemistry and co-founder of KCVS. "These words continue to move off the page of aspirational statements to shape and ground what happens here each day."
ABOUT KING'S
The King's University has been building a more humane, just and sustainable world for more than 40 years. King's offers fully accredited programs in the humanities, sciences, business, and education, and ranks at the top of national surveys for quality of teaching, sense of belonging, and intellectual engagement. Award-winning faculty mentor students in their studies and publish leading research in their fields. As Edmonton's Christian University, King's empowers graduates to bring renewal to every walk of life.
Big news for Alberta's students in pandemic update from Minister LaGrange
Helping students catch up after pandemic disruption
As part of Alberta's Recovery Plan, up to $45 million will support younger students who have fallen behind during the pandemic and more flexibility will be provided for students writing diploma exams.
Supporting reading, writing and numeracy skills for early learners
In May 2021, Alberta's government announced $45 million would be available for school authorities to offer targeted programming to enhance literacy and numeracy skills.
School authorities have completed learning assessments to identify students who could benefit from targeted programming and now funds will be distributed at a per-student rate of $490.
School authorities have the flexibility to use this funding to design programming to best meet the needs of their students. Programming will be above and beyond classroom learning. The initial focus will be on students in grades 2 and 3, with targeted support for students in Grade 1 starting in February 2022.
"Many Alberta students had their education disrupted during the pandemic, which resulted in lost classroom and instruction time. We are committed to addressing this learning loss, and this funding will support students who need extra help to improve their reading, writing and numeracy skills. This grant gives school authorities the funds and flexibility they need to ensure each student is successful."
"This $45 million for student learning is welcome news as school boards continue to face a variety of unique challenges due to the pandemic. This will help boards support recovery from long-term effects of learning loss, based on local needs."
"AISCA is thankful that the Government of Alberta is recognizing and addressing learning disruptions caused by the COVID-19 pandemic. Our association appreciates that the government has taken a proactive approach to remediate and target learning challenges in the early years of a student's development."
Diploma exams
In response to feedback from students, parents and education partners about stress and anxiety around academic achievement exams, Alberta Education will temporarily change the weighting of diploma exams to 10 per cent from 30 per cent for the 2021-22 school year.
The ministers of Advanced Education and Education have sent an open letter to Alberta's post-secondary institutions to advise them of this change and encourage them to further consider the impact the pandemic has had on students who are applying to their post-secondary institutions.
"Alberta's students continue to face challenges due to the pandemic and I have heard concerns for our graduating class of 2022. I've heard feedback from students on my Minister's Youth Council as well as from education partners that changing the weight of diploma exams will reduce the burden on students while still giving them valuable exam writing experience. We're making this temporary change in recognition of these circumstances, which we hope will place less of a burden on these students."
"The College of Alberta School Superintendents is pleased with the Alberta government's commitment to provide additional funding to support school divisions with addressing Grade 1 to 3 student learning challenges stemming from the pandemic. We're also grateful for the Minister's decision to reduce the weighting of diploma exams as it will support Grade 12 students whose learning has also been adversely impacted."
"As a member of the Minister's Youth Council, it pleases me to see the Minister taking our feedback and concerns into consideration. As a Grade 12 student, the experience of writing diplomas is essential to prepare us for success as we consider post-secondary. Reducing the weighting of the exams will lessen the impact on mental health in youth while still ensuring that students are motivated to learn and understand the critical value of our education despite the effects of the pandemic."
At-home rapid tests
Alberta's government is continuing to use all available tools to stop the spread of COVID-19. Beginning Oct. 27, at-home rapid test kits will be provided to schools with kindergarten to Grade 6 students across the province that are on outbreak status. The program is optional, free, and starts immediately.
Schools will provide the students and staff who wish to participate with 10 tests to take home, and they will be required to test twice weekly for five weeks. Testing regularly ensures testing is most effective. A how-to video for parents and a fact sheet translated into multiple languages offer tips on how to use the kits.
Quick facts
Programming support:
Of the up to $45 million in learning loss supports, approximately $30 million will be invested now to benefit students in grades 2 and 3. In response to feedback received from school authorities, up to $15 million will be allocated to students in Grade 1 in February 2022.
With this funding, in grades 2 and 3, approximately 38,000 students will receiving literacy programing and approximately 25,000 will receive numeracy programming, recognizing that some students would qualify for both supports. The number of Grade 1 program opportunities will be available after assessments in the new year.
Focused programming sessions are intended to be provided for up to 16 weeks. School authorities have the flexibility to design the length and frequency of the programming sessions.
Funds will be distributed on a per-student basis with a minimum funding amount based on the number of eligible students per school.
At-home rapid tests:
If a student or staff member has symptoms of COVID-19, they should not use a rapid test. They should stay home and book a test online with the Alberta Health Services (AHS) assessment tool or by calling 811.
Schools on outbreak must submit a request to Alberta Health to receive tests for this program.
If a student or staff member has a positive rapid test result, they must isolate for 10 days or until they have a negative test through AHS.