"First Rider" info sessions introduce students to school bus safety
August 7, 2018:
Chinook's Edge School Division, Prairie Bus Lines, Red Deer Catholic Regional Schools, and Red Deer Public Schools have partnered to offer First Rider information sessions on August 14 in Red Deer and August 15 in Olds to introduce students to riding the school bus safely.
These interactive sessions help Kindergarten and Grade 1 students, as well as those who are new to taking the bus for the first time, feel more comfortable for the upcoming school year. The First Rider program teaches students about how to ride the bus safely, where to stand while waiting, general rules and proper school bus etiquette.
Not only is this program important for students' safety in their school day, but also to build a conscious approach to bus riding outside of school hours and for special trips during the year. Parents/guardians also benefit from understanding safe bus procedures, in order to reinforce them at home and have a peace of mind about their children's journey to and from school.
"The First Rider program gives both first-time riders and parents a better understanding of safety, expectations and responsibilities of riding on a school bus. Attending the event will ensure that the transition of riding a school bus is less intimidating for both parents and students and give them a strong, successful foundation for the years ahead," said Kelli Pickett, Safety and Training Coordinator in the Transportation Department at Red Deer Catholic Regional Schools.
"These young students will likely be on our buses for several years, so we want to start them off right," said Patty Thompson, Assistant Director of Transportation for Chinook's Edge School Division. "The event takes place right before school resumes in the fall, so it's a great way to transition from summer into a safe year ahead. First Rider is popular and successful – we've had nearly 200 students participate every year since we started the program in 2009. That's a lot of young people who have a better understanding of safety, and a lot of parents who have a reminder about bus safety, just in time for school start-up."
"Every day we have over 3500 students riding on buses to get to school. Safety is our most important consideration. Some of our kindergarten and grade 1 students are excited to ride the bus while others might be a little bit nervous. The First Rider program provides these newest riders and their parents, with confidence that they will have a safe ride to and from school," said Scott Humphrey, Transportation Coordinator with Red Deer Public Schools.
Please note that parents must accompany their child throughout this event and be readily available for at least 45 minutes to an hour. Any member of the public is welcome to attend.
Sessions are as follows:
Red Deer & Area
Tuesday, August 14
1:00 – 3:00 p.m. & 6:30 – 8:00 p.m.
École Secondaire Notre Dame High School Parking Lot
50 Lees Street, Red Deer
Olds & Area
Wednesday, August 15
1:00 – 3:00 p.m. & 6:30 – 8:00 p.m.
Olds College South Parking Lot
4500 50 Street, Olds
Hidden Valley School Parents Rally for a New Playground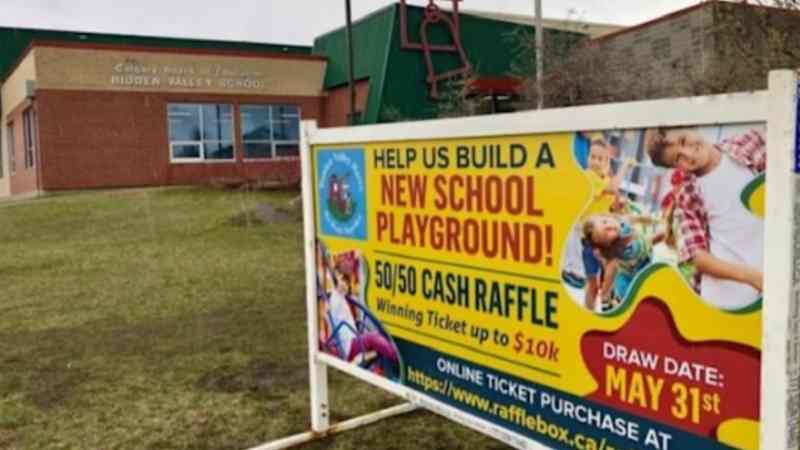 Hidden Valley School Parents Rally for a New Playground
Contributed by Friends of the Hidden Valley School Society
The Friends of Hidden Valley School Society is looking to replace the 17-year-old outdoor playground directly behind the school as soon as possible, as the existing play equipment is soon to be at the end of its lifecycle. The society has been proactively raising funds for several years but they have a long way to go.
Now that they have a conceptual design and an estimated cost for the project, the hardest part is fundraising. The parent society has raised 32% of the $370K project to date. They will need to raise at least half of the project costs on their own in order to be eligible to qualify for any kind of grant funding support.
"Our non-profit parent society financially supports our students and their learning annually by supplementing initiatives such as math and reading literacy kits for classrooms, providing buses for field trips like swimming lessons and paying for residency programs so that all our students get an equal opportunity for enhanced learning opportunities" states Sarah P, Chairperson. Figuring out now how to financially support the school on an annual basis in addition to building a new playground takes an enormous amount of time and effort from a volunteer perspective. "There are a lot of moving parts to a project this size, and collaboration with stakeholders is key. We've done our due diligence by hosting community engagement with students, staff and parents to decide on what types of play equipment should be included in an inclusive playground. Students, staff and external stakeholders have written letters of support in hopes of helping with seeking out external funding support."
Friends of Hidden Valley School Society has teamed up with Parks Foundation Calgary for money management of the project. Through its Project Support Program (PSP), the Parks Foundation can issue tax receipts for donations made to the project.
Hidden Valley School is a K-3 French Immersion public school located in the heart of the community of Hidden Valley in NW Calgary. The school's inclusive playground will have a direct impact on the 400+ staff and students at the school and 700+ children who live within the surrounding community neighbourhoods and utilize the playground outside of school hours. "Figuring out how to reach the greater community to support this project is the challenge. We're currently hosting a raffle that anyone in Alberta can enter in hopes of raising $20K in support of the project. This fall we will host a silent auction and if everything works out, we are hoping to reach 50% of our fundraising goal by 2023".
Replacing the school playground will allow students safe, continued use year-round. As mandated by Alberta Education's Daily Physical Activity (DPA) Initiative, the parent society will be supporting students in developing healthy, active lifestyles; increasing students' ability to learn. For more information about the Friends of Hidden Valley School Society's playground project visit the "Get Involved" section of the school's website or check out their Facebook Page at @Hiddenvalleyschoolcalgary.
Talk of race, sex in schools divides Americans: AP-NORC poll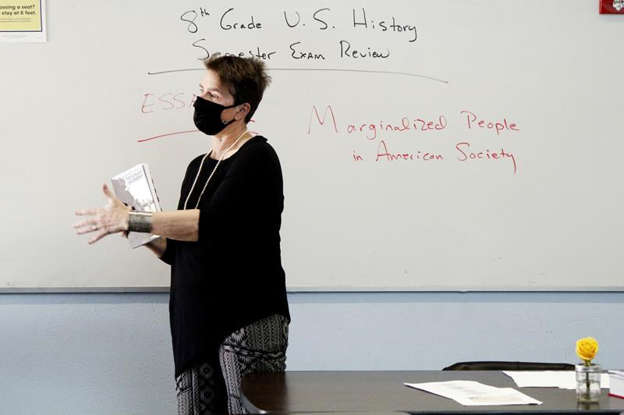 WASHINGTON (AP) — Americans are deeply divided over how much children in K-12 schools should be taught about racism and sexuality, according to a new poll released as Republicans across the country aim to make parental involvement in education a central campaign theme this election year.
Overall, Americans lean slightly toward expanding — not cutting back — discussions of racism and sexuality, but roughly 4 in 10 say the current approach is about right, including similar percentages across party lines. Still, the poll from the University of Chicago Harris School of Public Policy and The Associated Press-NORC Center for Public Affairs Research shows stark differences between Republicans and Democrats who want to see schools make adjustments.
About 4 in 10 Republicans say teachers in local public schools discuss issues related to sexuality too much, while only about 1 in 10 say too little. Among Democrats, those numbers are reversed.
The findings reflect a sharply politicized national debate that has consumed local school boards and, increasingly, state capitols. Republicans see the fight over school curriculum as a winning culture war issue that will motivate their voters in the midterm elections.
In the meantime, a flurry of new state laws has been introduced, meant to curtail teaching about racism and sexuality and to establish a "parents' bill of rights" that would champion curriculum transparencyand allow parents to file complaints against teachers.
The push for legislation grew out of an elevated focus on K-12 schools during the COVID-19 pandemic, when angry parents crowded school board meetings to voice opposition to school closures, mask mandates and other restrictive measures intended to prevent the spread of illness.
"All that that's happening these days kind of goes against the longer history of school boards being relatively low salience government institutions and, in a lot of cases, they are nonpartisan offices," said Adam Zelizer, a professor at the University of Chicago Harris School researching school board legislation.
What distinguishes this moment, Zelizer said, is the "grassroots anger" in response to school policies and the national, coordinated effort to recruit partisan candidates for school boards and local offices.
What started as parents' concern about virtual learning and mask wearing has morphed into something larger, said Republican pollster Robert Blizzard, describing parents as thinking: "OK, now that we have the schools open, what are these kids learning in school?"
The poll shows 50% of Americans say parents have too little influence on curriculum, while 20% say they have too much and 27% say it's about right. About half also say teachers have too little influence.
Kendra Schultz said she and her husband have decided their 1-year-old daughter will be homeschooled, at least initially, because of what friends have told them about their experiences with schools in Columbia, Missouri.
Most recently, she said, one 4-year-old's pre-K class talked about gender pronouns. Schultz offered that and mask requirements as examples of how the public school system "doesn't align with what we believe or how we would like to see our children educated."
"I'm just like, you're a little kid, you should be learning your ABCs and your numbers and things like that," said Schultz, a 30-year-old conservative. "That's just not something that me and my husband would be interested in having teachers share with our children."
In Florida, Republican Gov. Ron DeSantis in March signed into law a billbarring instruction on sexual orientation and gender identity in kindergarten through third grade. Opponents, including the White House, have dubbed it the "Don't Say Gay" law.
The poll shows Americans are slightly more likely to say the focus on sex and sexuality in local schools is too little rather than too much, 31% to 23%, but 40% say it's about right. The poll didn't ask about specific grade levels.
Blizzard, who has been working with a group called N2 America to help GOP candidates in suburbs, said the schools issue resonates with the Republican base and can motivate voters.
In the Virginia governor's race last year, Republican Glenn Youngkin won after campaigning on boosting parental involvement in schools and banning critical race theory, an academic framework about systemic racism that has become a catch-all phrase for teaching about race in U.S. history. His Democratic opponent, Terry McAuliffe, had said in a debate that parents shouldn't tell schools what to teach.
The poll also shows Americans have mixed views about schools' focus on racism in the U.S.
Randi Weingarten, president of the American Federation of Teachers, said parents and teachers alike are frustrated after pandemic disruptions and should partner to help kids recover. The efforts to predetermine curriculum and restrict teaching are getting in the way, she said.
"The people who are proposing them, they've been pretty clear … they just want to sow doubt and distrust because they want to end public education as we know it," Weingarten said.
Parents of school-age children aren't more likely than other adults to say parents have too little influence in schools. But there is a wide partisan gap, with 65% of Republicans saying that, compared with 38% of Democrats.
Michael Henry, a father of three in Dacula, Georgia, says he's wrestled over what the right level of involvement is. It didn't sit right with him, for example, that his 6-year-old was taught about Christopher Columbus in an entirely positive light. He says he's reflected on "some of the lies" and "glorifications of history" in his own public school education and thinks race needs to be talked about more.
But ultimately, school curriculum is "outside my area of expertise," said Henry, 31, an actuary who is also the acting president of the Gwinnett County Young Democrats.
"I have to do a lot of studying and work to be able to make informed decisions, and I don't feel like parents generally have that kind of skill set" for curriculum, he said. "I think professionals should mostly be determining what the curriculum should be."
Henry worries that new restrictions are "adding extra hassle for teachers, who already have a lot on their plate, to solve a problem that doesn't exist."
___
AP Education Writer Collin Binkley in Boston contributed to this report.
___
The AP-NORC poll of 1,082 adults was conducted March 17-21 using a sample drawn from NORC's probability-based AmeriSpeak Panel, which is designed to be representative of the U.S. population. The margin of sampling error for all respondents is plus or minus 4 percentage points.
Hannah Fingerhut, The Associated Press