2018 Edmonton Fringe Theatre Festival theme to be revealed today!
Tune into the Fringe Theatre Facebook page Today (Wednesday, May 23) at 5:15pm (MST) for an announcement of gargantuan proportions as we unleash the 2018 Fringe Festival theme!
It's Coming. from Fringe Theatre Edmonton on Vimeo.
Police seize more than $1.3 million in drugs and cash following an organized crime investigation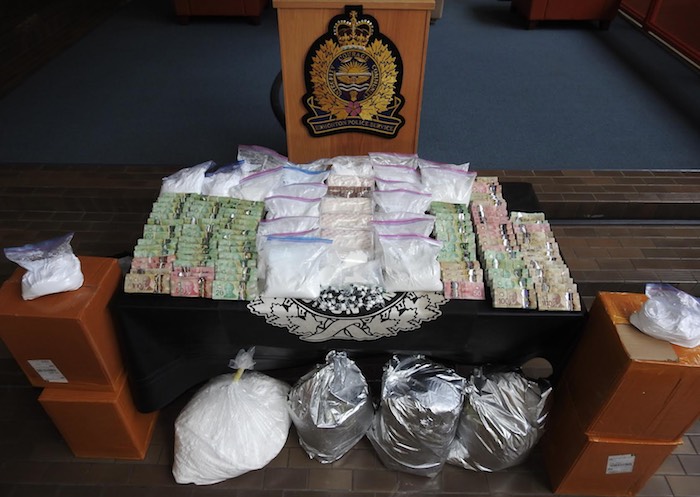 News Release from the Edmonton Police Service
The Edmonton Police Service has charged four Edmonton men and seized more than $1.3 million in drugs and cash following a 14-month organized crime investigation.
In February 2021, EPS Drug and Gang Enforcement (EDGE) Section initiated an investigation into the suspected trafficking of drugs by a group of four men. Over the course of the investigation, search warrants were executed on three vehicles and at five residences in south and southwest Edmonton. During the searches, police seized a large quantity of cash, a variety of controlled substances, a weapon, ammunition and vehicles, including:
$540,000 cash
6.6 kgs cocaine (approximate street value of $327,000)
74 kgs benzocaine (approximate street value of $222,000)
47 kgs acetaminophen (approximate street value of $142,000)
#$36 kgs of phenacetin (approximate street value of $109,000)
429 g boric acid (approximate street value of $1,500)
170 ml of GHB
A Kia Sorento and Dodge Journey with hidden compartments
A 2021 Mercedes Benz GLE
50 rounds of 9 mm ammunition
.22 caliber firearm magazine
Box of .22 caliber ammunition
Brass knuckles
A large variety of items consistent with the trafficking of drugs
All four men have since been arrested and are facing numerous charges:
Nadeem Abdulgany, 38, and Mohamed Cherkaoui, 34, are each charged with commission of an offence for a criminal organization, conspiracy and possession of the proceeds of crime over $5,000.
Mahmoud Taliani, 34, and Robert Haberstock, 30, are each charged with commission of an offence for a criminal organization, conspiracy, possession for the purpose of trafficking and possession of the proceeds of crime over $5,000. Haberstock is also facing an additional charge for possession of a prohibited weapon.
"As this investigation reveals, drug trafficking can unfortunately be a lucrative business that comes at the expense of our communities and those most vulnerable to the impacts of illicit drug use," says Staff Sergeant David Paton with the EPS Drug & Gang Enforcement Section.
"By targeting organized crime groups operating in this city, we are making our communities safer, holding these groups accountable, and preventing them from preying on the vulnerable."
Modified submachine gun taken off Edmonton streets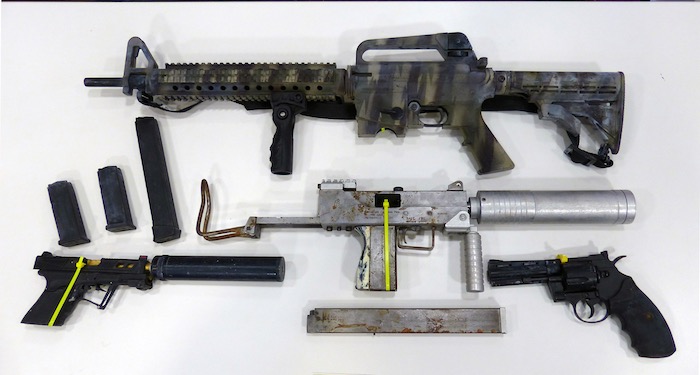 News Release from ALERT (Alberta Law Enforcement Response Team)
A MAC-10 submachine gun was amongst three firearms seized by ALERT in a recent investigation. Two Edmonton men have been charged.
ALERT Edmonton's organized crime team seized two of the firearms after a vehicle was seen leaving a north Edmonton address associated to drug trafficking activity. Another firearm was located in the trunk of a separate vehicle involved in the investigation.

The MAC-10 was equipped with a silencer and prohibited extra-capacity magazines were located in the same bag. Prohibited in Canada and the U.S., the MAC-10 has a fire rate of 1,200 rounds per minute.
"Under any circumstances this is a dangerous weapon to have circulating on city streets. ALERT's investigators, in lockstep with our colleagues at the Edmonton Police Service, will remain relentless in our efforts to dismantle organized crime and reduce community harm," said Acting Inspector Blayne Eliuk, ALERT Edmonton.
ALERT also seized a Mossberg 22-caliber rifle, and a Glock handgun that had a silencer attached. The firearms have been submitted for forensic analysis and ballistics testing and Edmonton Police Service's Firearms Examination unit is involved.
Abdullah Fuad Kalouti, 25, was arrested and charged on April 28, 2022 and Zaher El-Mais, 29, was arrested and charged on April 14, 2022. Together, they were charged with a total of 18 firearms-related offences.
Last year, ALERT teams province-wide seized 98 firearms as the result of organized crime and drug trafficking investigations.
Members of the public who suspect drug or gang activity in their community can call local police, or contact Crime Stoppers at 1-800-222-TIPS (8477). Crime Stoppers is always anonymous.
ALERT was established and is funded by the Alberta Government and is a compilation of the province's most sophisticated law enforcement resources committed to tackling serious and organized crime.