Red Deer Polytechnic homecoming featuring athletic, social, and academic events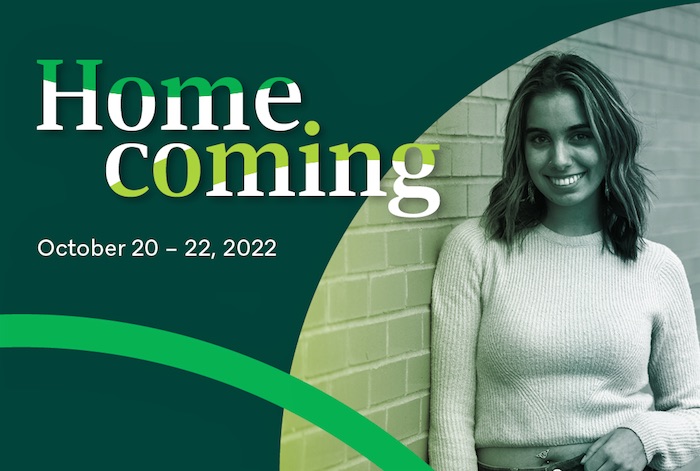 As a way to connect with alumni, prospective and current students, employees and community members, Red Deer Polytechnic will host its inaugural Homecoming from October 20-22, 2022, on its main campus.
"The past few years have been challenging to fully engage with our stakeholders because of COVID-19, so we are extremely excited to open our doors for Homecoming," says Stuart Cullum, President of Red Deer Polytechnic. "The range of events appeal to a diverse audience and it's a great opportunity for the Polytechnic to showcase what we have to offer. With growing program offerings taught by industry experts in modern facilities, we are a premier polytechnic institution that serves not only in the region, but the entire province."
Red Deer Polytechnic is intricately interconnected with the community in numerous ways. Students, staff and faculty make an important impact on the community through applied learning and research activities, community service and volunteerism, and as professionals.
At the same time, community members and alumni also contribute to learning experiences and the institution's growth in many ways. This includes advocacy for post-secondary education, along with volunteering and enhancing the students' education by providing experiential learning opportunities and support. Together, members of the Red Deer Polytechnic community contribute to the continued economic, intellectual, social and cultural development of central Alberta and province.
The network of Red Deer Polytechnic alumni continues to grow in numbers and impact.
"At Red Deer Polytechnic, we are extremely proud of our 58-year history, including the 80,000 alumni who are leaders in their professions and communities," says Richard Longtin, Vice President, External Relations. "The valuable connections with alumni and community members enrich the Polytechnic, region and Alberta. Homecoming is an ideal opportunity for alumni to reconnect with one another, to meet current students and faculty, to interact with community members and to see how the institution has evolved as Red Deer Polytechnic."
A variety of academic, athletic, cultural and social events will be held at the Polytechnic over the three days.
One of the Homecoming events is Palate: A Taste of Local, formerly known as Fine Wine and Food Tasting Festival. This elegant tasting event provides opportunities for guests to explore local, hand-crafted food and beverages. The new name reflects the increased diversity of items offered and the event's mission to celebrate regional businesses and ingredients.
Open House provides an opportunity for prospective students to explore Red Deer Polytechnic's programs and services, to tour main campus, to participate in interactive activities, and to apply for one of the institution's more than 80 programs. Community members are also invited to explore main campus and learn more about the Polytechnic's offerings. At Open House, application fees to study in 2023 will be waived.
Here is a summary of the Homecoming events:
Thursday, October 20
Friday, October 21
Free 30 Minute Fitness Sessions | Collicutt Performance Fitness Zone | Cycle 6 pm | Fitness Step 6:45 pm
Library 20th Anniversary Celebration | Library Information Commons | 7 pm
Kings Hockey | Gary W. Harris Canada Games Centre Arena | 7 pm
Saturday, October 22
More information about Red Deer Polytechnic's Homecoming is available online.
Featured Events
Palate: A Taste of Local
Cenovus Energy Learning Common
Thursday, October 20 | 7 – 10 pm
The Red Deer Polytechnic Alumni Association is proud to introduce a new, elevated rendition of our annual signature event – Palate: A Taste of Local.
Philosopher's Café
Library Information Common
Thursday, October 20 | 7 pm
Hosts: Dr. Stephen Brown & Dr. Carrie Dennett
No philosophical training or expertise required.
Free 30 Minute Fitness Sessions
Collicutt Performance Fitness Zone
Friday, October 21 – Cycle at 6 pm | Fitness Step at 6:45 pm
Saturday, October 22 – Fitness Step at 2 pm | Cycle at 2:45 pm
Queens and Kings Basketball Home Opener
vs St. Mary's University Lightning
Fas Gas On The Run Gymnasium
Friday, October 21
Queens at 6 pm | Kings at 8 pm
Library 20th Anniversary Author Reading
Library Information Common
Friday, October 21 | 7 pm
Featuring Jenna Butler, Joan Crate, Leslie Greentree, and Rod Schumacher.
NOTE: The Library will be open exclusively for this event. No other access or services will be available during this event.
Kings Hockey vs SAIT Trojans
Gary W. Harris Canada Games Centre Arena
Friday, October 21 | 7 pm
Open House
Main Campus
Saturday, October 22 | 9 am – Noon
Join us for program and service information, interactive activities, and tours of our main campus and the Gary W. Harris Canada Games Centre.
Apply in person to Winter 2023, Spring 2023 or Fall 2023 programs at Open House and we will waive the application fee!
Premier Smith uses First Ministers' meeting to catch up with Quebec Premier Legault and Saskatchewan's Scott Moe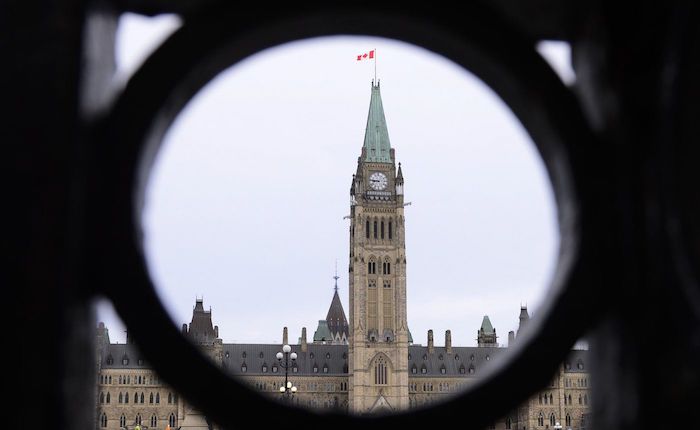 Premier Smith's update from the Ottawa
Premier Danielle Smith participated in the First Ministers' Meeting on health care in Ottawa and provided the following update.
Alberta is leading the country with major reform to health care. After 2.5 years of requests from Canada's premiers, today, the federal government presented their plan. While this is a start, overall, this is significantly lower than the premiers anticipated. Premier Smith will take this information back to her team in Alberta in advance of meeting with Canada's premiers again in the coming days.
Premier Smith also met with premiers François Legault of Quebec and Scott Moe of Saskatchewan in Ottawa in advance of today's first ministers' meeting.
Premier Smith and Premier Legault committed to a desired outcome for a health-care deal that recognizes and respects provincial jurisdiction over health delivery and leads to better outcomes for Albertans and Quebecers. Premier Smith stressed the importance of Alberta's energy sector, advocating for the importance of natural gas exploration and development both for the growth of the Canadian economy and to provide energy security for Canada's allies. Premier Legault reiterated his desire to invest in clean energy like hydroelectricity to fight climate change. Both premiers expressed concern about federal overreach and the need for the federal government to respect provincial autonomy in areas of provincial jurisdiction to better meet the needs of their citizens.
Premier Smith and Premier Moe expressed a need for flexibility in the delivery of health-care services, especially those that Alberta's Healthcare Action Plan commits to, such as reducing surgical wait times, improving ambulance services and reducing emergency room wait times. Premier Smith emphasized Alberta's progress on recovery-oriented care to support those struggling with mental health and addictions challenges and invited Premier Moe to Alberta to visit the province's recovery-oriented treatment centres. The premiers also discussed the mutual importance of the energy sector to their provinces for job growth and export to Canada's allies and a desire to work together on establishing economic corridors for trade and energy export.
Premier Smith asks Prime Minister to halt "Just Transition" legislation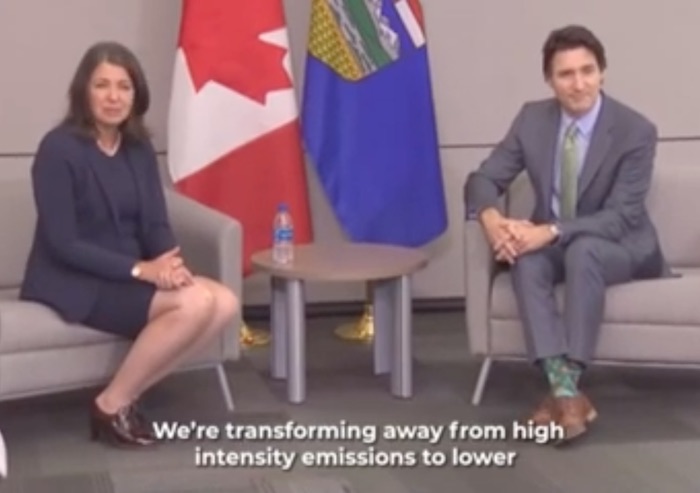 Premier Smith meets with the Prime Minister
Premier Danielle Smith met with the Prime Minister for approximately 30 minutes primarily discussing Alberta's request for the federal government to halt the introduction of its proposed 'Just Transition' legislation and other emission reduction strategies.
The Premier asked the federal government to instead work collaboratively with the Government of Alberta on developing a plan and partnership to attract energy investment and workers into Alberta's conventional, non-conventional and emerging energy sectors while reducing Canada's and Alberta's net emissions.
The Prime Minister expressed a willingness to explore this strategy with the Premier through their respective ministers and the Premier will be following up with further correspondence regarding proposed next steps in the near future.
The Premier used today's discussion to outline Alberta's expectations as to what must and must not be included in any future federal legislation, targets or policies as it relates to Alberta's energy sector. These expectations included:
Abandonment of any references to 'just transition' or any other terminology or policies that signal the phaseout of Alberta's conventional or non-conventional energy sector or workforce.
Increased workforce training and participation in all of the conventional, non-conventional and emerging energy sectors.
The need for formal consultation and collaboration with Alberta before the federal government announces or implements legislation, targets or policies that materially impact Alberta's energy sector.
Substantial increase in LNG exports to Asia through the lens of meeting targets through replacement of higher emitting fuel sources with clean Canadian LNG.
Joint federal-provincial initiatives to facilitate increased private investment in nuclear, hydrogen, bitumen beyond combustion, geothermal, lithium, helium, zero-emission vehicle, CCUS, petrochemical and other emerging technologies and fuels that make Alberta's conventional and non-conventional energy sector increasingly carbon neutral.