Ride With The Girls – "Elleboard" Builds Community for Female Snowboarders in Alberta
Photo Credit: Canada Snowboard Photo Gallery
Craft Beer Connoisseur and snowboarding enthusiast Sheena Keay pushes boundaries in snowboarding excellence through workshops and high performance coaching. An avid snowboarder for more than 20 years, Sheena's passion for the sport began early and has continued to grow with every season. So, when it came to assuming a leadership role for the Alberta division of Snowboard Canada's female rider program, she couldn't say yes fast enough.
In response to a lack of existing resources and support for female snowboarders, Elleboard is a program launched by Canada Snowboard designed to encourage female athletes to grow and develop as riders, coaches, judges and officials. A short-term goal of the program is to have female membership with Canada Snowboard rise above 30% in the coming years. By creating a network for girls of all ages who want to feel more confident and connected on the slopes, Elleboard intends to bridge the gender gap on the hill and increase female participation in the sport.
"The idea behind Elleboard is to build a community for females that want to continue to snowboard," says Keay, Elleboard leadership for Alberta, "The average girl quits a sport between the ages of 12 and 14, and we want to change that." According to the Women's Sports Foundation, by the age of 14, girls are dropping out of sports at double the rate of boys their age. There are a number of key factors driving this statistic, including lack of positive role models and decreased quality of experience as they grow (1).
Elleboard is a provincial program that connects girls with other girls who want to keep riding, continue progressing, and eventually compete. The program has trained with girls between the ages of 8 and 34 to help them take the next step in their snowboarding careers, whether that be learning the basics or hitting the half-pipe.
With a variety of available training opportunities, girls can participate in Learn to Train days, with a focus on long-term athlete development, or sign up for the Ride Days program, a nationwide all-female tour led by top coaches that brings girls together on the hill for one-day sessions.


The Elleboard registration fee includes membership to Canada and Alberta Snowboard, which covers access to sponsored events as well as liability insurance for participants. Sponsored by Roxy, Elleboard currently holds 4-5 events a year featuring exciting prizes and increasing competition as interest in the program continues to grow.
Determined to see the success of Elleboard continue and encourage more women to push themselves as athletes, Sheena Keay is exploring all possible options to increase awareness of the program. This includes hosting off-snow events such as yoga nights as a way to introduce girls to Elleboard and each other so they might make friends and build confidence both on and off the hill. Although the winter months are coming to a close, Sheena is committed to riding for as long as nature allows, which means hiking in the Rocky Mountains to find some summer snow even after the lifts have shut down for the season.
For more information on Elleboard, visit https://www.canadasnowboard.ca/en/programs/grassroots/elleboard/.
For more stories visit – Todayville Calgary
Premier Smith reacts to Liberal Government's announcement on new methane reduction targets at COP 28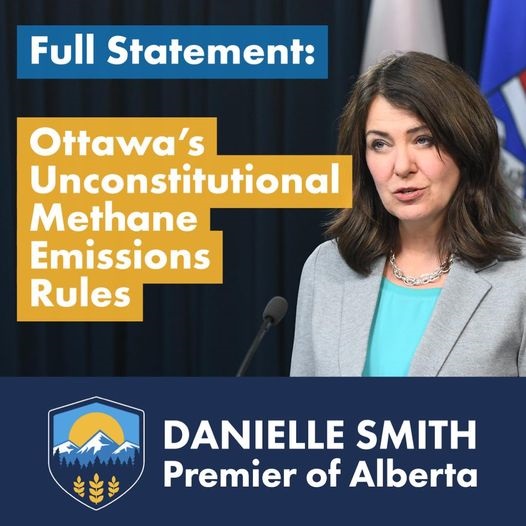 Federal methane emissions targets: Joint statement
"Once again, the federal government is setting unrealistic targets and timelines. Infrastructure can only be updated as quickly as technology allows. For example, Alberta will not accept nor impose a total ban on flaring at this time, as it is a critical health and safety practice during production. Any regulation that completely prohibits this is putting lives at risk"
Premier Danielle Smith and Minister of Environment and Protected Areas Rebecca Schulz issued the following statement on the federal government's proposed methane emissions regulations:
"The federal government has unilaterally established new methane emissions rules and targets to help win international headlines. Instead of building on Alberta's award-winning approach, Ottawa wants to replace it with costly, dangerous and unconstitutional new federal regulations that won't benefit anyone beyond Environment and Climate Change Minister Steven Guilbeault's post-office career.
"Managing emissions from Alberta's oil and gas industry is our constitutional right and responsibility, not Ottawa's, and we are getting the job done. Using a province-led approach, Alberta has already reduced methane emissions from the oil and gas sector by 45 per cent – hitting our target three years early – and we're just getting started.
"Meanwhile, not only is it illegal for Ottawa to attempt to regulate our industries in this manner, Ottawa also hasn't even hit one of its past arbitrary and unscientific emissions targets largely because it has little to no credible expertise regulating the natural resource, agricultural and other industry sectors in this space.
"Ottawa could have helped us keep reducing emissions with joint incentive programs in line with Alberta's Emissions Reduction and Energy Development Plan. It could have listened to the Supreme Court's declaration that the Impact Assessment Act was unconstitutional and abandoned this kind of arrogant and ineffective scheme. Instead, these new regulations threaten our successful province-led approach and impede good work that's already underway.
"Once again, the federal government is setting unrealistic targets and timelines. Infrastructure can only be updated as quickly as technology allows. For example, Alberta will not accept nor impose a total ban on flaring at this time, as it is a critical health and safety practice during production. Any regulation that completely prohibits this is putting lives at risk. A total ban would also be costly, resulting in shut-ins and loss of production.
"This approach will also cost tens of billions in infrastructure upgrades, yet Ottawa has provided virtually no financial support to do so. Thousands of Albertans could be put out of work in the coming years due to these costly regulations. A federal government willing to invest $37.7 billion into just three battery plants in Ontario and Quebec cannot credibly refuse to provide tax credits and financial incentives for producers in Alberta and Saskatchewan to assist with achieving a carbon-neutral economy by 2050.
"For years, Alberta, not Ottawa, has done the hard work and achieved results. We strongly support reducing methane emissions and have invested tens of millions into developing these technologies. Minister Guilbeault must work with us, and not against us, to keep cutting methane emissions and charting a course for carbon neutrality by 2050.
"Given the unconstitutional nature of this latest federal intrusion into our provincial jurisdiction, our government will use every tool at our disposal to ensure these absurd federal regulations are never implemented in our province."
Alberta's Methane Target Reached Early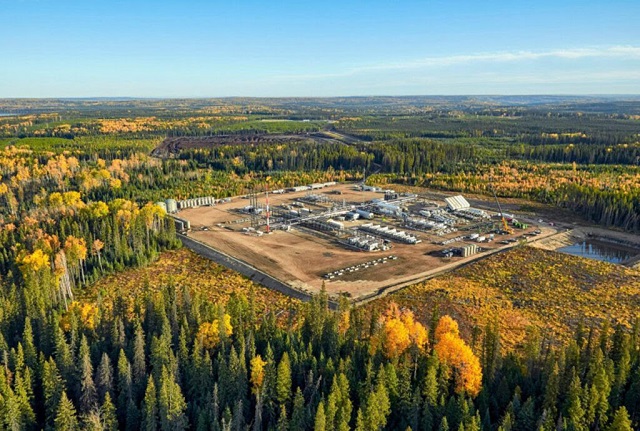 Gas processing plant in northwest Alberta, courtesy of EnergyNow
Courtesy of ENERGYminute
See more articles and infographics from ENERGYminute HERE
---
In a pat-yourself-on-the-back moment, Alberta's oil and gas industry successfully achieved a 45 percent reduction in methane emissions, surpassing the province's mandated target ahead of schedule.
Background: Alberta was the first province in Canada to commit to a 45 percent reduction in methane emissions from the oil and gas sector by 2025, based on 2014 levels. Spoiler alert: Alberta achieved its methane mission three years early.
Their targeted approach to reducing methane emissions from flaring, venting and fugitives has become an example globally, earning national and international awards for its effectiveness and cost-efficiency.
Alberta strong: The government credited the early success to close collaboration with the industry, implementing early action programs such as carbon offsets, tough regulations for all facilities, and enhanced leak detection and repair methods.
Minister of Environment Rebecca Schulz highlighted that this made-in-Alberta approach not only achieved the goal three years ahead of schedule but also resulted in roughly $600 million in savings for the industry compared to the proposed federal program.
Getting the job done: Alberta allocated $57 million from the Technology Innovation and Emissions Reduction fund for methane emissions programs, including:
$25 million in rebates to companies adopting emissions reduction equipment.
$17 million supporting alternatives to detecting and quantifying emissions.
$15 million to help small- and medium-sized operators assess methane reduction opportunities.
Overall, the initiatives eliminated 16.6 million tonnes of carbon dioxide equivalent from the atmosphere.
Looking ahead: Alberta is committed to building on this momentum and collaborating with industry experts to determine the next steps in their emissions reduction journey, aligning with the goal of carbon neutrality by 2050.