Rediscover Kombucha with Calgary Brewed Bar Star Buch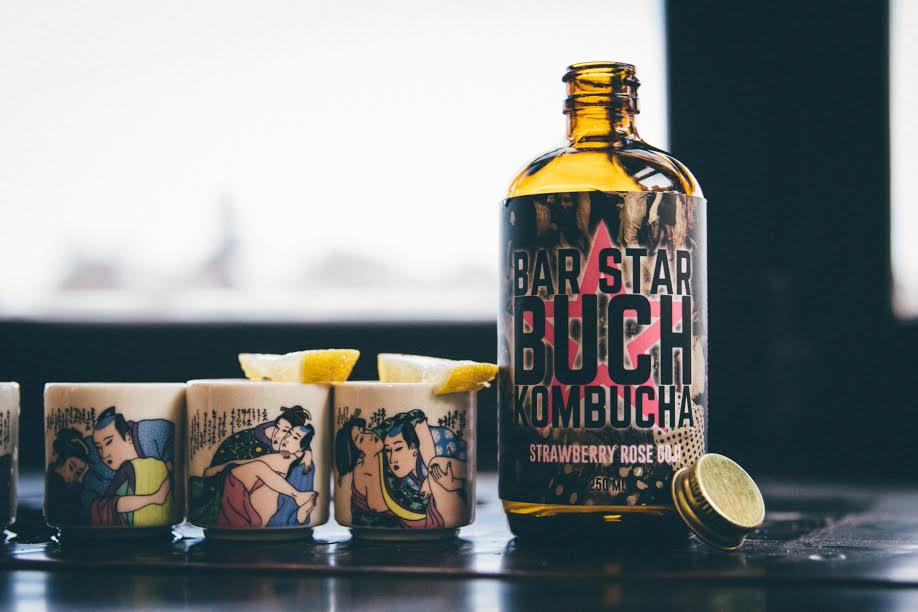 What would you say if I told you there was an organic, fair trade, direct trade, ecosocial, rainforest certified, gluten free, dairy free, nut free, GMO free, vegan, non-alcoholic alternative that doesn't taste like sawdust – brewed right here in Calgary? 
Introducing Bar Star Buch, the 2-person premium kombucha operation led by Boss Buch Suzanne Mills, the self-proclaimed former bar star on a mission to make sober – and healthy – sexy. Launched in February 2019, Bar Star Buch promotes gut health, mental health and wellness while providing a tasty, non-alcoholic alternative packed with additional nutrients and health benefits. According to Suzanne, "There are more neurons in the gut than in the spinal cord … your gut is likely filled with bad bugs, so you need the specialty ingredients, probiotics, enzymes and vitamins in our premium kombucha. Your gut is your second brain & where your immune system lives, which means that if your gut bacteria is out of balance, it directly affects not only how you feel physically, but also your mood, focus and stress levels." 
Be it a personal preference, a designated-driver situation, recovery, or any other untold possibility, there are plenty of reasons someone may choose not to drink on a night out. However, the availability of non-alcoholic alternatives often falls short of appealing, especially in a city with a booming craft beer industry. "As a non-drinker, you have limited options," says Suzanne, "pop, decaf coffee, or kids menu. We wanted to make an inclusive, health-conscious, low sugar alternative that normalizes not drinking in a social setting." 
Bar Star Buch offers a variety of flavors, each with their own premium organic ingredients designed to promote overall health and wellness. "It's not just a standard, "hippie" kombucha brand," says Suzanne, "if you're gonna drink kombucha anyway, you may as well get a bit of a bonus. So every single flavor has some kind of additional health benefit."
For example, the original Basic Buch, featuring organic black tea, green tea, lime juice, ginger and spearmint focuses on gently calming overall gut upset. The Buch Slap is an organic pineapple, lemongrass and cayenne pepper combination aimed at detoxification and metabolism function. The Namaste Buches features organic wild blueberry juice, elderberries, schisandra berries and rhodiola root to boost immune function and promote relaxation. All of which taste great – it's the adult equivalent of hiding vegetables in your child's mac & cheese so they get the nutrients they need without even knowing it. 
In addition to the Bar Star Buch line-up of delicious, health-conscious flavors, they also feature specialty seasonal brews in support of local charities that focus on improving mental health and wellness in all of it's forms. 100% of the profits from each specialty brew are donated to designated charities across Calgary. Previous charitable campaigns include the Fall 2019 Crazy Buch brew in support of the Alberta Adolescent Recovery Centre, and the Spring 2020 Komboujee Brew, which raised almost $1,500 for Cerebral Palsy Kids & Families. "We intentionally support small, local organizations," says Suzanne, "We're very, very mindful of that. Especially in this economy, it's the little ones that are really struggling and can benefit the most from our contributions." 
Bar Star Buch is currently raising money for Tiny Footprints Pregnancy and Infant Loss, and will be announcing their Spring 2021 charitable partner in March. 
Right now, you can find Bar Star Buch in single serving bottles at Trolley 5 on 17th Ave and on-tap at Common Bond Bar on Stephen Ave, as well as a number of organic markets throughout the city. It is also available to Work Nicer members at several co-working spaces throughout Calgary and Edmonton.
For more information on Bar Star Buch, visit https://ilovethisbar.ca.

For more stories, visit Todayville Calgary.
Jacob Markstrom earns shutout as Flames blank Oilers 5-0 in Battle of Alberta
CALGARY — Jacob Markstrom stopped all 17 shots he faced and the Calgary Flames put an end to their four-game losing skid with a commanding 5-0 victory over the Edmonton Oilers on Saturday.
Johnny Gaudreau and captain Mark Giordano each had a goal and an assist, while Sean Monahan, Elias Lindholm and Brett Ritchie also scored for Calgary (17-21-3). Sam Bennett and Mikael Backlund each tallied a pair of helpers.
The Flames improved to 3-5 against their provincial rivals this season.
Playing their fourth game in six nights, the Oilers (25-15-2) were blanked for only the third time this year. They dropped to third in the North Division — seven points behind the Toronto Maple Leafs and one point behind the Winnipeg Jets.
Goalie Mike Smith stopped 27-of-32 shots in defeat, Edmonton's second regulation loss in its last 11 outings.
A tentative first 20 minutes of play saw the teams withdraw to the dressing room with a 0-0 tie.
But the Calgary Flames exploded for four goals on 10 shots in the second period from four different shooters.
Monahan got the barrage going with his first since Mar. 13, snapping a 13-game goalless drought. Alone at the side of the net, he capitalized on a defensive mix-up from the Oilers and converted Andrew Mangiapane's pass at 3:12.
Calgary gained in confidence as the period progressed. They kept the pressure on and it paid off at 10:43 when Gaudreau took a perfect pass across the crease from Noah Hanifin to beat Smith over the glove from a tight angle.
The Flames were again rewarded for good puck movement when Lindholm netted his 10th of the season, five-hole on Smith on the power play. The big-bodied Milan Lucic got the play started and later screened Smith in the crease.
The captain got in on the second period's deluge of goals. Coming off the bench and storming into the offensive zone, Giordano called for a pass and fired from the right face-off dot, beating Smith between the pads.
Calgary limited Edmonton to very few high-danger chances. Connor McDavid ended the game with one shot.
The Oilers upped the pressure in the third period but could not solve Markstrom. Tyson Barrie came closest when he fired a puck off the post.
Ritchie padded the lead and made it 5-0 with 6:30 left in the game.
There was some confusion shortly after puck drop, possibly related to the Oilers' lineup card, as Calgary coach Darryl Sutter chatted with officials from behind the bench.
The Flames are back in action in Toronto on Tuesday. The Oilers are off until Friday when they face the Canucks in Vancouver's first game since their COVID-19 outbreak.
Notes: Edmonton held a ceremony to honour the late Colby Cave earlier Saturday. The 25-year-old Oilers forward died last April after doctors discovered a cyst in his brain. … Mangiapane and Bennett extended their point streaks to four games. … The Oilers placed 27-year-old centre Ryan Nugent-Hopkins (upper body) on the injured-reserve list earlier Saturday.
This report by The Canadian Press was first published April 11, 2021.
The Canadian Press
Edmonton Oilers place centre Ryan Nugent-Hopkins on injured list
EDMONTON — The Edmonton Oilers have placed Ryan Nugent-Hopkins on the injured-reserve list. 
The 27-year-old centre missed Edmonton's game against the Ottawa Senators Thursday with an upper-body injury. 
Nugent-Hopkins is fifth on the team in scoring with 28 points (12 goals and 16 assists) in 40 games. 
Edmonton has recalled forwards Tyler Ennis and James Neal to the active roster. 
The Oilers (25-14-2) sit second in the North Division, five points behind the Toronto Maple Leafs. 
Edmonton is set to face the Flames in Calgary on Saturday. 
This report by The Canadian Press was first published April 10, 2021. 
The Canadian Press