RDC Reasons campaign features real stories from real students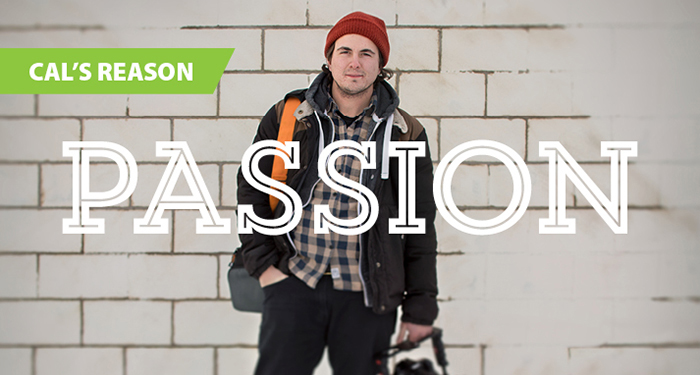 For the next three months, Red Deer College will feature our diverse community of learners through the RDC Reasons campaign, a unique take on the College's annual student recruitment marketing campaign.
"We're very excited to launch this year's campaign, which focuses on the reasons why people have chosen to come to Red Deer College for their post-secondary education," says Joyce Fox, Director of Marketing & Communications. "Throughout the campaign, we'll be featuring individuals from across the College – both current students and alumni – and we'll be sharing their stories about how attending RDC allowed them to invest in their future and enhance their potential."
The three-month-long campaign will include videos and blog articles featuring a variety of individuals, as well as billboards and other ad formats that will capture the public's attention. In addition, current students, alumni and the general public are invited to engage in online conversations, sharing their reasons for connecting with the College through social media and through the RDC Reasons webpage to be eligible to win prizes.
"By providing these opportunities for people to engage with the College, our intention is to learn more about people's reasons and to share these with a larger audience," says Fox. "Showcasing these reasons provides greater awareness about how RDC can help people to achieve their career and life goals."
The wide variety of programs at RDC are an essential part of helping people to reach these goals. "We have more than 100 programs, which provides students the opportunity to select the best option for their needs based on their life situations and their career goals," says Dr. Paulette Hanna, Vice President Academic. "RDC's programs allow students to engage in innovative and applied learning experiences that help them to be prepared for the next step in their careers."
In addition to the programs, Hanna acknowledges the important role of instructors and staff in assisting students. "I'm very proud to lead the team of faculty, who are experts in their fields and play such an important part in our students' experiences," she says. "Through the RDC Reasons campaign, students and alumni are sharing their reasons for attending our College, and it's very rewarding to learn about their stories and to see the impact that RDC has had on their lives."
The RDC Reasons campaign runs from now through April 30, 2017. For complete details, visit:
http://rdc.ab.ca/about/service-departments/marketing-communications/rdc-reasons
Family math nights add up to success
In an effort to build an understanding of teaching math both at school and in the home, Red Deer Catholic Regional Schools is pleased to provide Family Math Nights.
These school-specific evenings first begin with an information session, and end with interactive stations for families to explore, all centred around developing understanding of concepts versus memorization skills. These sessions provide an opportunity to engage in math with a hands-on approach and ask questions to our numeracy experts.
Feedback from parents at other schools has shown that these Family Math Nights have a positive impact on student success.
Please note the upcoming Family Math Nights:
St. Teresa of Avila School (Grades 1-3) – January 18 from 6:00 – 7:30 p.m.
Holy Family School (Grades 1-5) – February 1 at 6:00 – 7:30 p.m.
Retro Radio Christmas Review – A Family Christmas Time Treat Courtesy of RDC
When you're tired of work and technology and a busy life, it can be hard to take a deep breath and slow down for a few hours.  That makes it all the more difficult to get into the "Christmas" spirit.
If that's your challenge, RDC's School of Creative Arts has some tonic for you.  This week, through to Saturday night, RDC presents "Retro Radio Christmas Review".
Student actors portray some of the biggest names in radio broadcast history from the heydays of radio programs.
Check out this video… and get your tickets for the whole family!
Here's all the information you need from RDC…
Let your imagination soar as the Theatre Performance and Creation students in the RDC School of Creative Arts bring their characters to life on stage. Our season would not be possible without the hard-working, professional Theatre and Entertainment Production students, providing behind-the-scenes support with costumes, props, weaponry, special effects, lighting, sound equipment, and stage management. 
Retro Radio Christmas Review
– live, on stage – by various authors
Age Group: Teens and Adults
Mainstage, Arts Centre
Evenings:  November 23 -25 & November 28 – December 2 | 7:30 pm
Weekend Public Matinees: November 25 & December 2 | 1:00 pm
School Matinees: November 24 & Dec 1 | 12:00 pm
Imagine yourself transported to the golden age of radio. Our actors will be portraying some of the biggest names in radio from some of the great Christmas classics. See how all those sound effects are created live on stage and what really happens between the performers when the broadcast goes live. A great evening for the whole family.