RDC's School Of Creative Arts Launching New Series Tonight!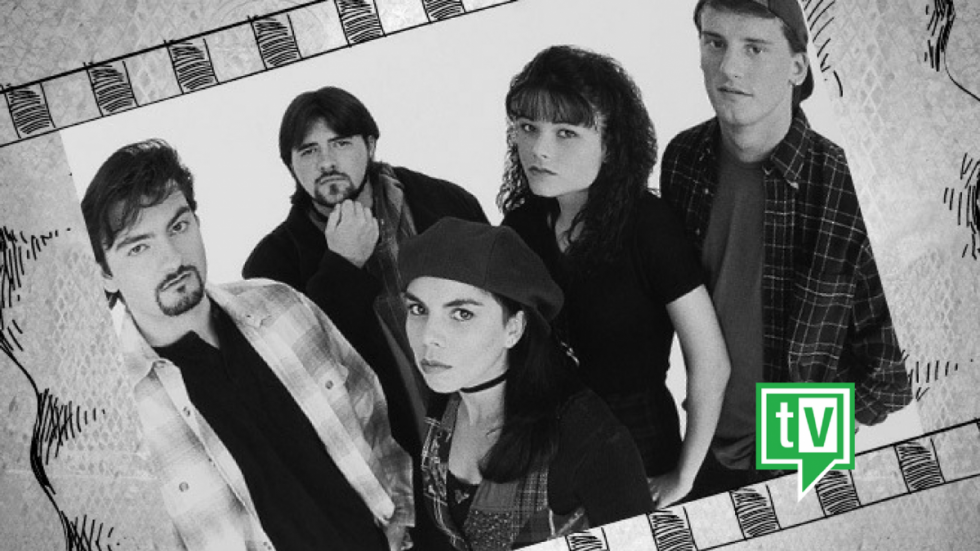 Red Deer College invites central Albertans to come and experience the exciting School of Creative Arts season. RDC's talented students, instructors, staff and special guests will present the following events throughout the month of January:
Movies Worth Watching Series Clerks (1994)
January 12 & 14 | Welikoklad Event Centre Cinema | 7:00 pm
$5 | Rating: 18A | 92 mins
The Motion Picture Arts program is pleased to present movie nights on the big screen. This classic low-budget, rudely humorous, 1994 film was the first done by director Kevin Smith. Thursday screenings are licensed events for adults only, with alcoholic beverages available; Saturday screenings are for all audiences.
Les Deux Amis, Classical Guitar Recital
January 15 | Margaret Parsons Theatre, RDC Main Campus | 7:30 pm
This year's recital includes University of Calgary guitarist, Ralph Maier, and is a mix of guitar duets and solos. The works are by Carulli, Rossini, Berkeley, Koshkin and more. Buy tickets here:
https://tickets.blackknightinn.ca/TheatreManager/1/login&event=0
Divine Madness: The Films of Paul Boultbee
January 20 & 21 | Welikoklad Event Centre Cinema | 7:00 pm Free | Not Rated – Violence and Language Warning
Over the past 30 years, Paul Boultbee has given his time and expertise to work with and mentor students and staff of RDC's Theatre and Motion Picture Arts Programs. He has appeared in over 20 of our films, some of which have been award-winning, and many of which have been screened at festivals, cinemas, and television sets around the world! Please join us to celebrate and honour Red Deer's own renaissance actor, Paul Boultbee.
Naked Frailties 20th Anniversary Screening
January 27 & 28 | Welikoklad Event Centre Cinema | 7:00 pm Free | 91 mins Not Rated – Violence and Language Warning Twenty years ago Larry Reese, Don Armstrong and Harley Hay had a vision to create a feature film (based on Shakespeare's Macbeth), which would help form the basis of the ground breaking Motion Picture Arts Program at RDC. The film went on to be screened worldwide, and it was a perennial favourite of Canadian television broadcasters for many years to follow. Please join us for the 20th year anniversary gala screening.
For complete details on the 2016-17 season, please visit School of Creative Arts Showtime.
(Photo courtesy of RDC)
Update – Your event has been cancelled
Update:  Ilan appeared with Edmonton radio station 630 CHED's J'lyn Nye on October 5th, 2020 where they discussed the severe challenges in the live event industry.  You can read Ilan's original story below.
Your Event Has Been Cancelled
By Ilan Cooley
The live event industry is in serious trouble. It was the first sector to go dark due to the pandemic, and it is expected to be the last to be allowed back to work.
The people behind the scenes of your favourite events are the mavericks and risk takers you likely don't know about. They create the events that make you smile until your face hurts, cheer until you lose your voice, and dance until you can't stand up. They make the magic that fills your social feeds, and the moments that live in your memories.
You may have gotten an email saying "your event has been cancelled" – they lost their livelihood.
"People don't understand how bullseye targeted this virus was at our industry," says Jon Beckett, owner of Production World. "It was a 100% bullseye. You couldn't hit it more dead centre. It's not like it hurt us – it took it away. People don't understand that until you talk to them about your industry."
Beckett's company used to employ 50 people. Having lost more than 200 events so far, they have laid off 35 people. Their 25,000 square foot warehouse contains almost seven million dollars worth of staging, lighting and other production equipment.
"We have to house that inventory," he says. "It is not like we can sell it."
Similarly, Fort Saskatchewan based Superior Show Service has two separate warehouses full of rental items nobody currently needs, plus tax bills and insurance due. As a 35-year-old family-run event rental company, they cater to tradeshows and large events. Some of the 35 staff they laid off in March have been hired back after accessing relief programs, but with more than 80 events already cancelled, owner Chris Sisson worries about the future.
"It feels like the carpet kicked out from under you," he says. "I've always been able to provide for a great number of families, not just my own, and today I have no idea how to provide for my own. I have been in this industry my entire life, and now I have no idea what to do. It is truly humbling and dumbfounding."
Event promoter Mike Andersson prefers not to dwell on what has been lost, instead focusing on building something consumers will want to come back to when it is over. He knows how to manage complex logistics and bring large groups of people together. Even when faced with severe restrictions for events, his company, Trixstar, was busy creating pandemic proof event manifestos, and blue-sky concepts for safe gatherings.
"When everything came crashing down we were putting up material about what events look like after this, and showing some optimism," he says. "It is important to get people together and to celebrate." He admits there are good days and bad days. "It is a rollercoaster of emotions," he says. "Obviously we feel terrible. It affects us, but it affects so many companies. From the security companies, to the ticketing companies, to the tent company, to the production company – all those people are affected."
Event photographer Dale MacMillan also worries about the people behind the scenes. He has lost more than 100 days of shooting for professional sporting events, large music events, festivals and fairs, which makes up about 60% of his income, and he knows others are in the same situation.
"There's a guy sitting out there with probably a quarter section of land and he's probably got 5500 porta potties that are out at ten to 20 events throughout the month, and he is affected tremendously," says MacMillan. "I see some of the guys that are usually in the business of trucking the machinery to set up the fairs and festivals that are delivering for Amazon now. I look at all of those people who work the booths to break plates. They are not working at all. How else is a guy who owns a plate breaking booth going to get any other business?"
Even artists like Clayton Bellamy are wondering how to pay their bills. As a successful singer/songwriter and member of Canada's top country band, The Road Hammers, he wishes the gold records on his wall represented a decent living, but admits there is no money to be made without touring. With up to 90% of his income derived from live shows, and almost no revenue from music streaming, he says he will do whatever it takes to feed his family.
"Obviously I have kids and that comes first before anything," he says. "The main thing to do is to find work." He also knows lack of touring impacts others. "Our band employs a lot of people. It is not just me on the stage – it is the tour manager, and the person in the office answering the phones at the management company, and the manager. We help employ 50 people. If you think about the industry as a whole, there are a lot of people relying on that trickle-down."
Beckett says the model for live events has changed forever.
"If we are going to collapse, then we are going to give it all we can. Right now, we are optimistic that we can somehow find ways to juggle."
Production World is streaming virtual events to online audiences, and delivering reimagined AHS compliant live events with a mobile stage, video wall, and in-car audio for things like graduations, weddings, movies, drive in music events, and even funerals. They are retrofitting churches for virtual services, and recording content to deliver music and sermons to parishioners.
Sisson suggests his industry should collaborate with government and other industry professionals to develop a plan, like doing events by the hour to control occupancy counts, disinfecting surfaces, contact tracing and testing, and utilizing existing technologies like temperature checks and facial recognition.
"I will be ashamed of our industry if we cannot have something that is approved and a way to conduct ourselves by October," he says. "At the end of the day there are a lot of livelihoods that need to get looked after."
MacMillan says the advice his parents gave him to plan for a rainy day was valid. He will get creative with other revenue sources and try to take advantage of programs and subsidies.
"If it helps you along one more month, it is one more month that you can make it until things open up again."
Bellamy tries to keep his mental health in check by maintaining a rigorous schedule of practicing, writing, and working on existing projects. He plans to finish a new record so he can hit the ground running when touring resumes.
"Right now, I have no income," he says. "I don't have a safety net. I don't have a plan B."
He says if people want to support their favourite artists they should buy music and merchandise directly, like and share posts and music on social media, and send a letter to the government to help change laws that impact fair pay for artists' streaming rights.
A return to "normal" is a long way off, and no matter when life starts to feel unrestricted again the world will be altered, and things will be different. Behind the scenes, the event industry not just trying to reinvent itself, it is fighting for survival.
"People don't think about the human side of it and all that goes into it and all the different companies that come together to produce an event," says Anderson. "Nobody in the entertainment industry is making a dollar right now. Everyone has to figure out how to survive this, and survive it together. So, my optimism is, I think a lot of companies are going to survive this because they are working together. They are going to support each other once we come out the other side."
On September 22nd Canadian event industry technicians, suppliers and venues from across the country will Light Up Live events in red to raise awareness for the live event industry – which is still dark.
This article was originally published on September 22, 2020.
Read more on Todayville.
Because it's Friday – Here's WAFFLE NYC – Unbelievable video shot in a moving train
Happy Friday from Todayville!
Here's a short pick me up that you'll want to be watching and sharing all weekend.  This incredibly talented group is WAFFLE.  Their bio is below.  You may want to hit up their Facebook page if you just can't get enough.  Get ready for the best subway ride of your life!
WAFFLE (We Are Family For Life Entertainment) is an innovative New York City-Based artist collective from almost all 5 boroughs. The group was founded by Andrew Saunders (Goofy), Yushon Stroughn (Sonic), and Joel Leitch (Aero Ace) in 2011. The inspiration behind the name came from hearing "We Are Family" by Sister Sledge.
Many of the members knew each other in their mid teens through weekly LiteFeet battle events but were in different crews at the time. On their way downtown to these events, they would perform on the subway to be able to pay the entrance fee. You wouldn't win anything but it was a way to gain exposure in the neighborhood/NYC boroughs. After a while it became very repetitive and the exposure wasn't enough. Select members from other crews came together with the common goal to branch out and reach a bigger, more diverse audience. What better way to achieve this? Continuing to perform on the NYC subway was just the thing to do and this was the beginning of WAFFLE.
Learning how to work together and taking commuter's advice built their character as young entrepreneurs and helped save their parents' money. After a while, other LiteFeet dancers caught on to what WAFFLE was doing routinely. Many were afraid of judgment so they didn't perform. Other dancers started catching on and non-dancers started copying their daily routines. Many didn't know how to make the transition from just dancing to actually entertaining. At first people enjoyed the performances but due to the rapid growth, there were more complaints.
Luckily the crew's mindset was on reaching above ground before this all occurred. The money earned was invested into growing the crew. Buying uniforms & business cards helped separate them from others around this time. The crew would randomly hand out business cards without knowing whom exactly they were given to until people started to reach out. Social media also played a big role in their success.
WAFFLE has also had the opportunity to do work outside of New York City. They've traveled to Los Angeles, Atlanta, Paris, Argentina, London, and Turkey. People weren't exactly familiar with LiteFeet so they would label them as break-dancers and call them "Showtime Dancers," which is the popular catch phrase for subway performances. Most people had some knowledge of what LiteFeet was but for those who didn't, a brief explanation was given to them.
LiteFeet is an underground dance style that originated in Harlem in 2005 and ventured into all five boroughs of NYC. Its creativity began once it hit the Bronx. It has even expanded to countries such as Japan, Paris, Argentina, Russia, etc. The term means being light on your feet while dancing. Some of the basic moves of LiteFeet consists of dance trends blended together such as the "Chicken Noodle Soup," the "Harlem Shake," "Tone Wop," and the "Bad One." There are many more. You can also blend any type of dance style with LiteFeet as long as you use some of the basic moves and lock in. "Lockin' in" is the term used to describe the finishing move just as a period would end a sentence. What differentiates LiteFeet from any other dance style is the use of props such as sneakers and baseball caps. Using any type of sneakers doesn't work so Adidas Superstars are favored when doing shoe tricks. Many believe LiteFeet is the rebirth of hip-hop culture not only from dance, but also from the music aspect of it. It has a boom bap feel with an extra kick to it. The thumping beat box tunes is called LiteFeet Music, which mixes hip-hop, funk, electro beat & any other genres with a hip-hop structured sound.
WAFFLE Members Kid The Wiz, Chris Designs, & Lil Live serve as producers to help create the unique sound for the LiteFeet community. People don't realize that the culture is still growing. WAFFLE's ultimate goal is to expand the knowledge of LiteFeet and to be a positive influence to everyone around the world