Pickleball anyone?
A few weeks ago, just after the nation-wide shutdown of almost all public facilities had reached or approached its peak, citizens began to speak out, some of them loudly and often, about the need for a quick return of sports.
Much of the noise was generated, of course, by those who wanted (and still want) the National Hockey League to complete its season and award a 2020 Stanley Cup – yes, even if the only acceptable playoff system finds room for an astonishing 20 teams.
Close behind in their enthusiasm were fans of the NBA, the NFL and Major League baseball. Many, notably supporters or horse racing, confirmed their major urge was betting: a simple chance to wager a dollar or two on the outcome of some physical competition worth notice, at least occasionally. Others in this part of North America spoke fondly of the exciting Toronto Raptors or hopefully that the Blue Jays were finally becoming competitive again.
Getting fans into the building was much less important than providing a spectacle of sorts on television. Those 40- to 50-inch screens provide all the insight many would require, and major-league teams would receive millions in sponsorship if only some way could be found to keep players from breathing on each other near the net, in the corners, under the hoop or at the plate.
Individuals who run or jump or throw in Olympic-style competition are also free to claim there is safe space around them as they practice.
Those noises are continuing, of course, but they have been dwarfed by a much larger group – golfers who maintain with commendable logic that their game takes place on healthy, green fields that cover dozens, perhaps hundreds, of acres.
The freedom to compete without rubbing shoulders was, or should have been, totally obvious, they insist. No need for two sitting side-by-side in carts. No need to continue the tradition of suddenly-dangerous handshakes after a good putt or pats on the head in consolation after a drive somehow finds nearby water.
To a lesser extent, the same could be said about tennis and badminton. The net provides a perpetual barrier.
And now, there's another one: pickleball.
A friend mentioned this sport a few weeks back and a friend then recovering from knee surgery said she hoped to get back to playing as soon as possible. It first came into view a few years ago, when organizers of the Alberta 55-plus Games (now the Alberta Seniors Masters Games) volunteered to become part of the 55-plus event. A strong point was made that they should be trusted to conduct their own scheduling and playoff planning.
It's safe to bet that pickleball is, or will be, in the works for future provincial senior competitions, if ever such multi-participant sports gatherings are permitted in this time of shrinking government investment in sports. Word is "It's easy to play and helps get us into shape."
My next exposure to this mysterious game came two years ago on the shores of Wasa Lake, near Kimberley. Operators of a tourist facility insisted the game was as much fun for spectators as for players. I did not have a chance to test that theory. Soon, I hope, another chance will come.
It's worth noting that pickleball requires space about the size of a badminton court. Small rackets and balls are used. The net is standard size – whatever that means.
Most games, I'm told, end quickly and each point can be exciting. In this province, Eight zones have been established for competitive reasons. Registered members total more than 5,000. Leagues exist in major centres like Edmonton and Calgary, mid-sized communities like Lethbridge, Camrose and Red Deer, and smaller centres such as Rockyview and Rockyford.
When pickleball receives official clearance, I expect we'll all learn quickly. Provincial executive members say it is the fastest growing sport in the province.
Pickleball, anyone.
Join us for our 2023 Induction Ceremony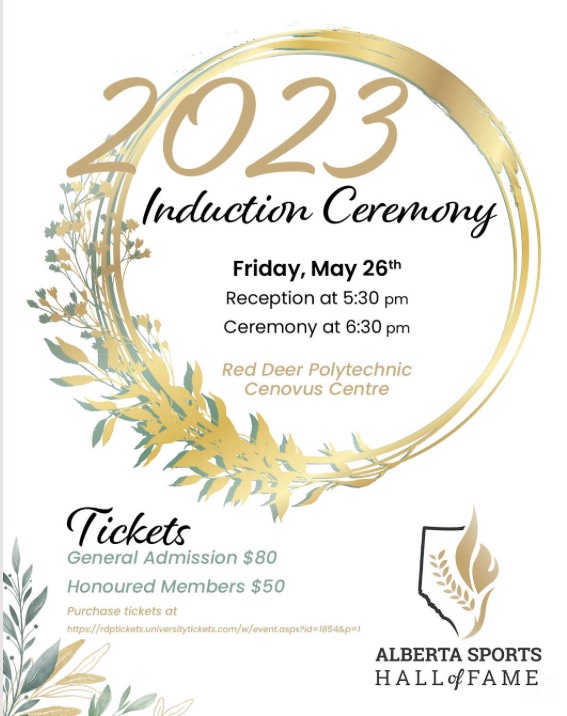 Our 2023 Induction Ceremony will be on Friday, May 26th at the Red Deer Polytechnic Cenovus Centre. Cocktails and appetizers will begin at 5:30 pm, with the ceremony starting at 6:30 pm. The class of 2023 is as follows:
Athletes
Andrew Buckley-Football
Mike Johnson-Baseball
Helen Upperton-Bobsleigh
Builders
Cara Currie Hall-Multisport
Allan Ferchuk-Multisport
Greg Peterson-Football
Lyn Radford-Multisport
Teams
Old Grizzlys 1991-1994-Hockey
Awards
Wilf Brooks-Achievement –Hockey
Mark Stephen-Bell Memorial – Radio Broadcaster
Dr. Marcus Dunsworth-Pioneer- Multisport
Tickets are $80 or $50 for Honoured Members. You can purchase your tickets by clicking here.
If you have any questions or need help purchasing tickets, please call 403-341-8614.
Honoured Member Cody Snyder to be Inducted into the Bull Riding Hall of Fame
Honoured Member Cody Snyder will be the first Canadian inducted into the Bull Riding Hall of Fame.
Cody started riding junior steers in rodeo competitions when he was eight years old, and at twelve, he finally rode his first bull. By the age of fifteen, Cody was the Canadian Amateur Bull Riding Champion. Through 1980 and 1981, Cody gained the experience he needed to lead the Canadian Professional Rodeo Bull Riding standings in 1982. He was nineteen years old. He was inducted into our Hall in 2002 as a Rodeo Athlete.
Learn more about this story by following the link below.
This newsletter is sponsored by the RBC Foundation.
Honoured Member Highlight – Allan Coulter
Volleyball Athlete – Inducted in 1997
Allan Coulter was a member of Canada's National Men's Volleyball Team from 1979 to 1992. He competed in over 700 international volleyball matches and was selected as Team Captain from 1988 – 1992. He competed in both the 1984 Summer Olympics and the 1992 Summer Olympics. He was described as the 'quickest hitting middle blocker' Canada has ever had. Allan continued to compete with the Calgary 'Canuck Volleyball Stuff' and became the spokesman, leader and role model for Canada's National Team Program.
Provincial Sport Organization: Volleyball Alberta
Their primary goal is to promote and develop volleyball at all levels throughout Alberta. Volleyball Alberta services the needs of its membership which consists of athletes, coaches, officials, and anyone interested in the sport of volleyball in the province.
Artifact in Focus!
F. E. Osborne Memorial Trophy: Tuxis Junior League Champions, Operated by Calgary Tuxis Coucil, Annual Competition. 1949-1957.
Honoured Member Dr. David Legg Teaches Adaptive Sports to Elementary Students
The Alberta Sports Hall of Fame partnered with Calgary Adaptive Hub and Honoured Member Dr. David Legg to teach students about adaptive sports.
Professor at the Mount Royal University department of Health and Physical Education, David is an engaging lecturer and supports his students in finding practical experience working with individuals with disabilities in adapted sport. He has devoted his life as a volunteer in sport for athletes with a disability at the provincial, national and international level. He was inducted in 2022 as a Paralympic/Multisport Builder.
Thank You Northern Alberta Curling Championship Society!
We want to give a huge shout-out to the Northern Alberta Curling Championship Society for sponsoring a new interactive for the Hall. The new curling rink is a great addition to our space.
If you or your organization would like to sponsor a new interactive for the Hall, please email us at [email protected] or call 403-341-8614.
Donate Now​
The Alberta Sports Hall of Fame needs your support to continue the ongoing preservation of Alberta's sports history and the development of museum exhibits. We are grateful and appreciative of the generosity of our supporters and friends. We would be happy to assist you in choosing how your personal legacy will be fulfilled and the many options available. Here is some information on donating shares to ASHFM and the benefits to you as a donor.
Popular roller-coaster at West Edmonton Mall amusement park to be removed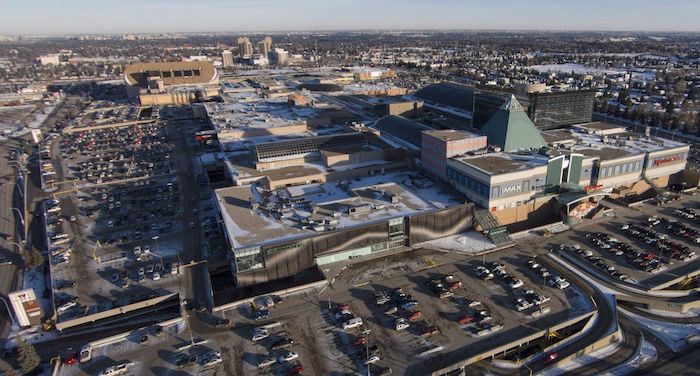 Canada's largest shopping centre says a popular roller-coaster at its amusement park is being removed after nearly 40 years in operation.
West Edmonton Mall's vice-president of parks and attractions says in a statement that while the Mindbender will be missed, the mall is excited to announce it is working on new plans for the site.
The Mindbender was known as the world's tallest and longest indoor, triple-loop roller-coaster.
In 1986, three people were killed on the roller-coaster, which forced the mall to shut it down for a year for safety modifications.
Galaxyland initially opened in 1983, but was known as Fantasyland until 1995.
The indoor amusement park partnered with Hasbro in 2022 and features attractions licensed from the franchise.
This report by The Canadian Press was first published Jan. 30, 2023.