ONE RELATIONSHIP AT A TIME:  THE PATH TO PROJECT SUCCESS
ONE RELATIONSHIP AT A TIME: THE PATH TO PROJECT SUCCESS
Infrastructure development is full of risks, which are managed in a number of ways. Risk management might sound cold and impersonal, but it has the potential to incent real human connections and build genuine relationships. Key risks may have leading practice on how best to mitigate, transfer, ignore or hold those risks, but when it comes to energy development across Canada, meaningful consultation and accommodation is non- negotiable. As most are well aware at this point, the Crown must consult and accommodate where Aboriginal or Treaty rights are impacted. Far from being a mandatory 'checkbox' in the process of project development, the undertaking of engagement and relationship-building holds the potential for mutual benefits for both the project and the impacted First Nations, Inuit, or Métis community.
Genuine relationship-building is a solid foundation for partnership on energy projects, to the benefit of both parties. This partnership can take the form of Impact Benefit Agreements (IBA) Mutual Benefit Agreements (MBA) or equity participation arrangements, among others. Both IBAs and equity arrangements have the potential to grow economic and social prosperity, but determining which approach is the best fit will be influenced by the priorities and capacity of both the developer and the Indigenous community.
In both these common approaches there are similar objectives:
Compensation for and mitigation of potential impact
Influence or control over project design and development
Securing benefits for the community
Securing social license
Working towards consent and support of the project
Reduced risk of opposition or disruption
Improved financing as a result of managed risks
Both also reflect an underlying premise that it is no longer acceptable to develop resources or energy infrastructure in a manner where impacts fall to one party, and benefits to the other.
When comparing and contrasting IBAs and equity arrangements, some key considerations are the degree of potential impact, the capacity and interest of the community in the project's development and management, the project's term, risk tolerance of either party, and financing and funding opportunities.
Impact Benefit Agreements between a project developer and impacted Indigenous community formalize project benefits sharing. Often, these IBAs will provide some employment, training, and contracting opportunities, but the economic benefits will often be tied to the project's degree of impact to traditional lands and lifestyle (e.g., land impacts, hunting and gathering impacts, etc.). Regardless of how well the project is performing, the IBAs will guarantee a steady revenue stream to the Indigenous community. This can be a safe bet for risk adverse councils but holds the potential for serious revenue inequity in the case where the project is successful and very profitable.
Pivoting from partnership to ownership, equity participation agreements clearly scale the revenue sharing between the project developer and community as the project success and profitability increases. If the energy project does well, the First Nation, Inuit, or Métis equity partner is also going to do well and see greater revenues. The inverse is also true. In these equity arrangements, which are becoming more prevalent in the eastern provinces, the Indigenous partner has a greater say in project operations, as they are a shareholder. It also arguably provides more security to the developers, as the Indigenous partner is a proponent of the project, and no longer a potential opponent. Both partners would look to maximize the economic benefits of the project, while minimizing the adverse economic, environmental and social consequences flowing from the project. Without focusing too much on the direct revenue arrangement, equity arrangements will often also include guaranteed or preferential opportunities for contracting, procurement, employment and training.
To be clear, in either an IBA or equity arrangement model, the duty to consult and accommodate is neither negated nor automatically fulfilled. But the relationship between developer and community becomes formalized and clearer, adding transparency and certainty to an otherwise risk-filled process.
Managing project risk is a mandatory part of project development. But the means of managing risk holds so much potential for empowerment, leadership, and benefit. Project success and economic development are not an end in themselves, but rather a means to an end – the end being healthier and more prosperous First Nations, Inuit, and Métis communities, and Canada as a whole. All the while moving the dial on reconciliation through real connections, business developments, and cultural education – one relationship at a time.
Robyn Budd was a 2019 member of the Energy Council of Canada's Young Energy Professionals program and was a Manager in KPMG's Global Infrastructure Advisory practice, based in the unceded territory of the Musqueam, Squamish, and Tsleil-Waututh nations (Vancouver). She was also the Leader of KPMG's National Indigenous Network.
Zachary McCue is Founder of The Waabgaag Group, with expertise in renewable, infrastructure, and resource development, specializing in equity participation and impact benefit agreements. He is a proud member of Curve Lake First Nation and is based in Ontario.
Thanks to Todayville for helping us bring our members' stories of collaboration and innovation to the public.
Click to read a foreward from JP Gladu, Chief Development and Relations Officer, Steel River Group; Former President and CEO, Canadian Council for Aboriginal Business.
Calgary police identify 15-year-old girl killed in shooting, investigation continues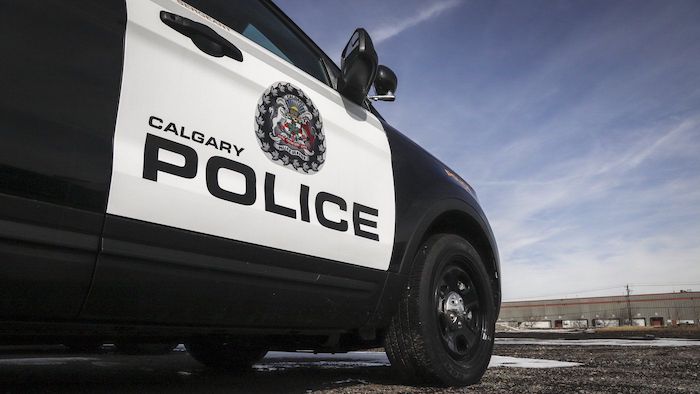 Calgary (CP) – Calgary police have identified a 15-year-old girl who was fatally shot this week as investigators try to determine whether she was the intended target or if it was a case of mistaken identity.
Officers responded to reports of a shooting in an alley in the Martindale neighbourhood early Tuesday morning.
They say the teenager was a passenger in a vehicle when she was shot and that the driver, who was not injured, immediately fled the scene before pulling over to call police.
Police say investigators have received several tips from the public.
They say evidence from the scene leads police to believe it was targeted, but investigators haven't determined whether the occupants of the vehicle were the intended targets.
The girl has been identified as Sarah Alexis Jorquera of Calgary.
"This was a senseless act of violence that took the life of a young girl," Staff Sgt. Martin Schiavetta of the homicide unit said in a statement Wednesday.
"At this point, we have more questions than answers and are working around the clock to hold those responsible accountable. Losing a 15-year-old is a tragic loss for our community, her school, her friends and, most importantly, her family."
Police ask anyone with any information about the shooting to call investigators.
This report by The Canadian Press was first published March 29, 2023.
'A crisis': Calgary charity seeks one-month homes for Ukrainian refugees after influx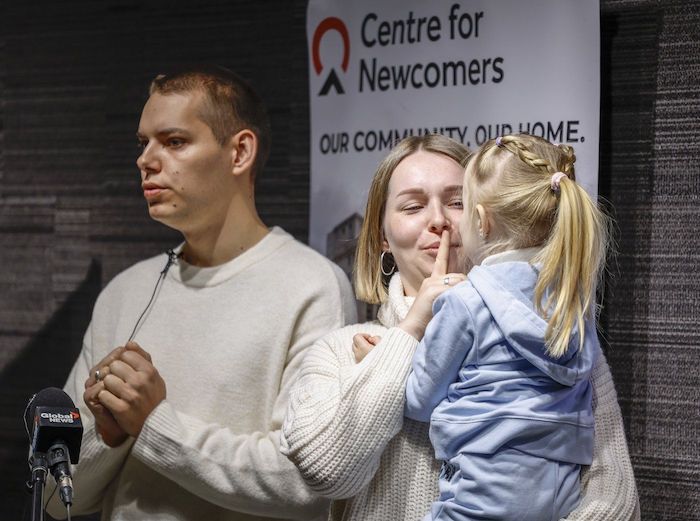 Ukrainian evacuees Dmytro Syrman, left, his wife, Anastasiia, centre, and their four-year-old daughter Varvara attend a news conference highlighting the need for temporary housing in Calgary on Wednesday, March 29, 2023. THE CANADIAN PRESS/Jeff McIntosh
By Bill Graveland in Calgary
After six months under Russian occupation, Dmytro Syrman and his family decided to flee Ukraine for a safer life abroad and are now in Calgary.
The family lived in Dniprorudne, a mining city of 17,000 in southern Ukraine. Syrman worked as a human resources manager at an iron factory.
In August, Syrman, his wife, Anastasiia, and four-year-old daughter Varvara embarked on a six-day, 3,000-kilometre drive to Poland.
"On the 24 of February, when the Russian army attacked Ukraine and occupied our city in March 2022, we lost everything," Syrman said Wednesday.
He said they began planning their escape when they realized Russian soldiers weren't leaving their city.
"We started all of this because we were scared for Varvara," he said. "When Russian bombs were falling near our city it was really scary."
Their home is still under Russian occupation.
For the past year the family stayed in Poland, sent in their paperwork to come to Canada, and two weeks ago arrived in Calgary.
They're now staying with a host family for a month while they look for long-term accommodation and to find jobs.
"We are here and starting a new life. We can't believe about people who don't know us and many helped us. We're really shocked," Syrman said.
The Syrmans were helped by Calgary's Centre for Newcomers, which started a campaign to find 100 hosts for Ukrainian families or individuals for a month while they find housing of their own.
Kelly Ernst, chief program officer with the centre, said there has been a flood of Ukrainians trying to take advantage of a federal program that allows them to temporarily resettle in Canada.
The Canada-Ukraine Authorization for Emergency Travel program has been extended until July and Ernst said he expects people will continue to flee the war-torn country.
"We're in a desperate, dire need at the moment for host homes to try to accommodate the evacuees coming from Ukraine. It's reaching the proportions of being a crisis moment," said Ernst.
He said people arriving elsewhere in Canada are migrating to Calgary because the rents are lower than in larger cities such as Toronto and Vancouver.
Ernst said approximately 450 people have been arriving in Calgary every week from Ukraine and his organization has helped people staying nights in the airport, off the street and at homeless shelters.
Natalia Shem, who is the manager of housing for the Ukrainian evacuees, said it's difficult for the newcomers to find somewhere to live before arriving.
"It's almost impossible to find long-term rent being outside of Canada and people who come here need one month of stay," Shem said. "It's an average time a family can find long-term rent, job and settle down here in Canada."
This report by The Canadian Press was first published March 29, 2023.