My endless date with self-isolation has led to some sobering realizations
My endless date with self-isolation has led to some sobering realizations.
For my friends and family who haven't seen me all week, you can watch me on CTV Two's Alberta Primetime. Here is a link to a segment we taped Friday, March 13th. My interview appears at about the 8 minute mark. I'd like to thank the station for having me on to talk about my experience.
___________________________________________________
It's now day 10 of my self-isolation. What have I learned? Well, a few things, some about myself.
I didn't wash my hands often enough or with enough rigor. I do now. And I will continue to be more diligent. It's an essential habit for the overall good of the community at large. And I've learned that good old soap and warm water are your best bet. There are small bits of fat that hold this virus together and soap breaks down fat.
Oh, and clean your phone. Just think about how disgusting that device really is. You leave it on the counter at your local bar. You hand it to your drunken friend at the club to co-obsess over your newsest Tinder crush. And guys, admit it, you've left it on the top of the urinal while doing your business. Don't tell me you haven't. A cursory search on google tells me that disinfectant wipes are safe to use. So wash your device. And your phone… (that's humour – I'm killin' myself – you have to entertain yourself in isolation).
I've learned that monkeys in Thailand depend on food from tourists for survival and am reminded of Hurricane Katrina and thinking at the time that we're all savages after a few days without food, water, and bananas. Like that old Joke "… Katrina was a shitshow … don't be a Katrina…" Hmmm … best not to think about that.
Then I got this text from a friend who was picking up Advil and Alcohol at Costco.
Being early in the curve of self-isolators in our region, I've been able to sit back and watch things develop. In my original artice (below), I mentioned I had destroyed 2 rims on my car when I crashed in to a massive pothole on Hwy 43 west of Edmonton on March 2nd (self-isolation day minus 1). One March 3rd, I took my car to a shop for repairs and rented a car for a few days. Later that day I was asked to self-isolate. Yesterday, having not driven the car since Monday, I decided to return it. I called the rental agency, told them my story, and knew that this would create a problem. The polite man on the other end told me about the new directions they had just received from head office and that he would call back.
His superior called within the hour. Went through my scenario with her. I was informed that their new policy dictates that I would need to be tested and if negative, then I could return the car. Otherwise, I would have to keep it and pay the commensurate costs until March 19th, the day after my self-isolation is finished. When I told her that I would NOT be going for a test and taxing the health care system having been told explicity by AHS that I did not need a test unless displaying symptoms such as fever and cough. I've displayed no symptoms. I said that would leave me no choice but to return the car to them and simply bring the keys into the office.
This led supervisor #1 to place a call to supervisor #2. A better plan emerged. I keep the car. They don't charge me any further. I send a photo of the odometer taken with my freshly disinfected phone, and then I can prove that I didn't drive the car in the ensuing days.
Being early in the curve, it's easy to see the challenges for all business trying to cope with what is rapidly becoming a socio-economic crisis of a proportion we have never experienced.
He should take some lessons from PGA Commissioner Tim Monahan about how to communicate.
I've had an opportunity to watch alot of TV. Like alot! Like Wednesday evening when I watched President Trump sniffle his way through the worst presidential address ever made, and that's saying alot considering some of his earlier attempts. It was complete with inaccurate information (read from a teleprompter, meaning someone actually wrote that script with misinformation in it). The misinformation was so bad that it had to be corrected immediately because it completely mis-stated important elements about the European travel ban – I mean seriously, WTF. Who's wrote the script for the President? I understand how mistakes happen, but NOT on the most important piece of presidential script of our life time.
Our world is changing in front of our eyes. We have not seen a wholesale shutdown like this before.
Now this morning (Friday), the President has declared a national emergency. It was just last week that he said the US was testing bigly and that there were only 15 cases and that they were strongly working with some really bright people and should have it pretty much eliminated really soon. So what's up there … lying? Or misleading people? Maybe same thing? Or worse yet, he didn't know what's to come? Surely that can't be possible. It's the United States we are talking about. The resources at his disposal are immense, notwithstanding the budget slashing at the CDC and the elimination of science in the daily American diet.
But what if he didn't know? Well, then we're all gonna die sooner than we'd like.
Keep in mind it was March 4th that he said he had a "hunch" that the WHO's death rate of 3.4% was a "a false number". He just said today that "no nation in the world is more prepared…". So which is it? If they're well prepared, then why would Bigly be talking about a "hunch" just a week ago. As someone living the the attic of the USA, I'm not comforted by his ability to capture the trust of his country. And now he's blaming people for the laws that are in place that delayed the testing process that just last week he didn't seem to have any idea would be needed. This has me riled up more than the other 11,000 recorded lies attributed to this man.
He should take some lessons from PGA Commissioner Tim Monahan about how to communicate. I learned when he held a news conference yesterday that perhaps the best and smartest work for the PGA. #timmonahanforpresident.
Get used to working from home. I sent this earlier to my brother, an Air Canada pilot who just flew to New Delhi. With each flight I'm sure he wonders if it's a one way or if he'll get back in the country. Hopefully it's more organized than that, but in a situation as fluid as this, it's hard to say with certainty.
Our world is changing in front of our eyes. We have not seen a wholesale shutdown like this before. Manitoba has announced they will close all of their schools effective March 23rd. I bet that gets moved up given that schools in Ohio are closing this coming Monday. And Washington State is closing schools until April 24th.
With all of this going on, you'd be forgiven to have missed the fact that the United States on Thursday evening launched a series of airstrikes in Iraq against an Iranian-backed militia group suspected of firing an earlier rocket attack that killed and wounded American and British troops.
And the Canadian Military is preparing for potential aggression from one of the world's bad actors. Speaking of viruses, what has the Rocket Man been up to lately? Probably wondering how to take advantage of a weakened world order.
A friend just called me. I picked up my clean phone and put it to my ear. "One of my bosses is not feeling well. They have a fever and are coughing". Out my window, a school bus just went by. I wonder if it's the last one I'll see for a few months? I said in my first article that I'm lucky to be able to easily self-isolate given my work. Now I can honestly say that I'm happy to be self-isolating. Thanks to my friends and family who have kept me in good food and great humour over the past week.
Be nice to one another. We're all in this together. And it sounds like it's going to go on for a long time. Estimates are suggesting that it could be months or even a year or more that we live with this virus.
Below is my first article on this subject, written Monday, March 9th.
LISTEN: My date with self-isolation amid the Covid 19 scare – J'Lyn Nye Interview
Province hopes new physician training in Lethbridge and Grande Prairie will mean more rural doctors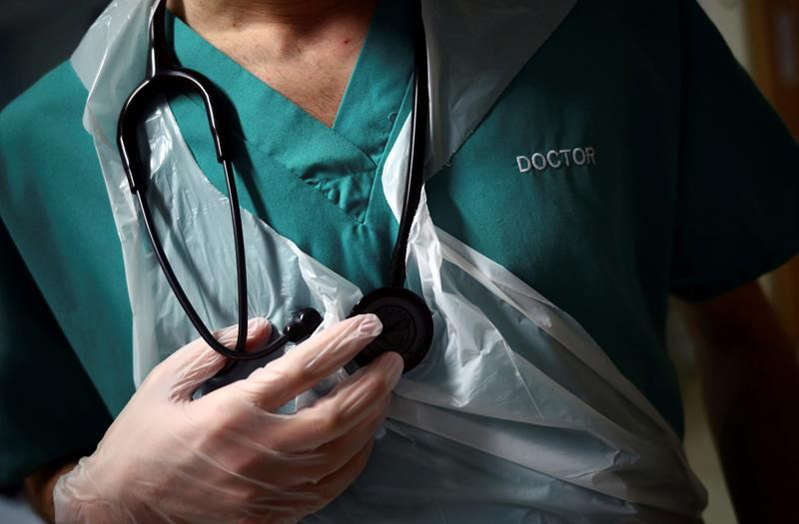 Addressing rural physician shortages
To help bring more physicians to rural Alberta, Alberta's government is working to offer physician training in Lethbridge and Grande Prairie.
Alberta has the best front-line health-care workers in the world, and Alberta's government is working to ensure that Albertans have access to the care they need, when and where they need it. Rural Albertans are disproportionately affected by the nation-wide shortage of healthcare workers and their community members cannot access physician training close to home.
Alberta's government is investing $1 million to explore ways that regional post-secondary institutions, such as the University of Lethbridge and Northwestern Polytechnic, can help deliver medical education outside of Edmonton and Calgary. Research shows that positive learning experiences in rural health-care settings lead to more physicians choosing to pursue careers in rural areas.
"Over the past year, we've made strategic investments to address health care labour shortages, including through the largest expansion of post-secondary seats in Alberta's history. Partnering with Alberta's two medical schools and institutions in northern and southern Alberta to train doctors locally is the best path to ensuring we meet rural needs."
The funds will be used by the University of Alberta, University of Calgary, University of Lethbridge and Northwestern Polytechnic to support collaborative planning. This will include detailed plans to support regional health professions training centres in Lethbridge and Grande Prairie.
"Expanding medical training in rural areas creates new opportunities for students who want to remain in their communities while making other students familiar with regions of the province and types of work they may not have considered before. Expanding training opportunities is just one way we're addressing the shortage of rural doctors to ensure Albertans get the care they need when and where they need it."
Plans for rural training opportunities include hands-on learning experiences in rural communities surrounding regional hubs. These opportunities will support the recruitment of physicians to teach and train medical students and residents, while increasing access to physician services.
"An investment in rural medical training is a direct investment in the future of rural and remote health in Alberta. We look forward to building on our existing relationships with partners across Alberta and significantly expanding the opportunities for future health professionals to learn and enter practice outside our largest urban centres, toward the goal that drives everyone involved in the health professions in this province — readily available, easily accessible, world-class health care for all."
"We at the University of Calgary's Cumming School of Medicine are excited about working collaboratively with our colleagues across the province to provide innovative educational solutions for health workforce shortages particularly in the rural areas. There are many factors and initiatives required to help the situation and expanding physician training capacity in Alberta post-secondaries can lead to a healthier population."
This funding is the latest investment from Alberta's government to ensure students have access to the education, training and skills students need to succeed in tomorrow's economy. At the same time giving confidence to industry, businesses and investors that regional workforce needs will be met.
Previously in Budget 2022, Alberta's government announced the targeted enrolment expansion initiative which invested more than $171 million into Alberta's post-secondary system to create nearly 10,000 new seats over three years in high-demand programs. More than 2,400 of those new seats were in nursing, health care aide and paramedic programs.
Alberta's government has also signed a new agreement with the Alberta Medical Association. This includes $15 million annually to support physician recruitment and retention for physicians who practise full-time in underserved areas, an additional $12 million annually for the Rural Remote Northern Program, and a one-time investment of $2 million to increase funding for the existing RESIDE program that provides incentives for family physicians to practise in Alberta's underserved rural and remote communities.
Quick facts
There are two medical schools in Alberta, located at the University of Alberta and the University of Calgary.
The Ministries of Health and Advanced Education are jointly responsible for the education of physicians in Alberta. Advanced Education is responsible for undergraduate medical education. Health is responsible for postgraduate medical education or residency training, including international medical graduates, rural medical programs, resident physician compensation, and the Academic Medicine and Health Services Program.
Alberta halts rate hikes on auto insurance for private passenger vehicles for 2023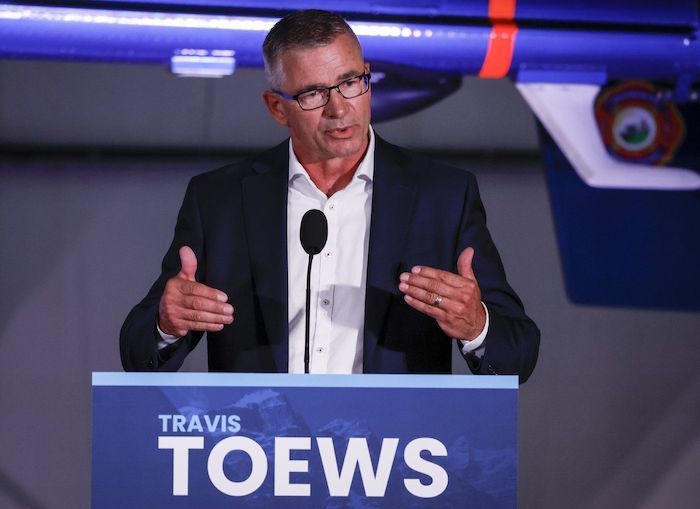 Edmonton – The Alberta government says it will not approve any more rate hikes for auto insurance on private passenger vehicles until the end of the year.
The government says in a news release that it shares concerns from the public and is imposing the cap while it works to find long-term solutions.
The move comes more than three years after the United Conservative Party government lifted a cap on hikes imposed by its NDP predecessors.
Finance Minister Travis Toews had previously resisted calls to reinstitute the cap, calling it an ineffective stopgap solution while pointing to reforms his government made in 2020 to stabilize rates over the long haul.
The government now says factors like inflation and supply chain issues for auto parts are affecting rates in the short term and must be addressed.
Premier Danielle Smith had called for her government to take action on insurance late last year, after a report commissioned by the Insurance Corporation of British Columbia found Albertans are paying among the highest rates in Canada.
This report by The Canadian Press was first published Jan. 26, 2023.