Mission Update: A behind the scenes look at Alberta's Army Reservists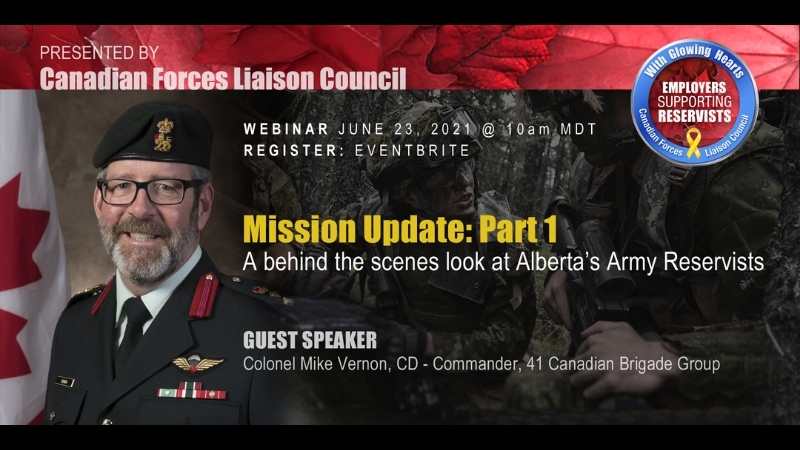 Submitted by: Canadian Forces Liaison Council
Join us for an informative webinar on June 23rd with guest speaker Colonel Mike Vernon, CD/Commander of 41 Canadian Brigade Group. 
Learn more and register for Mission Update Part 1: A behind the senes look at Alberta's Army Reservists:
A behind the scenes look at who reservists are, what they do, and how the Alberta Reserve is preparing and training to support our communities and country when we need them most. 
Numerous Alberta businesses employ individuals who are members of the Reserve Force. When Alberta faces a disaster – the Covid-19 Pandemic, fires, floods – reservists are asked to respond to the call and assist in the survival and support of our communities. Responding to these calls often pulls reservists away from their regular employment.
Reservists are skilled and talented people who are part-time "citizen soldiers", sailors and airmen/airwomen. In addition to their military responsibilities, they also work full time in the civilian workforce. They enhance corporate culture, small and large businesses, with the experience they have attained in the military. As a candidate for a position they have a well-earned skill set that goes above and beyond another candidate for the same role. If you already employ a Reservist, you know the benefits they bring to the workplace with both hard and soft skills.
The Canadian Armed Forces provide Reservists with world class training to develop key skills which form not only the foundations of an valuable Reservist but also a highly qualified employee. Employers benefit from their core skills and abilities such as leadership, teamwork, discipline, initiative, determination, problem solving, and the ability to work under pressure.
When you employ a Reservist, they bring their learnings from the military to your organization. In turn, they also contribute their workplace expertise when serving in the military. It's a win-win for both the organization and the Canadian Armed Forces. Reservists who serve help to provide a safe environment for businesses to thrive and is one of the very reasons many people are proud of our serving members.
The Basics
Reservists are members of the Canadian Armed Forces (CAF) who train and serve with the CAF on a part-time basis. They typically serve on weekday evenings and weekends. From time to time Reservists attend military courses and training that lasts one or two weeks and occasionally longer durations. Reservists have the opportunity to volunteer to serve on domestic and international operations on a full-time basis augmenting the regular component of the CAF. Through floods, fires or ice storms, Reservists are there to help and to keep communities and businesses operating. Their training provides both domestic response and international support – when you employ a Reservist, you in turn, are serving your country.
What is the With Glowing Hearts Initiative?
The With Glowing Hearts – Reservist Support Initiative is an HR program to attract and retain talented employees. The Canadian Armed Forces has trained over 25,000 Reservists who bring exceptional qualifications to an organization or business. Consider the Reserves as a talent pool to source potential employees to support company goals and initiatives. The initiative provides guidance and tools to support both Employers and Reservists and the good work they do together. Employing a Reservist is good for business and it makes your work, and workplace, better – With Glowing Hearts, we stand together supporting our community and country.
How does the program work?
It's simple – like any other HR initiative, the program becomes an offering to attract employees. For example, a company may already have a maternity leave policy in place, growth programs for leadership, or even policies for internships. The With Glowing Hearts – Reservist Support Initiative creates a "reserve-friendly" culture for an organization to attract, and keep, experienced and valued employees. The turnkey program assets can be used to create awareness through communication channels of choice.
What does the program include?
The program consists of the following elements:
Reservists 101: What Reservists offer Employers
"With Glowing Hearts" Reservist support customized certificate for Employers
"With Glowing Hearts" Employer/Reservist Recognition stickers
"With Glowing Hearts" Customized employer support icon (online use)
HR & FAQS: Q&A for employing Reservists
Military Leave Policy (MLP): Examples of MLP for small and large businesses
What's next?
How can I find out more information for my business?
Employers Supporting Reservists – Canadian Forces Liaison Council
Visit the website: https://www.canada.ca/en/department-national-defence/services/benefits-military/supporting-reservists-employers.html
Pembina to pocket $350 million after terminating acquisition of Inter Pipeline
CALGARY — Pembina Pipeline Corp. will pocket a $350-million break fee after terminating its acquisition of Inter Pipeline Ltd.
The move follows Inter Pipeline's board advising that it would no longer recommend that shareholders support the deal after rival Brookfield Infrastructure Partners LP upped its hostile takeover bid for the Calgary-based Inter Pipeline.
Inter Pipeline had resisted Brookfield's bid after signing a friendly all-stock deal to be bought by Pembina that would have seen its shareholders receive half a Pembina share for each Inter Pipeline share they hold.
Prominent shareholder advisory firm ISS recommended that Inter Pipeline investors reject the company's proposed sale to Pembina and instead support the takeover by Brookfield after Inter Pipeline's largest shareholder upped its offer to $16 billion, including debt.
Pembina's CEO Mick Dilger says he's disappointed by the outcome as the logic of a combination with Inter Pipeline remains "unparalleled" and the value creation impossible to replicate.
He says the company will continue to seek growth opportunities through other acquisitions.
"Pembina remains optimistic about its future, including the profitability of our existing business given foreseeable sector tailwinds, as well as with tremendous flexibility to pursue an ever increasing and more diverse set of opportunities for growth, some of which we were able to highlight and advance during this process," he stated.
Inter Pipeline subsequently said it is open to working with Brookfield to reach a "mutually agreeable transaction."
This report by The Canadian Press was first published July 26, 2021.
Companies in this story: (TSX:IPL, TSX:PPL, TSX:BIPC)
The Canadian Press
Yamamoto among four players to receive qualifying offers from the Edmonton Oilers
EDMONTON — The Edmonton Oilers extended qualifying offers to forwards Tyler Benson, Cooper Marody and Kailer Yamamoto as well as goalie Stuart Skinner on Sunday.
Benson, 23, has one assist in seven career NHL games. He was selected in the second round. No. 23 overall, in 2016.
Marody, 24,was originally drafted by the Philadelphia Flyers in 2015 and has appeared in six career NHL contests.
The 22-year-old Yamamoto had eight goals and 13 assists in 52 games with Edmonton last season. The '17 draft pick has 20 goals and 32 assists in 105 career NHL contests.
Skinner, 22, played in one game with Edmonton last year. He was drafted by the Oilers in 2017.
This report by The Canadian Press was first published July 25, 2021.
The Canadian Press