Alberta Sports Hall of Fame OPEN AGAIN!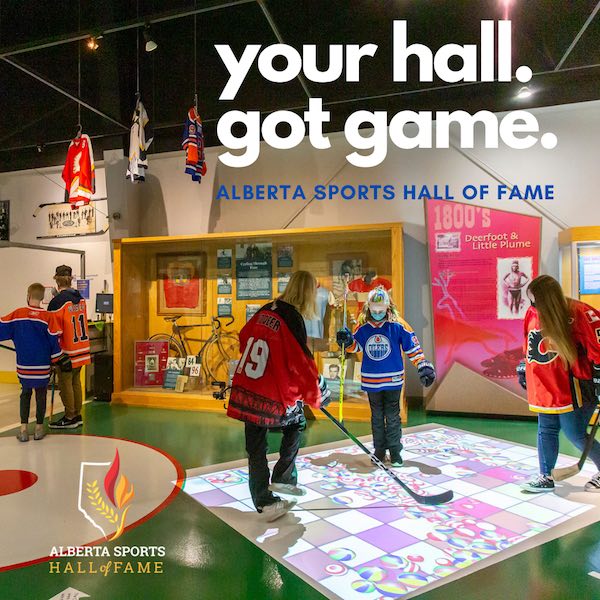 THE HALFTIME REPORT
News from the Alberta Sports Hall of Fame
Your Hall is back!
We're excited to announce that we have reopened our doors as part of Step 2 of the Government of Alberta's Open for Summer Plan.
We are open to the public Monday to Friday from 9 am – 5 pm, and on weekends and holiday Mondays from 10 am – 5 pm.
Since closing our doors in mid-December, we have worked behind the scenes to enhance the overall museum experience for our visitors.
Among these enhancements are four new interactives, among them the Lyndon Rush Bobsleigh Experience, which briefly opened to the public last fall; an Obie interactive projector, which projects a series of games onto the floor; a Hoops FX arcade basketball game; and a Super Chexx bubble hockey game.
Many of our displays have also been updated since the last time the hall was open, including our new featured exhibit, "When Sports Stopped." This new exhibit, which was installed in mid-November, examines multiple times where global events brought sports to a halt, from the Spanish Flu to the World Wars, up to the effects Covid-19 continues to have presently. The exhibit will be on display until the end of the year.
Other new displays examine the history of Alberta athletics and the former freestyle skiing discipline known as ski ballet.
Come check out everything we have on display.
This newsletter is sponsored by City of Red Deer.
Honoured Member in Focus: Kevin Sirois
Kevin Sirois was on his way to becoming one of the few Canadians to compete in both the Winter and Summer Olympics in the same year.
He competed at the 1971 Pan American Cycling Competition and toured Italy with the Canadian Cycling Team.
At the 1972 Winter Olympics, he placed 14th in the 10,000 m speed skating event and set a Canadian record that would not be broken until 1982.
He set over 20 Canadian speed skating records at both junior and senior levels, in races from 500m to five miles. He was the first recipient of the Canadian Amateur Speed Skating Association's Skater of the Year Award in 1968.
Provincial Sport Organization: Alberta Bicycle Association
The Alberta Bicycle Association (ABA) is the affiliated Provincial Sport Organization (PSO) of Cycling Canada. It operates under the authority of the world governing body of all cycling's many sports, the Union Cycliste International (International Cycling Union) in Geneva.
The mission of the ABA is to advocate, develop, and facilitate bicycling for Albertans.
The vision of the ABA is to be the recognized authority and leader for bicycling in Alberta.
The Board of Directors and committees of the ABA are elected by the general membership at the Annual General Meeting every November. All members and clubs have the opportunity to run and vote for members of the Board. The Board reflects the input of the three Committees (BMX, Racing, and Rec. & Trans.) which meet throughout the year to plan and coordinate the programs and services offered by the Association to our membership.
The ABA relies on volunteers whose passion and contribution are essential, including:
coaches
commissaires
race organizers
board
and committee members.
The ABA also employs several full-time staff to administer the day-to-day operations of the ABA and to provide services to thousands of members across Alberta.
You spin me right round 
The sport of cycling steadily gained popularity into the 1890s with improved roads and the introduction of races that are still held to this day.
The famous Tour de France was first contested in 1903 and has continued every year since, except during World Wars I and II.
Apart from road racing, like what is contested during the Tour de France, there are a number of other cycling sports that have been developed alongside the evolution of the bicycle such as Track Cycling, Mountain Biking, and BMX.
Alberta Sports Hall of Fame Annual General Meeting is scheduled for June 29
The Annual General Meeting of the Alberta Sports Hall of Fame Board of Directors will be held on Tuesday, June 29.
Golfers wanted!
We're looking for sponsors and golfers for the Annual Alberta Sports Hall of Fame Golf Tournament, which tees off on Tuesday, September 14 at the Innisfail Golf Course. We are excited to announce that we will be partnering with the Innisfail Eagles Hockey Team for this year's tournament.
Don't miss out on the opportunity to support the preservation of Alberta sports by playing at one of the province's crown jewels.
Call (403) 341-8614 or email [email protected]ca for more information.
Your Hall is hiring.
Are you a student itching to work in a fun, rewarding environment?
Of course, you are. Consider this your lucky day. The Alberta Sports Hall of Fame is looking for a Collections and Research Assistant, and a Marketing and Communications Assistant to work behind the scenes.
The positions are 35 hours a week and work from Thursday to Monday.
Visit our website, www.albertasportshall.ca, for more information.
Leave a legacy​
The Alberta Sports Hall of Fame needs your support to continue the ongoing preservation of Alberta's sports history and the development of museum exhibits. We are grateful and appreciative of the generosity of our supporters and friends. We would be happy to assist you in choosing how your personal legacy will be fulfilled and the many options available. Here is some information on donating shares to ASHFM and the benefits to you as a donor.
WestJet signs code share agreement with Dutch airline KLM
CALGARY — WestJet Airlines has expanded an existing code-share agreement with KLM Royal Dutch Airlines. 
The Calgary-based airline says it will now be able market flights operated by KLM, which it says means WestJet travellers will be able to easily transfer through Amsterdam's Schiphol Airport to 18 European cities. 
WestJet says the code-share agreement builds on the airline's new non-stop service between Calgary and Amsterdam, operating twice weekly beginning Aug. 5 and increasing to three times weekly on Sept. 9.
The new flights to Amsterdam are part of the airline's Boeing 787 Dreamliner program, which started flights to Europe in 2019 with routes to Paris, London and Dublin.
Code-share agreements allow airlines to sell tickets to places they don't fly to on flights operated by a partner airline, and they allow airlines to increase their market presence and make it more convenient for travellers to fly with them.
KLM already had a code-share agreement with WestJet that allowed the Dutch airline to sell tickets on flights operated by WestJet in Canada.
This report by The Canadian Press was first published July 26, 2021.
The Canadian Press
Brookfield Asset Management completes privatization of Brookfield Property partners
CALGARY — Brookfield Asset Management Inc. says it has closed a deal to acquire the remaining stake in Brookfield Property Partners.
The previously announced deal to buy the stake in the firm it already owns will also take the real estate firm private. 
Under the deal, unitholders have a choice of US$18.17 in cash, 0.4006 of a Brookfield Asset Management class-A limited voting share or 0.7268 of a BPY preferred unit, with limits for each category.
Brookfield Property REIT Inc. says it is redeeming all of its outstanding 6.375% Series A cumulative redeemable preferred stock on Aug. 19 for $25 per share cash, plus all accumulated and unpaid dividends for total proceeds of more than $25.21.
The agreement was overwhelmingly approved on July 16 by Brookfield Property Partners minority unitholders.
Brookfield Property Partners owns or operates a wide variety of properties. including office buildings, shopping malls and other properties across the world.
This report by The Canadian Press was first published July 26, 2021.
Companies in this story:(TSX:BPY.UN, TSX:BAM.A)
The Canadian Press