Intentional Living, Everyday Activism and Tea – Sarjesa Inc.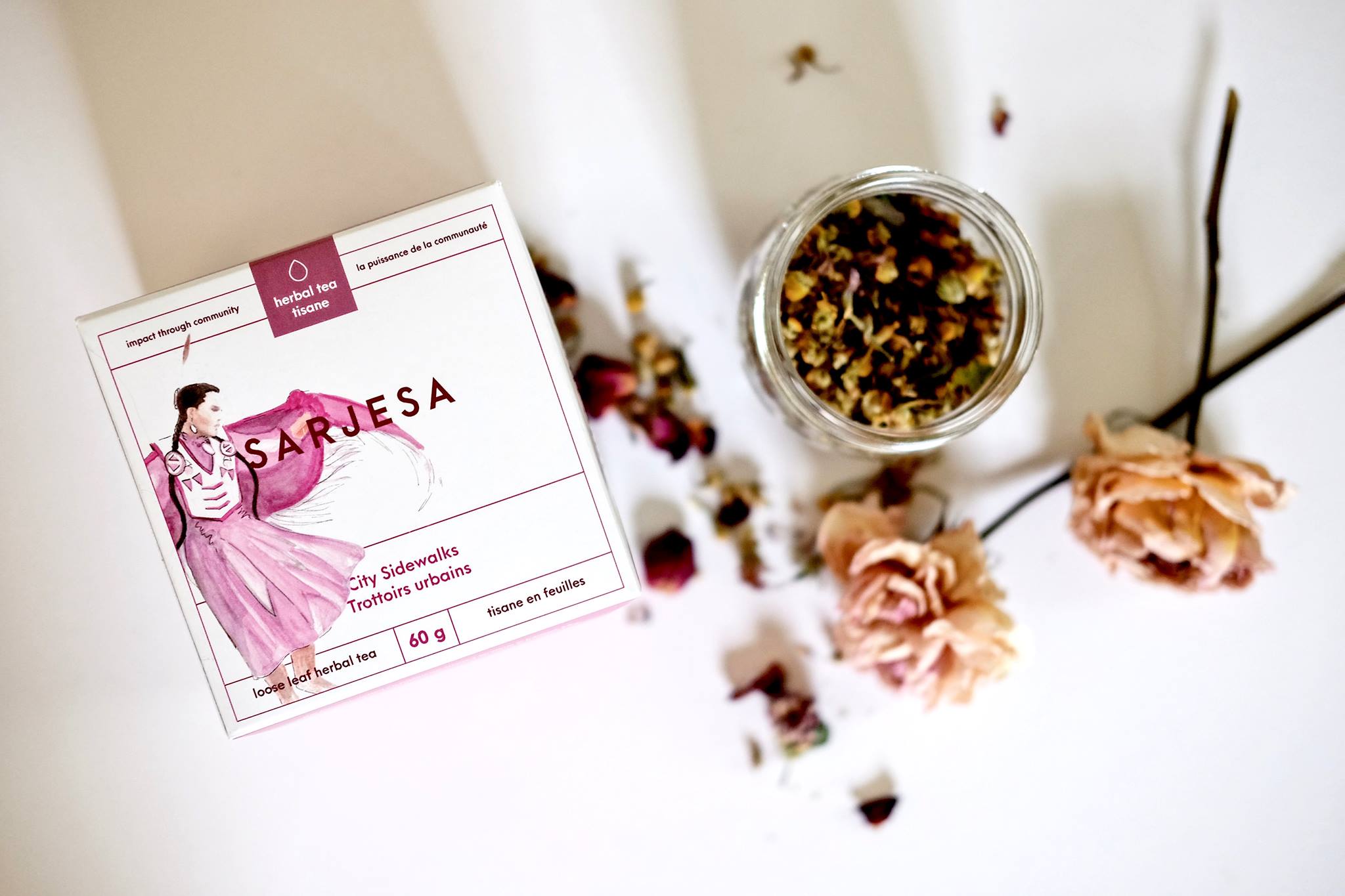 Activism is all around us. As witnessed by the entire world this past summer, even the smallest of intentional actions can have ripple effects that reach far beyond individual communities. 
A young entrepreneur from Calgary, Alberta is using tea to effect positive change in the city and beyond. Alexandra Daignault is the founder and owner of Sarjesa Inc., a socially focused tea company dedicated to supporting violence prevention programming and aiding marginalized women in Canada. Guided by an unwavering commitment to equality and Indigenous recognition, Sarjesa is a manifestation of Daignault's own core values, as well as her lived experience as a woman of Indo-Caribbean descent. 
Sarjesa was founded in December 2017, during Alexandra's 3rd year at Mount Royal University, while she pursued a degree in English with a double minor in Indigenous Studies and Innovation & Entrepreneurship. The name Sarjesa is Alexandra's own invention, inspired, in part, by her post-colonial theory books and conversations with her grandmother.
"Sarjesa is about bringing activism into everyday experience," says Alexandra, "Doing things on purpose. If we want to make long standing change, we need to be intentional."
The Sarjesa website and email signature feature a land acknowledgement adapted from Dr. Renae Watchman, an individual whose activism Alexandra cites as inspiration for her own work. 
We are a Non-Indigenous brand and company. We blend our tea on Treaty 7 territory, located on the homelands of the Niitsitapi (the Siksika, Piikani, Kainai), the Îyârhe Nakoda, and Tsuut'ina Nations, as well as Métis Nation Region 3. As an organization, run by an Indo Caribbean Settler woman, we acknowledge the treaty relations that have not been honoured and work daily to restore good relations. We try to respect all people and the planet through the creation of highly intentional products.
– Land Acknowledgment featured on Sarjesa website & email signature 
From ingredient sourcing, to hiring practices, to charitable donations, every aspect of Sarjesa has been carefully articulated to have an intentional, positive social impact. To exist in harmony with the land and the communities upon it, all teas are composed of both locally sourced and certified fair trade ingredients. Each box features information on Canadian Missing and Murdered Indigenous Women, and 20% of profits from each box of Sarjesa tea sold are donated to the Awo Taan Healing Lodge Society, an Indigenous-led women's shelter based out of Calgary.
According to Alexandra, her decision to establish a charitable partnership with Awo Taan Healing Lodge Society was inspired by her admiration of their practices, their ability to create a healing space for women and children in need, and the vast knowledge and expertise of their team. 
As a young entrepreneur immersed in the fast-paced culture of the start-up industry, Alexandra remains committed to serving the community and focusing on what matters most. "There's no rush to make it a huge tea corporation," she says, "It's important we continue to learn, grow organically, and do the work in a good way." Beyond the scope of Sarjesa tea, Alexandra encourages everyone to live an intentional life. Whether it is the food you eat, the products you buy, the way you interact with the environment … there are countless small ways to effect positive change. "Be gentle with yourself," she says, "Recognize that while maybe you can't make all the good decisions you want all at once, you can be very intentional about the decisions you do make, and why." 
For more information on Sarjesa Tea, visit https://sarjesa.com. 
For more stories, visit Todayville Calgary.
Alberta government says jobs, economy, COVID to be focus of fall legislature sitting
EDMONTON — The Alberta government plans a busy fall legislature sitting aimed at adding jobs and diversifying the economy while focusing on tamping down the renewed surge of COVID-19.
Government house leader Jason Nixon says this will include proposed legislation on recognizing professional credentials to address labour shortages. The bill will be introduced by Premier Jason Kenney.
"Our focus will be on Alberta's workforce, a couple of bills around diversifying the economy, a big focus on building infrastructure for our future, (and) growing our resources, particularly on the energy side," Nixon said in an interview Friday.
There will also be new initiatives on environmental protection and conservation.
Nixon said there will be 18 to 20 bills for the sitting, which begins Monday and is scheduled to run to the first week of December. 
"It's a very robust fall agenda," he said.
Nixon said the government will continue to take steps to reduce COVID-19 cases, which have severely stressed the health system.
No COVID-19-specific bills are planned, he said, noting they were passed in previous sittings. 
"There's certainly other stuff to be done to manage the pandemic … but we'll stand ready if Alberta Health needs us to pass any legislation to deal with the pandemic."
He said debate in the chamber is expected to return to some semblance of normalcy.
In the spring sitting, both the United Conservative government and the Opposition NDP reduced their numbers in the chamber to prevent the spread of the virus. 
This time, with all NDP members and all but one on the UCP side vaccinated, all will be allowed back in for debate.
The lone UCP member has a medical exemption and will be tested regularly, said Nixon.
He said there are still masking rules and members will try to maintain distancing where possible.
The NDP said it plans to hold the government accountable for what went disastrously wrong on COVID-19.
"This fall sitting of the legislature will be laser-focused on getting answers from the UCP on why they've failed Albertans so miserably in managing the devastating fourth wave of the COVID-19 pandemic," said Christina Gray, the NDP house leader.
"Since July 15, more than 85,000 additional Albertans have been infected with the virus and 700 have died."
Gray said the NDP will call for an all-party inquiry into the government's handling of the pandemic with the power to compel documents and testimony.
Nixon said the government will not agree to such a motion. He said it would be wrong to redeploy vital health resources right now and that Kenney has promised an eventual review of how the province handled the pandemic.
Kenney has also promised to bring forward a motion to ratify and act on the results of Monday's provincewide referendum on Canada's equalization program.
Final results aren't in from Edmonton, but figures from Calgary and other cities suggest the referendum will pass with about 60 per cent in support of urging the federal government to remove the principle of equalization from the Constitution.
Kenney has said the issue is not about removing equalization, something no province can do unilaterally, but about getting leverage to negotiate other issues surrounding federal transfers to attain a better deal with Ottawa.
Political scientist Jared Wesley said Kenney will likely continue to focus on initiatives such as the equalization referendum, if only to change the narrative on his low popularity ratings.
"The premier will be spending most of his time, if he has anything to say about it, outside the province, stumping for this fair deal," said Wesley, with the University of Alberta.
COVID-19 numbers have been trending down in recent weeks. But Kenney and Dr. Deena Hinshaw, the province's chief medical officer of health, say the situation remains precarious.
On Friday, there were just over 10,000 active COVID-19 cases in Alberta. And there were 191 COVID-19 patients in intensive care. 
Alberta's fourth wave troubles began after Kenney lifted almost all COVID-19 related health restrictions as of July 1, boasting that the pandemic had moved to the "endemic" phase and there was no need to plan for a renewed case surge.
This report by The Canadian Press was first published Oct. 22, 2021.
Dean Bennett, The Canadian Press
'You're looking at it:' Undercover officer says suspect led them to burial site
CALGARY — A Calgary man who killed his girlfriend and is on trial for the murder of her young daughter took undercover officers in the middle of the night to a remote, snow-covered area where they were buried.
Robert Leeming, who is 36, has pleaded guilty to second-degree murder in the death of Jasmine Lovett and not guilty to second-degree murder in the death of 22-month-old Aliyah Sanderson.
The mother and toddler were reported missing in April of 2019 after they didn't show up for a family dinner.
Court heard this week that Leeming was befriended by two undercover officers, who told him they had retrieved a bag of evidence from a nosy neighbour.
They offered to help him with his problems — including removing the bodies of Lovett and her daughter, who were in a shallow grave under a pile of mulch and branches in a day-use area west of Calgary.
One of the officers testified that Leeming knew exactly where the bodies were.
The officer said they went to the area in the early morning of May 6, 2019, and walked a short distance on foot.
"I said, 'OK, where to?' And (Leeming) goes, 'You're looking at it.' And he points down. And underneath and against my left foot were branches and a pile," said the officer.
"(Leeming) goes and he grabs a branch and lifts it up as if to prove what's underneath all these branches. As he does that, I see a small bit of blue that I believe to be the moving blankets."
Investigators previously testified that the mother and child were doused in gasoline and wrapped in blue blankets before they were covered in dirt, mulch and branches.
The trial also heard that Lovett had skull fractures and was shot in the head. Aliyah died of blunt force head trauma.
The officer said Leeming boasted about steps he had taken to hinder a possible police investigation — including hiding wads of raw bacon around his house to throw off cadaver dogs and filling the back of his car with mulch.
"Well, mulch is death, right? So it smells like death," Leeming told the officers in a tape recording played in court.
"You cleaned that car up good?" asked the undercover officer.
"Oh, yeah," he replied.
The officer said Leeming also expressed relief that his 2014 Mercedes seized by police was an older model.
"It's funny 'cause they were telling me the Mercedes, they pretty much can hook up to the computer in the car and know exactly where I've been," Leeming said with a laugh.
"It's too old a car. If it was an '18, then I'd be in jail."
The prosecution was expected to wrap up its case Friday.
This report by The Canadian Press was first published Oct. 22, 2021.
Bill Graveland, The Canadian Press