Intentional Living, Everyday Activism and Tea – Sarjesa Inc.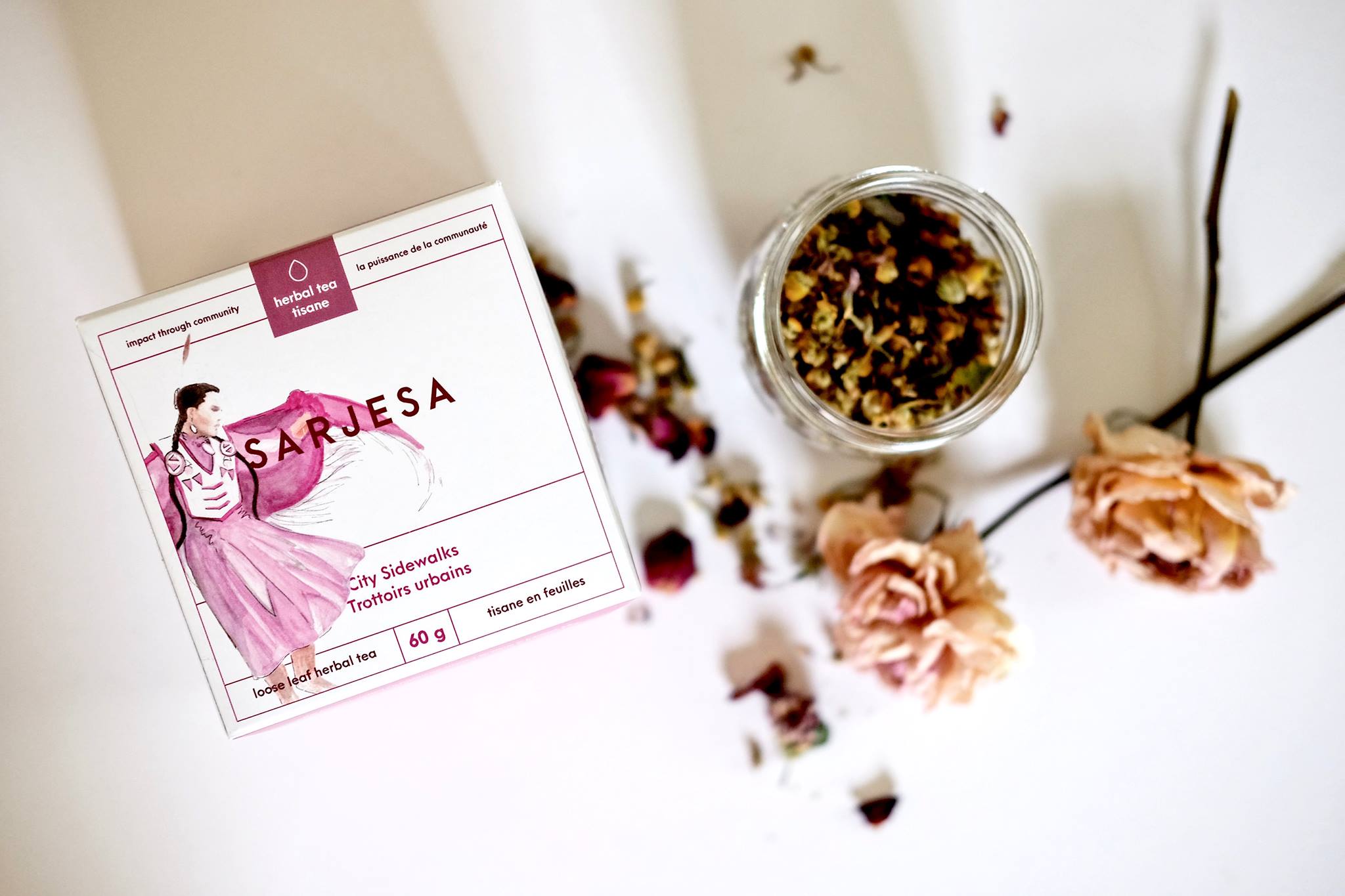 Activism is all around us. As witnessed by the entire world this past summer, even the smallest of intentional actions can have ripple effects that reach far beyond individual communities. 
A young entrepreneur from Calgary, Alberta is using tea to effect positive change in the city and beyond. Alexandra Daignault is the founder and owner of Sarjesa Inc., a socially focused tea company dedicated to supporting violence prevention programming and aiding marginalized women in Canada. Guided by an unwavering commitment to equality and Indigenous recognition, Sarjesa is a manifestation of Daignault's own core values, as well as her lived experience as a woman of Indo-Caribbean descent. 
Sarjesa was founded in December 2017, during Alexandra's 3rd year at Mount Royal University, while she pursued a degree in English with a double minor in Indigenous Studies and Innovation & Entrepreneurship. The name Sarjesa is Alexandra's own invention, inspired, in part, by her post-colonial theory books and conversations with her grandmother.
"Sarjesa is about bringing activism into everyday experience," says Alexandra, "Doing things on purpose. If we want to make long standing change, we need to be intentional."
The Sarjesa website and email signature feature a land acknowledgement adapted from Dr. Renae Watchman, an individual whose activism Alexandra cites as inspiration for her own work. 
We are a Non-Indigenous brand and company. We blend our tea on Treaty 7 territory, located on the homelands of the Niitsitapi (the Siksika, Piikani, Kainai), the Îyârhe Nakoda, and Tsuut'ina Nations, as well as Métis Nation Region 3. As an organization, run by an Indo Caribbean Settler woman, we acknowledge the treaty relations that have not been honoured and work daily to restore good relations. We try to respect all people and the planet through the creation of highly intentional products.
– Land Acknowledgment featured on Sarjesa website & email signature 
From ingredient sourcing, to hiring practices, to charitable donations, every aspect of Sarjesa has been carefully articulated to have an intentional, positive social impact. To exist in harmony with the land and the communities upon it, all teas are composed of both locally sourced and certified fair trade ingredients. Each box features information on Canadian Missing and Murdered Indigenous Women, and 20% of profits from each box of Sarjesa tea sold are donated to the Awo Taan Healing Lodge Society, an Indigenous-led women's shelter based out of Calgary.
According to Alexandra, her decision to establish a charitable partnership with Awo Taan Healing Lodge Society was inspired by her admiration of their practices, their ability to create a healing space for women and children in need, and the vast knowledge and expertise of their team. 
As a young entrepreneur immersed in the fast-paced culture of the start-up industry, Alexandra remains committed to serving the community and focusing on what matters most. "There's no rush to make it a huge tea corporation," she says, "It's important we continue to learn, grow organically, and do the work in a good way." Beyond the scope of Sarjesa tea, Alexandra encourages everyone to live an intentional life. Whether it is the food you eat, the products you buy, the way you interact with the environment … there are countless small ways to effect positive change. "Be gentle with yourself," she says, "Recognize that while maybe you can't make all the good decisions you want all at once, you can be very intentional about the decisions you do make, and why." 
For more information on Sarjesa Tea, visit https://sarjesa.com. 
For more stories, visit Todayville Calgary.
Canadian men to face Ireland in Edmonton rugby sevens quarterfinal
EDMONTON — Canada will play Ireland in the Cup quarterfinals Sunday after winning two of three on Day 1 of the HSBC Canada Sevens.
The Canadian men, who finished sixth last week at the HSBC World Rugby Sevens Series event in Vancouver, opened play Saturday by beating Hong Kong 21-12 and Mexico 47-0 before running into a South Africa buzzsaw in the closing match of the day at Commonwealth Stadium. The Blitzboks, who downed Kenya to win the Vancouver tournament, ran in seven converted tries in a 49-0 win.
South Africa is now 9-0-0 in the two Canadian events, which stand as a truncated 2021 HSBC World Rugby Sevens Series due to the pandemic. The 2022 campaign kicks off in late November in Dubai.
Earlier, Canada's Josiah Morra, Phil Berna and Brennig Prevost scored tries against Hong Kong with Prevost adding three conversions.
Thomas Isherwood, in his World Series debut, had three tries in the lopsided win over Mexico while Anton Ngongo and Ciaran Breen had two apiece.
Pool A winner South Africa will play Hong Kong in the quarterfinals while the U.S. takes on Britain and Germany meets Vancouver runner-up Kenya.
Germany, an invited team, scored the upset of the day by beating Vancouver bronze medallist Britain 19-10 to reach a Series Cup quarterfinal for the first time.
The U.S. went unbeaten Saturday, overcoming Kenya, Spain and Chile to win Pool B. Ireland secured top spot in pool C with two wins and a draw.
Canada is fielding a new-look team at the Vancouver and Edmonton events.
Co-captains Nate Hirayama and Harry Jones along with Connor Braid, Justin Douglas and Conor Trainor have retired in the wake of the recent Tokyo Games, where the men finished eighth in their Olympic debut. 
Other players are taking time off in advance of the 2022 season. 
Berna, Jake Thiel and Andrew Coe are the only Olympians on the current Canadian squad although Morra has also played in the World Series. Thiel is serving as the team's vice-captain. 
Due to the pandemic, the World Series ground to a halt after the Canadian men finished third in Vancouver in March 2020. The men got in six of 10 planned tournaments and the women five of eight before the schedule stalled. A women's event in Langford, B.C., scheduled for early May last year was one of the tournaments cancelled. 
Only seven of the men's core teams are taking part in the Canadian events with New Zealand, Fiji, Australia, Argentina, Japan, France and Samoa among those missing due to pandemic-related travel restrictions. 
Like Vancouver, Edmonton has a four-team women's competition that features Canada, Britain, Mexico and the U.S. 
Canada will face the U.S. in Sunday's semifinal after drawing 26-26 in the opening match of the day. The Canadian women also defeated Mexico 40-12 and played to a 7-7 tie with Britain, the winners in Vancouver who will face Mexico in the other semifinal.
—
This report by The Canadian Press was first published Sept. 25, 2021
The Canadian Press
Judge says unvaccinated prospective jurors in sex assault trial will be excused
CALGARY — An Alberta Court of Queen's Bench justice has ruled that prospective jurors in an upcoming sexual assault trial in Calgary will be excused if they're not vaccinated against COVID-19.
Justice N.E. Devlin wrote in his ruling Thursday that allowing unvaccinated people to serve on the jury could unfairly compromise the health of other jurors, court staff and anyone else connected with the trial.
Further, Devlin said an unvaccinated juror could be a distraction to other jurors by causing them to fear for their health, and he said a juror who developed symptoms could scupper the entire proceedings.
A recent decision in Ontario saw an Ottawa judge rule that all jurors participating in a murder trial would need to be fully inoculated with two doses of vaccine.
But a Quebec Superior Court judge ruled earlier this month that a juror did not need to be fully vaccinated against COVID-19 to participate in a Montreal fraud trial, citing privacy concerns and jury representativeness in his ruling.
Devlin, however, wrote that during juror selection for the sexual assault trial in Calgary this week, the "handful" of people who were not fully vaccinated "spanned the age, gender, and ethnic spectrum" and that excusing them would not reduce the jury's representativeness.
"Factually, I am satisfied that vaccination is a safe and highly effective means of preventing the spread of the coronavirus, the development of COVID 19 infections, and severe illness in those who do become infected," Devlin wrote.
"The public and judicial resources dedicated to a jury trial are both scarce and precious, especially right now. Needlessly increasing the risk that a trial run under these circumstances is aborted due to a COVID 19 infection would bring the administration of justice into disrepute in the eyes of the public." 
A decision from B.C. Supreme Court last month did not allow the Crown to ask jurors questions about their vaccination status, citing privacy.
Devlin wrote that "judicial discretion to safeguard the proper administration of justice is paramount over any provincial privacy legislation."
He noted that when he asked whether unvaccinated jurors should be excused from serving, neither the Crown nor the accused took a position.
In the Quebec case, Justice Mario Longpre noted that provincial jury law only allows those with mental incapacity or impairment to be exempted.
Longpre wrote that Quebec law, unlike Ontario's, does not permit jurors to be disqualified by reason of physical incapacity "even if it were to be concluded that the fact of not being adequately vaccinated constitutes such an incapacity."
This report by The Canadian Press was first published Sept. 25, 2021.
The Canadian Press