Holiday Mental Health – It's Okay if it's not the Most Wonderful Time of the Year
The stores are stocking up on red and green everything, the shelves are lined with ornaments and dancing reindeer and you can't ignore it even if you want to – the holiday season is nearly here. 
For many, Christmas means celebrations, decorations, rum and eggnog and time with family. From sledding and snow days to hanging the lights and putting up the tree, there are lots of things to love about the holiday season.
However, for others, there are lots of reasons why it might not be the most wonderful time of the year, and that's okay too. 
While the claim that suicide rates spike during the holiday season has been repeatedly misused and ultimately disproven as the "holiday suicide myth" (1), the holiday blues are a very real phenomenon. In the midst of the celebratory season, feelings of anxiety, isolation, depression and grief can be overwhelming, particularly when combined with additional stressors such as strained personal relationships and financial uncertainty. Not everyone is looking forward to Christmas, and in the midst of the 2020 global COVID-19 pandemic, which has left many people without employment and unable to travel, the emotional toll of this holiday season promises to be increasingly complex. 
The Canadian Mental Health Association (CMHA), Alberta Division released a statement regarding coping with the holidays during these unusual and uncertain times. 
"The pandemic has disrupted many yearly holiday traditions and has increased collective anxieties and social isolation. As we look for alternative ways to spread joy and take part in new ways of celebrating the holidays, Albertans must focus on their mental health during an already busy and often overwhelming season."
According to the CMHA, these are some simple but useful ways to maintain your mental health during the holidays. 
Focus on what you can control. Like the food you eat, the time you have a shower or the media you consume.  
Anxiety is normal. During times of crisis it is normal to feel increased anxiety. Acknowledge those feelings are valid. 
Limit your consumption of media. Allow yourself time to focus on activities you enjoy instead. Reading, listening to music or meditating are all great ways to de-stress when you are unable to attend regular holiday festivities. 
Remain connected to your body. Exercising regularly, getting outside, eating well and resting will support positive mental health. 
Be open with your support system. Identify supportive people you can connect with if you begin to feel overwhelmed or lonely. 
Reach out for help. If you or a loved one needs help, call 211 (Alberta only) or the Mental Health Help Line at 1-877-303-2642. 
As the holidays arrive amid the fog of the ongoing global pandemic, remember – it's okay to feel confused, frightened, and uncertain of the future. You are not alone, and there are always resources available to help you and your loved ones through these complicated times. Be gentle with yourself and others, ask for help if you need it, and above all, be kind. 
For more stories, visit Todayville Calgary.
Stars and RCMP chopper combine to rescue fallen ice climber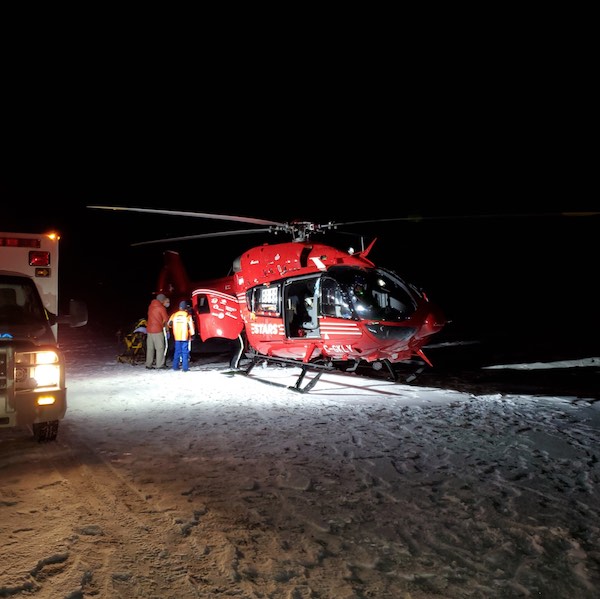 From Alberta RCMP media relations
Rocky Mountain House RCMP assist in ice climber rescue
On Jan. 15, 2021 at approximately 2:30 p.m., Rocky Mountain House RCMP received a dispatch of a fallen ice climber who was in need of medical assistance. A SOS beacon was received locating the fallen ice climber at the south end of Abraham Lake. Reports indicate the climber fell approximately 12 meters.
RCMP, EMS, Search and Rescue (SAR), STARS air ambulance and Alstrom Helicopters assisted in the rescue. The 28 year old injured male was long line rescued from his location by Alstrom Helicopters, with the assistance of Rocky Mountain House SAR. STARS was waiting nearby and further transported the injured male to a Calgary hospital.
The rescued male suffered serious but non life threatening injuries as a result of his fall.
Everyone who assisted in this rescue should be commended for their professional, swift and incredible work. Well done!
Oilers place goalie Mike Smith on long-term injured reserve
EDMONTON — The Edmonton Oilers have placed goaltender Mike Smith on long-term injury reserve, and have re-assigned Olivier Rodrigue to the club's taxi squad, pending quarantine protocols. 
Edmonton announced both transaction on Friday, but did not elaborate on Smith's injury.
Smith was supposed to start Thursday's game at home against the Vancouver Canucks but was declared inactive, forcing Mikko Koskinen into back-to-back starts. 
Smith and Koskinen were expected to split duties in the Oilers net this season. Edmonton re-signed the 38-year-old Smith to a one-year contract in the off-season. 
Rodrigue had been with the Graz99ers of the Austrian National League.
The 20-year-old Rodrigue was drafted 62nd overall by Edmonton in 2018.
This report by The Canadian Press was first published January 15, 2021.
The Canadian Press