Hidden Valley and Valley Creek Schools Team Up for Traffic Safety with New Signage
March 31, 2021 – Calgary, AB
The Parent Council of both Hidden Valley and Valley Creek Schools have a new sign in place to show they care about the safety of our children. As part of an ongoing awareness campaign to promote traffic safety this new sign not only draws attention to the school zone, but lists traffic rules and fines to educate and serves as a reminder to drivers in the community.
For several years, in collaboration, the schools have been working hard to educate the students on traffic safety education and awareness. In 2019, Hidden Valley School Parent Council received a Traffic Safety Fund Grant from the Ministry of Transportation to help with this goal and they been continuing to inform the community and students since.
From in-class instruction by the Calgary Police Service, to Street Safe Activity Books and Hug N' Go flags in front of the school, the safety of students has been the number one goal. In order to alleviate some of the traffic congestion during bell times, the school hosts an annual walk/wheel week each spring to promote active school travel to students and their families.
Read more on Todayville.
Calgary man faces 17 charges for alleged domestic abuse of multiple partners
CALGARY — Police in Calgary have laid 17 domestic-violence-related charges against a man involved with multiple partners over a 10-year period.
Investigators say a woman came forward in May to report serious violence from a previous relationship.
Police say she provided the names of two other women, who she believed had also been abused by the same man.
It is alleged the accused physically and sexually assaulted the women during those relationships.
Police say the violence was substantial and led to permanent physical ailments.
Daniel Walders, who is 39, has been charged with 11 counts of assault, four counts of sexual assault and two of uttering threats.
"The level of violence exhibited by the alleged offender is significant," said Staff Sgt. Vince Hancott with the Calgary Police Service's domestic conflict unit.
"Alberta has one of the highest rates of domestic violence in Canada, but help is available."
This report by The Canadian Press was first published July 23, 2021.
The Canadian Press
Major drug haul; ALERT seizes $3 million in drugs and cash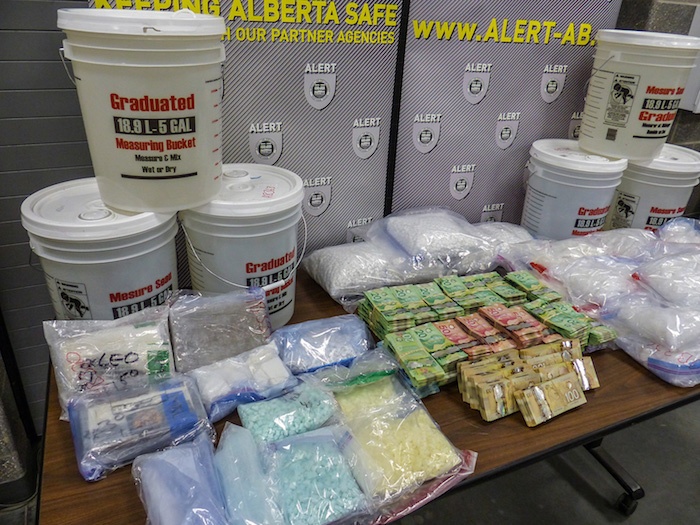 Post submitted by Alberta Law Enforcement Response Team (ALERT)
Three million dollars' worth of drugs and cash was seized from two Calgary homes, including what is believed to be the province's largest seizure of gamma-hydroxybutyrate (GHB).
On April 27, 2021 ALERT Calgary's organized crime and gang team concluded a short-term investigation with a record drug haul. ALERT seized enough methamphetamine, fentanyl, cocaine, and GHB to equal an estimated 100,000 doses.
The GHB seizure of 113.5 litres is believed to be the largest seizure of its kind in Alberta.
Meanwhile, the amount of methamphetamine and fentanyl pills seized ranks amongst ALERT Calgary's biggest busts.
"The totality of what was seized is staggering, and represents a high degree of community harm. Behind so many doses are crimes committed to feed that addiction; be it property crimes, thefts, frauds, and robberies, and all feeding into social disorder," said Supt. Dwayne Lakusta, ALERT CEO.
In total, ALERT seized roughly $3 million worth of drugs and cash:
113.5 litres of GHB;
22.3 kilograms of methamphetamine;
18,000 fentanyl pills;
1.5 kilograms of fentanyl;
4.1 kilograms of cocaine; and
$386,220 cash.
GHB is colourless and odourless, and is commonly referred to as the "date-rape drug" but is usually abused as a club drug. In July 2013 Edmonton Police Service seized 106 litres of GHB, which at the time, was believed to be Alberta's largest seizure.
ALERT's investigation is ongoing and additional charges are being contemplated. To date, 14 drug-related charges have been laid against three suspects:
Ashley Stanway, 30-year old from Calgary;
Rayann Blackmore, 22-year old from Calgary; and
Harmandeep Tiwana, 28-year old from Calgary.
ALERT began its investigation just a month prior after receiving information about suspected drug trafficking activity in the Calgary region.
Members of the public who suspect drug or gang activity in their community can call local police, or contact Crime Stoppers at 1-800-222-TIPS (8477). Crime Stoppers is always anonymous.
ALERT was established and is funded by the Alberta Government and is a compilation of the province's most sophisticated law enforcement resources committed to tackling serious and organized crime.