Conservative leadership candidate argues Tamara Lich a political prisoner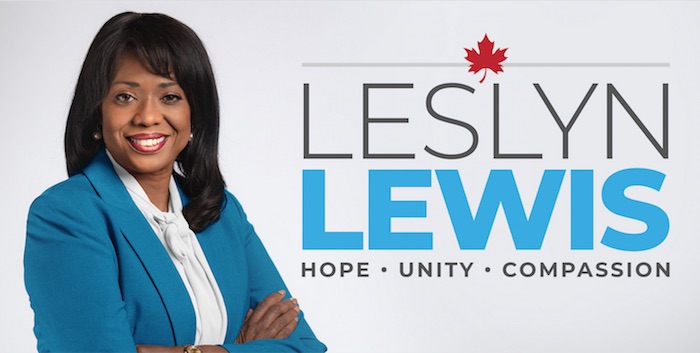 Article submitted by Leslyn Lewis
A political prisoner is defined as "a person imprisoned for their political beliefs and actions."
This definition begs the question of whether Trucker Convoy organizer Tamara Lich is a political prisoner.
In a previous letter, I outlined the fact that the first judge who detained Tamara was a former Liberal candidate, and the crown attorney who prosecuted Tamara had donated over $17,000 to the Liberal Party since 2013.
The fact that that we have to ask if Canada has political prisoners, speaks to the state of our declining democracy. But there seems to be no depth that Justin Trudeau and the Liberals will not sink to in order to control our thoughts, actions and even our democratic institutions.
We never imagined our government would invoke the Emergencies Act without exhausting existing options and without a request from law enforcement – but that happened.
We also never conceived that Canadians could be targeted for their political views, their property confiscated and their bank accounts frozen out of a political vendetta – but that too occurred in our democracy.
These events have sent tremors into the hearts of Canadians, some of whom have picked up and left this country out of fear that we are descending into a full-blown dictatorship. Some patriots I've met have even been put on a terrorist watch list just for attending the Freedom Convoy protest.
Tamara was recently released from jail after being arrested for allegedly breaching her bail conditions at a civil liberties awards gala event. Tamara, who is a 49-year-old Métis grandmother with no criminal record, spent 49 days in jail awaiting trial for charges stemming from her role as a Freedom Convoy organizer.
The Crown argued that she was a danger to the public and would likely reoffend, despite the fact that all of her charges were non-violent in nature.
In this extraordinary case, Tamara appeared before the court 5 times relating to bail conditions – [see the table summary of her case at the bottom of this email].
A Political Prisoner? Summary of the Evidence
Here are the facts leading up to Tamara's latest arrest and bail hearings:
Tamara's original bail conditions prohibited her from communicating with any convoy organizers EXCEPT in the presence of her lawyer or through her lawyer.
The alleged bail breach happened at a civil liberties awards gala where Tamara was receiving an award on June 16th, 2022; she was seen interacting with fellow convoy leader, Tom Marazzo. There were pictures and a video that showed her sitting at the same table as Mr. Marazzo and giving her acceptance speech. Upon returning to the table, she passes by Mr. Marazzo, touches his back and whispers something in his ear. The entire interaction lasted no more than 3 seconds. No breaches were related to the content of her speech.
An Ontario warrant for her arrest was issued on June 22nd. In an unorthodox move, on June 24th the Ottawa Crown Attorney extended the warrant to Canada-wide status so Tamara could be arrested in Alberta. However, still without a valid warrant that could be executed in Alberta, Tamara was still arrested by police in Medicine Hat on June 27th. The following day, the Crown in Alberta obtained a remand "to enable police in Ontario to get the warrant endorsed for arrest in Alberta. Two investigators in the homicide unit with the Ottawa Police Service, travelled to Alberta to execute the warrant once it had been endorsed for execution in Alberta" and they returned Tamara to Ontario.
In his ruling, Superior Court Justice Andrew Goodman found the Justice of the Peace who had previously denied Tamara bail had "overstated" the impact of the contact made between Tamara and Marazzo at the gala. Justice Goodman rejected the Justices of the Peace's conclusion that "vulnerable victims of the February freedom trucker convoy protest" would continue to live in fear of a "re-occurrence of the protests…".
Justice Goodman took issue with the Justice of the Peace's reliance upon an irrational fear. He stated:
"It is not reasonable to draw the inference that an interaction of less than three seconds in public at an awards ceremony as well as a group photograph and related, albeit brief contact giving rise to the potential for a breach of terms would reasonably cause such fear."
Justice Goodman emphasized the presumption of innocence that is entrenched in our Charter and noted that it is important not confuse bail with being on trial: "…whether or not the applicant participated in any criminal conduct will ultimately fall to be decided by a trial court."
Justice Goodman scolded the Justice of the Peace, he state that:
"I find that the Justice of the Peace's reasons suffer from erroneous conclusions of the relevant legal issues and he misapprehended the evidence when addressing the secondary and tertiary ground concerns. As the Justice of the Peace's decision is clearly inappropriate, the detention order must be set aside."
He also dismissed the concern that Tamara was a danger to the public – and noted that she abided by strict bail terms for 4 months, and she sought permission before attending the gala.
Justice Goodman echoed a previous bail decision by Justice Phillips stating:
"The bail process is not the forum to address the myriad of opinion or issues arising from Ms. Lich's or the Freedom Convoy's disruption of the public peace or behaviour or to advance a political or social position one way or the other. I also agree with Phillips J. that no court would ever seek to control the possession or manifestation of political views." (emphasis added)
The issue of public fear was raised in every bail hearing and also by the Justice of the Peace that oversaw the warrant. Justice Goodman reminds us of the importance of balancing fears with the presumption of innocence and upholding the Charter:
"In my opinion, a reasonable member of the community, informed of the principles of fundamental justice and Charter values and who appreciates the presumption of innocence and the constitutional right to reasonable bail would not view Ms. Lich's release with great shock and indignation."
The Verdict
So, the answer is yes. Tamara does meet the definition of a political prisoner – she was imprisoned for her political beliefs and actions. In fact, two agents of the court had Liberal ties and did not recuse themselves from Tamara's case. In addition, she was arrested in Alberta before a valid warrant in Alberta was issued. And, the grounds cited by the Justice of the Peace in denying her bail were clearly flawed.
Finally, two judges – Justice Phillips and Justice Goodman – made reference to the fact that people cannot be jailed because of their political beliefs. This was a clear sign that the Liberal political vendetta had infested our legal system, and it took two judges to call it out and bring balance back to the justice system and remind us all that "no court would ever seek to control the possession or manifestation of political views".
Sadly, over the past two years under COVID-19, Justin Trudeau and the Liberals have created an environment that has undermined our institutions for political gains. Under the guise of protecting people's health and safety, we have seen the erosion of our constitutional rights, and seen our justice system, law enforcement, health system and media weaponized to silence political opponents.
This environment normalized charging and disciplining doctors with dissenting opinions, charging pastors who held outdoor drive-in services for their church members, freezing bank accounts and confiscating property of protesters, publicly shaming and disclosing the addresses of people who donated to a democratic movement, and numerous other public character assassinations. This Liberal government even barred duly elected Members of Parliament from taking their seat in the House of Commons in the name of public health even though they knew that the vaccine did not prevent transmission of covid.
These dictatorial acts have dangerously eroded the foundations of our democracy and the rule of law. The Liberals penchant for weaponizing institutions to silence their political opponents is undermining the very pillars that should be holding society together.
Tamara Lich is just one example of what happens when government uses its power to control Canadians, to inflame hate and division and to infest independent institutions with political operatives.
The only solution to cure the fragility of our democracy is to have citizens of all political stripes acknowledge the dangerous course that we are on, and to have courageous leaders involve checks and balances that will compel institutional actors to publicly declare conflicts as well as amend the Emergencies Act to require a minimum of 2/3 of parliament to invoke it.
I am ready to do this. Are you with me?
Sincerely,
'Ludicrous': Prosecutor questions testimony of teen in Calgary hit-and-run cop death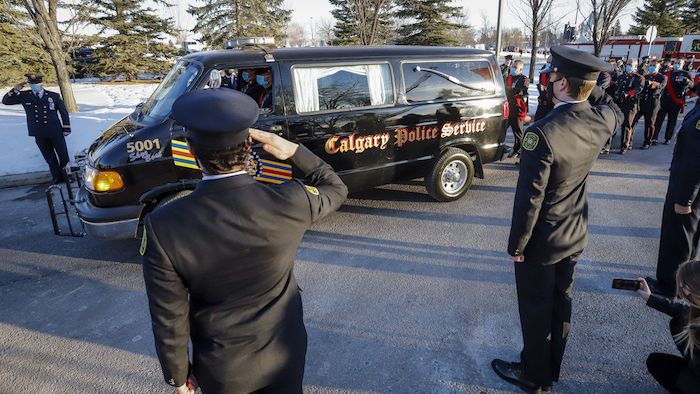 By Bill Graveland in Calgary
A prosecutor suggested Wednesday a teen charged with first-degree murder in the hit-and-run death of a Calgary Police Service officer had no reason to believe he was in danger.
Sgt. Andrew Harnett died in hospital on Dec. 31, 2020, after being dragged by a fleeing SUV and falling into the path of an oncoming car.
The alleged driver, who cannot be identified because he was 17 at the time, has testified he was scared when Harnett and another officer approached the vehicle during a traffic stop and he saw Harnett put his hand on his gun.
But during cross-examination, Crown prosecutor Mike Ewenson played the body-camera footage of the stop. He asked the accused, who is now 19, if there was any proof Harnett was being threatening or insulting during the routine traffic stop.
"You brought up George Floyd in your direct examination. Do you remember what happened to George Floyd?" Ewenson asked.
The accused replied: "He got pulled out of the vehicle and I think they stepped on his neck … and he said he couldn't breathe."
Floyd was a Black man who was killed during an arrest by Minnesota police on May 25, 2020.
During testimony Tuesday, the teen testified he and his friends had discussed the Floyd case on social media.
"Let's talk about what we just saw with Sgt. Harnett if we could, because you're bringing this up at a trial that involves his death," said Ewenson. "Any abusive language from him?"
"No," the teen replied.
"Anything that was insulting to your age, your race, your ethnic background or religion," Ewenson asked.
"Not necessarily, no. Actually, I felt like I was being racialized, right? Just the fact that the door opened and the fact that he asked for my phone number. I've never been asked for my phone number."
Ewenson said any talk of the traffic stop being racist was just something the teen wanted the court to "take his word for" and there's nothing that would be considered racist from Harnett's behaviour.
"That's how I felt," the accused replied.
The teen repeatedly told Ewenson that he wasn't sure how he ended up in the neighbourhood. He said he was following his GPS to get to a party. He also said he didn't know who the third person in the back seat of the vehicle was, who had come with a friend.
Ewenson said it's unlikely there would be memory lapses after an event that was the "most traumatic, powerful" and "consequential" night of the teen's life.
"So looking back on it, you realize the story is ludicrous? The story doesn't make sense, does it?" Ewenson asked. "Everything for you is a mindless reaction."
The suspect said at the time he panicked and just decided to take off because he was afraid. The teen said looking back, he wishes his decision had been different.
"Look, to be frank to you, I've sat for two years in jail and I've thought about this over and over and over again," he said. "It's different when I think about it now and what I was going through at the moment."
Ewenson suggested it was more likely something illegal was inside the suspect vehicle that made fleeing a simple traffic stop worth the risk.
Closing arguments in the trial are scheduled for Thursday.
This report by The Canadian Press was first published Sept. 28, 2022.
'I'm not a monster': Teen suspect in death of Calgary officer takes stand at trial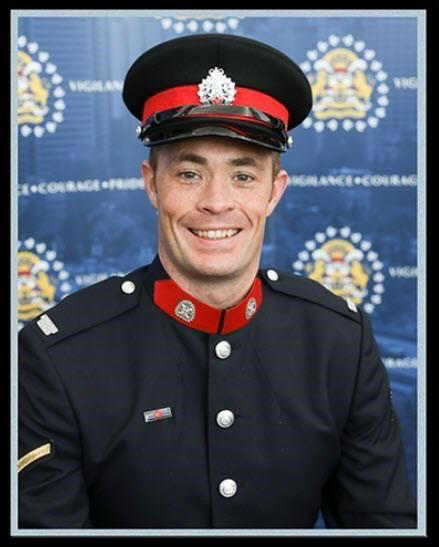 A Calgary teen charged with first-degree murder in the death of a police officer in a hit and run testified Tuesday he feared for his life when he took off in his vehicle with Sgt. Andrew Harnett holding on.
Harnett of the Calgary Police Service died in hospital on Dec. 31, 2020, after being dragged by a fleeing SUV and falling into the path of an oncoming car.
The suspect vehicle's alleged driver was 17 at the time. He turned 19 in January, but cannot be identified under the Youth Criminal Justice Act.
The accused took the witness stand in his own defence, describing an abusive childhood where his family moved 10 times over a decade between Montreal, Toronto and Calgary to get away from his birth father.
He said he, his mother and two older siblings lived mostly in homeless shelters during that time.
In his testimony, he described planning to go to a New Year's Eve party on the day of Harnett's death.
The vehicle was pulled over because it didn't have its lights on, court heard.
As the traffic stop continued and a second police car arrived, the youth said his anxiety level began to rise. When another officer and Harnett approached the vehicle, the accused said he panicked.
"I observed Sgt. Harnett had his hand on his gun and as soon as I seen that, I took off. I was scared. My anxiety was through the roof at that time," he said.
"I thought something bad was going to happen. I thought just the fact 'why would he have his hand on his gun?' I took off. I panicked. I was scared."
The teen described how Harnett leaned inside the car, holding on to the steering wheel and punching him in the head all the while yelling to "stop the car."
"The officer grabs onto my hair and starts punching. I'm getting punched and I'm getting punched. As I try to back away my foot hits the accelerator," he testified.
"It was chaotic, honestly. People are screaming. I feel I have no control. I'm thinking 'I'm done. I'm going to get dragged out and get killed or seriously injured.' I was trying to protect myself at this point."
The accused, wearing glasses with his hair pulled back in a ponytail, choked back tears several times during two hours of testimony.
He said he didn't even notice when Harnett fell away from the car window and immediately drove home to his basement suite.
"I just kept on driving. Honestly, I was thinking about myself, quite frankly. I wasn't thinking about the officer," he testified.
"I didn't think anything happened to him. I didn't think about him."
The teen said he decided to turn himself in after learning that Harnett had been killed. He said he regrets his actions and can only say he is sorry.
"I'm in jail for this. It's not easy. I feel like people sometimes look at me as a monster. I'm not a monster. I'm sorry for the situation," he said.
"For the rest of my life, I'm going to be known as someone who killed a police officer. No matter what happens. This is it."
The Crown is expected to cross-examine the accused on Wednesday, with closing arguments scheduled for Thursday.
Amir Abdulrahman, 20, a passenger in the vehicle, pleaded guilty last December to a lesser charge of manslaughter and was sentenced to five years in prison.
This report by The Canadian Press was first published Sept. 27, 2022.