Alberta Fish & Wildlife Officers now responding to police emergencies upon request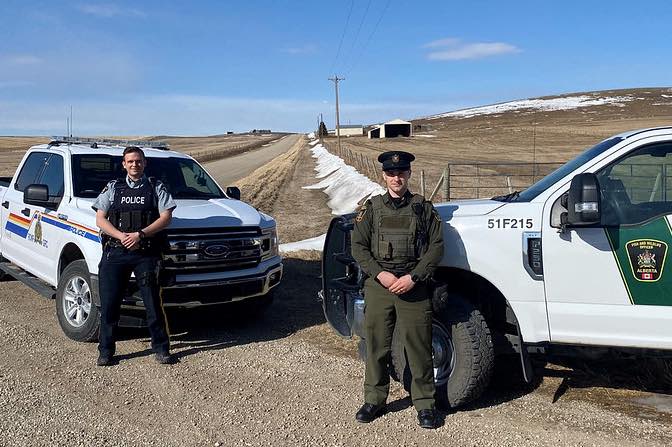 From the Province of Alberta
RAPID Response protects rural Albertans
The launch of RAPID Response on April 1 puts 140 more peace officers on guard for rural Albertans when they need help from law enforcement.
As part of the provincial government's Rural Alberta Provincial Integrated Defence (RAPID) Response initiative, Alberta's fish and wildlife officers are now available to help the RCMP answer emergency and high-priority calls when requested.
RAPID Response will help authorities arrive at the scene of an emergency more quickly by giving peace officers in the Alberta Sheriffs, which includes Fish and Wildlife Enforcement Services, the ability to respond to a wider range of calls.
"Rural Albertans told us loud and clear that it can take too long for help to arrive in their communities. With RAPID Response, highly trained and professional peace officers will work across rural Alberta to answer the call when police need help to save precious minutes in an emergency."
Under RAPID Response, fish and wildlife officers are able to respond to requests from the RCMP to be first at the scene of an emergency in cases where they are closer than the police. Fish and wildlife officers will also respond to RCMP requests for backup, which could involve helping the police locate suspects or preserve a crime scene.
Communications officers at the Alberta Sheriffs dispatch centre will also play a vital role in RAPID Response, by ensuring a reliable link with the RCMP when the two agencies respond to an incident together.
Preparations are also underway for members of the Sheriff Highway Patrol to perform RAPID Response functions later this year. Approximately 260 traffic sheriffs are being trained to investigate a wider range of calls, including impaired driving.
Giving traffic sheriffs the authority to handle more incidents on provincial highways will allow the RCMP to leave more officers on patrol and available to respond to higher-priority criminal matters.
RAPID Response currently covers most areas of rural Alberta policed by the RCMP. The provincial government is also holding a series of meetings with First Nations and Métis leaders to determine their interest and earn their support before expanding RAPID Response to their communities.
RCMP say competitor in Ironman is dead after volunteers pulled him from the water
CALGARY — RCMP say a competitor in an Ironman triathlon west of Calgary has died.
Police say they received a complaint of a drowning at Harmony Lake in Rocky View County on Sunday morning.
They say a 47-year-old Ontario man was located by Ironman race volunteers in the water.
The volunteers pulled him out, began CPR, and called EMS, but police say he died at the scene.
RCMP say they have contacted the medical examiner who will be assisting in determining a cause.
They say the man's family has been notified.
This report by The Canadian Press was first published Aug. 1, 2021.
The Canadian Press
FC Edmonton roll to 3-1 win over No. 1 Valour FC in CPL action
EDMONTON — FC Edmonton struck early and refused to relent Saturday as it rolled to a 3-1 victory over Valour FC in Canadian Premier League action.
Easton Ongaro put Edmonton (3-4-2) up 1-0 just 13 minutes in.
Tobias Warschewski added a goal for the home side in the 55th minute and eight minutes later, Amer Didic scored to give Edmonton the 3-0 lead.
Andy Baquero Ruiz clawed back a goal for Valour (6-3-0) in the 88th minute.
Edmonton outshot Valour 12-9, with six of its shots on target. Valour had three shots on goal.
Despite the result, Valour continues to sit atop the league with 17 points, one ahead of Pacific FC.
This report by The Canadian Press was first published July 31, 2021.
The Canadian Press