Alberta Fish & Wildlife Officers now responding to police emergencies upon request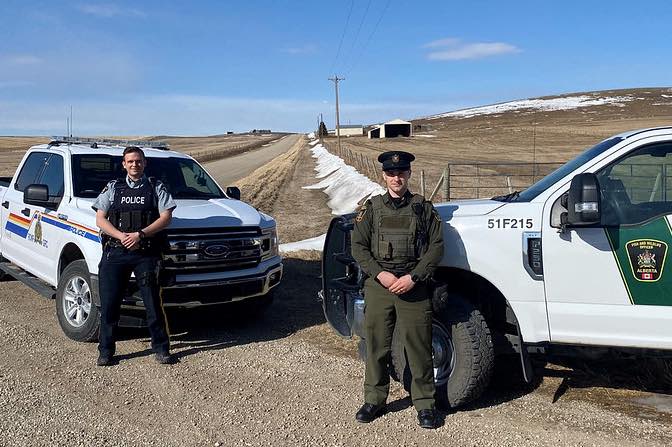 From the Province of Alberta
RAPID Response protects rural Albertans
The launch of RAPID Response on April 1 puts 140 more peace officers on guard for rural Albertans when they need help from law enforcement.
As part of the provincial government's Rural Alberta Provincial Integrated Defence (RAPID) Response initiative, Alberta's fish and wildlife officers are now available to help the RCMP answer emergency and high-priority calls when requested.
RAPID Response will help authorities arrive at the scene of an emergency more quickly by giving peace officers in the Alberta Sheriffs, which includes Fish and Wildlife Enforcement Services, the ability to respond to a wider range of calls.
"Rural Albertans told us loud and clear that it can take too long for help to arrive in their communities. With RAPID Response, highly trained and professional peace officers will work across rural Alberta to answer the call when police need help to save precious minutes in an emergency."
Under RAPID Response, fish and wildlife officers are able to respond to requests from the RCMP to be first at the scene of an emergency in cases where they are closer than the police. Fish and wildlife officers will also respond to RCMP requests for backup, which could involve helping the police locate suspects or preserve a crime scene.
Communications officers at the Alberta Sheriffs dispatch centre will also play a vital role in RAPID Response, by ensuring a reliable link with the RCMP when the two agencies respond to an incident together.
Preparations are also underway for members of the Sheriff Highway Patrol to perform RAPID Response functions later this year. Approximately 260 traffic sheriffs are being trained to investigate a wider range of calls, including impaired driving.
Giving traffic sheriffs the authority to handle more incidents on provincial highways will allow the RCMP to leave more officers on patrol and available to respond to higher-priority criminal matters.
RAPID Response currently covers most areas of rural Alberta policed by the RCMP. The provincial government is also holding a series of meetings with First Nations and Métis leaders to determine their interest and earn their support before expanding RAPID Response to their communities.
Alberta gets court injunction against planned anti-COVID-19 health order protests
EDMONTON — The Alberta government says it has taken legal action to stop any planned protests of COVID-19 public health orders, including one at a central Alberta cafe that was closed for not following the rules.
On Wednesday, Alberta Health Services closed the Whistle Stop Cafe in the hamlet of Mirror until its owner can demonstrate the ability to comply with health restrictions.
The agency says it had received more than 400 complaints against the business since January.
Alberta Health Services says it has been granted a pre-emptive court injunction against a planned protest by the cafe owner and supporters.
It says it also has received a court order against all other organizers of advertised illegal gatherings and rallies breaching COVID-19 public health orders.
There is an ad promoting a rally this weekend at the cafe in Mirror called "The Save Alberta Campout Protest."
The ad says the event is a response to "harmful restrictions" imposed by Premier Jason Kenney, Health Minister Tyler Shandro, Dr. Deena Hinshaw, Alberta's chief medical officer of health, and "the United Conservative Party caucus' ongoing attack on the rights and freedoms of the people of Alberta."
Alberta Health Services says the court order restrains the cafe owner and others from organizing, promoting and attending the event.
"AHS has taken this step due to the ongoing risk to Albertans created by those breaching COVID-19 public health restrictions and advertising social gatherings which, if held, breach current and active CMOH Orders and pose a risk to public health," the agency said in a release Thursday.
"AHS strongly condemns the intentional disobeying of COVID-19 public health restrictions,"
The agency says with COVID-19 cases increasing in the province, including the more easily transmitted and potentially more severe variants, there is urgent need to minimize spread to protect all Albertans.
Last weekend, hundreds of people gathered near Bowden, also in central Alberta, for a pre-advertised maskless "No More Lockdowns" protest rodeo.
Days later, the premier announced stronger restrictions and doubled fines for scofflaws
This report by The Canadian Press was first published May 6, 2021
The Canadian Press
Alberta's top doctor says 'very likely' COVID-19 vaccine interval to be shortened
EDMONTON — Alberta's top doctor says it's very likely that second doses of COVID-19 vaccines will be offered within less than four months of the first as supplies ramp up. 
The province authorized a 16-week interval in order to get as many people protected with their first shots as possible while vaccine shipments remained uncertain. For Pfizer-BioNTech and Moderna vaccines, the drug makers say the gaps between doses should be three weeks and one month, respectively. 
"I want to be clear that that four-month interval was always a maximum," Dr. Deena Hinshaw said Thursday. 
"We were never planning to require a wait of four months. It was really about we would not have anyone go beyond four months, but if we can offer it sooner, we will."
People on immunosuppressive drugs, like chemotherapy, are already being offered their second shots in a shortened time frame, Hinshaw said. 
She noted that for the Oxford-AstraZeneca vaccine, there is evidence that a 12-week wait between doses is more effective than a shorter interval. 
As of Monday, all Albertans born in 2009 and earlier will be able to book their first shot.
On Thursday, some 100,000 people born in 1991 and earlier booked their first vaccine appointments. After that, the province will be able to start offering followup doses, Hinshaw said. 
So far, 1.73 million doses of vaccine have been given in Alberta.
Alberta recorded 2,211 new COVID-19 cases and no new deaths on Thursday. There were 654 people in hospital, including 146 in intensive care.
More than 11 per cent of tests came back positive.
 Hinshaw also reiterated that the province is no longer testing every positive COVID-19 swab for variants. Instead, labs are testing a representative sample. 
"This frees up crucial lab capacity to ensure that people get their COVID-19 test results back as soon as possible, which is the most important thing we can do with our lab capacity to minimize further transmission." 
She added that anyone with a positive test should assume they have contracted a variant, as variants are now dominant in the province.
This report by The Canadian Press was first published May 6, 2021. 
— By Lauren Krugel in Calgary.
The Canadian Press