Province hoping Albertans will download COVID-19 App called AB Trace Together
From the Province of Alberta
As part of its relaunch strategy, the Government of Alberta has launched a voluntary, secure mobile contact tracing application to help prevent the spread of COVID-19.
Quick tracing and containment of outbreaks is critical as the province works to gradually relaunch the economy. The ABTraceTogether app will enhance the current manual tracing process and help Albertans protect themselves and their loved ones.
"Our efforts to flatten the curve are proving to be effective, but we must continue to remain vigilant. Each one of us has a responsibility to do our part in the fight against COVID-19. ABTraceTogether was designed to help protect Albertans and prevent community spread by quickly alerting people who may be at risk. The more Albertans who use it, the better we will be able to protect individuals from being unknowingly exposed and possibly spreading the disease. Give it a try, and encourage your family and friends to do the same. By working together, we can tackle this pandemic."
Contact tracing is currently performed by interviewing patients who have tested positive for COVID-19, which is resource intensive and has limitations on its effectiveness as it relies on the patient's memory. Through wireless Bluetooth technology, mobile contact tracing will complement the work of health-care workers and drastically speed up the current manual tracing process. This means Albertans will be contacted more quickly if they are at risk.
Protecting Albertans' privacy is paramount. Use of the app is voluntary, and users must opt-in. Only your phone number is collected at the time of registering the app. The application does not track the user's location and does not use your GPS. Data is only stored on the user's phone in an encrypted format for 21 days only. Users must consent to sharing their data if they have tested positive for COVID-19. The only information shared with contact tracers is a random ID of those identified as close contacts after a user is diagnosed with COVID-19 – nothing identifiable is exchanged between phones. Users must be within two metres from each other for a total duration of 15 minutes in a 24-hour period in order to be notified as a close contact.
The app is now available to download for free from the App Store and Google Play.
The application is part of the Government of Alberta's Relaunch Strategy to safely begin to remove public health restrictions and reopen our economy. Existing public health measures remain in place to stop the spread of COVID-19. For more information, visit alberta.ca/covid-19.
Quick facts
Alberta Health submitted a privacy impact assessment to the Office of the Information and Privacy Commissioner of Alberta (OIPC), which is currently being reviewed. Upon OIPC acceptance, Alberta Health will make a summary of the privacy impact assessment publicly available.
The most important measure Albertans can take to prevent respiratory illnesses, including COVID-19, is to practise good hygiene.

This includes cleaning your hands regularly for at least 20 seconds, avoiding touching your face, coughing or sneezing into your elbow or sleeve, and disposing of tissues appropriately.

Any individual exhibiting symptoms of COVID-19, including cough, fever, runny nose, sore throat or shortness of breath, is eligible for testing. People can access testing by completing the COVID-19 self-assessment online. A separate self-assessment tool is available for health-care and shelter workers, enforcement and first responders. After completing the form, there is no need to call 811.
Police looking for these 3 suspects after Super 8 Motel in Innisfail robbed early Monday morning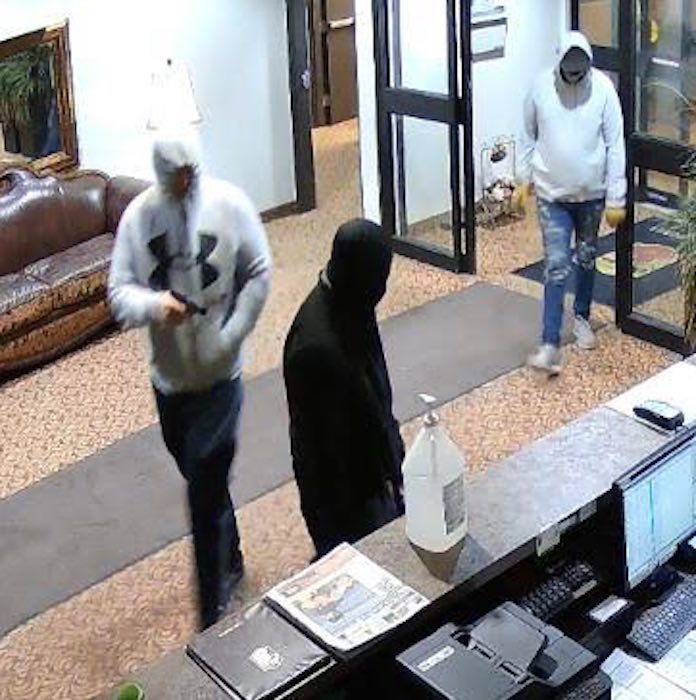 Innisfail RCMP investigate robbery
Innisfail Ala. – On May 29, 2023, at approximately 4:10 a.m., the Super 8 motel in Innisfail was the victim of an armed robbery. Three male suspects entered the hotel, two of which had firearms. Money was demanded from the manager. All three left the motel in a vehicle which is described as:
Chevrolet Dura Max truck
Sliver
Lifted
The suspects are described as:
Suspect #1: Caucasian male, tall and muscular. Wearing jeans and a grey Under Armour hoody. He was carrying a pistol.
Suspect #2: Caucasian male, short. Wearing all black. He was carrying a sawed off shotgun
Suspect #3: Caucasian male tall with a chubby belly. He was wearing a grey hoody, jeans and a black ball hat.
If you have information about this incident, please call the Innisfail RCMP at 403-227-3341 or call your local police. If you want to remain anonymous, you can contact Crime Stoppers by phone at 1-800-222-8477 (TIPS), by internet atwww.tipsubmit.com, or by SMS (check your local Crime Stoppers www.crimestoppers.ab.ca for instructions).
'Tragic accident' blamed for recent death of giraffe at Calgary Zoo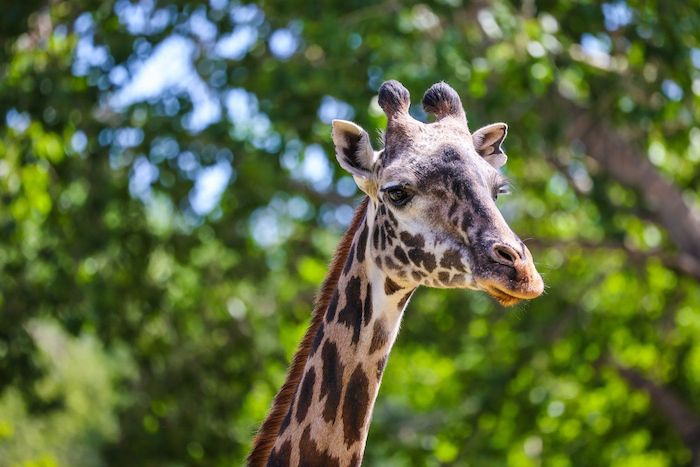 The Wilder Institute/Calgary Zoo says a "tragic accident" led to the recent death of an adult Masai giraffe. A statement from the zoo says the female giraffe named Emara died May 19 after tangling one of her horns on a cable surrounding her enclosure. THE CANADIAN PRESS/HO-Wilder Institute/Calgary Zoo-Sergei Belskey
Calgary
The Calgary Zoo says a "tragic accident" led to the recent death of one of its adult Masai giraffes.
A statement from the zoo says a female giraffe named Emara died May 19 after tangling one of her horns in a cable surrounding her enclosure.
The statement says a necropsy revealed Emara fell against the enclosure fence and died almost instantly of a broken neck.
Emara, who had just turned 12, came to Calgary from the San Diego Zoo in 2016.
The statement says she was a treasured member at the zoo and was known for her cautious yet curious personality and gentle nature.
The zoo says it is checking fencing within its African Savannah Yard enclosure to see if changes are needed to better protect the other giraffes and animals that share the space.
Doug Whiteside, interim associate director of animal care and welfare at the zoo, said Emara was in her prime and was in excellent health when she died.
"Major life changes such as this not only affect our people but can affect our animal residents as well," Whiteside said in the statement Monday.
He said the zoo's remaining giraffes, Nabo and Moshi, are doing well.
Grief counsellors are being made available to Emara's caregivers and other zoo staff.
This report by The Canadian Press was first published May 29, 2023.