Edmonton company releases a world first NFT project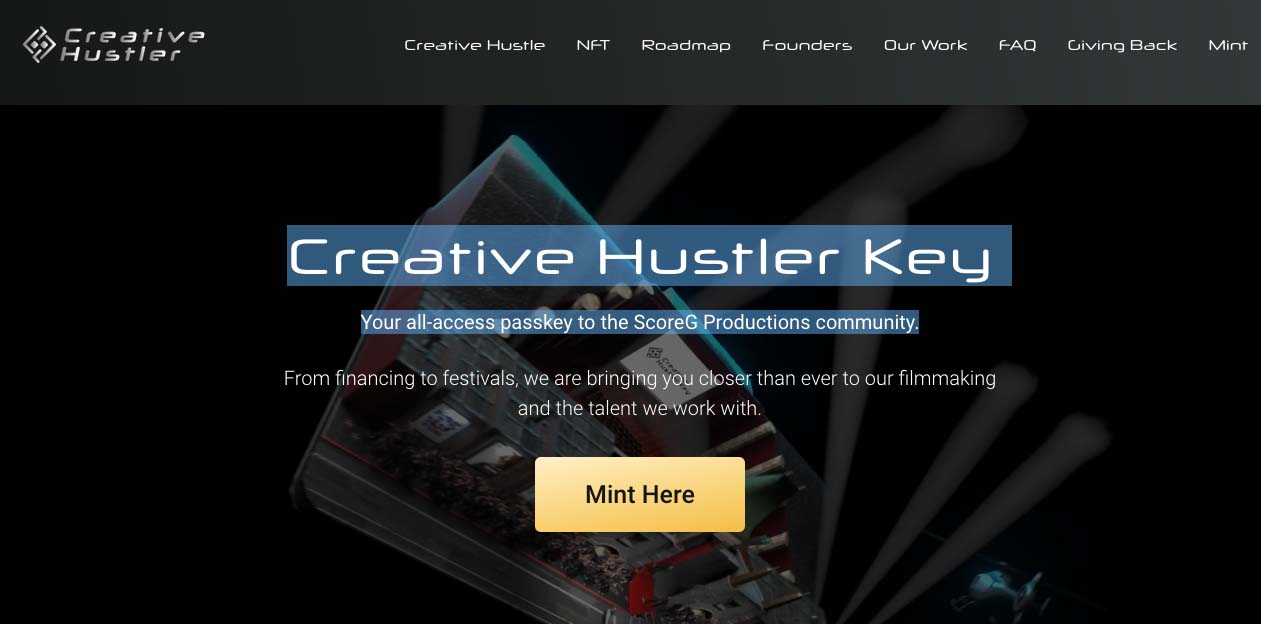 Edmonton based; Score G Productions, launched a first of its kind in the world NFT (non-fungible token) project on April 17th. It's called, Creative Hustler Key. Creative Hustler Key gives buyers through a one-time payment, a lifetime all-access passkey to the Score G Productions. This includes access to a full community of content producers, executive producers, exclusive 3-D NFT artwork, exclusive videos, and even monthly members only access to online workshops featuring creative content producers from around the world. The Creative Hustler Key NFT even offers chances to win access to live in-production sets, access to their studios during editing and post-production, and chances to win tickets and trips to future red-carpet movie premier events. There's more in the works too. Basically, buyers will get access to Score G Productions' impressive Rolodex and industry knowledge.
There are only 999 pass keys for sale, once gone, it will never be expanded, with the promise of no copycat versions of this Creative Hustler Key to ever be started by their team.
We asked Score G Productions founder, father of three, married to his high school sweetheart, Edmonton based Adam Scorgie why he'd take on such a huge undertaking when they are already successful in the film production industry? Scorgie replied, "We get calls, emails and social media posts asking us to help people all the time. People approach us at public events, asking for mentorship, internships, contact access, script readings, it is all kind of overwhelming." Continuing, "I wish I had people I could have called when I was starting out. I knew what I wanted to do, but I knew no one and knew nothing." Explaining, "This is our pay it forward move. I want to help as many people as possible, in any way I can."
A huge personal belief for Scorgie is explained, "I like to do things in and as a team; this will be a world's first team like this. Extremely unique."
The now, world-wide known and highly respect filmmaker with an extensive library of finished and in-production projects never planned on being a film producer, he in fact, never went to film school. He did however, go to acting school in New York and had credits in voice, as dancer, movie and soap opera acting credits. Things were looking up and moving along nicely.
But then his father, Buddy, got sick, very quickly. At 23, he dropped his dreams of Hollywood fame and fortune, moving back to Kelowna where he was born and raised to take over his dad's business, Cheetah's Show Lounge & Bar. Kelowna's only stripper bar. "I went from 23 to 35 in like six months!" the forced adult entertainment entrepreneur said.
His father passed away after a short health battle.
Then things got "really tough". A lawsuit was filed against his father's estate, he had a new partner in the business. While he tried to keep the clothes on his own back and his business afloat; Adam noticed a lot of his patrons, high school friends, same age as himself with cash pouring out of their pockets and stacked high on their tables in the VIP section. They all had 70+ thousand-dollar trucks, 50k Harleys, houses and more. He asked them, what the hell they were all doing to become so rich, so fast? They all said, "We are in the Union, you should join us."
This was in the height of the multi-billion-dollar BC Bud days. The "Union" was code for underground pot grower for organized crime rings being done at arm's length. While Adam admits, he did come close to joining the "Union", he ended up selling his share in the stripper club and put every last cent he had, plus some extra money borrowed from his stepdad into making a full-length documentary movie with his new partner, Vancouver director Brett Harvey. The film was called, The Union: The Business Behind Getting High and it quickly gained a cult following around the world.
And the rest is history! If only it was that easy. Scorgie laughs while reminiscing, "People said I was nuts. I have heard that a lot over the years, especially for just living in Edmonton and not Hollywood."
He fully expects people to say this again about this unique NFT rollout. Being young and ahead of the curve is nothing new for Adam and his team. Scorgie expands, "We didn't have any money for PR marketing firms or to pay agents to promote us. So, we did it all on Facebook and other social media platforms." Continuing, "We had 1.2 million followers on Facebook alone. "Today every production has huge teams of social media specialists, with very expensive detailed marketing plans for social media promotions long before any production even gets close to post-production."
Scorgie remembers one meeting with Hollywood executives when they were shopping a world-wide release of the final cut of the Union. One said, "Oh isn't that cute, you have a Facebook page." Then they saw the Union page had over a million followers for the indie production. Adding, "That got their attention. No one is laughing at us anymore." Finishing, "And years from now, no one will be over this new NFT project."
One of Scorgie's closest friends and partner in Score G Productions, Shane Fennessey, explains more about the Creative Hustler Key project, "There is nothing in the world like what we just launched by offering a real, hands-on community of successful high-quality, award-winning professionals from the film production industry." Adding, "NFT's are known for exclusive digital images and video, yes with us you still get exclusive 3-D images that took months to produce and exclusive videos with the purchase of these keys." Continuing, "What is truly different and very exciting is that this is a utility driven NFT project, a place where professionals will collaborate. It has long-term value too. We are young. As long as we are a business, these keys never expire" Adding, "There are no annual renewal fees, you own the Keys, you can sell them for the going price any time in the future, you can even add them to your estate, they are yours."
Expanding on the added values of the only 999 keys available, Fennessey says, "We know how to apply for grants, we know where the grants are, we know how to fund-raise for the next project." Continuing, "We know all the tax credits and other forms of how to finance projects. We are going to share all of this and even more knowledge that we have about this industry."
In closing Fennessey said, "We love the idea of opening doors for new young Creative Hustlers." Asked if it will it sell out, "Most likely and very quickly we expect, with no outside advertising or media coverage 10% of the 999 keys sold in just the first 2-hours of the Sunday release."
Details for how to get involved can be found here; https://creativehustlerkey.com/
Score G Production's main catalogue;
'Tragic accident' blamed for recent death of giraffe at Calgary Zoo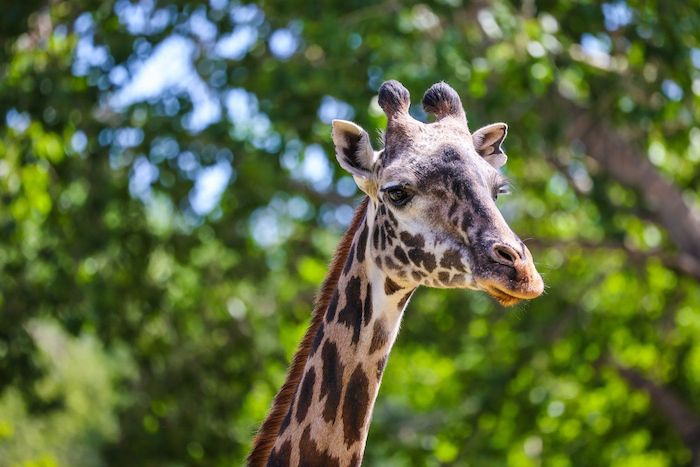 The Wilder Institute/Calgary Zoo says a "tragic accident" led to the recent death of an adult Masai giraffe. A statement from the zoo says the female giraffe named Emara died May 19 after tangling one of her horns on a cable surrounding her enclosure. THE CANADIAN PRESS/HO-Wilder Institute/Calgary Zoo-Sergei Belskey
Calgary
The Calgary Zoo says a "tragic accident" led to the recent death of one of its adult Masai giraffes.
A statement from the zoo says a female giraffe named Emara died May 19 after tangling one of her horns in a cable surrounding her enclosure.
The statement says a necropsy revealed Emara fell against the enclosure fence and died almost instantly of a broken neck.
Emara, who had just turned 12, came to Calgary from the San Diego Zoo in 2016.
The statement says she was a treasured member at the zoo and was known for her cautious yet curious personality and gentle nature.
The zoo says it is checking fencing within its African Savannah Yard enclosure to see if changes are needed to better protect the other giraffes and animals that share the space.
Doug Whiteside, interim associate director of animal care and welfare at the zoo, said Emara was in her prime and was in excellent health when she died.
"Major life changes such as this not only affect our people but can affect our animal residents as well," Whiteside said in the statement Monday.
He said the zoo's remaining giraffes, Nabo and Moshi, are doing well.
Grief counsellors are being made available to Emara's caregivers and other zoo staff.
This report by The Canadian Press was first published May 29, 2023.
Some of the memorable comments made during Alberta election campaign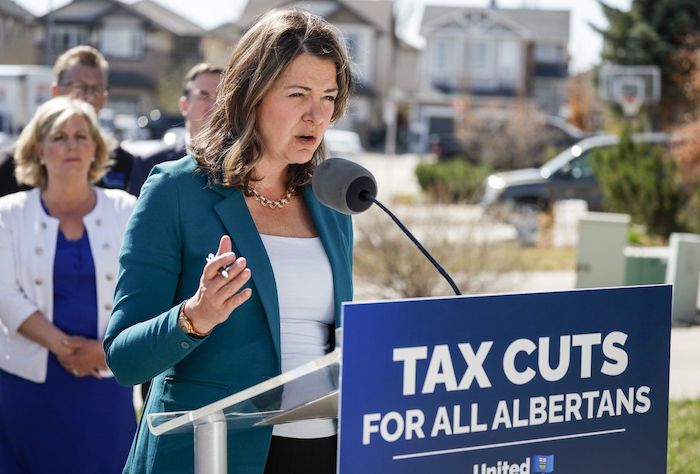 United Conservative Party leader Danielle Smith makes an election campaign announcement in Calgary on Monday, May 1, 2023.THE CANADIAN PRESS/Jeff McIntosh
Candidates for both the United Conservative Party and New Democrats have been campaigning over the last four weeks for their party to form the next Alberta government. Election day is Monday.
Here are some memorable quotes from the campaign:
"(The NDP) devastated the Alberta economy. They created policies that drove investment out, drove jobs out, and we had to reverse all of that," UCP Leader Danielle Smith said on May 1, the day the writ was dropped. "The choice in this election couldn't be clearer. It's a choice between a UCP government that will cut your taxes and make life more affordable or an NDP government that will make you pay more across the board."
—
"Over the past four years, our health care has been thrown into chaos by the UCP," NDP Leader Rachel Notley said during the first week of the campaign. "They'll tell you they fixed it, but Albertans aren't feeling it and they're not buying it … our (emergency rooms) are still full, our ambulances are still delayed and many (patients) are waiting months and months for critical tests and surgeries."
—
"I am satisfied Mr. Pawlowski intended to incite the audience to continue the blockade — intended to incite protesters to commit mischief," Justice Gordon Krinke said in Lethbridge, Alta., on May 2, when he found Calgary pastor Artur Pawlowski guilty of charges related to his role in protests against COVID-19 public health measures. In a leaked phone call between Smith and Pawlowski, before his trial, Smith told Pawlowski the charges against him were politically motivated and she would make inquiries on his behalf and report back.
—
"(Smith) has a policy of not speaking publicly on matters before the courts, except when she's talking to the person who's before the courts about how she's going to interfere with the matter before the courts," Notley said when asked to comment on Smith's no comment on the Pawlowski case. "That is the most ridiculous thing I've ever heard from her. OK, maybe it's not the most ridiculous, because there's a lot of ridiculous."
—
"COVID was a really difficult and frustrating time for everyone, including me, and I don't think that there is a single one of us that wasn't deeply impacted in some way," Smith said on May 9, after past comments surfaced in which she equated those vaccinated against COVID-19 to Nazi supporters and said she would not wear a Remembrance Day poppy out of disgust for pandemic restrictions imposed by political leaders. "Sometimes I let my frustrations get to me during that time. I clearly shouldn't have."
—
"That little bit of poop is what wrecks it … it does not matter that we're in the top three per cent in the world,'" said Jennifer Johnson, UCP candidate for Lacombe-Ponoka. In a tape from September, she said Alberta's high-ranking education system counts for little when set against the issue of transgender students and compared their presence to a batch of cookies laced with feces.
—
"(Judicial independence) is a fundamental pillar of our democracy. The premier breached this principle by discussing the accused's case," ethics commissioner Marguerite Trussler said in her report released May 18 into Smith's actions as premier when she called her justice minister about Pawlowski's case.
—
"I've asked the ethics commissioner to give advice," Smith said May 19. "I am a non-lawyer. As premier, I do need to be able to get advice from my top official, my top legal adviser. If she has recommendations on how to do that better next time, I will absolutely accept them."
—
"More and more conservatives are coming to me saying, 'I'm a lifelong conservative voter, but what I see in Danielle Smith and this new UCP is not my values,'" Notley said on May 23."They often say that they're going to lend us their vote, and I say that's just great. Because, quite frankly, I think all Albertans should always only ever lend their vote because leadership has to earn it."
—
"(The phone call) was always about the charges, from the very beginning. I had nothing really else to say," Pawlowski told reporters at the legislature in the final week of the campaign. "This phone call was always about the same thing: when are you going to introduce what you promised, the amnesty bill for people like me and thousands of other Albertans."
—
This report by The Canadian Press was first published May 28, 2023.