A breathtaking image of Alberta from a passionate Alberta artist – Bow Lake by Larry Reese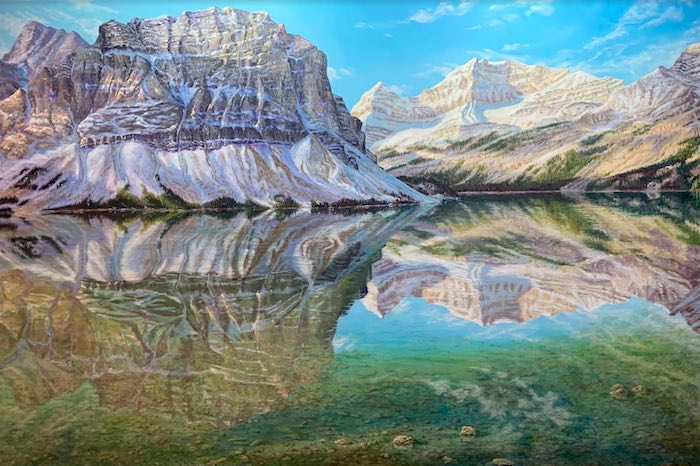 With gratitude, Todayville shares this work from well known Central Alberta artist Larry Reese. Larry has been a fixture in the artistic community for decades.
In this brief article, Larry shares the inspiration behind this recent work "Bow Lake"
In these busy and interesting times, we invite you to take a moment to stop and smell the flowers, or in this case to drink in the overwhelming beauty of Alberta.
From Larry Reese:
The Painting of Bow Lake
Last October my wife and I left our home in Half Moon Bay, Alberta very early in the morning heading out to Summerland B.C. to attend a dedication in her father's name, of the new George Ryga Arts & Culture Centre.
It was a clear, crisp day and around 9:30am we passed by Bow Lake. I have stopped at Bow Lake many times over the years but was so awestruck by the scene on this particular morning that we decided to turn around and go back to have a closer look. The sunlight and reflections on the water were extraordinary. There was just a slight breeze and honestly it made the lake and mountains look incredibly spectacular. In fact more spectacular than usual.
For me it was a profound experience. I quickly got a few photos and mentally did a rough sketch. When we returned home I was somewhat disappointed with the pictures as they didn't capture the emotions I felt at the time. But my mental image was so vivid that I decided to see if I could replicate the feeling in a painting.
I knew I had to go big so the canvas I used was 40"X60". It took me a couple of months to paint but I was in no hurry. Which was a good thing because I used oils and needed to wait for them to dry after each layer of glazing (which there were many) in order to get the water to look believable. I worked hard to get the light just right, the way I remembered the sun's beams nestled amongst the mountain rocks and crags.
As a result I've got to say I am proud of the way it turned out because it comes close to expressing those wonderful sensations I had on the day. I don't paint to make a living so I'm not sure I want to sell it. However if anyone is interested in Bow Lake, they can contact me through my website:
larryreese.ca
P.S. Bow Lake is situated along the Banff/Jasper Highway 93 just south of the Saskatchewan Crossing turnoff to Highway 11. This area is one of my favourite places to go plein air painting. I have painted in this region for decades and will continue to do so for as long as I can.
Larry Reese
Born in Wisconsin in 1951 and immigrating to Edmonton, Alberta, Canada ten years later, Larry made his first impact on the art scene by winning a city wide contest to attend art classes at the Edmonton Art Gallery. There he was taught by the renowned Alberta artist, Sylvain Voyer. In 1966 his family moved to Dacca, East Pakistan where Larry learned to play the sitar, meeting Ravi Shankar in 1967 in Calcutta. Two years later Larry returned to Edmonton to pursue his music studies earning a degree in music composition at the University of Alberta. In 1971 Larry opened for British rock group, Procol Harum the night they recorded their platinum selling LP, Procol Harum – Live with the Edmonton Symphony. He toured North America with the Canadian Rock Opera's production of Jesus Christ Superstar, and took UofA extension art classes with another famous Alberta artist, Harry Savage and family friend artist Harry Wolfarth.
Larry was off to Brandeis University near Boston Massachusetts to get a Master's Degree in Acting in 1976 culminating in a stint at the famous off-off Broadway theatre, Café LaMama, NYC, in 1978. Larry's first major role was in the Canadian classic film, The Hounds of Notre Dame, which over the years was followed by roles in Academy Award winning films including Clint Eastwood's, Unforgiven and Ang Lee's, Brokeback Mountain. Most recently Larry had a role in the Ridley Scott produced TV mini series, Klondike.
In 1983 Larry and wife Tanya Ryga went to Mexico and various places throughout South America, where Larry met and worked with German Expressionist artist Georg Rauch.
Future of Energy is Here – Province of Alberta pitches Alberta and Albertans at 2022 Energy Council conference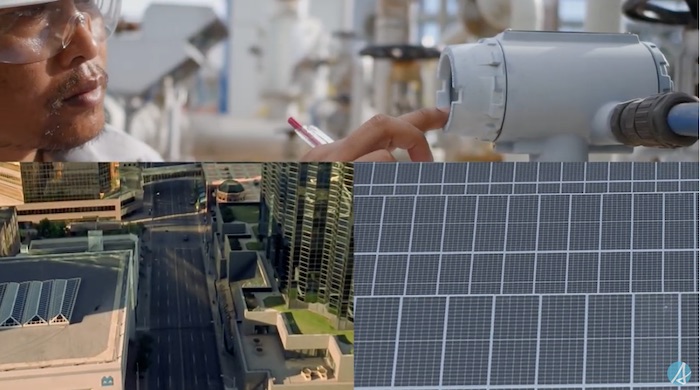 Alberta's Energy Minister Pete Guthrie is making a powerful presentation to state and provincial legislators from across the United States and Canada at the Energy Council's Global Energy and Environmental Issues Conference in Banff.
It's a convincing pitch on behalf of energy workers, and Alberta taxpayers who rely so heavily on the province's most lucrative industry. The presentation is boosted by this video profiling Alberta's stable, abundant and environmentally responsible energy supply.
Energy Minister Pete Guthrie issued the following statement on Alberta's energy sector at the 2022 Energy Council conference:
"Energy matters now more than ever. This year, we've seen how geopolitical events and volatile energy markets can impact the lives of people throughout the world. It matters where the energy that powers our homes, our economies and our lives comes from.
"The world needs a solution for long-term energy security that is also responsible, reliable and affordable. That solution is Alberta.
"It's in this spirit that Alberta is proud to host the Energy Council's Global Energy and Environmental Issues Conference in Banff. We are promoting our energy sector to more than 160 participants – including state and provincial legislators from the United States and Canada.
"During the conference, we will focus discussions on the future of the energy industry, the strength and security of the North American energy system and the role Alberta has to play.
"Alberta is the global leader in responsible energy development that the world needs. We have the innovation, technology and expertise needed to produce responsible energy. We have the highest human rights, labour and environmental standards. We have Canada's fastest-growing renewable energy sector. On top of all that, we are rapidly developing carbon capture and storage and lowering emissions, with the Pathways Alliance targeting net zero by 2050.
"Our government firmly believes Alberta is the key to energy security for North America and the world. Our track record speaks for itself. Last year, about 62 per cent of the crude oil imported to the United States came from Alberta – that is 10 times more than their oil imports from Saudi Arabia, and over four times more than all of OPEC. Every barrel that comes from Alberta helps replace one produced by countries that do not adhere to our high environmental and social standards. Our province has one of the largest oil reserves in the world, and we are ready to supply nations around the world with our reliable and responsibly produced resources.
"Alberta's support of research and innovation excellence ensures that innovators can continue to make groundbreaking discoveries, commercialize game-changing emissions-reducing technologies and solve some of the industry's biggest challenges.
"The future of energy is here. It's Alberta."
Ice Explorer rollover investigation complete – No criminal charges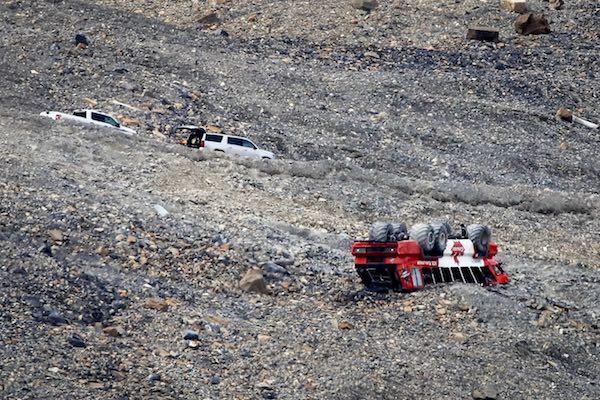 Submitted by Alberta RCMP
Jasper RCMP investigate Ice Explorer rollover in the Columbia Icefields – Update #7
The RCMP have completed their investigation into the tragic events of the Ice Explorer rollover in Columbia Icefields on July 18, 2020. The RCMP have shared all requested investigative material gathered during the criminal investigation with the Ministry of Labour as required by the Alberta OH&S Act. While the RCMP is aware of the charges resulting from the regulatory investigation, the criminal standard is high and the criminal investigation is independent, separate and parallel to the OH&S investigation.
Upon consultation with the Alberta Crown Prosecution Service, the RCMP have determined that no criminal charges are warranted in this investigation. This determination brings the RCMP's criminal investigation to a close.
This investigation was of the utmost seriousness and was complex, both factually and legally.
Our thoughts continue to go out to the families of the deceased and the injured, and to all who have been impacted by this tragedy.
No further details can be shared at this time.