A breathtaking image of Alberta from a passionate Alberta artist – Bow Lake by Larry Reese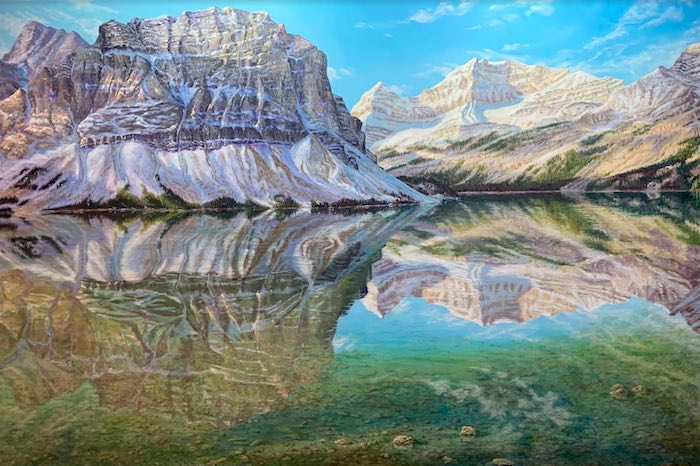 With gratitude, Todayville shares this work from well known Central Alberta artist Larry Reese. Larry has been a fixture in the artistic community for decades.
In this brief article, Larry shares the inspiration behind this recent work "Bow Lake"
In these busy and interesting times, we invite you to take a moment to stop and smell the flowers, or in this case to drink in the overwhelming beauty of Alberta.
From Larry Reese:
The Painting of Bow Lake
Last October my wife and I left our home in Half Moon Bay, Alberta very early in the morning heading out to Summerland B.C. to attend a dedication in her father's name, of the new George Ryga Arts & Culture Centre.
It was a clear, crisp day and around 9:30am we passed by Bow Lake. I have stopped at Bow Lake many times over the years but was so awestruck by the scene on this particular morning that we decided to turn around and go back to have a closer look. The sunlight and reflections on the water were extraordinary. There was just a slight breeze and honestly it made the lake and mountains look incredibly spectacular. In fact more spectacular than usual.
For me it was a profound experience. I quickly got a few photos and mentally did a rough sketch. When we returned home I was somewhat disappointed with the pictures as they didn't capture the emotions I felt at the time. But my mental image was so vivid that I decided to see if I could replicate the feeling in a painting.
I knew I had to go big so the canvas I used was 40"X60". It took me a couple of months to paint but I was in no hurry. Which was a good thing because I used oils and needed to wait for them to dry after each layer of glazing (which there were many) in order to get the water to look believable. I worked hard to get the light just right, the way I remembered the sun's beams nestled amongst the mountain rocks and crags.
As a result I've got to say I am proud of the way it turned out because it comes close to expressing those wonderful sensations I had on the day. I don't paint to make a living so I'm not sure I want to sell it. However if anyone is interested in Bow Lake, they can contact me through my website:
larryreese.ca
P.S. Bow Lake is situated along the Banff/Jasper Highway 93 just south of the Saskatchewan Crossing turnoff to Highway 11. This area is one of my favourite places to go plein air painting. I have painted in this region for decades and will continue to do so for as long as I can.
Larry Reese
Born in Wisconsin in 1951 and immigrating to Edmonton, Alberta, Canada ten years later, Larry made his first impact on the art scene by winning a city wide contest to attend art classes at the Edmonton Art Gallery. There he was taught by the renowned Alberta artist, Sylvain Voyer. In 1966 his family moved to Dacca, East Pakistan where Larry learned to play the sitar, meeting Ravi Shankar in 1967 in Calcutta. Two years later Larry returned to Edmonton to pursue his music studies earning a degree in music composition at the University of Alberta. In 1971 Larry opened for British rock group, Procol Harum the night they recorded their platinum selling LP, Procol Harum – Live with the Edmonton Symphony. He toured North America with the Canadian Rock Opera's production of Jesus Christ Superstar, and took UofA extension art classes with another famous Alberta artist, Harry Savage and family friend artist Harry Wolfarth.
Larry was off to Brandeis University near Boston Massachusetts to get a Master's Degree in Acting in 1976 culminating in a stint at the famous off-off Broadway theatre, Café LaMama, NYC, in 1978. Larry's first major role was in the Canadian classic film, The Hounds of Notre Dame, which over the years was followed by roles in Academy Award winning films including Clint Eastwood's, Unforgiven and Ang Lee's, Brokeback Mountain. Most recently Larry had a role in the Ridley Scott produced TV mini series, Klondike.
In 1983 Larry and wife Tanya Ryga went to Mexico and various places throughout South America, where Larry met and worked with German Expressionist artist Georg Rauch.
'Tragic accident' blamed for recent death of giraffe at Calgary Zoo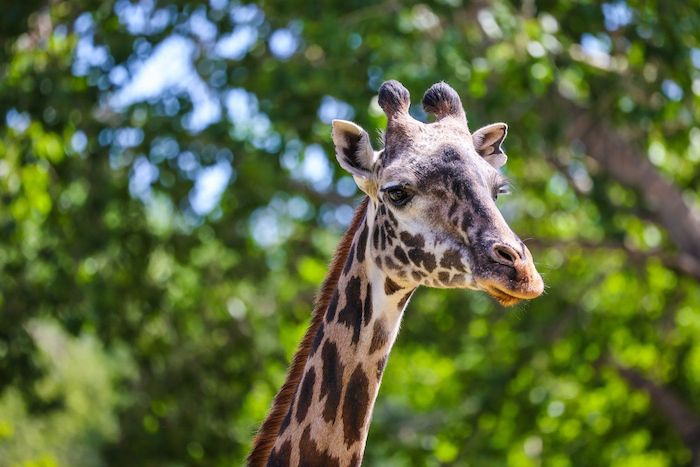 The Wilder Institute/Calgary Zoo says a "tragic accident" led to the recent death of an adult Masai giraffe. A statement from the zoo says the female giraffe named Emara died May 19 after tangling one of her horns on a cable surrounding her enclosure. THE CANADIAN PRESS/HO-Wilder Institute/Calgary Zoo-Sergei Belskey
Calgary
The Calgary Zoo says a "tragic accident" led to the recent death of one of its adult Masai giraffes.
A statement from the zoo says a female giraffe named Emara died May 19 after tangling one of her horns in a cable surrounding her enclosure.
The statement says a necropsy revealed Emara fell against the enclosure fence and died almost instantly of a broken neck.
Emara, who had just turned 12, came to Calgary from the San Diego Zoo in 2016.
The statement says she was a treasured member at the zoo and was known for her cautious yet curious personality and gentle nature.
The zoo says it is checking fencing within its African Savannah Yard enclosure to see if changes are needed to better protect the other giraffes and animals that share the space.
Doug Whiteside, interim associate director of animal care and welfare at the zoo, said Emara was in her prime and was in excellent health when she died.
"Major life changes such as this not only affect our people but can affect our animal residents as well," Whiteside said in the statement Monday.
He said the zoo's remaining giraffes, Nabo and Moshi, are doing well.
Grief counsellors are being made available to Emara's caregivers and other zoo staff.
This report by The Canadian Press was first published May 29, 2023.
Some of the memorable comments made during Alberta election campaign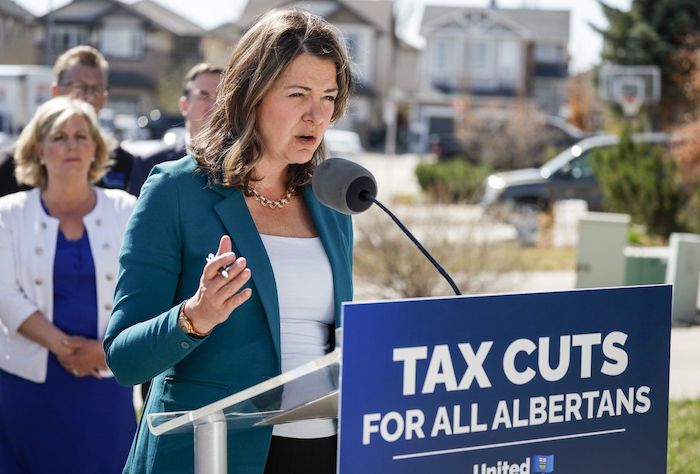 United Conservative Party leader Danielle Smith makes an election campaign announcement in Calgary on Monday, May 1, 2023.THE CANADIAN PRESS/Jeff McIntosh
Candidates for both the United Conservative Party and New Democrats have been campaigning over the last four weeks for their party to form the next Alberta government. Election day is Monday.
Here are some memorable quotes from the campaign:
"(The NDP) devastated the Alberta economy. They created policies that drove investment out, drove jobs out, and we had to reverse all of that," UCP Leader Danielle Smith said on May 1, the day the writ was dropped. "The choice in this election couldn't be clearer. It's a choice between a UCP government that will cut your taxes and make life more affordable or an NDP government that will make you pay more across the board."
—
"Over the past four years, our health care has been thrown into chaos by the UCP," NDP Leader Rachel Notley said during the first week of the campaign. "They'll tell you they fixed it, but Albertans aren't feeling it and they're not buying it … our (emergency rooms) are still full, our ambulances are still delayed and many (patients) are waiting months and months for critical tests and surgeries."
—
"I am satisfied Mr. Pawlowski intended to incite the audience to continue the blockade — intended to incite protesters to commit mischief," Justice Gordon Krinke said in Lethbridge, Alta., on May 2, when he found Calgary pastor Artur Pawlowski guilty of charges related to his role in protests against COVID-19 public health measures. In a leaked phone call between Smith and Pawlowski, before his trial, Smith told Pawlowski the charges against him were politically motivated and she would make inquiries on his behalf and report back.
—
"(Smith) has a policy of not speaking publicly on matters before the courts, except when she's talking to the person who's before the courts about how she's going to interfere with the matter before the courts," Notley said when asked to comment on Smith's no comment on the Pawlowski case. "That is the most ridiculous thing I've ever heard from her. OK, maybe it's not the most ridiculous, because there's a lot of ridiculous."
—
"COVID was a really difficult and frustrating time for everyone, including me, and I don't think that there is a single one of us that wasn't deeply impacted in some way," Smith said on May 9, after past comments surfaced in which she equated those vaccinated against COVID-19 to Nazi supporters and said she would not wear a Remembrance Day poppy out of disgust for pandemic restrictions imposed by political leaders. "Sometimes I let my frustrations get to me during that time. I clearly shouldn't have."
—
"That little bit of poop is what wrecks it … it does not matter that we're in the top three per cent in the world,'" said Jennifer Johnson, UCP candidate for Lacombe-Ponoka. In a tape from September, she said Alberta's high-ranking education system counts for little when set against the issue of transgender students and compared their presence to a batch of cookies laced with feces.
—
"(Judicial independence) is a fundamental pillar of our democracy. The premier breached this principle by discussing the accused's case," ethics commissioner Marguerite Trussler said in her report released May 18 into Smith's actions as premier when she called her justice minister about Pawlowski's case.
—
"I've asked the ethics commissioner to give advice," Smith said May 19. "I am a non-lawyer. As premier, I do need to be able to get advice from my top official, my top legal adviser. If she has recommendations on how to do that better next time, I will absolutely accept them."
—
"More and more conservatives are coming to me saying, 'I'm a lifelong conservative voter, but what I see in Danielle Smith and this new UCP is not my values,'" Notley said on May 23."They often say that they're going to lend us their vote, and I say that's just great. Because, quite frankly, I think all Albertans should always only ever lend their vote because leadership has to earn it."
—
"(The phone call) was always about the charges, from the very beginning. I had nothing really else to say," Pawlowski told reporters at the legislature in the final week of the campaign. "This phone call was always about the same thing: when are you going to introduce what you promised, the amnesty bill for people like me and thousands of other Albertans."
—
This report by The Canadian Press was first published May 28, 2023.