COASTAL GASLINK PIPELINE PROJECT SETS NEW STANDARD WITH UNPRECEDENTED INDIGENOUS SUPPORT AND PARTICIPATION
COASTAL GASLINK PIPELINE PROJECT SETS NEW STANDARD WITH UNPRECEDENTED INDIGENOUS SUPPORT AND PARTICIPATION
Coastal GasLink (CGL) is a 670-kilometre pipeline that will deliver natural gas from northeastern British Columbia to LNG Canada's export terminal in Kitimat, B.C. As part of Coastal GasLink's commitment to ensuring Indigenous and local communities are able to fully benefit from the construction and operation of the pipeline, we successfully negotiated 20 project and community agreements that clearly demonstrate our commitment to their communities for the long-term.
The Coastal GasLink Pipeline Project has set a new standard for Indigenous engagement and participation in critical energy infrastructure project development and construction. Since the project was first announced in 2012, thousands of hours have gone into listening and collaborating with Indigenous and local communities to create a project that is delivering on environmental and cultural protection, including $1-billion in long-term economic benefits through jobs and contracting opportunities.
"Integrity, collaboration and respect are at the heart of Coastal GasLink's commitment to creating lasting opportunities for Indigenous communities in northern British Columbia and we're proud of the relationships we've built," said Tiffany Murray, Coastal GasLink's director of Indigenous Relations.
"There is unprecedented support for this pipeline project from Indigenous and local communities, including agreements with the 20 elected First Nations along the right of way. Our engagement started at the early conceptual phase and continues today," added Murray. "We are committed to engaging and working collaboratively on the project as it moves through construction and into operations."
Coastal GasLink is a 670-kilometre pipeline that will safely deliver natural gas from northeastern B.C. to the LNG Canada liquefaction facility in Kitimat, B.C., connecting clean, sustainability produced Canadian energy to the world and ultimately, playing a critical role in the reduction of global greenhouse gas emissions and air pollution in Asia.
Construction launched in early 2019 following more than six years of rigorous review and environmental assessment. From the beginning, the project team focused on building relationships based on mutual trust and respect by providing meaningful opportunities for participation in project planning and jobs and local contracting prospects for Indigenous and local businesses and their communities.
A milestone moment was marked in June 2018 when leadership from a number of Indigenous groups and Coastal GasLink celebrated the announcement of the commitment for $620 million in contract awards to northern British Columbia Indigenous businesses for the project's right- of-way clearing, medical, security and workforce accommodations. To date, Coastal GasLink has exceeded its commitments and awarded approximately $720 million in contracts to Indigenous and local businesses.
More than one-third of the field work completed on the project was conducted by Indigenous people and traditional knowledge was considered in its planning and design. The project continues to prioritize Indigenous and local hiring and held 25 Economic Summits along the route in 2018 and 2019 to connect interested job seekers and businesses with potential opportunities. Additionally, a variety of training programs continue to support Indigenous and local trainees and students. To protect Indigenous culture and values along with the environment during project construction, a Construction Monitoring and Community Liaison Program (CMCL) has been launched. The program provides opportunities for Indigenous community members to participate in construction within their traditional territory for the purposes of observing, recording and reporting on implementation of construction activities to their communities. It will continue through construction of the pipeline, which is planned for in-service in 2023.
Transparency is core to the CMCL program with Indigenous communities by meaningfully participating in the project to monitor the work that is being done. That open, relationship-based approach is something that Coastal GasLink believes is integral to the success of the projec
Harry Bodewitz, a program coordinator who is working closely with CMCL advisors from several Indigenous communities along the project corridor, has seen the value of the program. As construction ramps up, additional CMCL advisors will be brought on to be involved in the program.
"Something might have been planned initially, but once we actually get to the field, that plan may change, or get modified, to make sure it's done right," said Bodewitz. "In the CMCL Program, we have an opportunity to observe what's going on, discuss it and share that with our communities."
For Mike Gouchie, a CMCL coordinator from Lheidli T'enneh First Nation, the program provides a chance to be out in the field to make sure what matters to his community and neighbouring community CMCL advisors, is at the forefront of the construction program.
"As a CMCL coordinator, I'm able to assist the CMCL advisors to be out in the field with inspectors, construction management and myself to visit sites of interest, to understand the scope of the project in our territories and make sure environmental issues are identified," he said.

Whether it's in the field or at the table with First Nation leaders for monthly meetings, Coastal GasLink has involved Indigenous communities every step of the way.
"I'm proud of the relationships we have built and the work we've done on this project," said Murray.

"We believe that by building meaningful, long-term relationships based on trust and integrating feedback into our project, we will create an extraordinary legacy of safety and respect for communities and the environment."
Background: The Canadian Energy Compendium is an annual Energy Council of Canada initiative which provides opportunity for cross-sectoral collaboration on a topic of shared interest across the Canadian energy sector, produced with the support of Canada's national energy associations and Energy Council of Canada's members. The stories contributed to the 2019 edition, Indigenous Energy Across Canada, highlight current conversations celebrating Canada's dynamic energy sector and encouraging its continuous improvement.
Thanks to Todayville for helping us bring our members' stories of collaboration and innovation to the public.
Click to read a Foreward from JP Gladu, Chief Development and Relations Officer, Steel River Group; Former President & CEO, Canadian Council for Aboriginal Business
Calgary police identify 15-year-old girl killed in shooting, investigation continues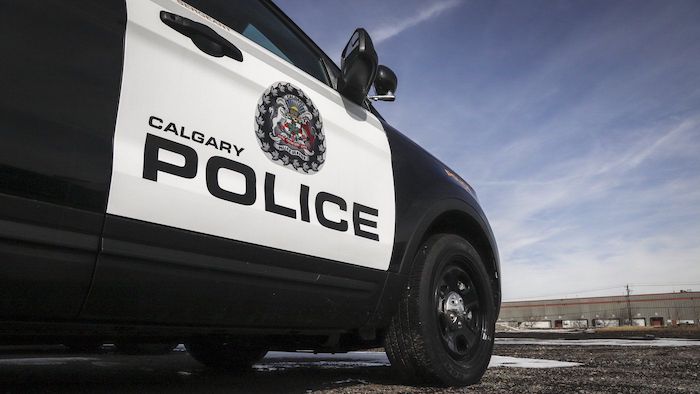 Calgary (CP) – Calgary police have identified a 15-year-old girl who was fatally shot this week as investigators try to determine whether she was the intended target or if it was a case of mistaken identity.
Officers responded to reports of a shooting in an alley in the Martindale neighbourhood early Tuesday morning.
They say the teenager was a passenger in a vehicle when she was shot and that the driver, who was not injured, immediately fled the scene before pulling over to call police.
Police say investigators have received several tips from the public.
They say evidence from the scene leads police to believe it was targeted, but investigators haven't determined whether the occupants of the vehicle were the intended targets.
The girl has been identified as Sarah Alexis Jorquera of Calgary.
"This was a senseless act of violence that took the life of a young girl," Staff Sgt. Martin Schiavetta of the homicide unit said in a statement Wednesday.
"At this point, we have more questions than answers and are working around the clock to hold those responsible accountable. Losing a 15-year-old is a tragic loss for our community, her school, her friends and, most importantly, her family."
Police ask anyone with any information about the shooting to call investigators.
This report by The Canadian Press was first published March 29, 2023.
'A crisis': Calgary charity seeks one-month homes for Ukrainian refugees after influx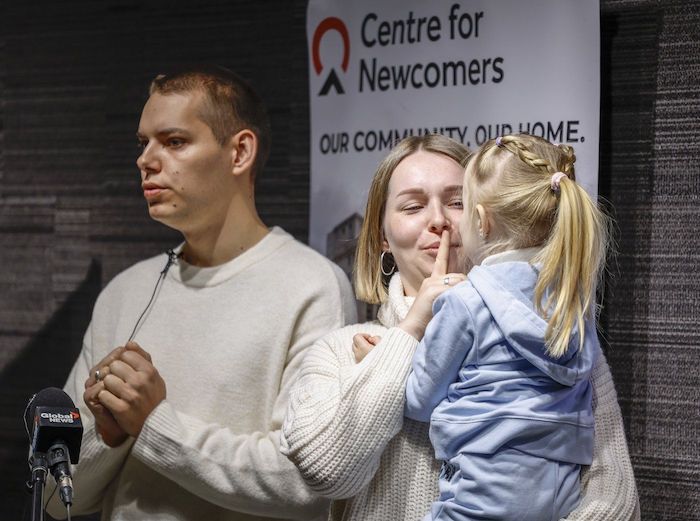 Ukrainian evacuees Dmytro Syrman, left, his wife, Anastasiia, centre, and their four-year-old daughter Varvara attend a news conference highlighting the need for temporary housing in Calgary on Wednesday, March 29, 2023. THE CANADIAN PRESS/Jeff McIntosh
By Bill Graveland in Calgary
After six months under Russian occupation, Dmytro Syrman and his family decided to flee Ukraine for a safer life abroad and are now in Calgary.
The family lived in Dniprorudne, a mining city of 17,000 in southern Ukraine. Syrman worked as a human resources manager at an iron factory.
In August, Syrman, his wife, Anastasiia, and four-year-old daughter Varvara embarked on a six-day, 3,000-kilometre drive to Poland.
"On the 24 of February, when the Russian army attacked Ukraine and occupied our city in March 2022, we lost everything," Syrman said Wednesday.
He said they began planning their escape when they realized Russian soldiers weren't leaving their city.
"We started all of this because we were scared for Varvara," he said. "When Russian bombs were falling near our city it was really scary."
Their home is still under Russian occupation.
For the past year the family stayed in Poland, sent in their paperwork to come to Canada, and two weeks ago arrived in Calgary.
They're now staying with a host family for a month while they look for long-term accommodation and to find jobs.
"We are here and starting a new life. We can't believe about people who don't know us and many helped us. We're really shocked," Syrman said.
The Syrmans were helped by Calgary's Centre for Newcomers, which started a campaign to find 100 hosts for Ukrainian families or individuals for a month while they find housing of their own.
Kelly Ernst, chief program officer with the centre, said there has been a flood of Ukrainians trying to take advantage of a federal program that allows them to temporarily resettle in Canada.
The Canada-Ukraine Authorization for Emergency Travel program has been extended until July and Ernst said he expects people will continue to flee the war-torn country.
"We're in a desperate, dire need at the moment for host homes to try to accommodate the evacuees coming from Ukraine. It's reaching the proportions of being a crisis moment," said Ernst.
He said people arriving elsewhere in Canada are migrating to Calgary because the rents are lower than in larger cities such as Toronto and Vancouver.
Ernst said approximately 450 people have been arriving in Calgary every week from Ukraine and his organization has helped people staying nights in the airport, off the street and at homeless shelters.
Natalia Shem, who is the manager of housing for the Ukrainian evacuees, said it's difficult for the newcomers to find somewhere to live before arriving.
"It's almost impossible to find long-term rent being outside of Canada and people who come here need one month of stay," Shem said. "It's an average time a family can find long-term rent, job and settle down here in Canada."
This report by The Canadian Press was first published March 29, 2023.