City of Calgary signs Modernized Housing Agreement with Government of Alberta

Just two days before the 10thannual Coldest Night of the Year, a nation-wide campaign directed at combatting the effects of homelessness and housing insecurity across Canada, the City of Calgary has signed a new modernized housing agreement with the Government of Alberta.
On February 18, 2021, the City of Calgary released a press release detailing their agreement with the Alberta Government, which lays out a 4-year, $34 million operating and capital funding agreement for the continued facilitation of affordable housing in Calgary. The agreement covers the continued maintenance of 1,048 existing affordable households throughout the city. Extending through 2024, this updated agreement will take the place of the original jointly funded housing agreements between The City and the provincial government.
All homes are managed by Calgary Housing Company (CHC), a wholly owned subsidiary of The City, and the largest landlord in Calgary, currently managing more than 10,000 households with approximately 25,000 tenants. According to the release, 1 in 5 Calgary households currently struggle with housing costs and more than 100,000 Calgary households are forecast to be in housing need by 2025.
Comments from Calgary housing officials and Mayor Naheed Nenshi highlight the importance of affordable housing in ensuring the future success of all Calgarians and the continued prosperity of Alberta. According to Councillor Druh Farrell, the ability to contribute positively to society begins with access to safe, reliable and affordable shelter. "It's important to remember that affordable housing is about people," she says, "People in stable housing have greater chances to find and keep jobs, to learn and build skills and be active participants in their communities."
"Alberta's government knows affordable housing is critical to create inclusive communities and to build economic prosperity for all Albertans," continues Seniors and Housing Minister Josephine Pon.
In addition to the extended provision of 1,048 affordable households, the agreement enables the transition of all City-owned social housing to a social-housing mixed rent model, which in turn, will facilitate positive housing outcomes for tenants. This includes a focus on moving residents out of poverty and reducing reliance on government subsidies moving into the future.
This agreement represents another important step in prioritizing affordable housing, which remains a key factor in reducing the impacts of homelessness and housing insecurity in Calgary and across Canada. According to the City of Calgary press release, "It actually costs less in tax-payer dollars to provide citizens experiencing homelessness with affordable housing. They will rely less on other public supports, such as shelters, healthcare and emergency services."

For more information on Calgary's recent modernized housing agreement and ongoing affordable housing strategy, visit https://www.calgary.ca/cs/olsh/affordable-housing/affordable-housing.html?redirect=/affordablehousing
For more stories, visit Todayville Calgary.
Northern Alberta community of Fort Chipewyan evacuated due to wildfire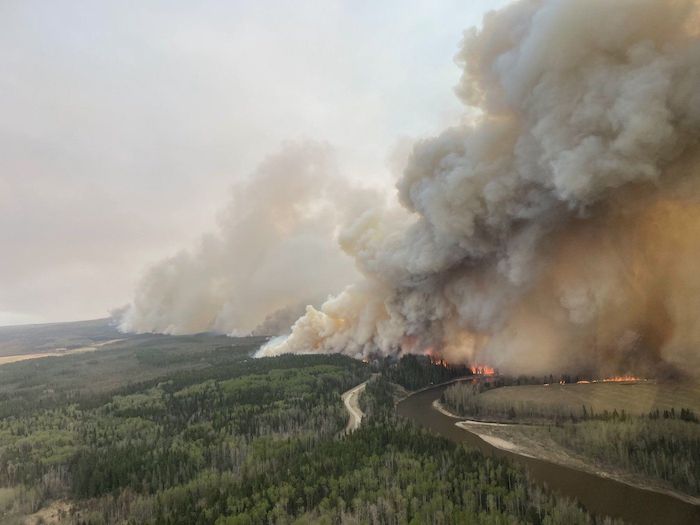 A large wildfire burns this handout image provided by the Government of Alberta and posted on their social media page. THE CANADIAN PRESS/HO-Government of Alberta- Alberta Wildfire
Fort Chipewyan
A hamlet in northern Alberta has been placed under an evacuation order as a wildfire burns nearby.
Residents of Fort Chipewyan, a community of about 800 people, had been told earlier in the day to be ready to leave with 15 minutes' notice.
Athabasca Chipewyan First Nation, Mikisew Cree First Nation, Fort Chipewyan Métis Nation and the Regional Municipality of Wood Buffalo issued a joint evacuation order for the community.
Officials say the out-of-control wildfire is about eight kilometres away from Fort Chipewyan's airport and is about 30 square kilometres in size.
The evacuation is being handled in stages, starting with residents in Allison Bay, the community closest to the wildfire boundary.
Air transportation to Fort McMurray, about 300 kilometres to the south, is being arranged, as well as temporary accommodations in Fort McMurray and Fort McKay for evacuees.
This report by The Canadian Press was first published May 30, 2023.
Tabulation change led to delay in voting results: Elections Alberta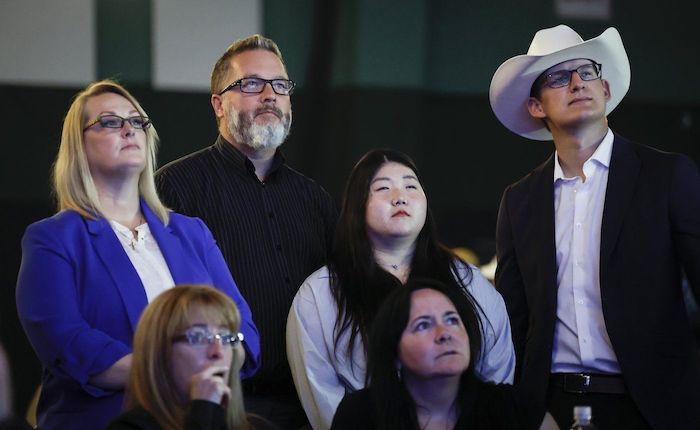 United Conservative Party faithful gather to watch election returns in Calgary, Monday, May 29, 2023. An Elections Alberta official says a change implemented in how "vote anywhere" ballots in advance voting are counted likely contributed to delays in the publishing of results in Monday's provincial election. THE CANADIAN PRESS/Jeff McIntosh
By Bill Graveland in Calgary
An Elections Alberta official says a change in how advance "vote anywhere" ballots are counted likely contributed to a delay in publishing the results in Monday's provincial election.
Only a small fraction of results were available 90 minutes after polls closed.
And a United Conservative Party win wasn't called for another 90 minutes after that.
At some points, a candidate was shown as leading in a riding with a single vote.
Robyn Bell, a spokeswoman for Elections Alberta, says a key change made after the province's 2019 election was likely a factor.
She said it involves ballots that allow Albertans vote in advance at any polling station in the province.
"The report of tabulator results was occurring in returning offices for the first time this year. In the previous election in 2019, those ballots were transported back to Elections Alberta for a count and you may remember that resulted in a 2-1/2 day delay in reporting after the election," she said.
"They're not just counting votes for the candidates in their electoral division, they could be counting results for candidates in multiple divisions."
As well, Bell said transmitting the official statement of votes has to be inputted into the results site and every step of the way has a verification process.
"That just takes time and we prioritize the accuracy of reporting over the speed of reporting is ultimately what it comes down to."
Bell said after every election, there's an opportunity to provide recommendations on what went well and what didn't. Recommendations come in the report of the Chief Electoral Officer about six months after the election. She said the legislative assembly also has a chance to make suggestions.
"It could result in changes for the next provincial election."
Bell said despite the criticism, she thought things went well, although she understands the public was anxious to see the final results.
"It's just an evolution in the vote universe," she said.
"In 2019, I think the delay in counting ultimately kind of resulted in people feeling like their vote didn't matter, because the election was called before those 'vote anywhere' ballots were even counted."
Bell said there will be automatic recounts in Calgary Acadia and Calgary Glenmore, since the margin of victory in those constituencies was under 100 votes.
This report by The Canadian Press was first published May 30, 2023.